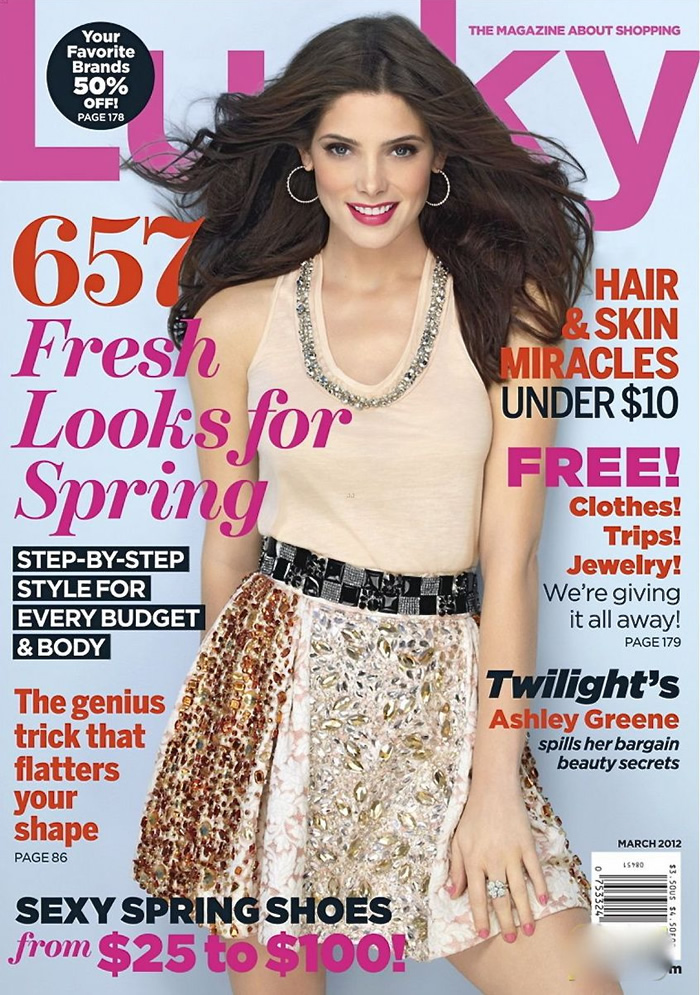 Ashley Greene covers the March issue of Lucky Mag to promote, I don't know, her role in a five episodes of "Pan Am"? Of course, she wasn't terribly popular on that set, and the show is probably going to get cancelled anyway, which is a terrible waste of star power considering that Greene has called herself the next Angelina Jolie.
Naturally, the Lucky journalist had no idea what to do with Greene, so the interview focuses primarily on her role as Alice Cullen in The Twilight Saga. Yet sadly, I've omitted most of those paragraphs because consist mostly of Lucky's characterization of Alice as a huge, "major" role in the franchise that could never have been portrayed by any other actress. Really? I won't go there except to say that Alice is pretty interchangeable in the films and really isn't a demanding role, but neither are any of the other characters in the franchise. In the interview, Ashley namedrops her Butter makeout session with Olivia Wilde because any form of sensationalism is all that Ashley has at this point in her career. And she'll gladly remind you that her career is on an upswing since the end of Twilight too:
On Her Craft: "I won't lie, there are times when I'm like, 'Why is this so hard?' You come off a high like Twilight and then you get dropped back down to reality. Twilight has given me something to skyrocket off of, But now that it's ending, there's so much work to be done. And if I don't do it, then Twilight's all I'm ever going to be known for, as great as it is."

She's Leading Lady Material: "Basically I went from 'dying to get a gig' to 'dying to get the gig that everyone wants,' so now I'm in this realm with a lot of highly respected actresses, which is an amazing place to be, but also kind of terrifying. I mean, I think I'm doing all right, but the main focus is trying to solidify my spot in Hollywood."

On Her Start: "My mother put me in modeling classes because I had low self-esteem. I was friends with older people, so I was always around someone more mature who boys responded to. I think that kind of messed with me. She never actually wanted me to be a model; she just wanted me to feel good about myself. But then there was a chain reaction. All of a sudden I wanted to be an actor, and of course, my mother was like, 'Oh, great, what did I do?' When I took the modeling classes in Florida, they had us walk in crazy heels and do the whole runway thing. And actually? That's been very helpful, because I can walk and run in pretty much anything! And they will have you run in heels in films, as ridiculous as it sounds."

She's No Lohan: "I was like 'Oh, I can go out and do this and do that,' and it took me about five seconds to realize 'If you do that, you're not going to book jobs, and there are 10,000 girls who want your job.' It's all glitz and glamour in Hollywood, and you want to be part of it. And the deadly thing is that you meet people who do have the money and do have fame and are in a position to not spend every waking moment working toward getting a job, and it's easy to feel like you can do it too, when really you haven't earned it. You can either socialize or you can study your script, and luckily I learned that pretty quick!"

On Makes Out With Olivia Wilde in Butter: "It wasn't that awkward. It's the same idea when you're having to kiss a male costar and it's not real. Olivia is such a cool chick and very professional. So we were just messing around and cracking up in between scenes, and it ended up being really fun. And now I'm the envy of every straight male everywhere!"
[From Lucky Mag]
Well, the producers of Butter really hit the casting nail on the head by letting two famewhores paw at each other. Other than that, Ashley probably won't be around in Hollywood for very long. In a few years, Ashley will be much less like the next incarnation of Jolie and much more like Jessica Biel, and she'll be talking about how she auditions for everything but never gets the roles that she really wants.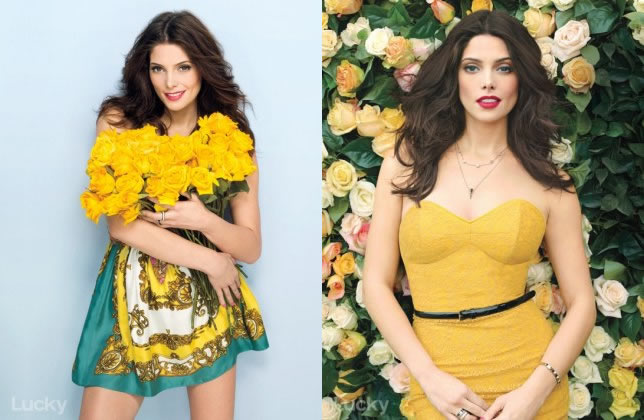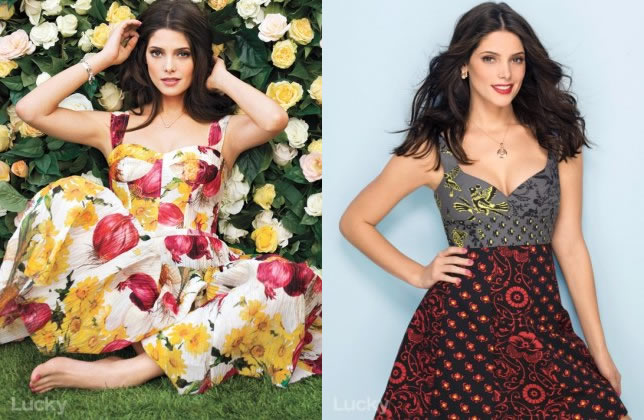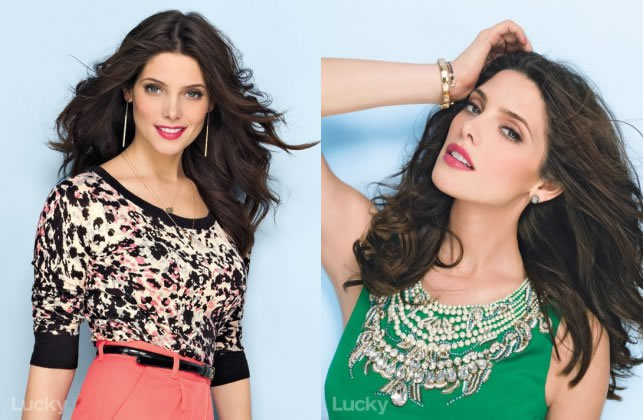 Photos courtesy of Lucky Mag