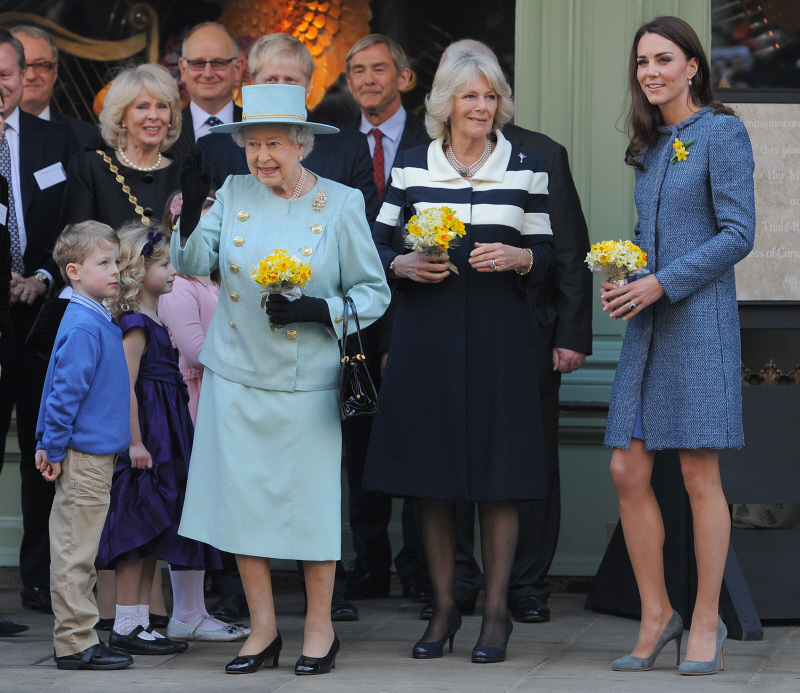 Ever since Catherine, the Duchess of Cambridge, married Prince William, Kate's media team has tried to convince the world that she's super-close to Queen Elizabeth, and that the Queen has totally taken Kate under her wing. While they had a nice photo op together last July – in which the Queen declared Kate's wedding dress exhibit to be "creepy" – it really didn't seem like Kate and Her Majesty really spent that much time together in public. Maybe they do have a solid relationship in private – or maybe Kate and her PR team are just playing it that way. In any case, Kate got another photo op with the Queen today in London. Oh, and Camilla, the Duchess of Cornwall and Kate's step-mother-in-law, was there as well. Camilla and Kate seem tight, don't they? Meanwhile, the Queen is so spry and cute, but it seems like she's kind of ignoring Camilla and Kate.
Oh, and I LOVE Kate's Missoni coat. I had a moment where I was like, "OMG, is she wearing a denim coat?!" But it's not. It's a blue tweed that looks sort of denim-ish in certain light. It looks beautiful on her – she should wear blues more often. Here's more about their royal appearance:
Three of the Royal Family's leading ladies paid a visit to one of London's most luxurious department stores today. The Queen, who fittingly wore the shop's colours, the Duchess of Cambridge and the Duchess of Cornwall went to Fortnum & Mason, where they were given a tour of its famous food hall.

Sporting two daffodils on her lapel in honour of St. Davids day, Kate wore a blue coat by Italian label Missoni and shoes by Rupert Sanderson. Kate is said to have snapped up the autumn/Winter 2010 coat on a shopping trip to Bicester Village a few months ago, the foreign correspondent for People magazine revealed on Twitter.

The Duchess of Cornwall opted for navy blue and white stripes but the Queen was the only one to wear a hat and gloves. The royal guests met military personnel involved in the Gifts For Troops scheme, which sends packages to soldiers serving in Afghanistan, and saw a display of tea and biscuits similar to those which will be sent to troops deployed overseas on operations during the Diamond Jubilee weekend.

The Queen also greeted recipients of grants from the Queen Elizabeth Scholarship Trust (Qest) – the charitable arm of the Royal Warrant Holders Association. Qest makes awards ranging up to £15,000 to craftsmen and women of all ages to help them further their careers. It was established in 1990 to celebrate the 150th anniversary of the Association and the 90th birthday of Queen Elizabeth The Queen Mother, and since 1991 has awarded £1.5 million to 242 craftspeople aged between 17 and 50-plus for study, training and work experience.

They also attended a tea party at the store for around 150 staff, suppliers and former employees, including some who worked there at the time of the Queen's Coronation. The royal visitors inspected a cake to commemorate the renaming of the restaurant to The Diamond Jubilee Tea Station before the Queen unveiled a plaque to commemorate the regeneration of the local Piccadilly area.
[From The Mail]
I love how the royals get to "inspect" things. They aren't just "looking at" things. They are "inspecting" them. But it's a nice photo op for the ladies, and it's always interesting to see the body language, especially amongst the Queen and Camilla. I tend to think that the Queen has always disliked Camilla, but Her Majesty has grown to accept Camilla's presence. And really… how awesome does the Queen look? She's 85, and she's still trotting out to do all of these events. Cakes need inspectin', yo.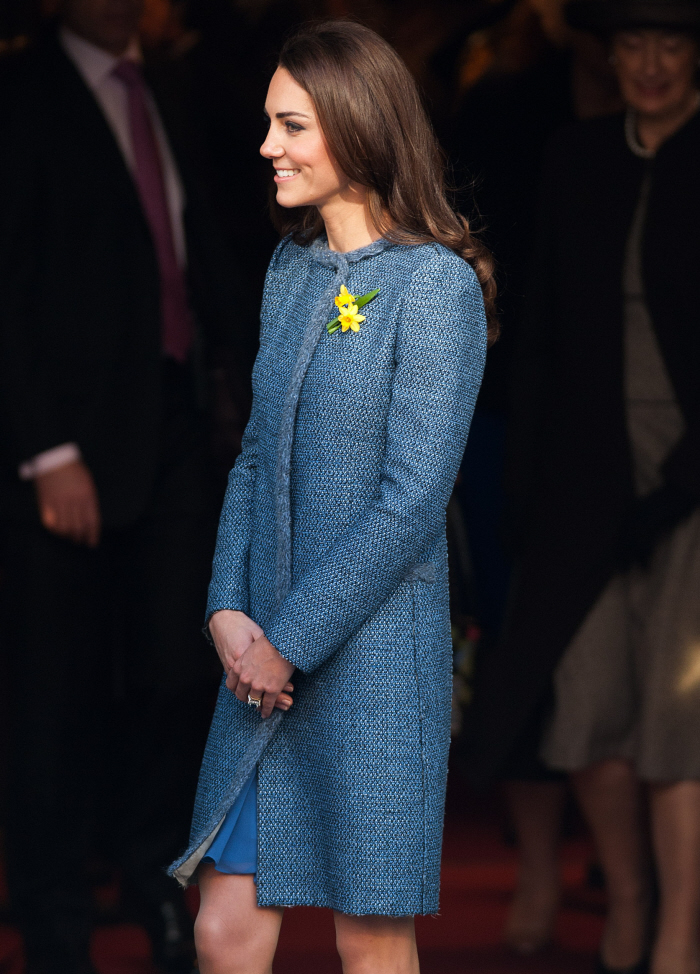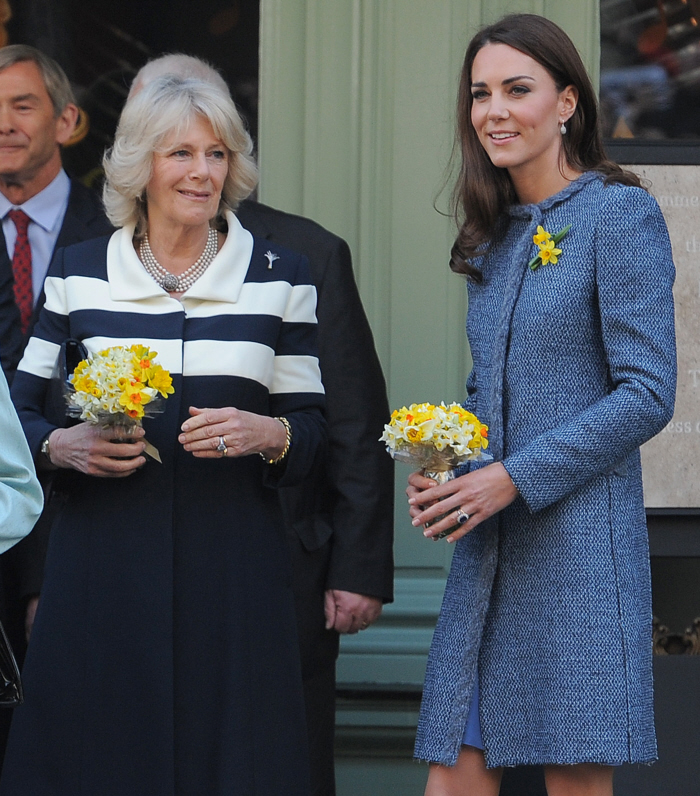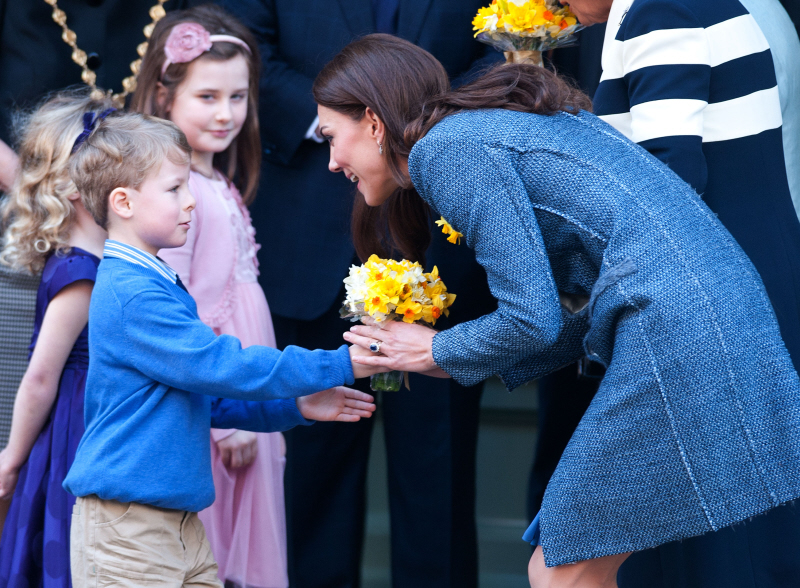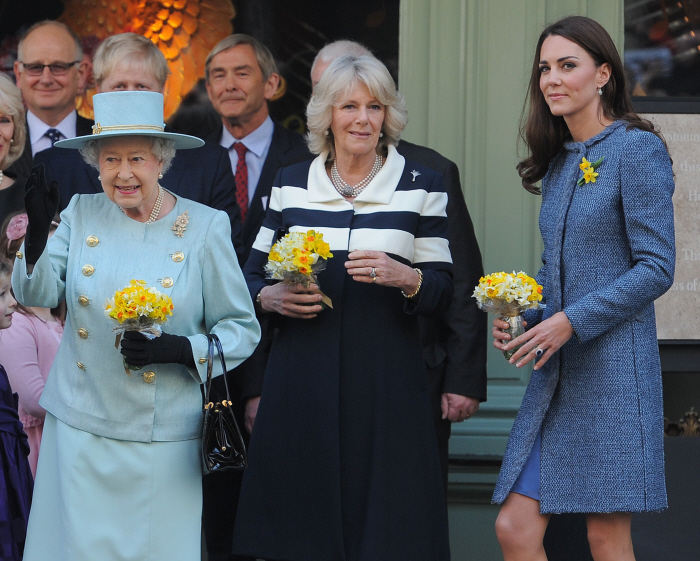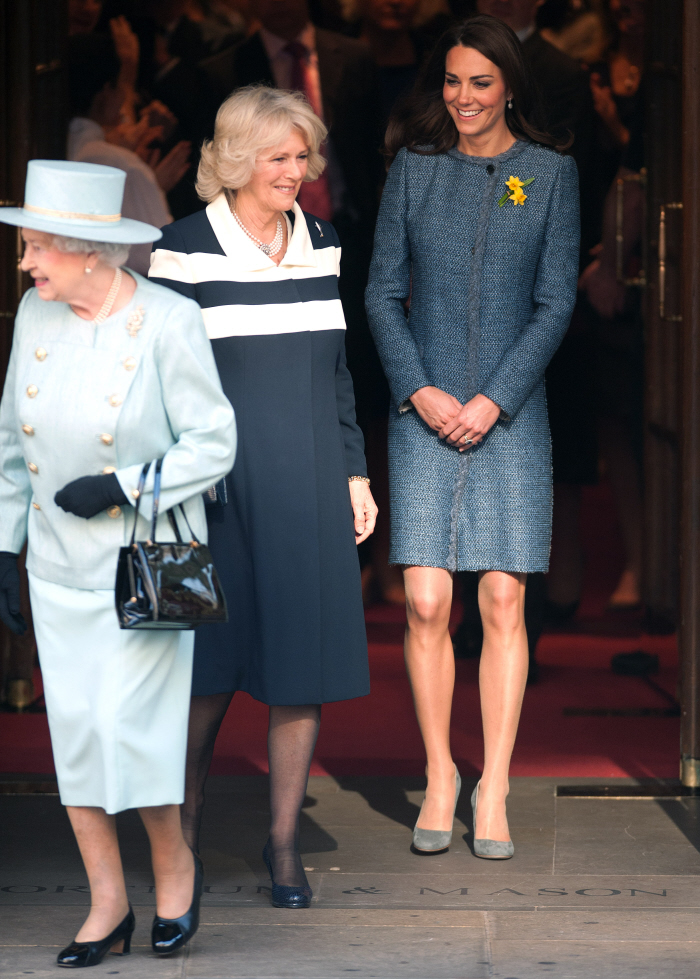 Photos courtesy of WENN.