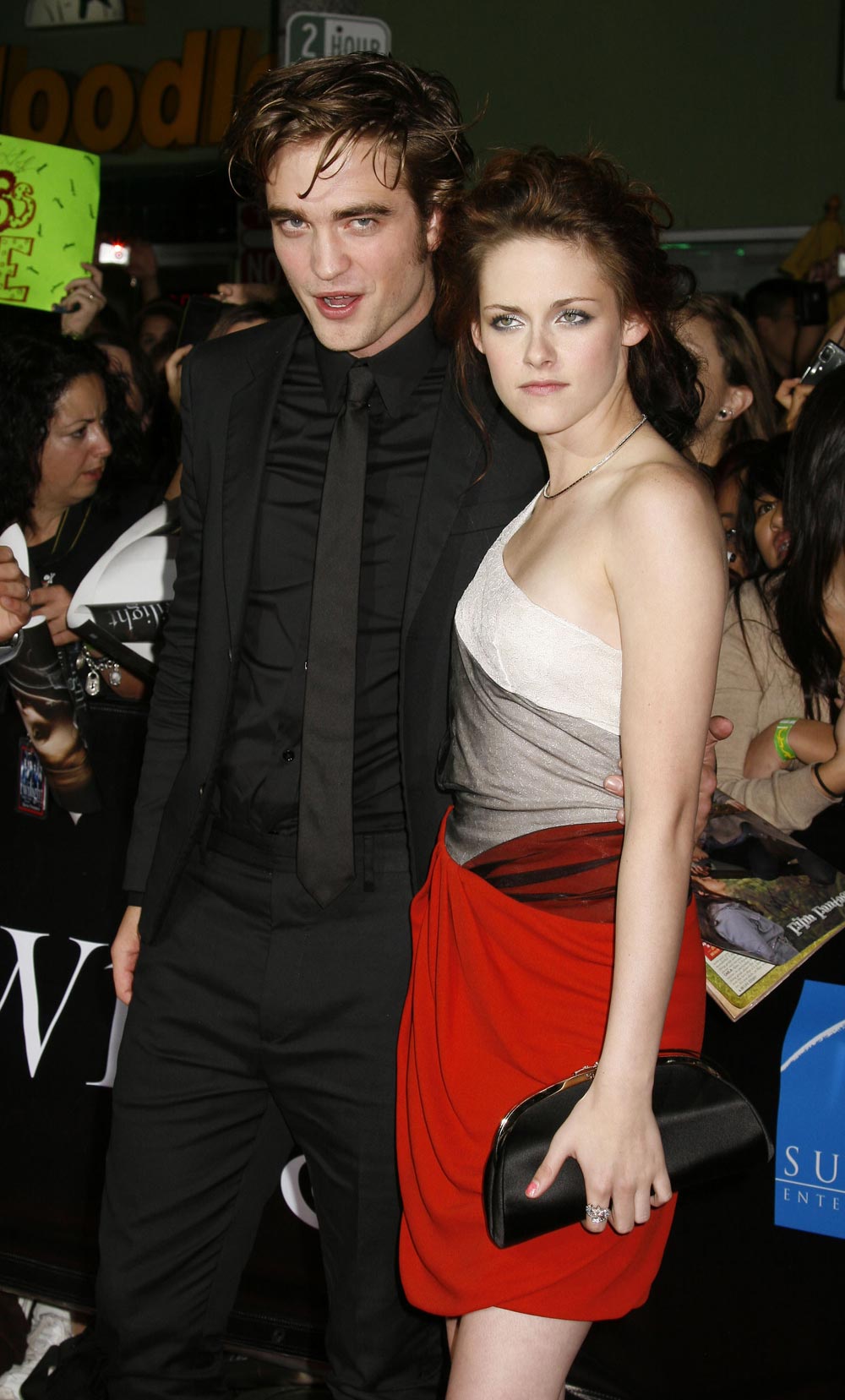 The young stars attended the much anticipated premiere of the film Twilight, based on the first book in popular young adult vampire series by Stephenie Meyer. Advance buzz for the film, which features relatively unknown actors Robert Pattison and Kristen Stewart, has been enormous, especially among teens. The film, about a young girl who falls in love with a vampire, is put out by small film studio Summit Entertainment and is expected to be a box office smash. There are three additional books in the series by Meyer and if Twilight is a hit we can expect to see a phenomenon to rival Harry Potter.
The film, directed by Catherine Hardwicke ("13″ and "Lords of Dogtown"), arrives Friday on 5,500 screens with the industry already abuzz with reports about spectacular advance ticket sales. During the last few weeks, I've been hearing from studio marketing chiefs, who all seem in awe of the word-of-mouth groundswell for the film.

When the film's young stars, Kristen Stewart and Robert Pattinson, showed up at Comic-Con last July, they were greeted by Beatlemania-style screams. Last week, 10,000 kids showed up at a Dallas mall to mob them. They've been on the cover of Entertainment Weekly and several teen tabloids as well as all over MTV.

But what's amazing is that one of Hollywood's biggest studios had the project for years and simply let it go. "Twilight" was originally at Paramount's MTV Films, which spent nearly two years trying to develop the picture before the studio put the project in turnaround. A second studio, Fox Atomic, also passed on the project before it came Summit's way.

It wasn't as if "Twilight's" teen appeal was exactly a secret. The second novel in Meyer's series, "New Moon," debuted at No. 5 on the New York Times bestseller list for children's books when it was released in 2006. It hit No. 1 the following week and remained in the top position for 11 straight weeks. The fourth installment, "Breaking Dawn," sold 1.3 million copies in its first day of release. The entire series has now sold 8.5 million copies in the U.S., more than 17 million copies worldwide.
[From The LA Times]
Considered a Romeo and Juliet tale with vampires, you can see Twilight's appeal among the younger set. At least 250 people camped out overnight to make sure to secure their spot for last night's premiere.
Expect the stars to earn millions and get a lot more media attention. Pattison, 22, previously played Cedric Diggory in Harry Potter and the Goblet of Fire. Stewart, 18, starred In the Land of Women and Into the Wild.
Here's a trailer for Twilight, which is out Friday in the US.

Thanks to WENN for these photos from the premiere last night in LA.