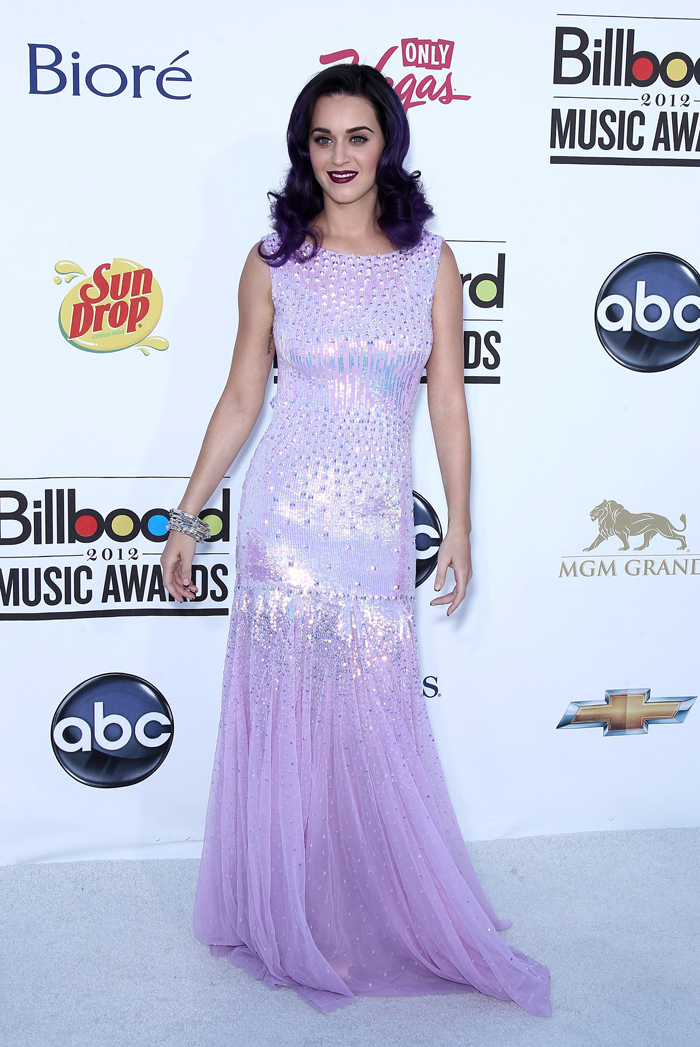 Here's Katy Perry at last night's Billboard Music Awards in Las Vegas, where she's still pulling the horrific dark lipstick look that makes her look like a slutty Morticia Aadams in a faux-gothy effort to remind us that her "music is about get real f*ing dark." The hair is still violet, and it looks fine (by Katy standards), but I wish she'd trash the pseudo-hardcore lipstick because dark lips really wash out her complexion. Let's talk about the dress. Katy wore Blumarine (like she did at Elton John's Oscar bash), and this gown is kind of shapeless and very unlike Katy's usual gimmicky take on fashion. It's not an awful dress, but it just does very little for her normally tiny-waisted figure. Here's the back view, which is slightly more interesting from that angle than it is from the front.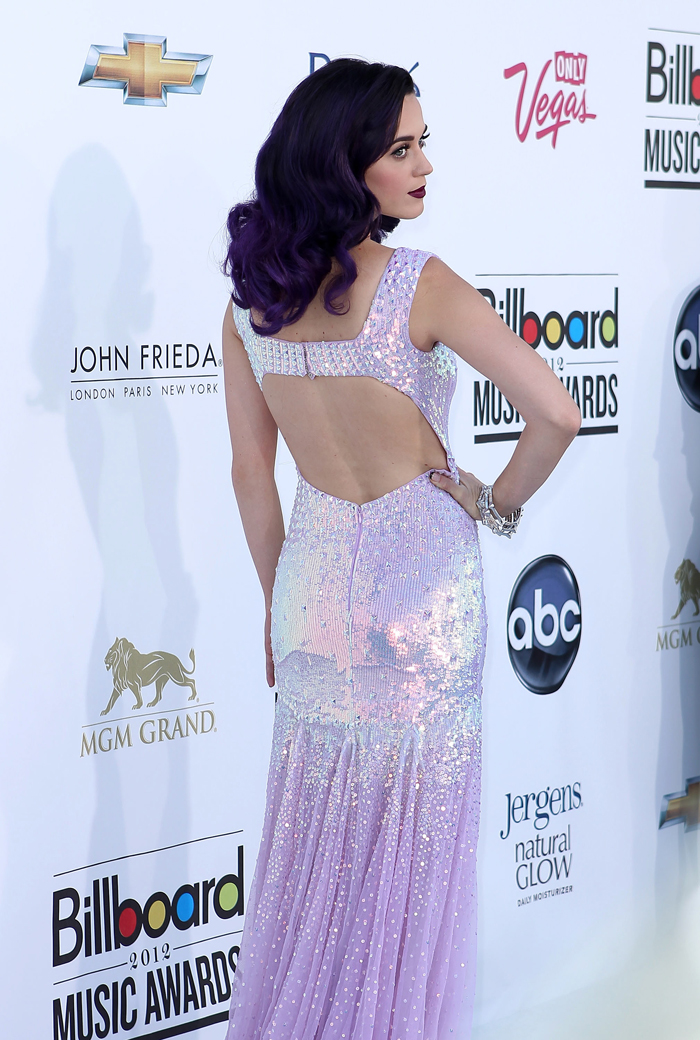 Perhaps one clue why Katy chose a relatively modest dress for the occasion is that she brought her grandmother as her date. That's actually really sweet, and I'm sure grandma appreciated not having to pose next to her granddaughter's massive cleavage on the red carpet. See? Katy can be respectful when she wants to do so.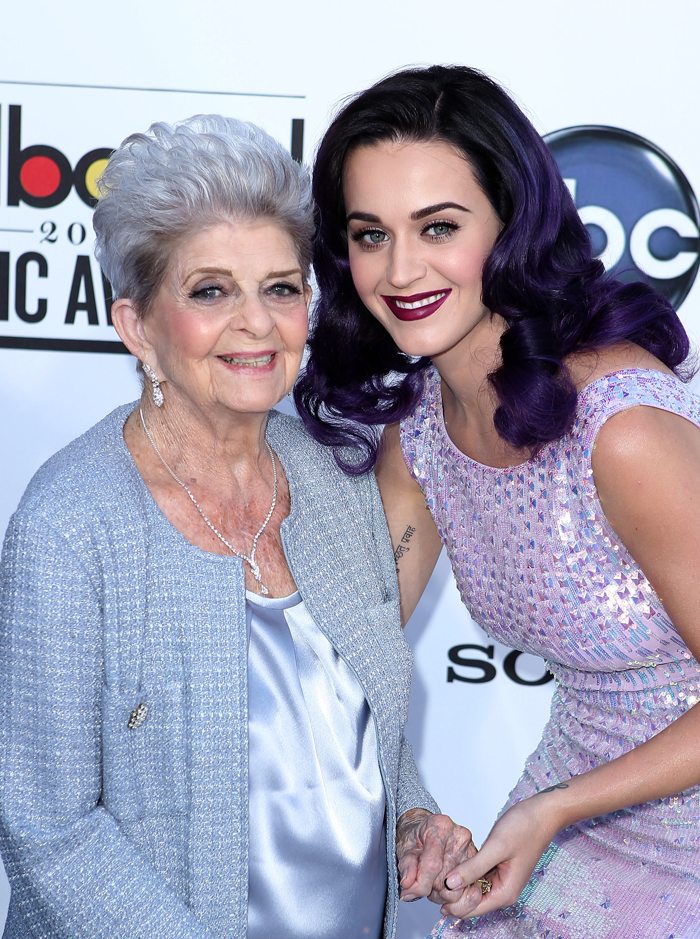 Katy also performed at the awards, and she chose to showcase her upcoming single, "Wide Awake." People got advance word that Katy was set to perform this song, which is supposedly about (surprise) her disastrous marriage to Russell Brand:
Is Katy Perry trying to send a message to Russell Brand?

The singer, whose divorce from Brand is supposed to be finalized next month, is set to sing a revealing breakup song, "Wide Awake" off her latest album, this Sunday at The Billboard Music Awards in Las Vegas, PEOPLE has learned.

"It's obviously about Russell," a source said, though Perry has not publicly confirmed it.

The song speaks about being blinded by love, including the lyrics, "I wish I knew then what I know now — wouldn't dive in, wouldn't bow down."
[From People]
Sure enough, that tipster (probably Katy's dad) was correct, and Katy performed "Wide Awake" during her live performance. Here are some more lyrics from the song and a video of her onstage as well.
I'm wide awake
Not losing any sleep
Picked up every piece
And landed on my feet
I'm wide awake
Need nothing to complete myself – nooohooo

I'm wide awake
Yeah, I am born again
Outta the lion's den
I don't have to pretend
And it's too late
The story's over now, the end
[From YouTube]
Poor Russell. He's been walking around saying nice things about his estranged wife, and she's still trying to cut him down during awards show performances with her silly pop songs. Of course, this song will probably hit #1 too, and then Katy will deny that she wrote it about him. It's all part of her act, you know.
Now back to Katy's grandma — I love her sparkly cane! Such a nice touch.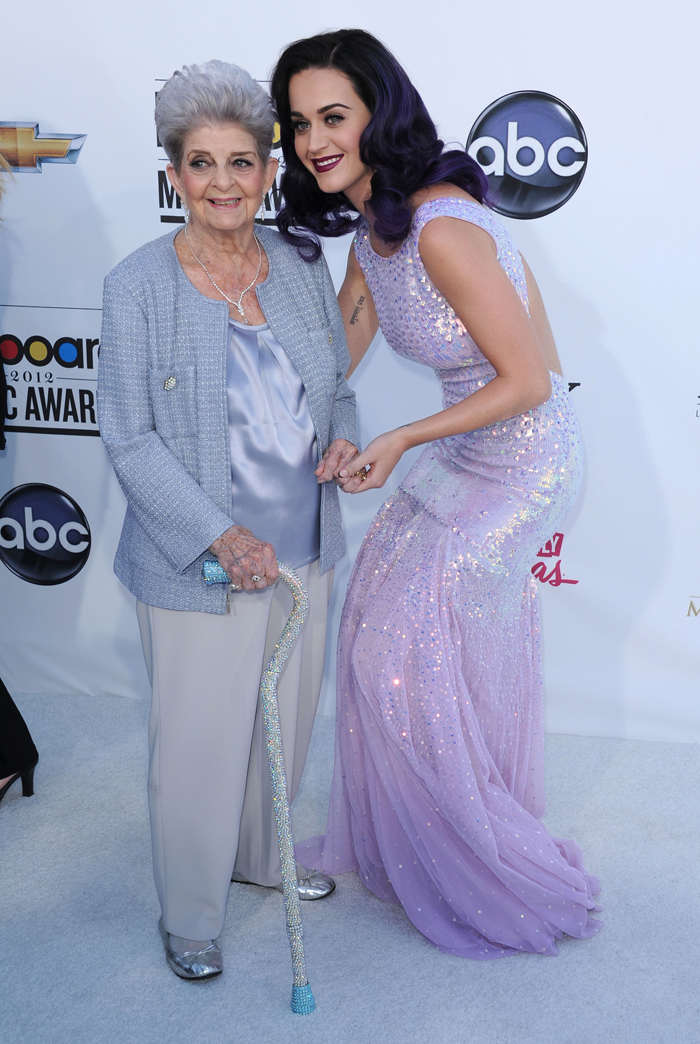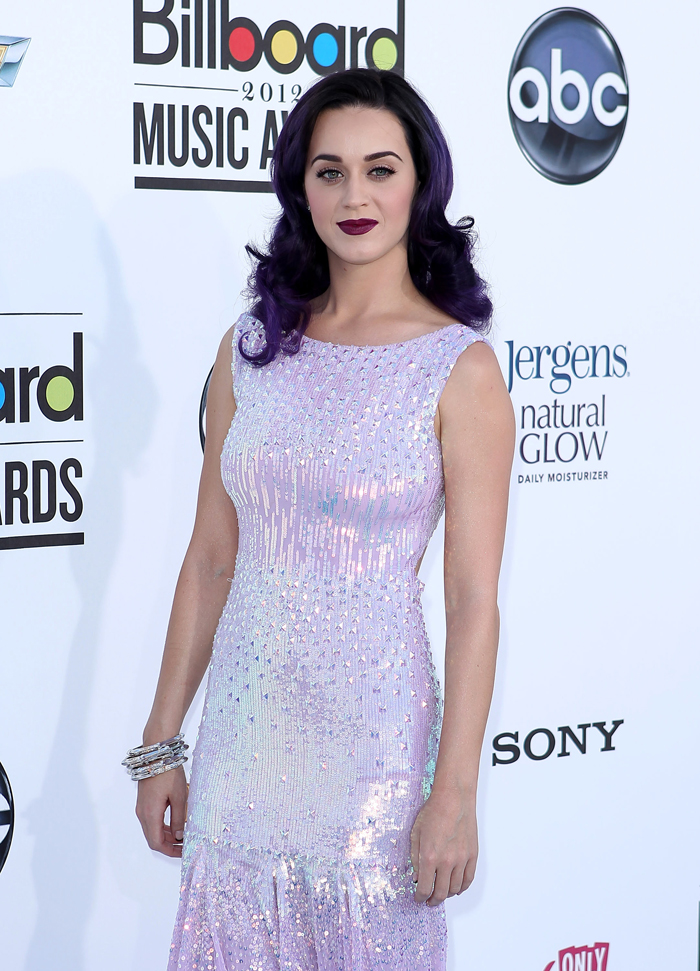 Photos courtesy of Fame/Flynet and WENN