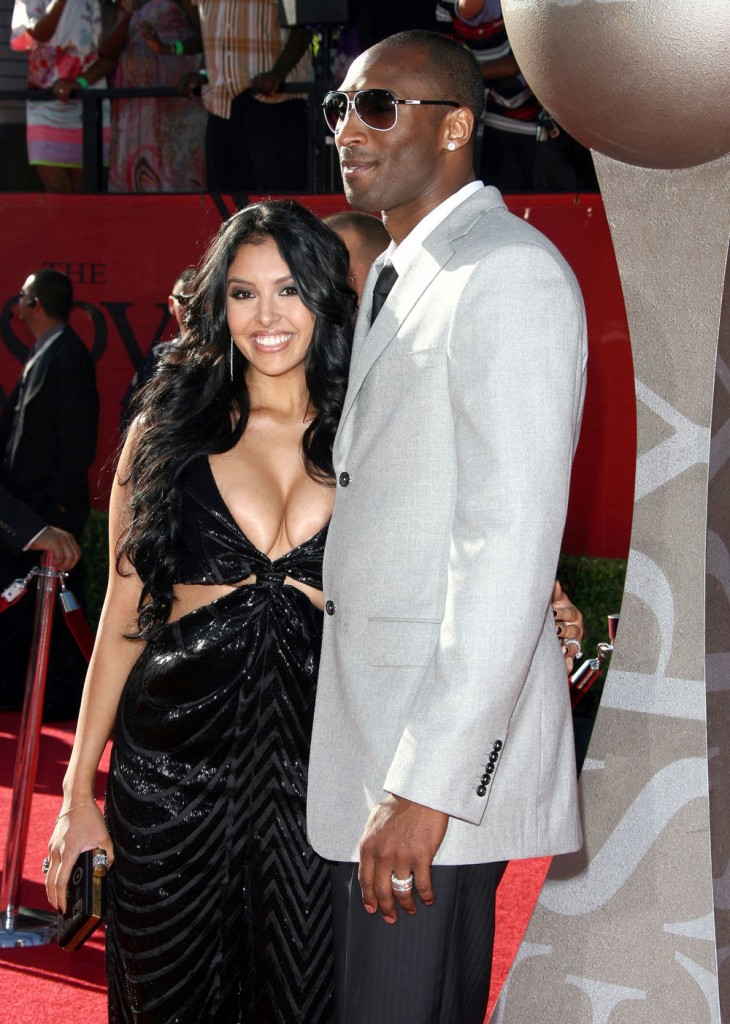 Vanessa and Kobe at the 2009 Espys. I love this photo
This story is from yesterday, but I still wanted to cover it and speculate about what's going on in Kobe Bryant and his wife Vanessa's relationship. The last we heard from these crazy kids, they were back together after Kobe gave Vanessa a bunch of expensive jewelry and swore up and down that he'd never cheat again. (Didn't he do that in '03 after the trial?) It's been a whole four months since we've heard new about Kobe and Vanessa, and it looks like their divorce is off, for now. Vanessa already filed for divorce in December, but apparently there's a clause that she has to wait six months before filing additional papers to make it a done deal. She can pull the plug at any point now, but she's not doing it yet. It looks like she's content to reconcile and is letting the threat of divorce loom over Kobe's head too. Here's more, thanks to TMZ:
Vanessa Bryant will NOT sign documents to make her divorce final … at least for now … because TMZ has learned, she and Kobe are working on a full reconciliation.

We've learned Kobe and Vanessa are trying to work out the issues that caused her to file for divorce back in December. They spend a lot of time together but he has not officially moved back in with her.

Under California law, Vanessa has to wait 6 months before she can file final docs making the divorce official. The 6-month mark hits this weekend, so Vanessa could end the marriage as early as Monday … but we know she won't.

Now here's the deal. We're told Kobe and Vanessa have had their ups and downs since she filed for divorce … and there's nothing stopping her from filing final divorce papers at some point in the future if things don't work out.

One more thing. If Kobe and Vanessa end up living together … it will be in one of her 3 mansions, because he signed over all the deeds to her while they were working out divorce details.
[From TMZ]
These two have been married for 11 years, they met when Vanessa just a senior in high school and Kobe was 21. She knew he was cheating again this time around, we even heard who the other woman was. She filed for divorce, got $75 million and all three of his mansions, and now she's got his attention back from his side pieces (as far as she knows). Being Kobe's wife and mother to his kids is the only job she's had (not that being a mom isn't a full time job for normal non filthy-rich people, you know what I mean) and I'll be damned if she's not exceptionally good at it. Look at how she got his attention and half his stuff. Who's the player now?
Here are Kobe and Vanessa at a Los Angeles Kings vs. Vancouver Canucks NHL playoff game on 4-15-12. Look at her bitch face! These two are also shown in 2009 and 2011 with their girls. Credit: FameFlynet and WENN.com