Is Julianne Hough trying to get a ring by making Ryan Seacrest jealous?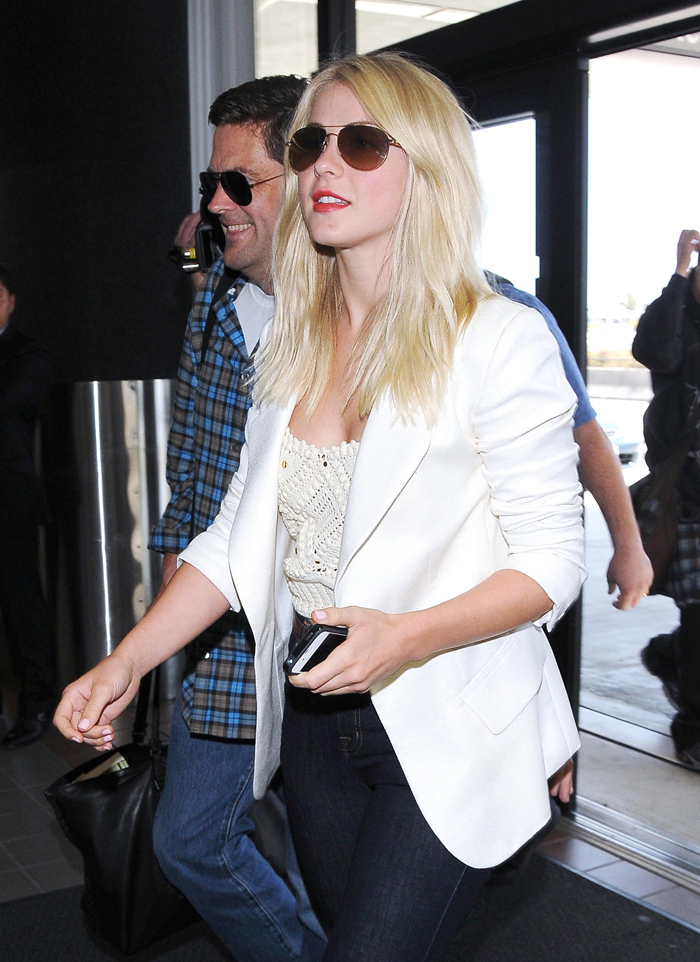 Last week, we covered a story from Star about how Julianne Hough was dragging her feet on moving in with Ryan Seacrest because she's holding out for a ring. One very sexy dress and one statement from Julianne about her enduring virginity later, we have a story from this week's issue of The Enquirer that's all about how Julianne is gunning for that ring by attempting to make Ryan Seacrest jealous. How exactly is she doing so? By talking about how "sexy" Tom Cruise is, which is admittedly a notion that is nearly as hilarious as that W mag model who (in a triumphant bit of fan fiction) was allegedly all hot for Tom too. This story is somewhat believable though, and The Enquirer has word from an insider that Julianne's plan is working: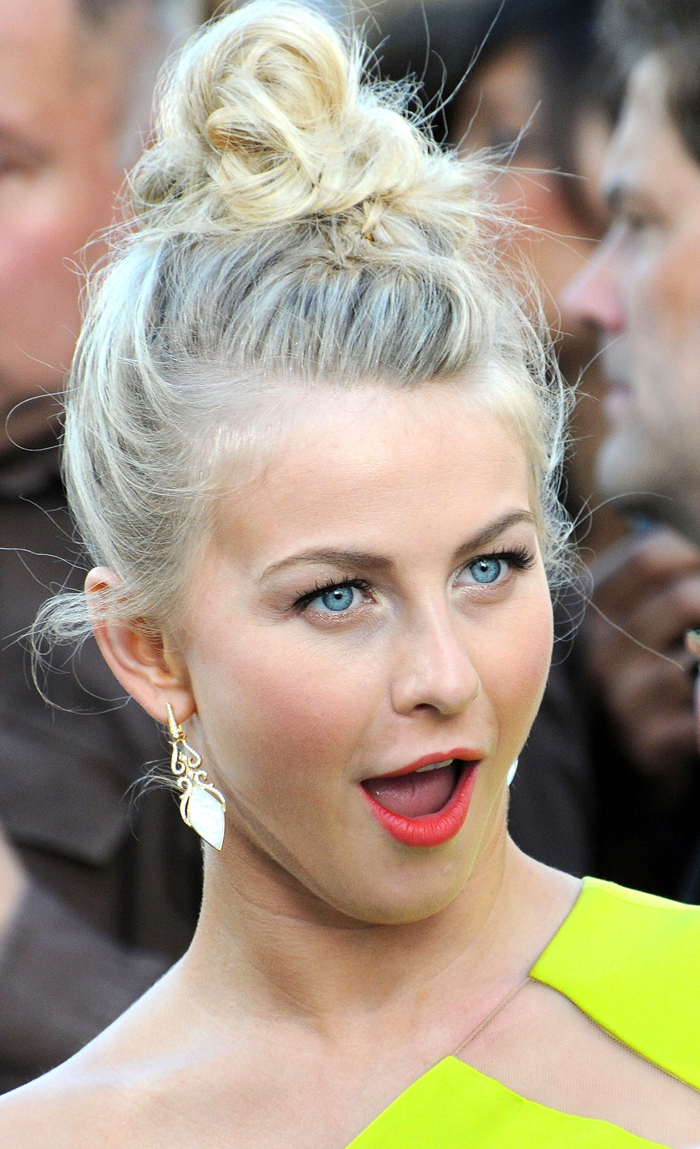 Turnabout is fair play for blone beauty Julianne Hough!

After steady beau Ryan Seacrest faked her out with a non-proposal on "American idol," the former "Dancing with the Stars" pro got even by talking about steaming up the set of "Rock of Ages" with co-star Tom Cruise.

Her scheme to get Ryan jealous did the trick, and he's set to propose for real!

"Ryan was sitting on the fence about when to pop the question — until Julianne started talking aobut her sexy scenes with Tom," a longtime pal of the Hollywood dynamo told The Enquirer. "Now he's finally ready to put a ring on it!"

The 37-year-old "Idol" host had wedding bells in mind when he recently bought Ellen DeGeneres' plush Beverly Hills pad. Ryan, who's worth a whopping $125 million, reportedly paid close to the $49 million asking price for Ellen's sprawling three-acre estate.

"Ryan wants to settle down there and start a family with Julianne," said the source. "And she pushed him into it by making him insanely jealous!"

But that was only after Ryan fooled her bigtime. Julianne, 23, was on "Idol" promoting "Rock of Age" in early May when Ryan announced that he had something to ask her. He reached inside his jacket pocked, but instead of producing a ring, he pulled out an envelope! "Will you give this note I wrote to Tom Cruise?" he asked a stunned Julianne. "Such a big fan! I loved him in 'Cocktail.'"

The source said: "Julianne really thought Ryan was going to propose. After his practical joke, she told a pal, "Two can play at that little game!'"

So in recent interviews, she began gushing about working with Tom, who plays sexy rock god Stacee Jaxx in the film. "I have to say, [I] think he's way more hot now," she said, revealing that one of their scenes was so steamy it got cut from the film. "It was in the strip club, and I gave Tom a lap dance," she said.

The source pointed out: "That was all Ryan had to hear! After that, he declared that he was going to make Julianne his bride. They'll be hitched by Christmas."
[From Enquirer, print edition, June 25, 2012]
The part about Julianne making remarks about Tom could actually be true because this week's issue of In Touch quotes Julianne saying that, in this movie, Tom's version of Stacee Jaxx is "the sexiest thing I've ever seen." Of course, I find the very notion of Tom as "sexy" to be hilarious, but I think that Julianne could safely be the very first person ever to successfully try to make her man jealous this way. What I'm saying is this — I can totally buy that Ryan would be threatened by Tom. Read into that what you will.
Meanwhile, Julianne's also been talking up her faux-stripping scenes in Rock of Ages as well:
Julianne Hough is quite the multifaceted star with her many talents that include dancing, singing, and acting. As such a talented individual, when it came time for her to display her stripping and pole dancing skills for her new film Rock of Ages, the 23-year-old star says she had no trouble owning the craft.

"I'm actually pretty good at that, which makes me wonder what happened in my previous life," Hough said. "Funny enough, I don't wear a lot of clothes when I dance and it's very sexy, so it wasn't too hard to get into the motion of it."

Although it wasn't too hard for her to learn her moves on the stripper pole for the new musical film, the two-time "Dancing with the Stars" champion admitted that pole dancing isn't as simple as it appears.

"My arms were ripped," she said of the training she underwent for the role of a waitress named "Sherrie." "Just the athleticism was more than people think. It's not a bunch of booty shaking."
[From The Insider]
I would safely bet that stripping employs a lot of muscles that one isn't ordinarily accustomed to using, and I'm not even saying that in a pervy way either. However, the Rock of Ages brand of stripping is strictly PG-13, so it's not like Julianne "stripping" will be anything but the dance moves themselves. And let's face it, the girl is a great dancer. Actress? The jury's still out on that one.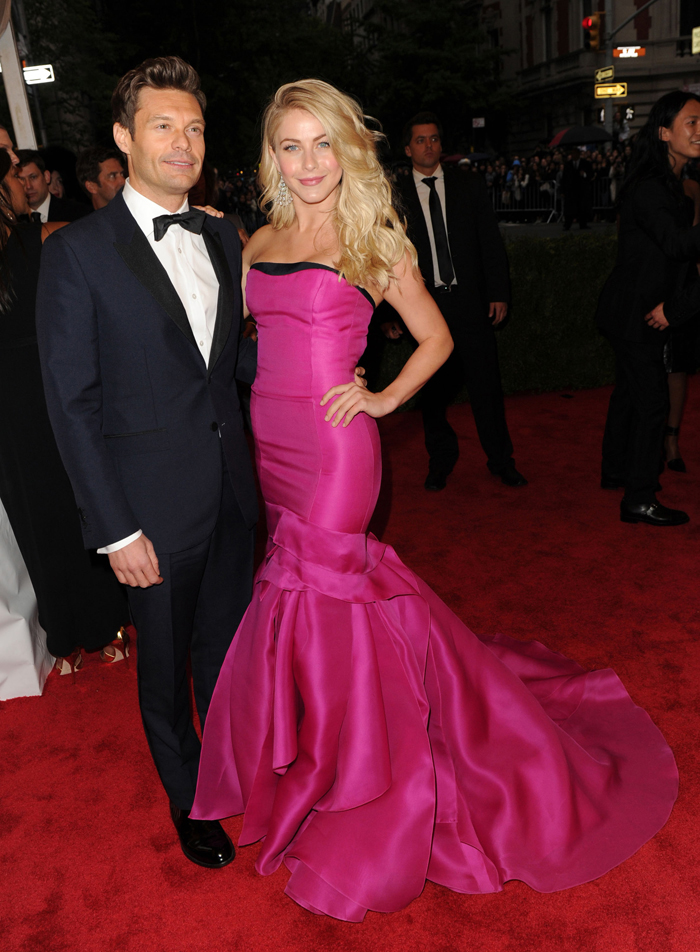 Photos courtesy of Fame/Flynet and WENN
Written by Bedhead

Posted in Julianne Hough, Ryan Seacrest, Tom Cruise

- Mariah Carey lip synced on American Idol [CDAN]
- Colin Firth is looking good [Lainey Gossip]
- Internet celebrity charged with murder! [D-Listed]
- What is Paz Vega wearing? [Go Fug Yourself]
- New bachelors on The Bachelorette [Reality Tea]
- Goodbye to The Office [Pajiba]
- Bachelor Sean's fiance cheats on him [Evil Beet]
- Britney Spears out with her man [Popsugar]
- Nina Dobrev works it [Popoholic]
- Cindy Crawford needs to lay off the 'tox [Celebslam]
- Who said it: Carrie Bradshaw or The Dalai Lama? [Buzzfeed]
18 Responses to "Is Julianne Hough trying to get a ring by making Ryan Seacrest jealous?"