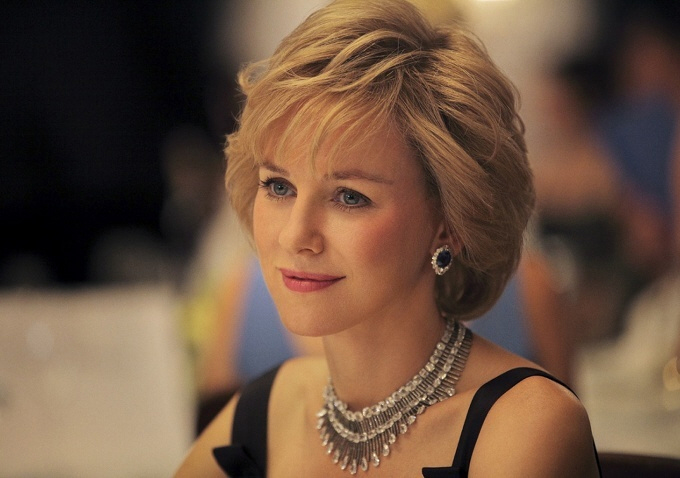 The header photo is the first promotional image of Naomi Watts in character as Princess Diana (or Diana, Princess of Wales for you anal retentives out there). As we discussed earlier this week, Naomi is filming Caught In Flight (now called simply Diana), the (mostly true) story of Diana's years-long relationship with Hasnat Khan, and their breakup which led to Diana's rebound relationship with Dodi Fayed. I'm also including some more paparazzi photos (at the end of the post) from the film shoot in Croatia. I have to say… continue to say, rather, that the production really should have gone the extra mile to find Naomi a better Diana wig. This thing looks a busted, repurposed Farrah Fawcett wig from the 1970s. It's AWFUL. Anyway, here's some addition information about the film:
With her blonde hair perfectly coiffed, a jewelled choker sitting around her neck and a plunging black dress highlighting her slim frame, there is certainly no confusion about which role Naomi Watts is taking in on her new movie.

In the first official picture from the upcoming movie about Princess Diana, Naomi takes on what was arguably the late princess' trademark look. The official shot has emerged after it was announced that the movie, previously reported to be called Caught In Flight, will go by the title of just Diana.

Naomi appears to be completely flinging herself into the role after initially feeling apprehensive about taking the part. However, it seems the chance to work with German director Oliver Hirschbiegel, who is famous for his portrayal of the last days of Hitler in his bunker in Downfall, was too good to turn down.

The acclaimed filmmaker said that Naomi is 'a truly exceptional actress' who embodies 'the warmth, humanity and empathy' of the 'global icon' Princess Diana. And she was certainly working hard to make sure her performance at the nighttime dinner party scenes was note perfect. She was seen spending much of the day preparing, and was locked in discussions with Oliver about the best way to approach filming the important scenes.

The film is a particularly difficult balancing act, as it follows the last two years of the tragic royal's life before her death in 1997. The film is thought to focus on her relationship with heart surgeon Dr Hasnat Khan and also looks at her time with Dodi Fayed, who she was with at the time she died. The movie will include her death, aged 36, in a car in a Paris tunnel in 1997 with Dodi.

Miss Watts, who at the start of her career starred in Australian daytime soap Home and Away, has admitted she is 'absolutely terrified' of playing the part of the princess. The Oscar-nominated actress has said of her controversial new role: 'She is a part of our history, an incredible woman and fascinating but a tragic ending. The film-makers came to me and it's a good script and it's very scary and I kind of wanted to say "no" but I couldn't.'

Miss Watts moved to London's Kensington to prepare for the role and was said to have visited Diana's favourite places -such as The Harbour Club and Beauchamp Place – as part of the preparations to get into character.

Filming of Diana comes after news that another movie about the tragic princess has been scrapped.
The Keith Allen-directed documentary Unlawful Killing, about the deaths of the British princess and her boyfriend Dodi Fayed in a Paris car crash in 1997, claimed the royal was murdered in an establishment plot involving her former father-in-law Prince Philip.

However, the movie, which was screened at both the Cannes Film Festival in France and the Galway Film Festival in Ireland in 2011, will not be released after producers failed to secure insurance to protect distributors against legal action.

Lawyers had warned there are 87 contentious allegations that would have to be cut before a British screening and although there were plans to release it in the US in August to coincide with the 15th anniversary of the deaths, the insurance was needed to protect the European offices of the distributors.

A spokesman for the movie said: 'Unlawful Killing has been sold all around the world. But there was a specific form of insurance needed by the US distributors to cover them for their French and UK offices. This proved impossible to secure. The film has been withdrawn in perpetuity.'
I believe Naomi is a talented actress, and I think she's capable of pulling off the Diana "role". But I do have doubts about A) whether this particular Diana story should be told and B) Whether enough time has passed to do a Diana film without it blowing up in Naomi's face. The wig isn't inspiring confidence that this is a well-produced film, honestly. And I agree with some of our commenters – I kind of think they should have given Naomi a prosthetic Diana nose.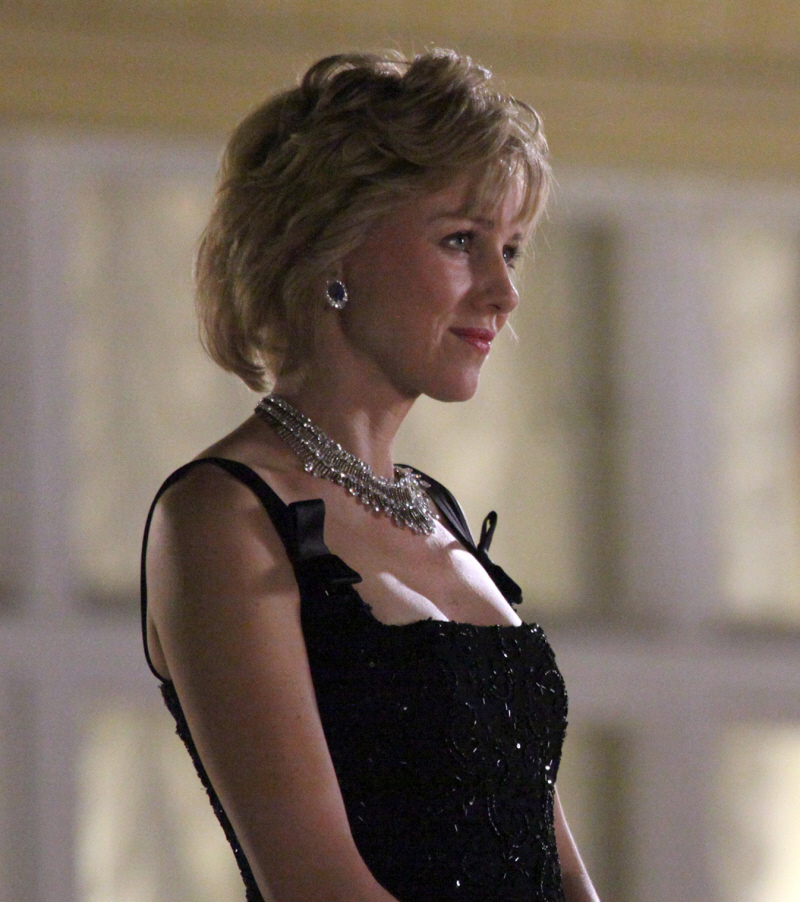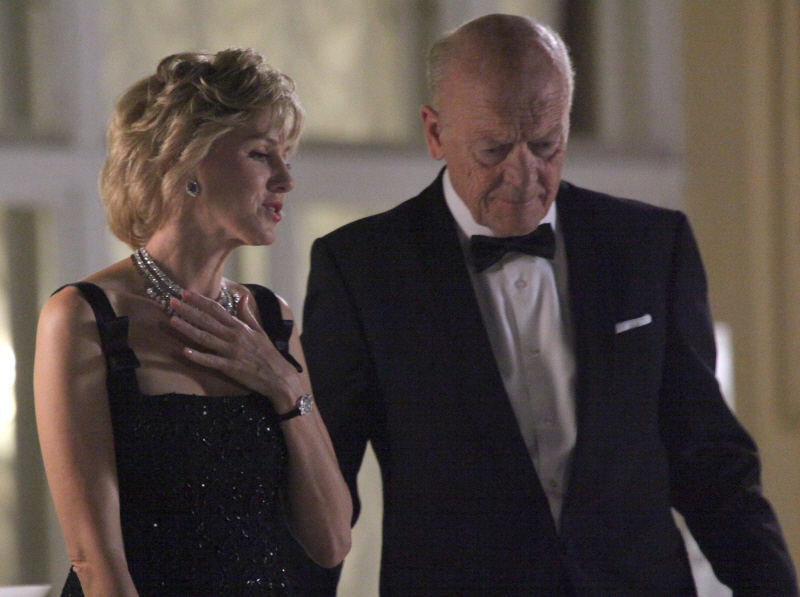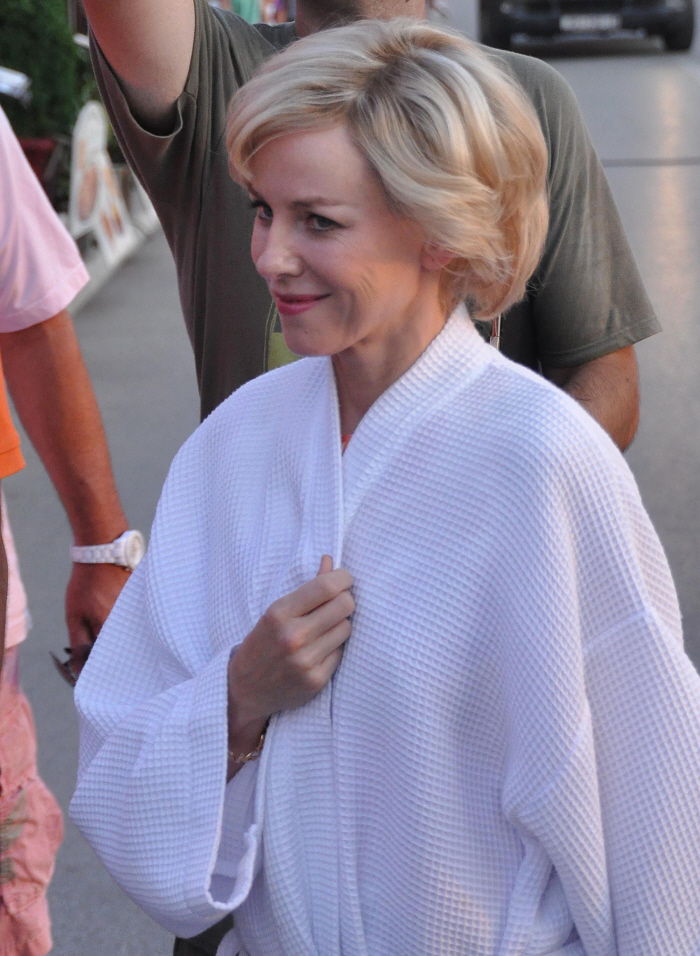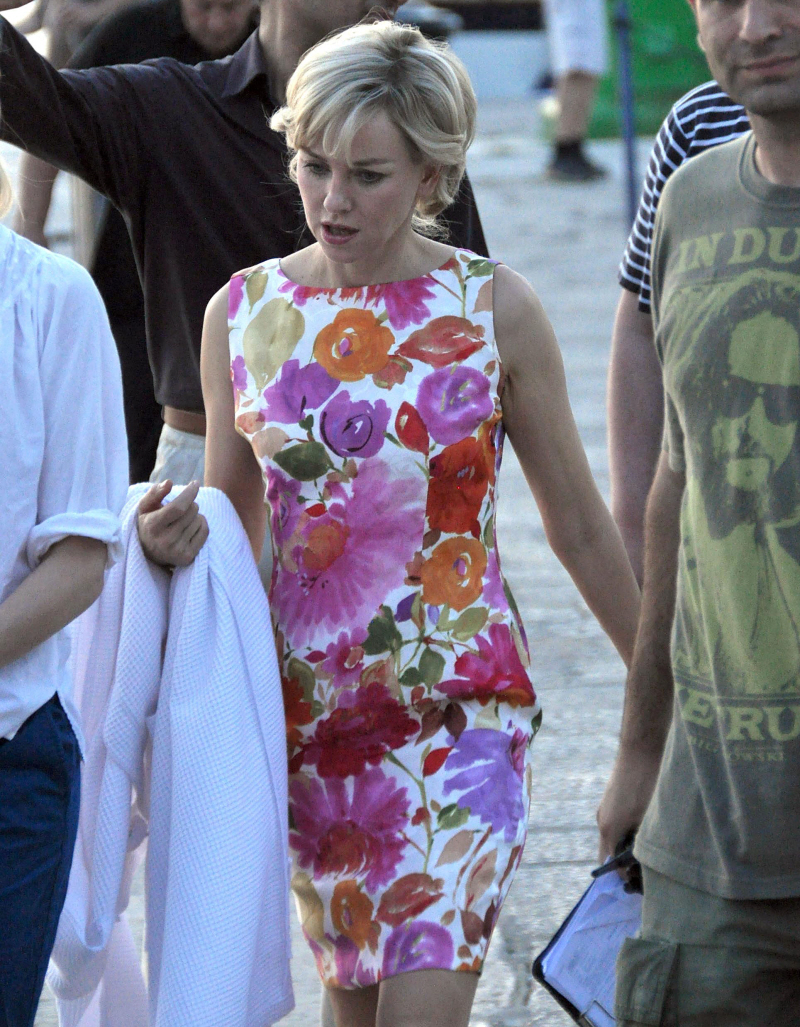 Photos courtesy of WENN.