Did Channing Tatum's bitchfight with Alex Pettyfer lead to a photoshoot ban?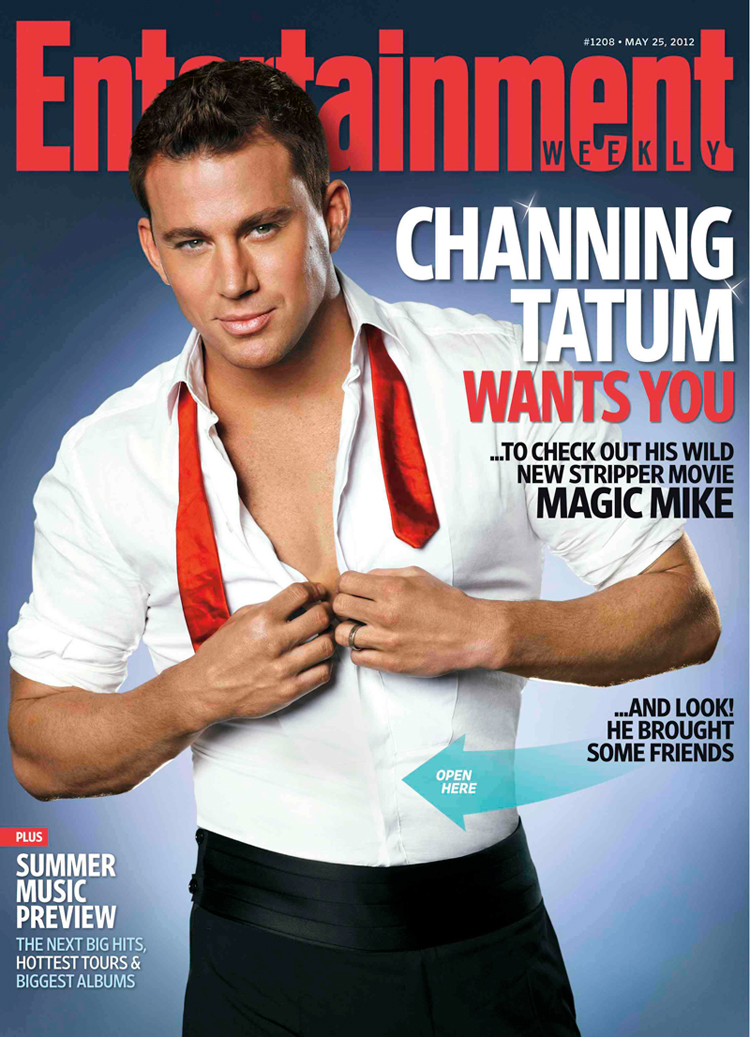 Here's a companion piece to last week's story about how Channing Tatum and Alex Pettyfer were bitchfighting on the Magic Mike set. My general consensus over the story was that Channing is such an easygoing guy that it's hard to imagine him not being universally loved by everyone with whom he comes into contact. As for Alex, he's obviously been working hard to overcome his douchiness from a PR stance, but I guess it's hard to suppress one's true (alleged) personality for an extended period of time.
Now Page Six has a followup piece about how the Channing-Alex showdown extended beyond the film set even though "those around them" (read: Matthew McConaughey and his bongos) tried to get them to kiss and make up. Reportedly, Channing (one of the movie's producers) was so disgusted with Alex that he barred him from the EW.com beefcake promotional shoot. It certainly looks like that's the case, since all of the group shots are conspicuously missing a certain Brit — although the magazine included one shot of Alex and Channing together on a beach, which I've posted below this story. Alex was also missing from the EW group interview, which included Channing, Matthew, Matt Bomer, and Joe Manganiello — none of whom ever brought Alex up during their bro talk. Alex's rep has been quick to counter with a claim that Alex was invited but was too busy to attend. Sounds suspicious, right?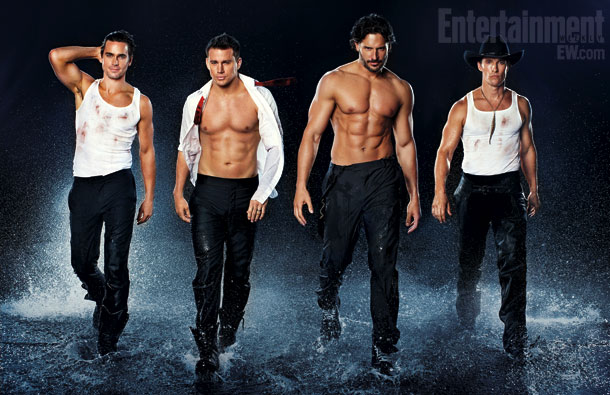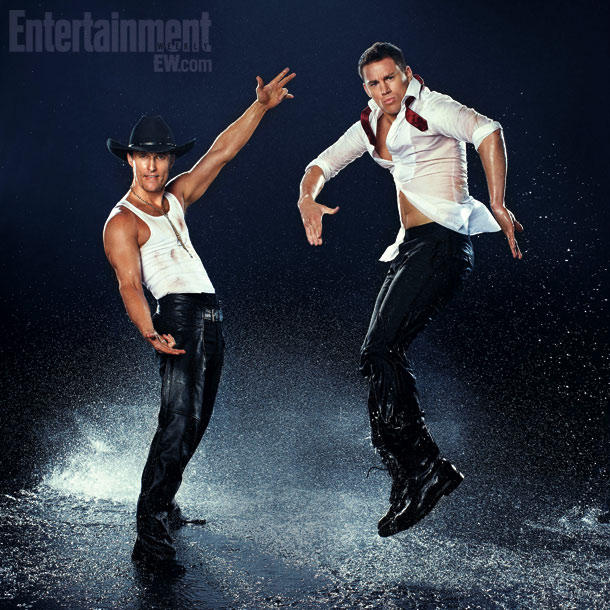 Has a beef between Channing Tatum and Alex Pettyfer on the set of beefcake opus Magic Mike continued beyond production?

A source close to the hit summer stripper movie tells Page Six that Tatum and Pettyfer locked horns during filming, and while the movie's creative team tried to bring the actors together, bad blood remains.

"Channing and Alex had a fight while filming," said a source close to the movie. "Those around them tried to mend their relationship, but Channing doesn't want anything to do with Alex."

After the film wrapped, Tatum appeared on a recent cover of Entertainment Weekly in a sexy spread, but tongues wagged because he only shared the spotlight on the shoot with buff co-stars Matthew McConaughey, Joe Manganiello and Matt Bomer.

The cover showed Tatum suggestively unbuttoning his shirt, with the headline, "Channing Tatum Wants You" followed by, "And Look! He Brought Some Friends." But Tatum's "friends" didn't include Pettyfer, who has second billing above the three other actors.

"Channing said he didn't want to do [the shoot] if Alex was there," our source sniffed. "Alex is known in Hollywood for being rude and difficult." Previous reports have chronicled Pettyfer's issues on other movie sets.

But a rep for Pettyfer told us about the EW shoot: "They were all offered the cover, and everyone was happy to do it with everyone else. Alex was unavailable to travel to New York . . . because he had another commitment that he couldn't get out of. It was purely a logistical issue that prevented Alex from getting there."

A Tatum rep denied the beef, saying, "This isn't true." Producer Nick Wechsler told us, "Alex was a great pro to work with. He did everything that we asked for, was completely prepared and well-mannered. We have no idea where these false stories are coming from."
[From NY Post]
Man, Alex's old reputation is going to chase him for quite awhile, but I still can't make a definite call on whether this story could really true. Oddly enough, I can't even imagine how awful a dude must be if Channing would take great pains to exclude him from promotion when, in reality, Alex did receive second billing for his role. It's hard to imagine Channing being so petty, but I guess if Channing writes Alex out of the planned sequel, then that will be a good indicator of truth to this story.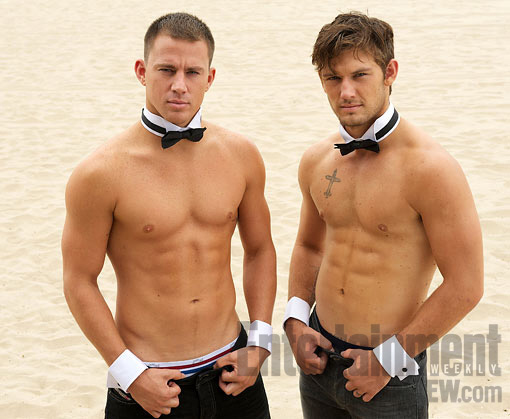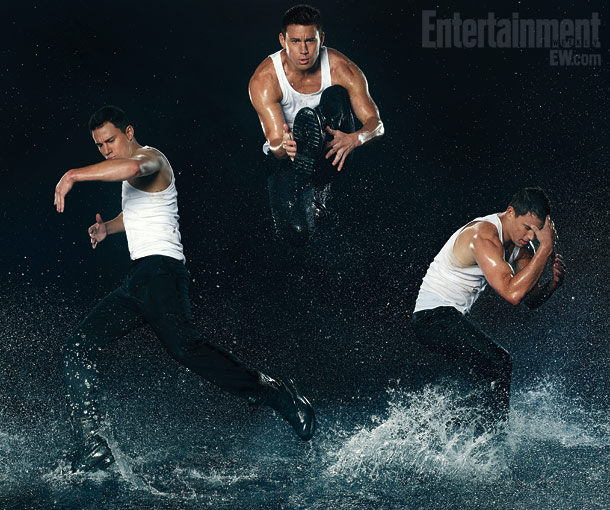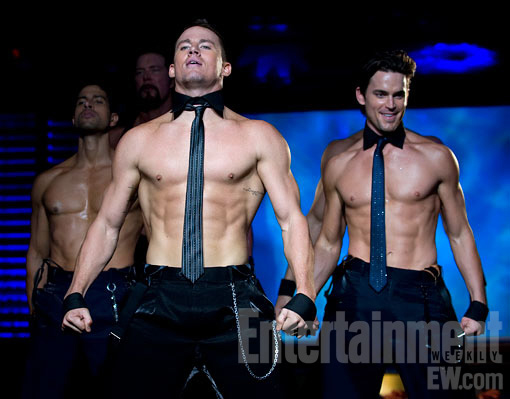 Photos courtesy of EW.com
Written by Bedhead

Posted in Alex Pettyfer, Channing Tatum

- Mariah Carey lip synced on American Idol [CDAN]
- Colin Firth is looking good [Lainey Gossip]
- Internet celebrity charged with murder! [D-Listed]
- What is Paz Vega wearing? [Go Fug Yourself]
- New bachelors on The Bachelorette [Reality Tea]
- Goodbye to The Office [Pajiba]
- Bachelor Sean's fiance cheats on him [Evil Beet]
- Britney Spears out with her man [Popsugar]
- Nina Dobrev works it [Popoholic]
- Cindy Crawford needs to lay off the 'tox [Celebslam]
- Who said it: Carrie Bradshaw or The Dalai Lama? [Buzzfeed]
22 Responses to "Did Channing Tatum's bitchfight with Alex Pettyfer lead to a photoshoot ban?"