Anne Hathaway might be pregnant, allegedly: does she look like it at all?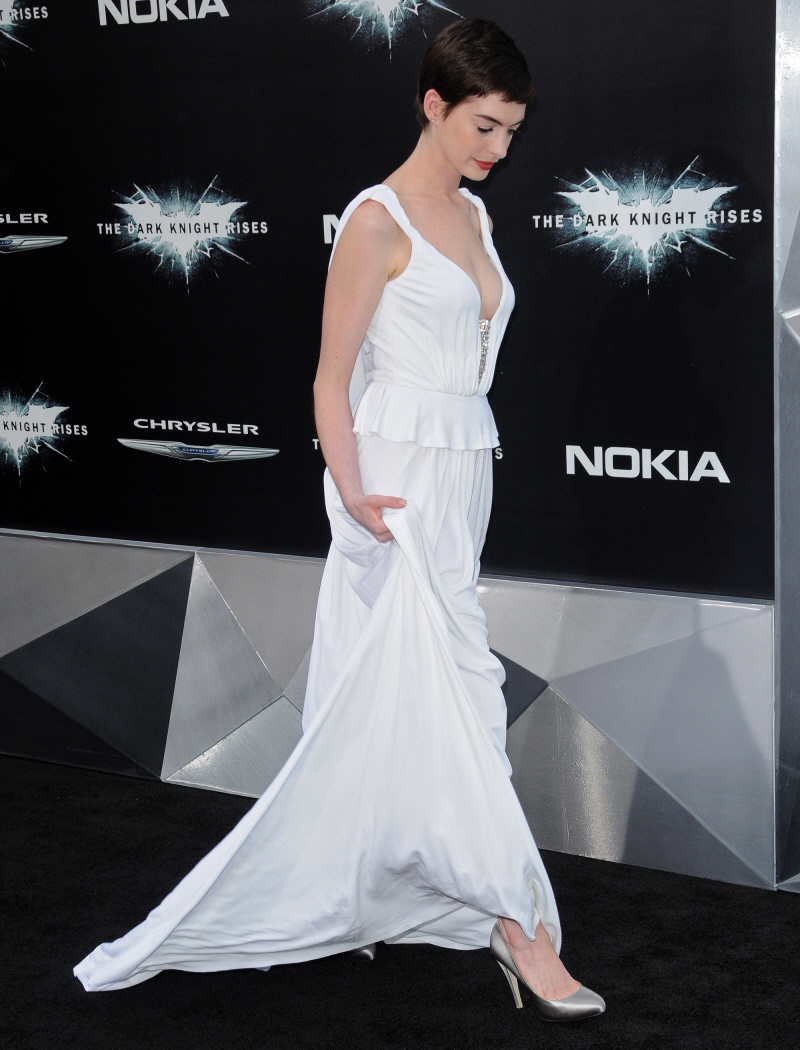 I completely missed this story over the weekend, so for that, I apologize. Apparently, several media outlets (like, all of them) are trying to claim that Anne Hathaway and Adam Shulman are expecting their first child. The evidence is pretty thin – Radar has photos of Adam and Anne "celebrating" with their parents over dinner in NYC over the weekend. Radar has an eyewitness who claimed:
"Not only did both Anne and Adam have their parents at dinner with them, which is unusual, but the amount of enthusiasm and excitement made it clear that they were celebrating some major news," an eyewitness said. "And while everyone else sipped on wine at dinner, Anne didn't drink any alcohol, which is an indication that she could be pregnant. Anne and Adam are already engaged, so the only other good news could be a baby on the way! Anne has been getting flack lately for her weight loss, but last night it looked like there was a bump on her belly."
Now, look at these photos of Anne at last night's TDKR premiere again. I didn't say anything about a Bump Watch because it literally did NOT occur to me when I glanced through the photos. If anything, I thought to myself, "God, she really did lose a lot of weight for 'Les Mis'." She looks so slim to me – and her boobs look kind of deflated from the weight loss too. My take: those don't look like early-pregnancy boobs, nor does Anne's face look in any way "filled out" from pregnancy. I know not all women are the same, etc, etc, but usually Bump Watch is more obvious.
Of course, there are signs that I could be wrong and Anne actually is knocked up. For one, Anne didn't deny the reports while on the red carpet. Two, she wore an awful dress with a possible bump-concealing peplum. Three, Annie wants an Oscar and maybe she thinks "The Natalie Portman Method" to Oscar campaigning would really work out. That's the big one, by the way – I like Anne a lot, but I'll admit that I wouldn't put it past her to calculate a pregnancy to help along with an Oscar campaign. So… the chances she's actually knocked up are (by my estimation) 50-50.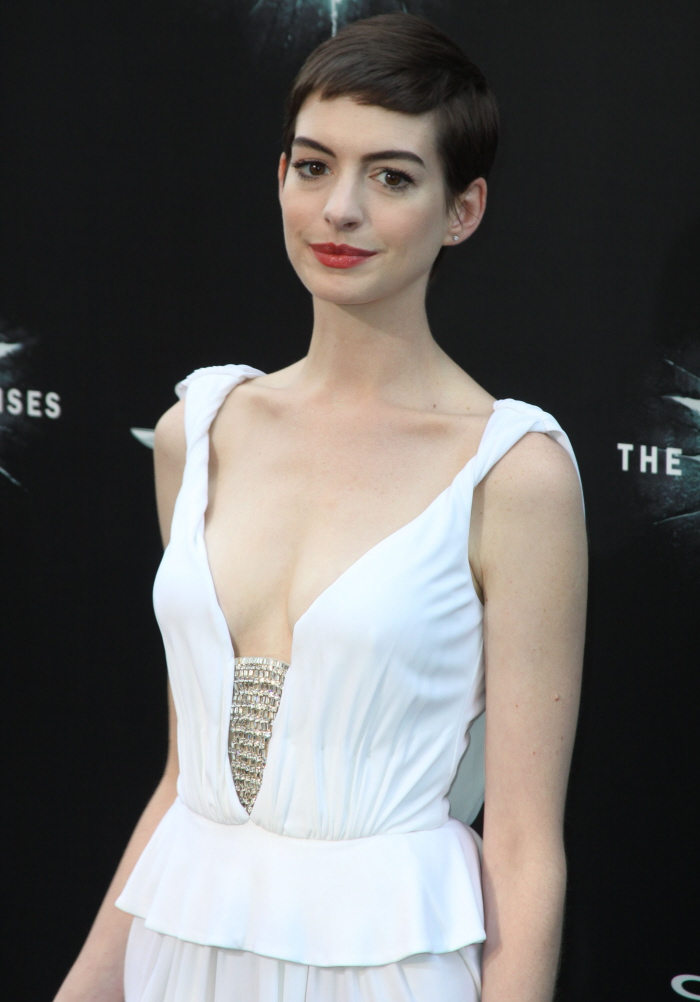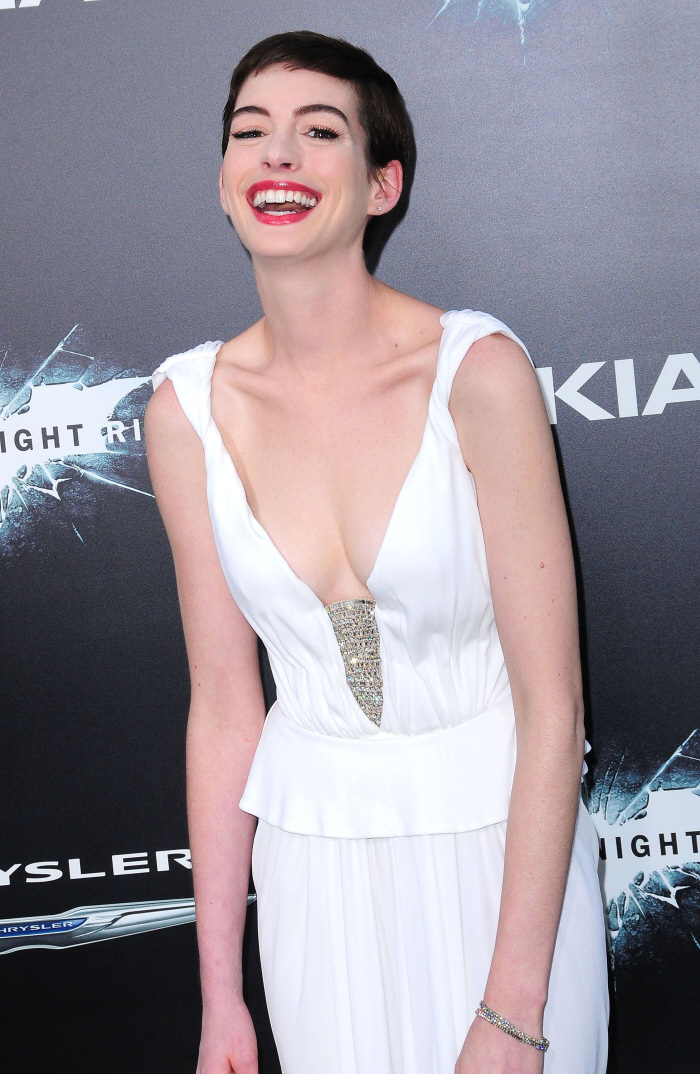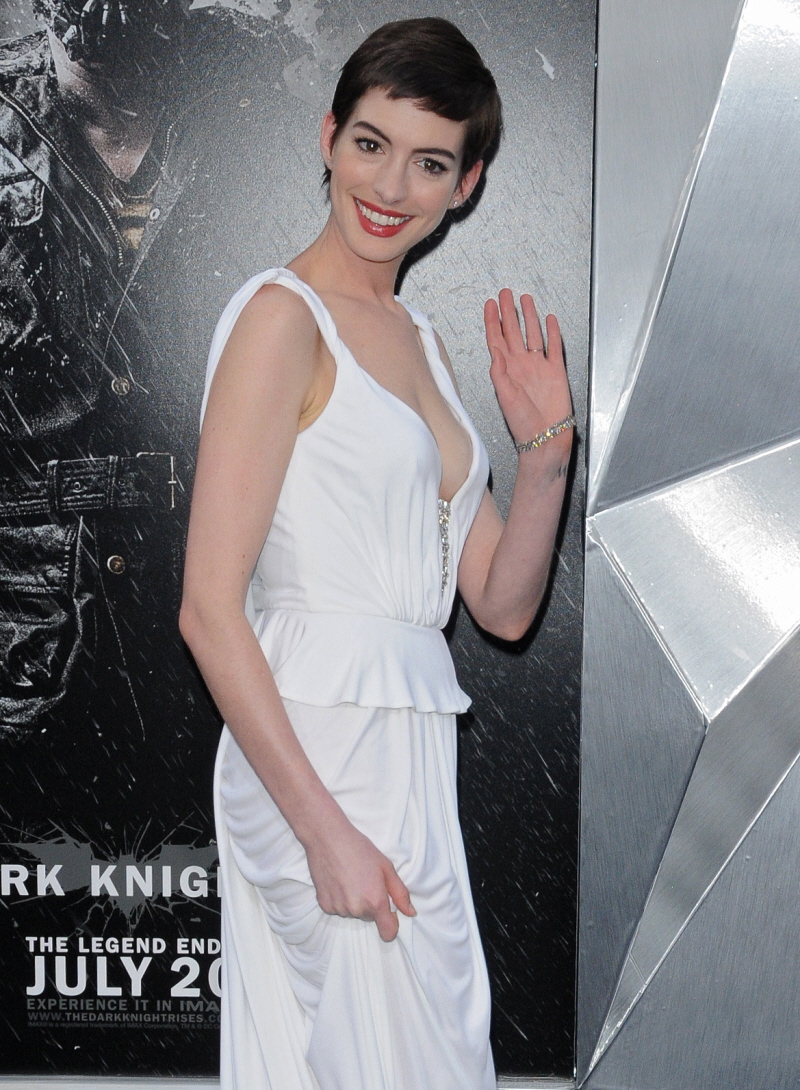 Photos courtesy of WENN, Fame/Flynet.

Written by Kaiser

Posted in Anne Hathaway, Pregnant

- Harry Styles & Kimberly Stewart going strong [Lainey]
- Demi Moore's new man is gross [D-Listed]
- Fug or fab: Emma Stone [Go Fug Yourself]
- Arrest warrant issued for Jenelle Evans [Reality Tea]
- Only God Forgives review [Pajiba]
- Hugh Jackman, scooter master [Buzzfeed]
- Who does Drew Barrymore call her sister? [Evil Beet]
- Cannes couples past and present [Popsugar]
- Arrested Development supercut [CDAN]
- Lea Michele's see through skirt [Celebslam]
- Cheating wife's lover escapes out of window [Movin925]
- Joe Francis is crazy [Starcasm]
38 Responses to "Anne Hathaway might be pregnant, allegedly: does she look like it at all?"