Duchess Kate in a blue Stella McCartney dress: mod, youthful and adorable?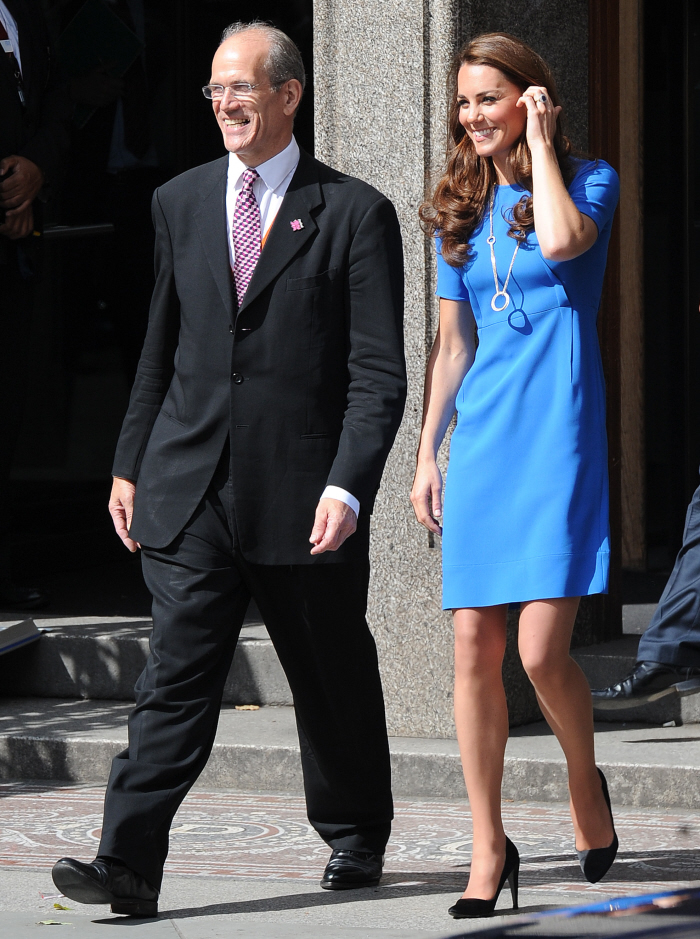 Aw, I kind of love coming into work in the morning to find fresh Duchess Kate photos waiting for me. It makes my day! Especially when she's wearing something somewhat interesting. While this outfit wouldn't be all that newsworthy on another girl, I do think it's out of character for Kate. Many of you have complained that her style is "too old" for a "girl" her age. I don't know… sometimes her looks are very dated and '80s, and she's a conservative dresser now that she's a duchess, but I think she looks appropriate for a 30-year-old. This Stella McCartney dress is pretty cute on Kate – and it actually makes her look younger, I think. The color is nice on her, and like all of Stella's dresses, the fit is off.
Kate was making an appearance at London's National Portrait Gallery (for which Kate is a patroness) to attend an Olympic exhibition called "Road to 2012: Aiming High" – it was a photography exhibit featuring London's preparations for the Olympics. Thus, Kate wore the circular necklace – said to be a piece that she already owned. Here's more from The Mail:
The Duchess of Cambridge heralded next week's London Olympics by wearing a distinctive gold hooped necklace today. The necklace was one from her own wardrobe, but aides said she thought it appropriate to wear it today given the Olympic theme.

Kate, 30, also flew the flag as she sported a pretty electric blue dress by British designer Stella McCartney. Her outfit was completed with black Prada heels – and her trademark blow dry.
Kate arrived at the gallery just off Trafalgar Square in a chauffeur driven car at 9.05am and was greeted by dignitaries including Dame Tanith Grey-Thompson.

The Duchess actually features in the exhibition herself in a black and white photograph taken by Jillian Edlestein at a Team GB hockey event at the Olympic Park earlier this year. The Duchess also popped in to see a couple of the other exhibitions and viewed footage of a bare chested sleeping David Beckham taken by Sam Taylor wood. She also viewed the NPG's Diamond Jubilee Exhibition on The Queen, Art and Image.

Today's engagement was the first of several involving the Duchess over the coming weeks with an Olympic theme. Kate was visiting the gallery, of which she is patron, to view a new exhibition entitled Road to 2012: Aiming High. It is the final – and largest – part of the NPG's three-year Olympic-themed project, which has documented the preparations for London 2012.

Working with several internationally renowned photographers, it has created a lasting record of the people who are contributing to the summer's events, from world-class athletes and those working behind the scenes, to people living and working in the host boroughs for the 2012 Games.

The current exhibition showcases more than 100 portraits by Anderson & Low, Jillian Edelstein and Nadav Kander following the final stages of the preparations. The photographs range highly crafted images of athletes' physical perfection and endurance to documentary-style pictures of those living and working the East of London.

Royal aides said the Duchess had been looking forward to viewing the exhibition 'immensely' as she is a keen photographer herself. She wrote her history of art degree dissertation at St Andrew's University on the photography of the Alice in Wonderland author, Lewis Carroll.

In 2007, she also curated an exhibition of celebrity portraits by the photographer Alistair Morrison at a London gallery. Morrison, who has many of his portraits on display in the NPG and has worked with the Duchess on her photography, has said of her work: 'She is very, very good, and it shows. She takes beautiful, detailed photographs.'

Before marrying Prince William last year, the Duchess worked for her parents' mail order partyware business, Party Pieces, where her roles included catalogue design and photography.

And during her inaugural royal tour of Canada and California last year, the Duchess was often seen with her camera, taking personal pictures of their trip. The Prince of Wales is understood to be encouraging his daughter-in-law to pursue her love for photography and there has even been talk of her staging an exhibition of her work in aid of some of her charitable causes.
Gotta love the revisionist history for Kate. Now she's being billed as some kind of major photographer who just happened to chance upon a prince and she gave up her first love – PHOTOGRAPHY – for William. Still, this seems like a nice event, and Kate looked cute, and I'm sure she had fun.
Do you want me to say anything about Royal Bump Watch? I don't think she's pregnant. Not yet. I do think she's wearing a massively padded bra.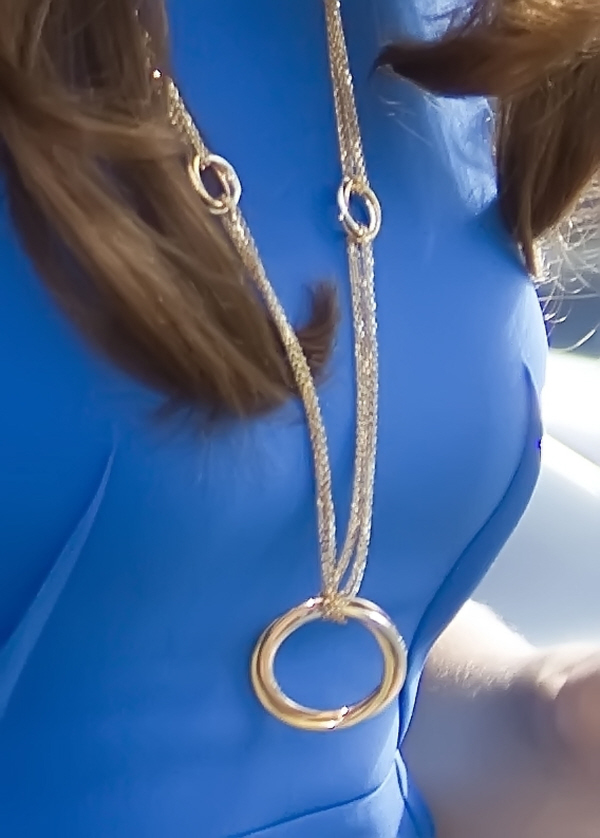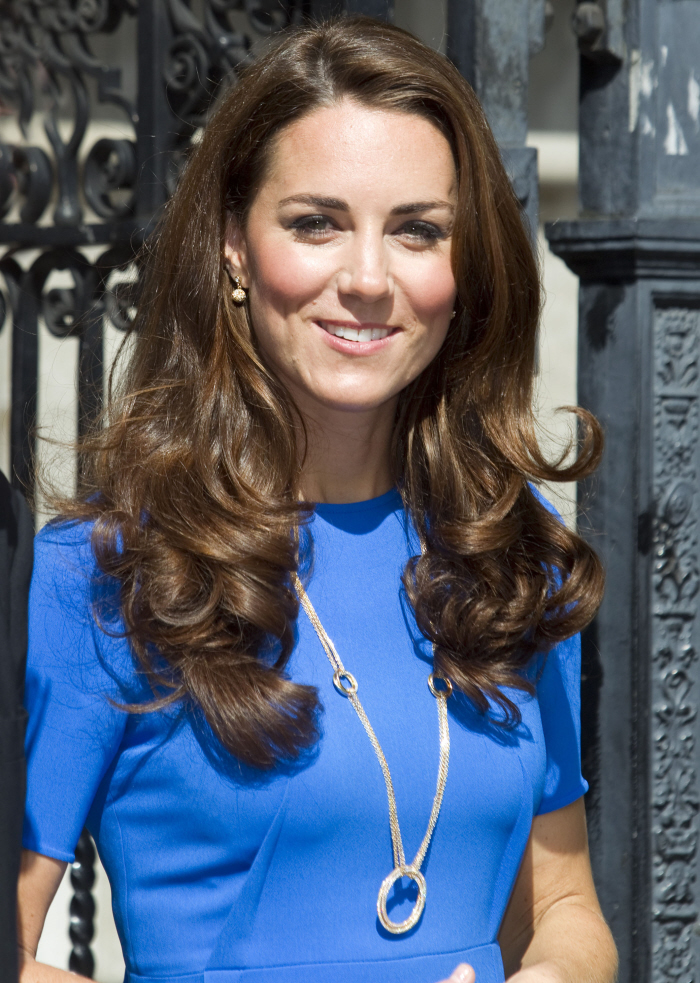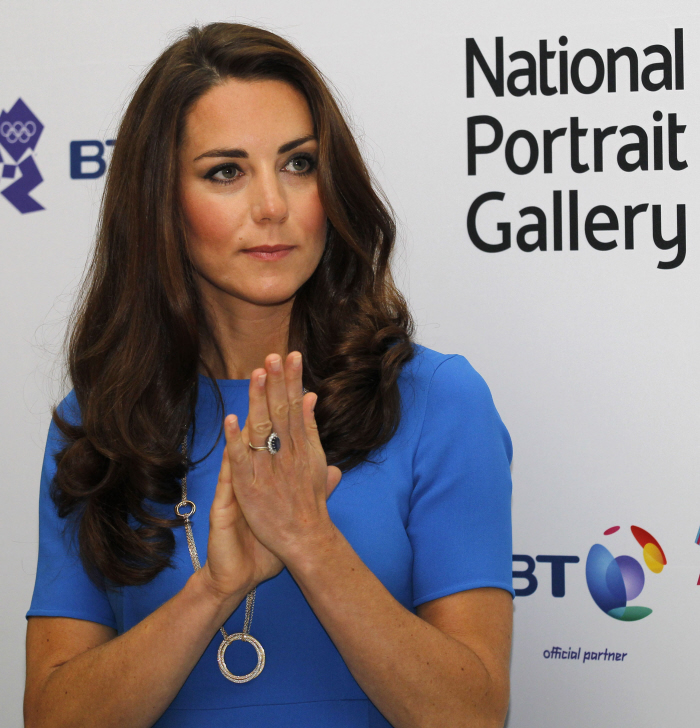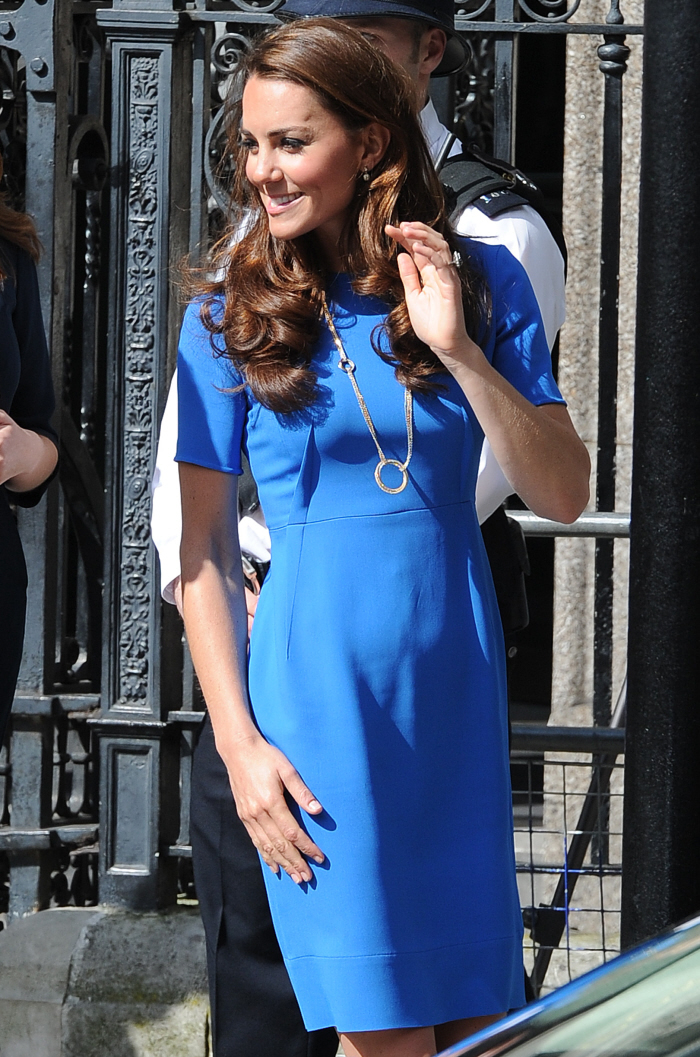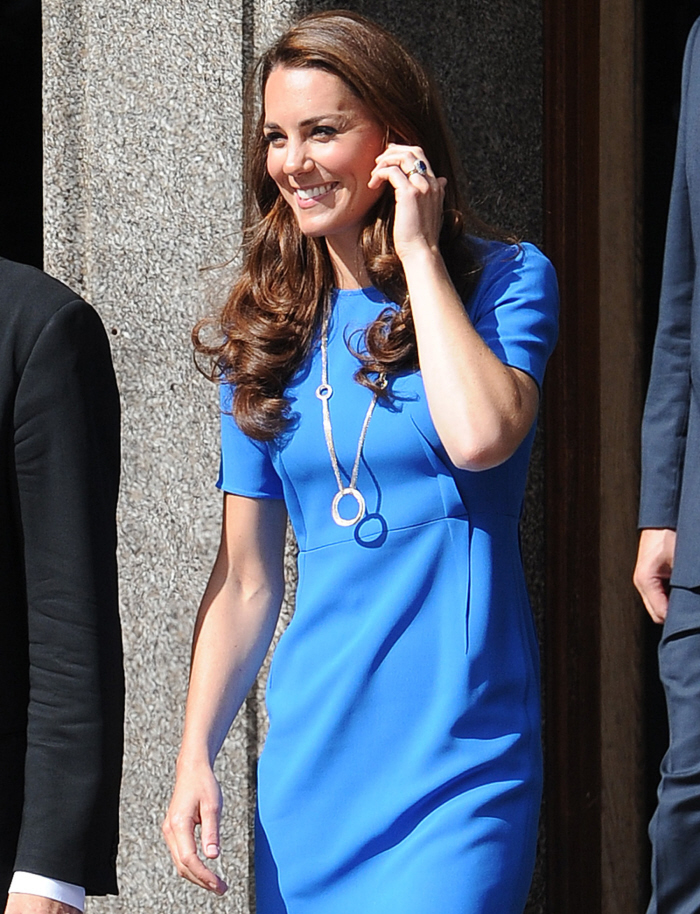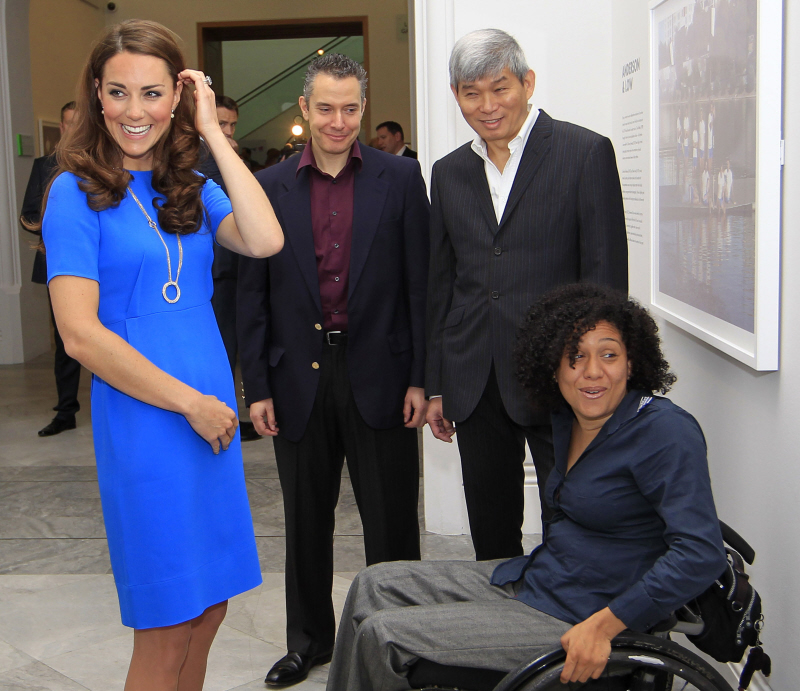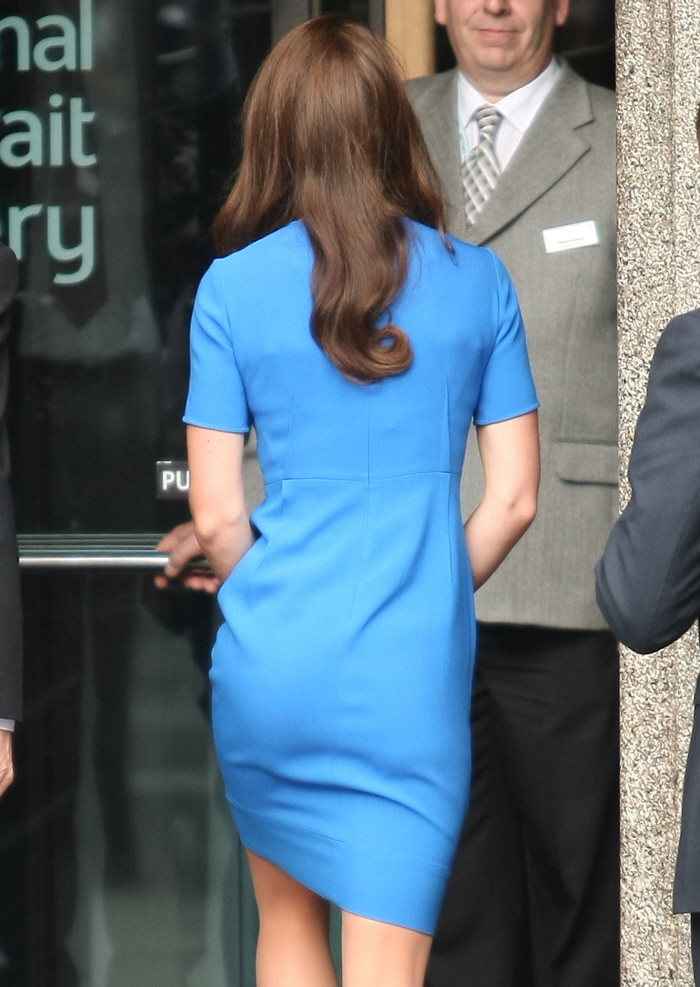 Photos courtesy of WENN.

Written by Kaiser

Posted in Fashion, Kate Middleton

- Mariah Carey lip synced on American Idol [CDAN]
- Colin Firth is looking good [Lainey Gossip]
- Internet celebrity charged with murder! [D-Listed]
- What is Paz Vega wearing? [Go Fug Yourself]
- New bachelors on The Bachelorette [Reality Tea]
- Goodbye to The Office [Pajiba]
- Bachelor Sean's fiance cheats on him [Evil Beet]
- Britney Spears out with her man [Popsugar]
- Nina Dobrev works it [Popoholic]
- Cindy Crawford needs to lay off the 'tox [Celebslam]
- Who said it: Carrie Bradshaw or The Dalai Lama? [Buzzfeed]
124 Responses to "Duchess Kate in a blue Stella McCartney dress: mod, youthful and adorable?"