Did Jennifer Aniston dump Justin Theroux after he refused to commit to her?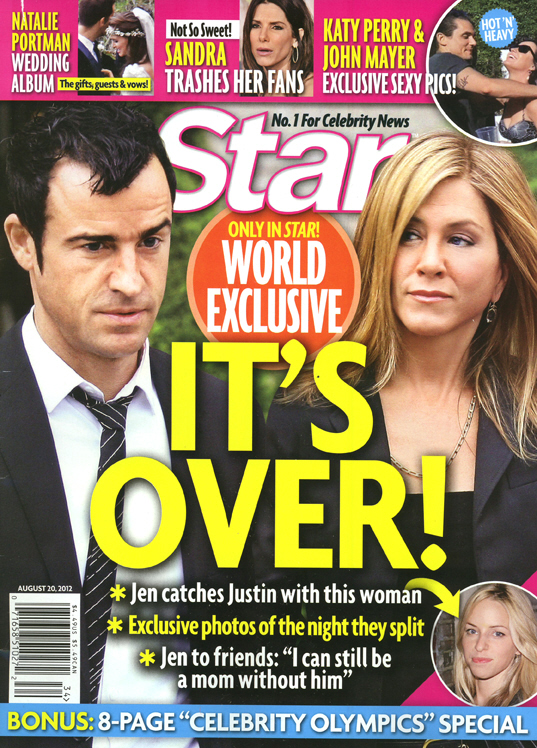 As I mentioned yesterday, there are some rumors circulating that Jennifer Aniston and Justin Theroux are either on the rocks, or they've split up completely. I thought the rumors were just based on my easy observation that Justin was in NYC and LA for two weeks while Jennifer worked in North Carolina, and wasn't that weird because usually they're joined at the hip? That seemed to be the gist of the UK rumors about JustJen, but as you can see, Star Mag has decided to one-up the JustJen Breakup Rumors by adding some new layers. According to Star (via HL), Jennifer demanded a commitment, Justin was all "meh" and so Jennifer has had him followed while they're apart!!! Epic.
After waiting two years for a proposal from her boyfriend Justin Theroux, Jennifer Aniston has finally reached her breaking point, according to a new report! Following a romantic dinner at Giorgio Baldi restaurant in Santa Monica, CA, on July 11, the 41-year-old stood her ground and allegedly demanded an ultimatum.

"The dinner did not last very long, and they left abruptly and walked out separately," said a witness at Baldi restaurant. "In the car, they sat apart, on opposite sides. She was burying her face in her hands."

"Jen said, 'I need a commitment, and I need it now,'" an insider tells Star. Only, instead of a dropping down to one knee and confessing his undying love, Justin reportedly shrugged his shoulders.

"That was the moment the writing was on the wall for Jen," adds the insider. "It crystalized in her mind that Justin isn't the one for her."

Devastated by the turn of events, Jen allegedly told Justin that they should go their separate ways. "Justin pleaded for a second chance, but for her the love is gone."

If Justin's fear of commitment was the only factor, perhaps the two could've found a way to reconcile, but it seems marriage wasn't the only issue at hand. "Looking back, Jen never fully trusted Justin," says a friend of the actress. And perhaps for good reason.

Throughout his relationship with Jen, Justin always had insisted on remaining friendly with his ex-girlfriend of 14 years, Heidi Bivens. Lately, their friendship had allegedly become closer than ever. "Heidi and Justin have been talking for months, and Jennifer had no idea," reveals an insider. "But she started getting suspicious."

Mere days after their reported breakup, Jen's suspicions were allegedly confirmed. "To give her closure, Jen even had someone following Justin in New York while she was away," explains a friend. "He got together with Heidi within days of Jen leaving. It seems like Justin couldn't wait to be rid of Jen so he could cut loose."
Don't you love how Jennifer's (alleged) spying is easily explained away? "To give her closure, Jen even had someone following Justin in New York while she was away…" It was FOR CLOSURE y'all. She was just mourning the death of her relationship by having her boyfriend followed while she was out of town. If it was any other woman, that action would not be framed in that way, like OF COURSE she had him followed, it was for closure, what do you want?
As for the main part of the story – Jennifer demanding a commitment, Justin's hipster apathy… eh. I think Justin is apathetic, for sure. He and Heidi Bivens never got engaged or married and they were together for 14 years – I would be willing to bet that Justin is simply against marriage. But I do think it's unfair to paint the current version of Aniston as a fairy-tale-seeking, needy, "YOU NEED TO PUT A RING ON IT" type of woman. She's not Jennifer Lopez, you know. Everything that Aniston has been saying lately leads me to believe that maybe she's fine with not getting married too.
And it seems like Aniston's reps took this seriously enough to respond – I love what Huvane deems important enough to deny.
Jennifer Aniston and Justin Theroux are over? Not so fast. A new report in Star magazine claims that Aniston broke up with Theroux after a year-and-a-half of dating, allegedly because he wasn't ready to commit.

But the 43-year-old actress' rep countered to Wonderwall, "It's once again just another fabrication to sell magazines and has no relationship to reality."

Among Star mag's supposed bits of evidence was Theroux's recent dinner at NYC's ABC Kitchen with a "mystery blonde." In fact, the unidentified woman is actually actress/comedienne Amy Sedaris, an old friend, a source tells Us Weekly. More proof that the twosome are stronger than ever? While Aniston shoots We're the Miller in North Carolina, Theroux enjoyed a group dinner in NYC with some of her closest friends July 30, a second insider says.

The Wanderlust actor, 40, dined at Elio's in NYC with Aniston's BFF and Friends costar Courteney Cox plus Laura Dern. Cox, 48, brought her daughter Coco, 8, who is Aniston's goddaughter; Dern, 45, brought her son Ellery, 10, and daughter Jaya, 7, to the cozy get-together. "Everyone seemed to be having fun," the source adds.
Hm. The "source" seems to know a lot about Justin's whereabouts, right? Aniston totally had him followed. Basically, they totally could have broken up. Why not? Let's see if we can shame Justin into flying to North Carolina to prove his love!!!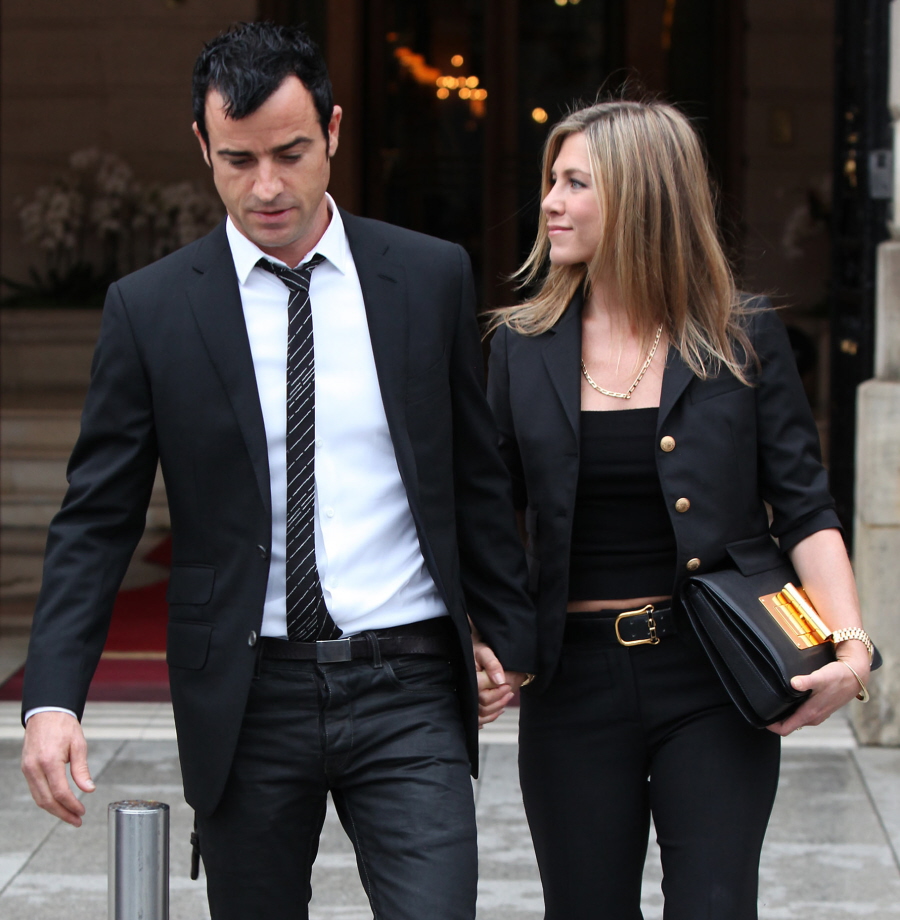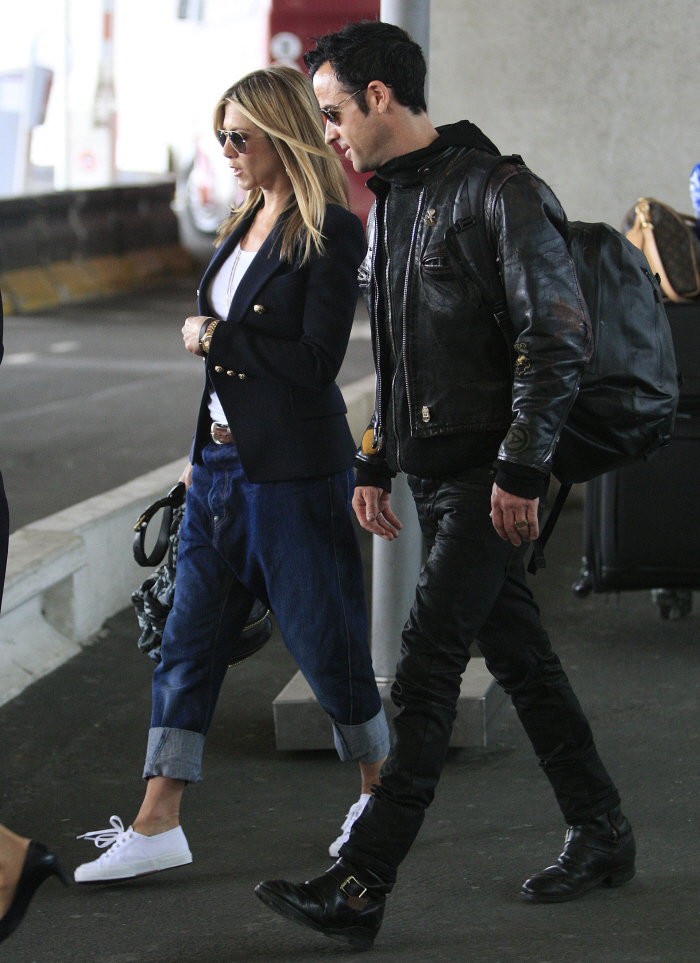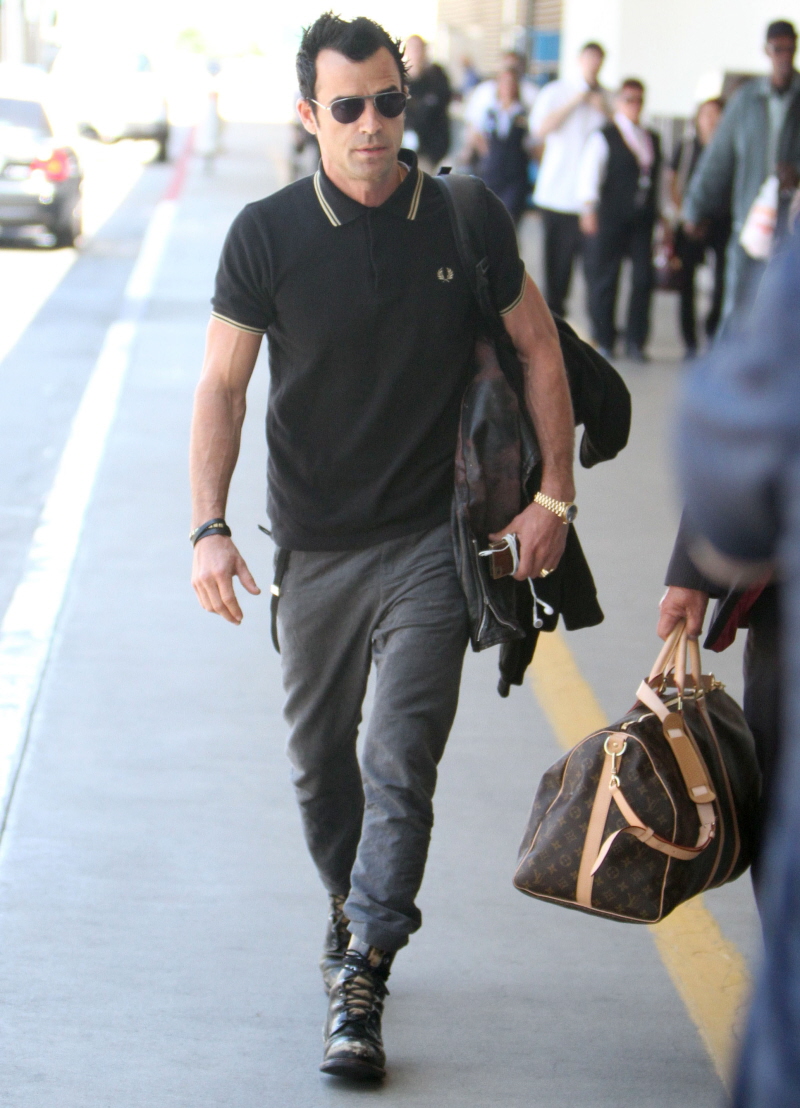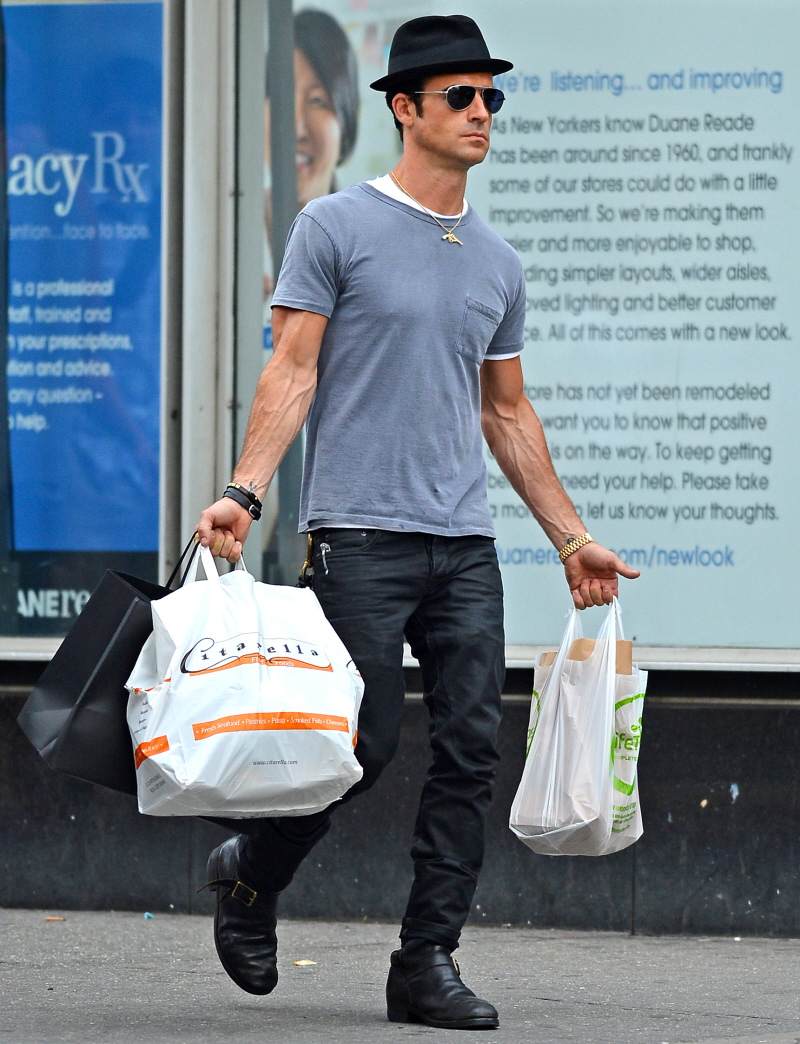 Photos courtesy of WENN, Fame/Flynet.

Written by Kaiser

Posted in Jennifer Aniston, Justin Theroux, Photos

- Mariah Carey lip synced on American Idol [CDAN]
- Colin Firth is looking good [Lainey Gossip]
- Internet celebrity charged with murder! [D-Listed]
- What is Paz Vega wearing? [Go Fug Yourself]
- New bachelors on The Bachelorette [Reality Tea]
- Goodbye to The Office [Pajiba]
- Bachelor Sean's fiance cheats on him [Evil Beet]
- Britney Spears out with her man [Popsugar]
- Nina Dobrev works it [Popoholic]
- Cindy Crawford needs to lay off the 'tox [Celebslam]
- Who said it: Carrie Bradshaw or The Dalai Lama? [Buzzfeed]
144 Responses to "Did Jennifer Aniston dump Justin Theroux after he refused to commit to her?"