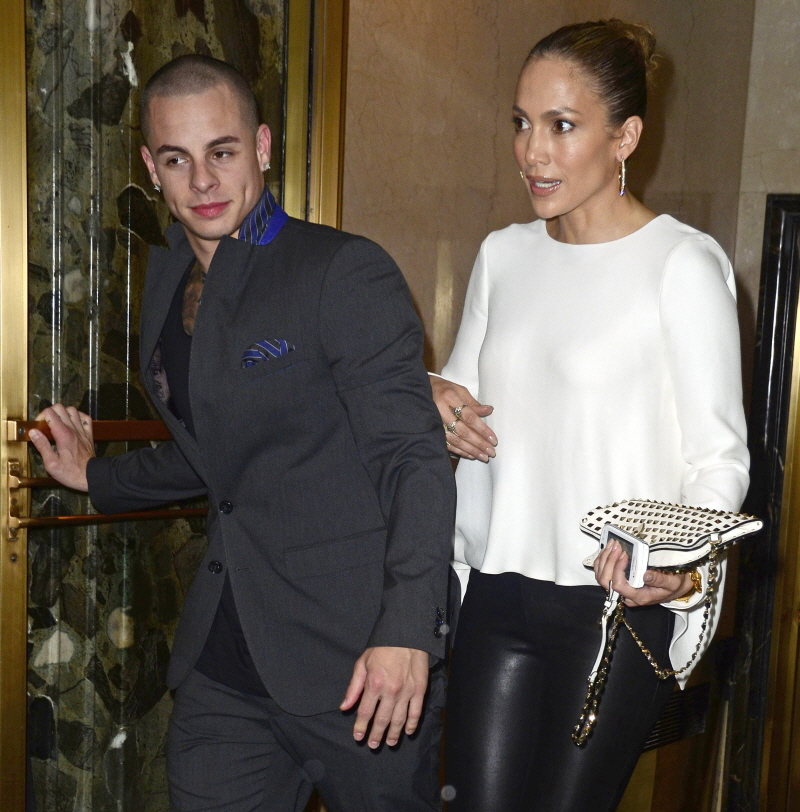 Last week, both In Touch Weekly and Star Magazine devoted their cover stories to Jennifer Lopez and Casper Smart, and how shady Casper is, and how J.Lo is embarrassing herself by dating him. In Touch claimed Casper was going to some sketchy "appointment-only" massage in the backroom of a peep show (re: "handie"), while Star Mag went even further and said that Casper was probably at the peep show because it's a popular gay cruising spot. Jennifer threatened to sue, and it looked like she was going to stick by her man… except not, because shortly after she threatened to sue, there were a couple of suspicious-looking reports about how Jennifer is going to dump Casper.
Well, now ITW and Star have their chance to retract and retreat in the face of J.Lo legal tsunami (which still hasn't come, by the way). Except that neither publication is backing down. In Touch stands by their story, and one-ups it with a new report about how Jennifer is "testing" Casper now:
Some friends believe the exotic massage episode served as the wakeup call Jennifer Lopez needed to dump Casper Smart, the 25-year-old backup dancer, who never gained the trust of her inner circle.

"Her mother and her sisters were not fans of Casper from the beginning," says a friend of Jennifer's mom, Guadalupe, and sisters Lynda and Leslie. But when it comes to men, "Jennifer couldn't care less about their opinion."

But a source who knows Jennifer says she cares very much about her image. Although a rep for Casper denied he made a trip to the appointment-only exotic massage parlor in Hell's Kitchen, claiming he was getting a tattoo, evidence Jennifer just can't ignore suggests otherwise (he was photographed sporting the tattoo back in May), and multiple source confirmed his appointment to In Touch, including the masseuse herself, a Korean native named Bibi.

The source suggests that Jennifer is simply pretending to stand by her man for the time being. Casper has no idea, the source believes, but Jennifer is actually "testing him," having him watched to see how he behaves. It's a scenario Jennifer's pals have witnessed before.

"Her taste in men is awful," the source tells In Touch. "She meets a guy she likes, and within days, she offers him the world." And when the cracks start to show, "She never admits she's wrong or that she's embarrassed."

At least not right away. Jennifer may be stuck with Casper during her tour, but despite her past admission that she's a fool for love, it seems in this case, she's finally wising up.
[From In Touch Weekly, print edition]
God, her taste in men IS awful. I think that whole quote is gold: "Her taste in men is awful. She meets a guy she likes, and within days, she offers him the world. She never admits she's wrong or that she's embarrassed." That about sums it up.
As for Star… they actually printed the words "Star stands by its story" (this is the gay cruising story). They even quote an "eyewitness" who denies Casper's version of events – that he (Casper) was just getting a haircut in a salon adjacent to a peep show/gay-cruising spot/handie emporium. The eyewitness says, "I followed Casper from his hotel to the peepshow and back. He didn't go into any other nearby buildings. He was inside the peepshow door for 10 minutes." The eyewitness is the paparazzo who took the photos, in case you couldn't figure that out. Still, I believe the paparazzo. Anyway, Star's summary of the situation is a lot like ITW's. Their source said: "Since Casper's choreographing her tour, she's trying to make the best of things for the moment. But each day she's closer and closer to finally ditching him for good."
Except that you know she won't. We can hope and pray and try to embarrass and shame her, but she still won't dump him.
UPDATE: CB pointed out this recent Twitter photo of Casper wearing an AC/DC shirt, where he seems to be like "Yo, dog, I'm AC/DC." CB thinks that this means Casper is trying to tell us he's bi. I think Casper is too dumb to realize that AC/DC is slang for bi.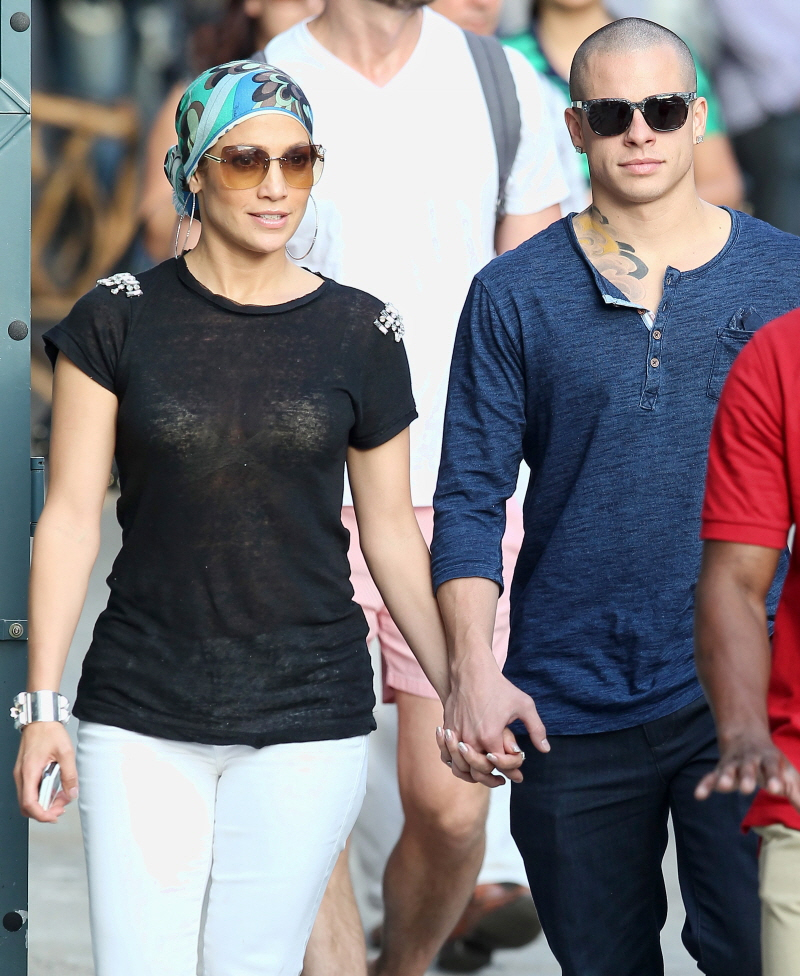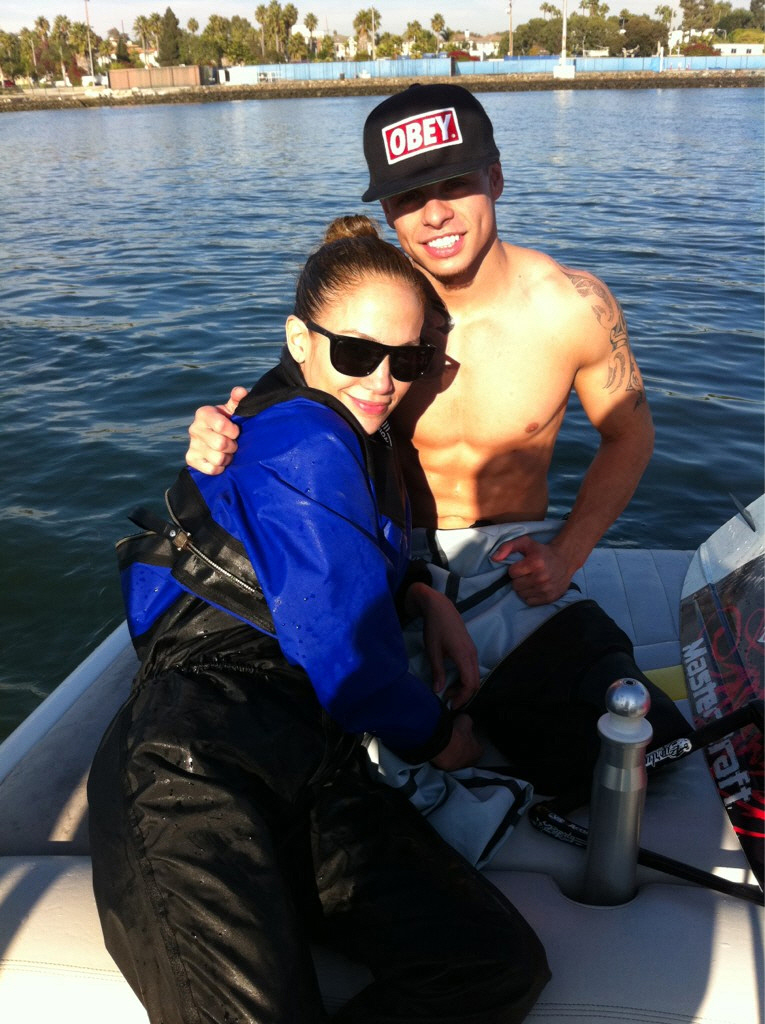 Photos courtesy of Fame and WENN.