Jennifer Aniston Ring Watch: Justin "helped design the ring" of course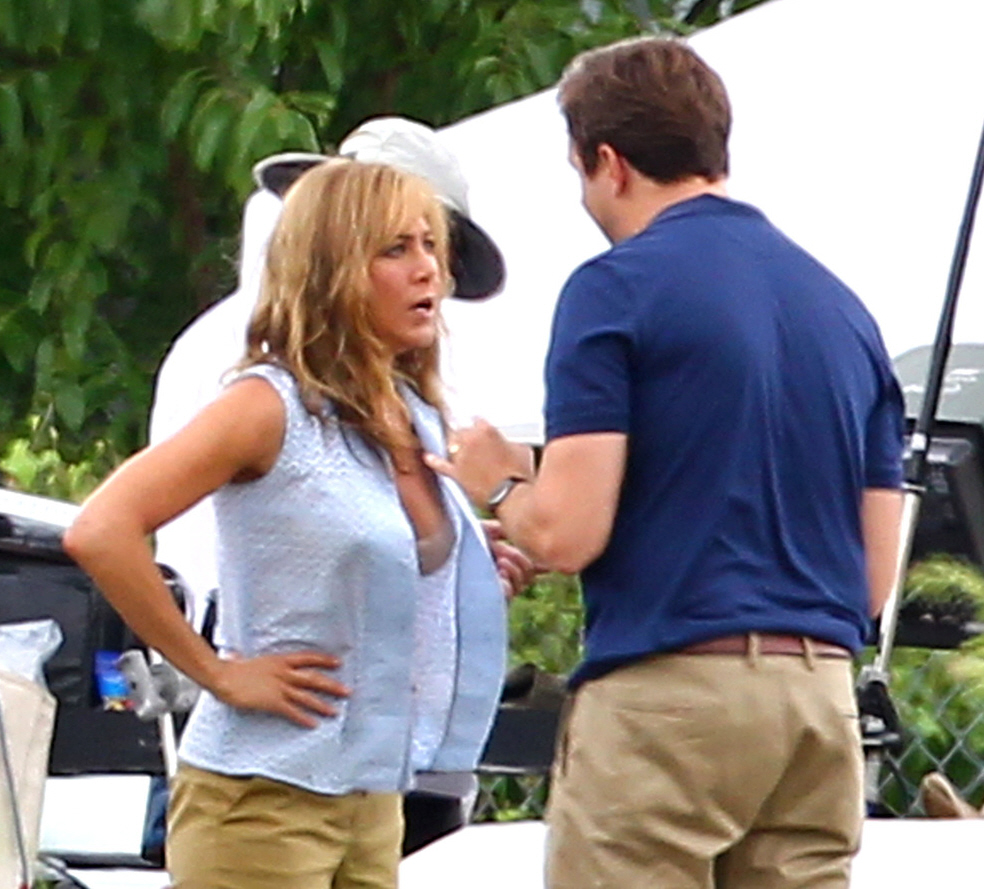 Here are some of those photos of Jennifer Aniston yesterday, on the set of We're the Millers, filming a scene with her shirt open and her bra exposed. Judging from her Rachel-Green-is-peeved expression, I'm guessing that the scene has her fuming and telling off her pretend husband, played by Jason Sudeikis, possibly because he was the one to pop open her blouse?
Anyway, as we continued to discuss yesterday, everyone is still on Aniston Ring Watch. She's building the anticipation for the big reveal! Because I still don't think she's even been wearing her engagement ring the past few days – I think she's just been wearing her prop wedding band from this dumb film. People Mag got into the whole "Ring Watch" thing yesterday when they revealed some previously unknown information about the ring:
Jennifer Aniston happily shared her engagement news – but she hasn't been so forthcoming about the ring she received from Justin Theroux.

The newly engaged star, 43, seems to be playing peek-a-boo with her ring as she was photographed leaving a movie theater in North Carolina, where she is filming the movie We're the Millers. In the photos taken Friday, she mostly keeps her left hand hidden in her pocket, but in one shot is seen wearing a simple gold band on her ring finger.

But is the plain band the same ring she accepted from her fiancé when he popped the question on his birthday earlier this month? Has she turned the bauble around to hide a diamond or is it really a simple band?

According to a source, Theroux, 41, helped design the ring with a friend who is a jeweler, which suggests something more elaborate than a gold band.

Reps for the couple are staying mum.

So for now, fans will have to wait for the ring to be unveiled.
So, Justin "helped design the ring". What does that remind me of? I can't quite remember. It's probably not important. Believe it or not, I've actually been giving JustJen the benefit of the doubt the past few weeks, but as the ring debut gets drawn out, I'm beginning to reach for my Uncool Bermuda Triangle tin-foil hat. Why is that we can't even get a confirmation on WHICH jeweler Justin Theroux went to for the ring? I'm fine with the idea that we haven't seen the ring yet, and that Jennifer hasn't wanted to show it off. But it seems really strange to me that no information has been confirmed about the ring thus far (I'm not counting Life & Style's report, because it just seemed like guesswork).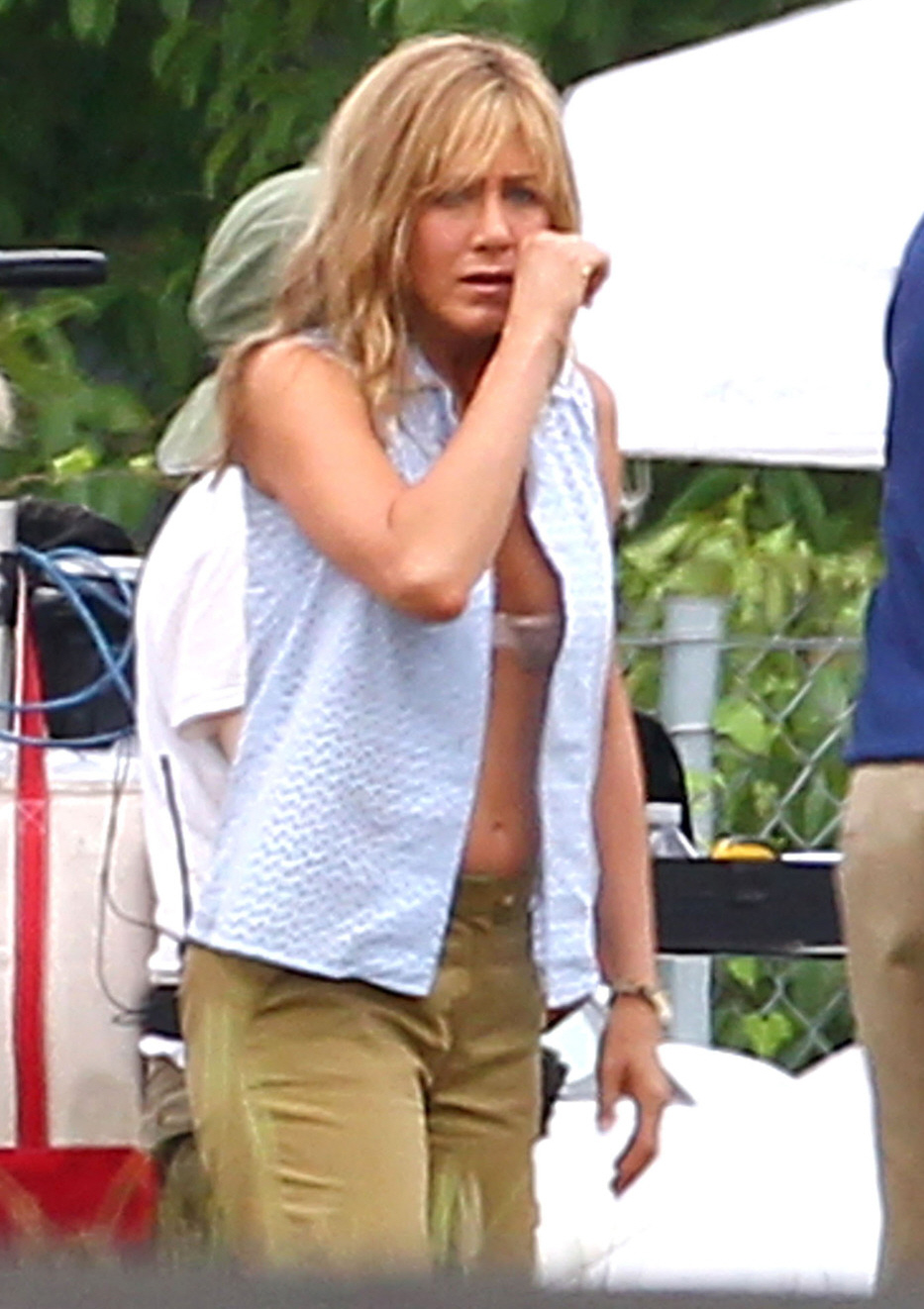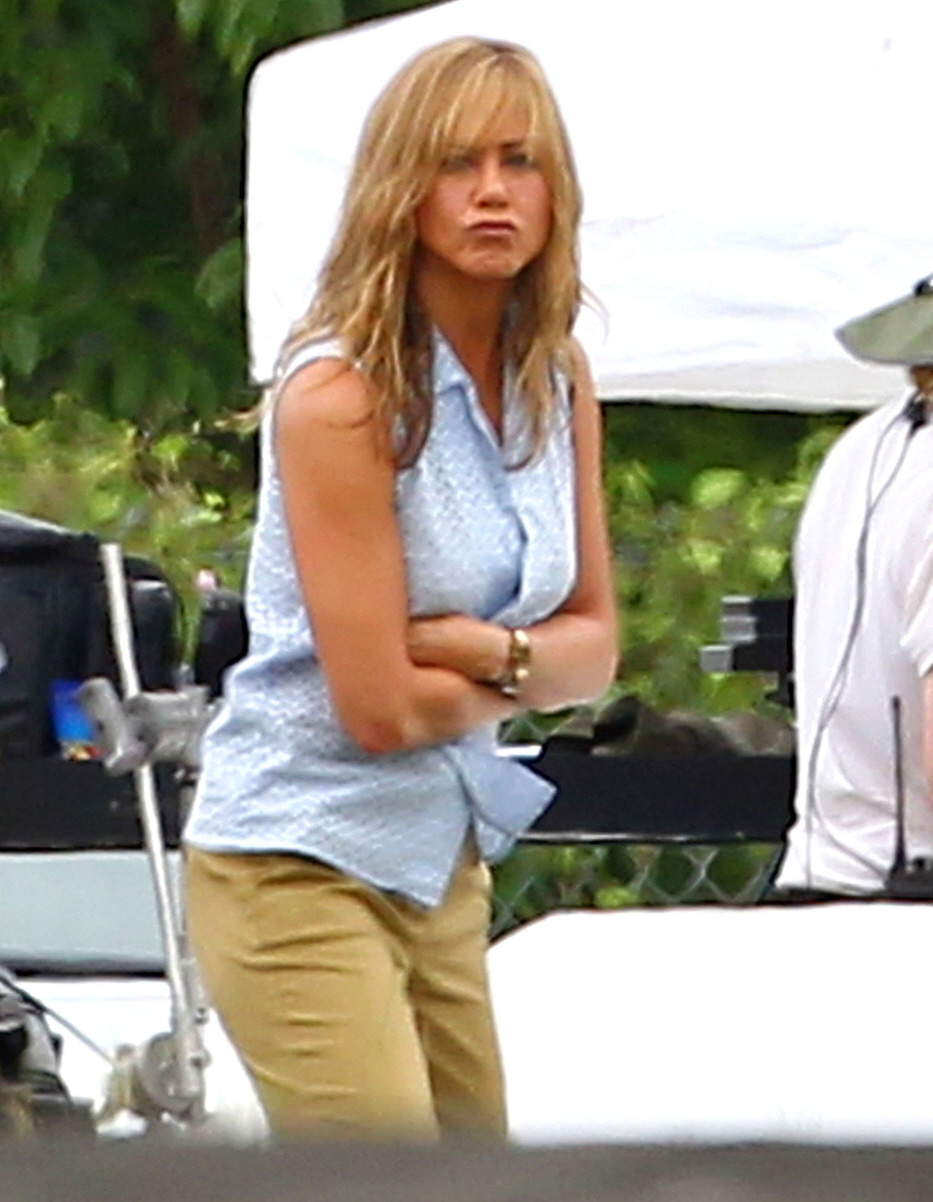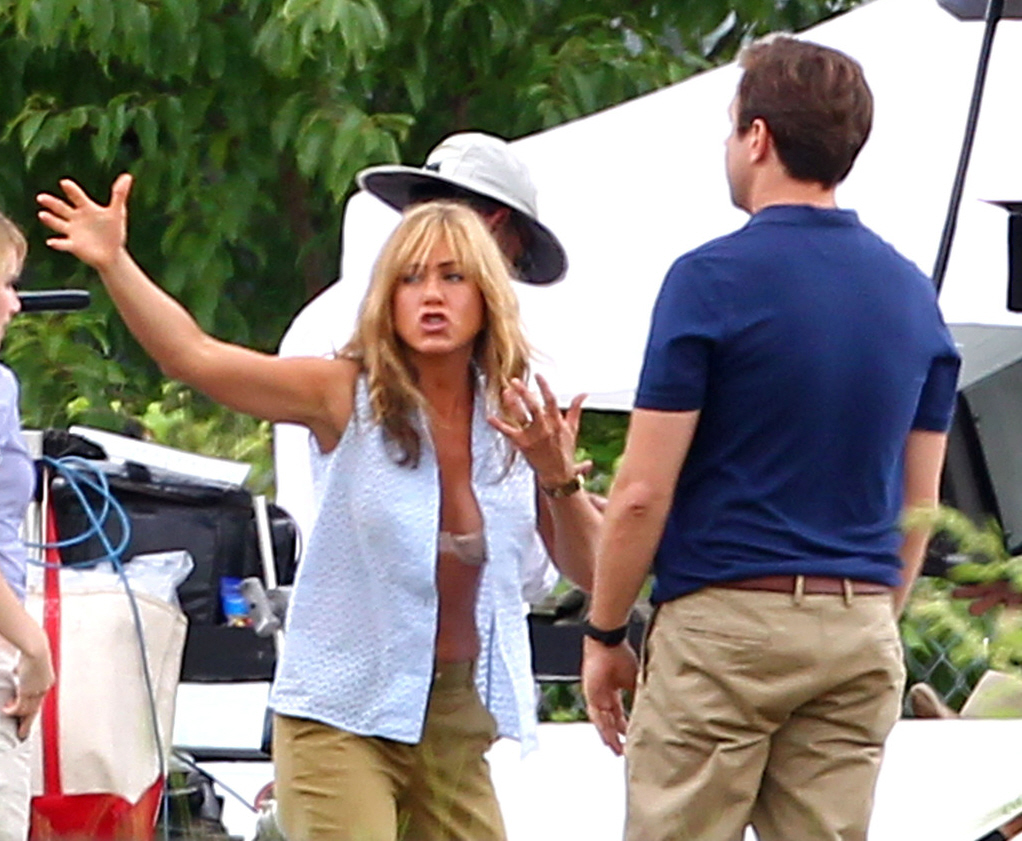 Photos courtesy of Pacific Coast News.

Written by Kaiser

Posted in Jennifer Aniston, Jewelry

- Zach Galifianakis is awesome [Buzzfeed]
- Prince at the Billboard Music Awards [D-Listed]
- Bieber's Billboard look [Go Fug Yourself]
- Married to Medicine recap [Reality Tea]
- Celebrity first marriages [Pajiba]
- The last Mad Men baffled a lot of people [Lainey]
- Karolina Kurkova's crazy hot dress [Moe Jackson]
- Jennifer Garner on set [Popsugar]
- Kitten vs. Lizard [CDAN]
- Doetzen Kroes' great butt [Celebslam]
- Shameless star Jeremy Allen White [OMG Blog]
- RIP Ray Manzarek [Bossip]
95 Responses to "Jennifer Aniston Ring Watch: Justin "helped design the ring" of course"