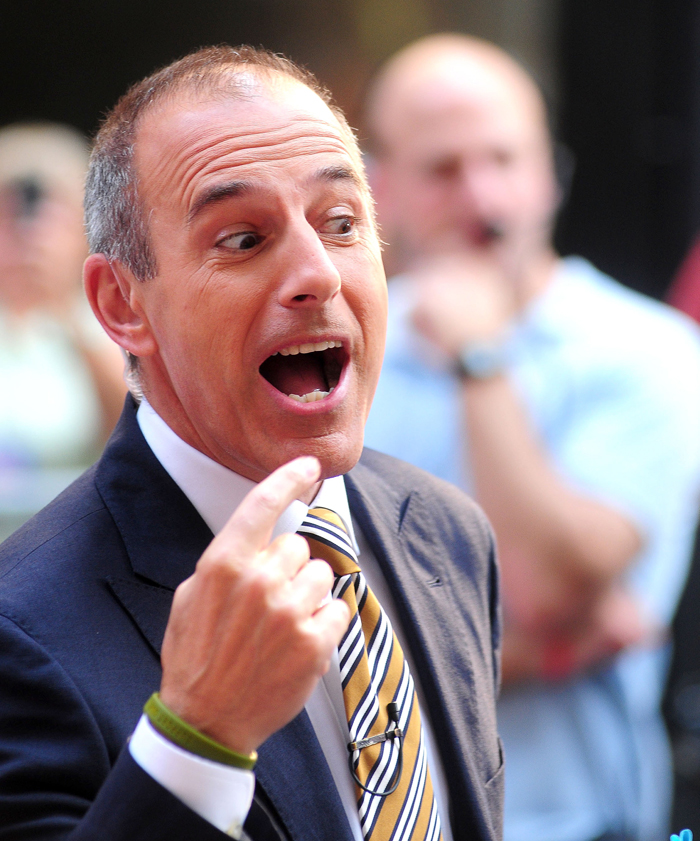 Does anyone else remember when Matt Lauer was promoted to co-host (replacing Bryant Gumbel) from the morning news position? It happened during the mid-to-late 1990s, and I remember enjoying the "Today" show to such a bizarre degree that I actually scheduled my college classes so that I could watch the program before leaving for the day. If it tells you anything at all about my change of heart, I haven't sat down to watch the show for over a decade (although I do sometimes catch Kathie Lee & Hoda's drunken antics later in the day at the gym). Back in the day, Matt seemed rather humble, and I recall that (after a few weeks in his new position) he spoke quite candidly of his fear that ratings would plummet immediately after he started co-hosting. Obviously, that didn't happen because (I think) at that point, Matt was seen as an earnest, good guy who only reported straight news, and Bryant was quite the large-headed diva who was leaving for greener pastures (his own show).
Fast forward about fifteen years, and now Matt (according to Page Six) has "turned into an anchor animal." Further, he's said to be "making all editorial decisions, he's running the show and he's not listening to anyone … it's a huge problem." Matt is said to be losing his mind over "GMA" winning in the ratings against "Today" for the past several weeks, and one has to wonder whether Matt's own attitude has anything to do with the fact that viewers are tuning out. Further, the show's staff hates him and want him replaced with Lester Holt (which won't happen), and even Al Roker doesn't like him anymore either because he threw Ann Curry under the bus. Regardless of whether or not Ann was right for the co-host position, she was obviously treated poorly by Matt, who supposedly made it part of his contract renewal that she'd be fired. Then viewers watched Matt feign sympathy while Ann shed real tears over losing her job. As it turns out, viewers don't soon forget who the real douche is, and falling ratings mean that Matt will soon be asked to take a "significant" pay cut. He deserves it.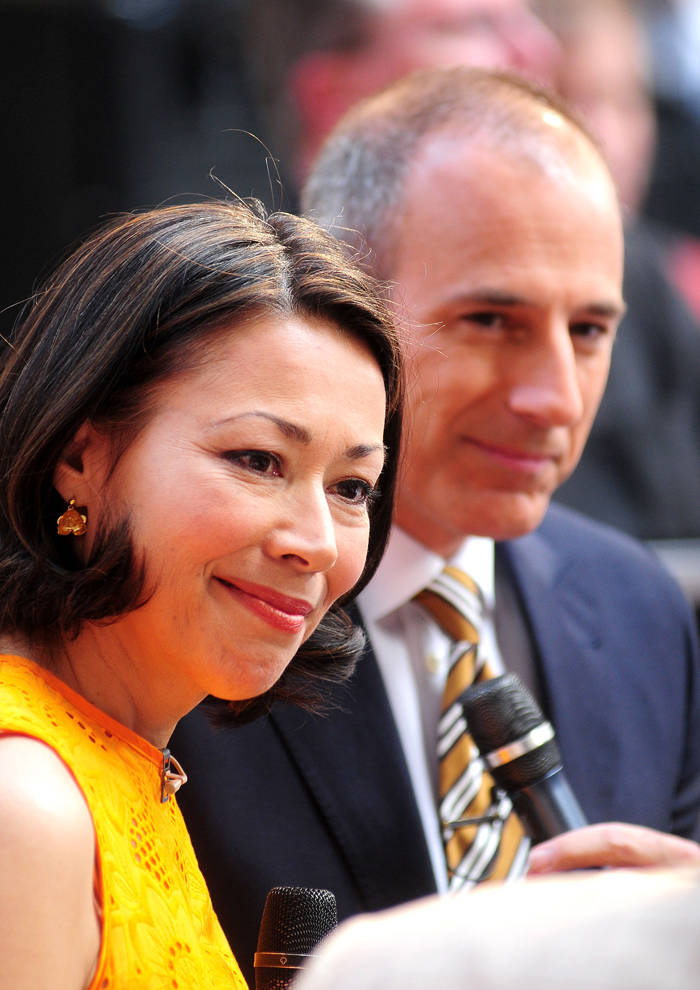 Matt Lauer will be asked to take a significant pay cut if TODAY ratings continue to decline, RadarOnline.com is exclusively reporting.

"Matt Lauer will be asked to take a significant cut in his $25 million salary if TODAY doesn't win the key November sweeps," a source close to the situation tells Radar. "The May and November sweeps dictate how much the networks can charge for advertising and they are extremely important to the bottom line. The TODAY show had always been a cash cow for NBC, generating hundreds of millions of dollars of revenue.

"Comcast, which now owns NBC Universal, is going through the budgets of each show and right now, they are focusing on the news division. Matt's salary is the biggest part of the TODAY show's budget and with Good Morning America now routinely beating them, it's just hard to justify that salary.

"Matt is under contract so it will have to be a voluntary decision, but the argument will be made that if he doesn't agree to lose some of his salary then people's jobs will have to be cut. Bottom line is money will have to be saved somewhere and he will be asked to do the 'right thing' by his staff."

As RadarOnline.com previously reported, Lauer's popularity with viewers is in a free fall. According to the influential Q Scores, his "likability" has plummeted 25 percent in just 12 months.

Q Scores are one of the most important factors companies use in deciding where to advertise, and the organization's analysis of Lauer mirrors an internal study done at NBC, according to The New York Daily News.

The likability collapse covered the year when Meredith Vieira left Lauer's side on the morning show's anchor desk, to be replaced by Ann Curry and then by Savannah Guthrie.

"It raises a flag," Henry Schafer, Executive Vice President of Q Scores, told The News. "These morning shows are driven by personalities — so there's a real challenge out there for NBC News."

Recently, "The Tonight Show" cut 20 to 25 staffers and host Jay Leno took what is being called a "tremendous" pay cut to prevent even more lost jobs. The development is believed to be a result of NBC being acquired by Comcast and execs there demanding that everything at the network be streamlined.

Meanwhile, staffers of TODAY "are extremely nervous that there are going to be lay-offs, and no one believes for one second that Matt will go along with a pay cut. Matt's contract is iron-clad and he can't be forced to take a pay cut," the insider told Radar.
[From Radar Online]
Do you think that Matt will accept a pay cut? Probably not. In his eyes, he's the entire "Today" show, but he doesn't realize that he's the main problem these days. All he wanted was to get rid of Ann, who he saw as dead weight, and the irony is that Ann may not have been perfect for her job, but her departure has resulted in steadily falling ratings. Odd how that works, right?
In the meantime, the Media Decoder blog (of the NYT) has gotten an inside scoop that MSNBC's Willie Geist will be hosting the 9 a.m. hour of "Today" and filling in for Matt whenever he's away. Looks like he may be lined up as a future replacement, but I doubt Matt would ever leave. His ego would never let him do so.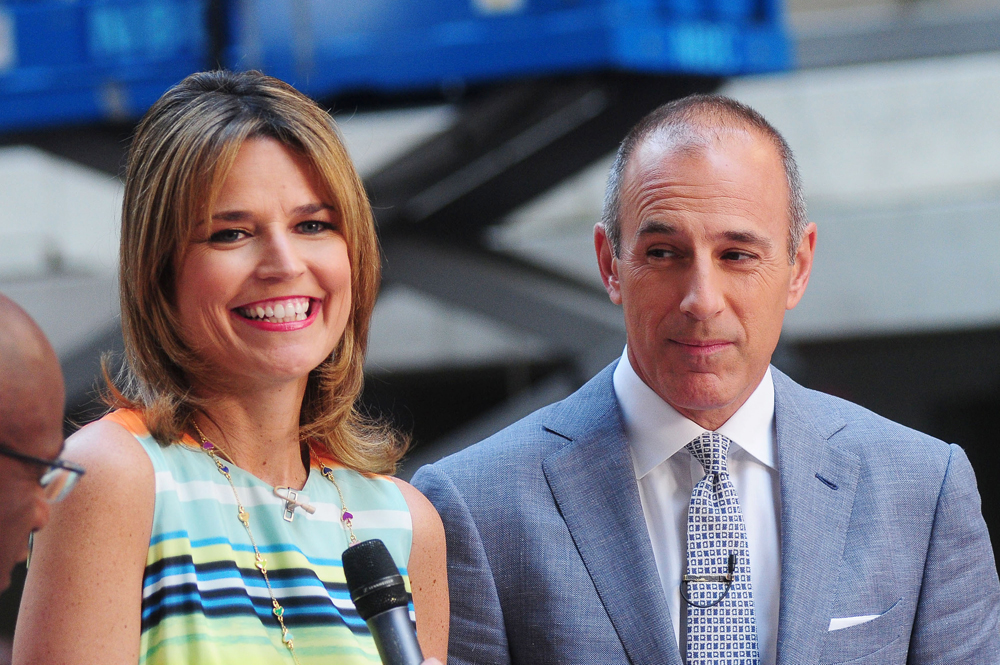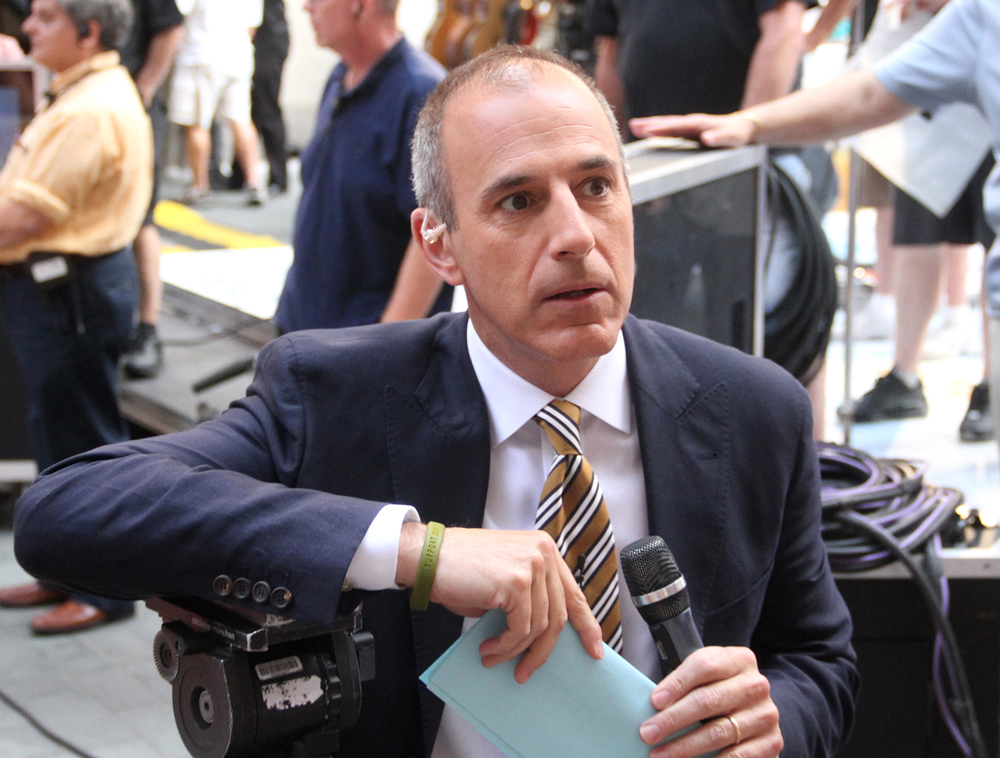 Photos courtesy of WENN