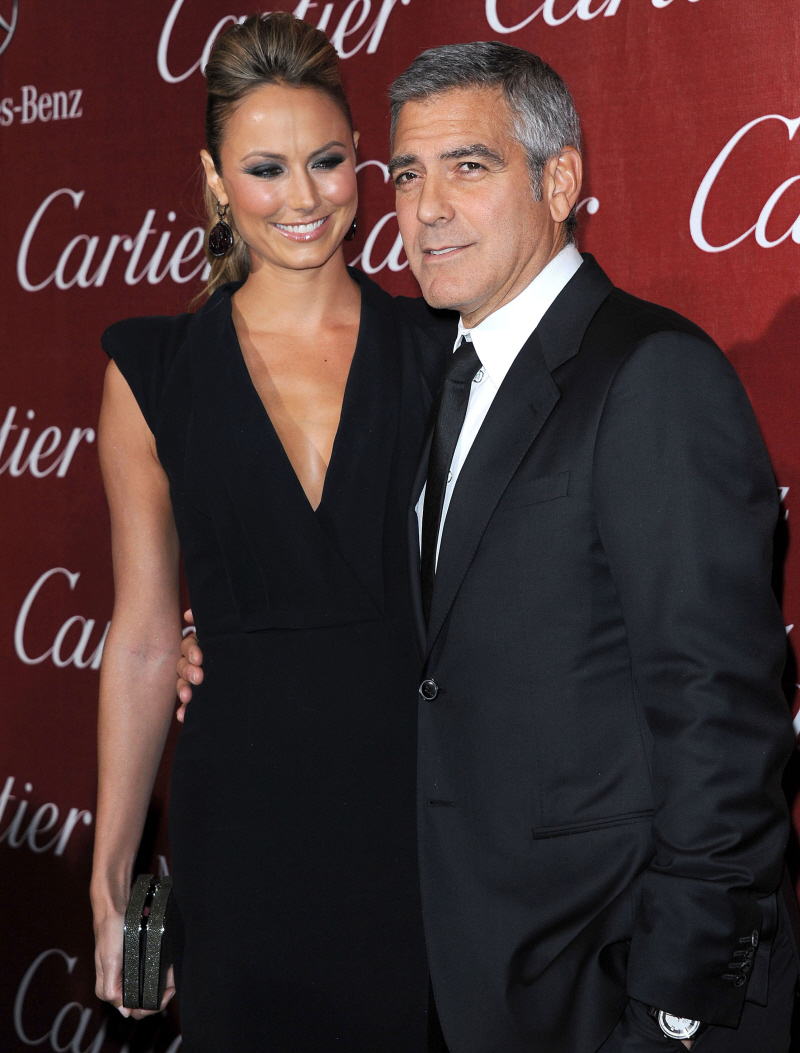 For the past month or so. I've kept quiet tabs on George Clooney and Stacy Keibler, and how it seemed like they were spending more and more time apart after a summer of togetherness in Italy. Despite tabloid reports claiming that Clooney had finally found "the one" and that he was seconds away from proposing, I chose to believe that you can't teach an old dog new tricks, meaning that Clooney will never "change". So this idea that Clooney would eventually throw Stacy over has been percolating (for me) for a while. Adding to the feeling? Stacy was ballsy/stupid enough to do a photo-op for engagement rings and then watch Vera Wang's wedding gown runway show. And now the New York Daily News has a really interesting story about the messy state of Stacy and George's relationship:
Serial Hollywood heartbreaker George Clooney may soon be up for grabs. Confidenti@l has learned exclusively that lovebirds Stacy Keibler and Clooney's rocky relationship is almost kaput. The couple who've been hot and heavy for more than a year are still dating, sort of, but it's anyone's guess how much longer they will last.

An eyewitness who saw Keibler at a recent cooking event tells Confidenti@l that "she was acting really nervous and refused to talk about George." After another function last week, a well-placed spy blabbed, Keibler was tearful about the situation. Stricken with grief, Keibler was seen breaking down on and off throughout the day and needed to be consoled by her handler. The source also says she kept checking her phone for texts or calls from Clooney.

"They're barely talking," another snitch reveals. "She is worried that he may break up with her any day now."

Even though Keibler denied reports they had broken up last month, the former WWE diva attended New York City Fashion Week sans Clooney, and the two have spent a significant amount of time apart.

Keibler, 32, has been in New York City for weeks, while Clooney, 51, has been crashing in Bartlesville, Okla., while filming "August: Osage County" with Julia Roberts, Meryl Streep and Juliette Lewis. Clooney is also the film's producer.

"George is being really distant and pulling away from her," says our source. "She wakes up every morning and doesn't know what's going to happen."

We hear the bodacious blond — who recently was signed to host the Lifetime Channel's new competition series "Supermarket Superstars" — is nervous that on-screen opportunities will dry up if she and the superstar split.

"She's well aware that she needs to get as much work as possible right now," says the insider. "She's working as much as she can."

Meanwhile, Clooney has been cool and collected on set and palling around with his A-list castmates.

"He hasn't said much about Stacy" and "has been focused on the film," according to a movie-set source in Oklahoma.

Clooney will be honored at Oct. 20's Carousel of Hope charity fete in Beverly Hills. We're wondering if he'll RSVP with a plus one. Spokespersons for Keibler and Clooney couldn't be reached for comment.
Last month, there were breakup rumors too –they originated in The Sun UK, and George's rep shut them down pretty fast. I wonder if this current round of rumors will percolate for a few more hours and then we'll get another denial? Or maybe Clooney's rep won't say a word, and then we'll know for sure. Poor Stacy. She's going to have to check into The Lonely Ho Hotel after all. Sarah Larson and Elisabetta Canalis are probably chuckling to themselves right now.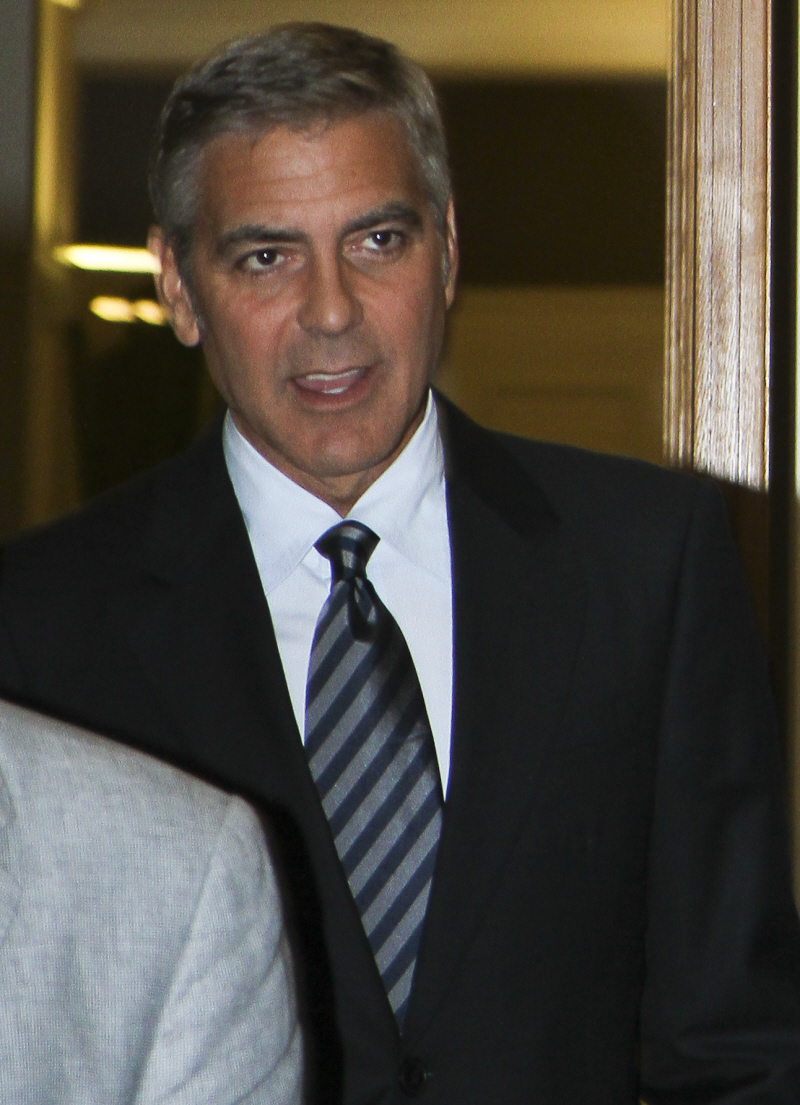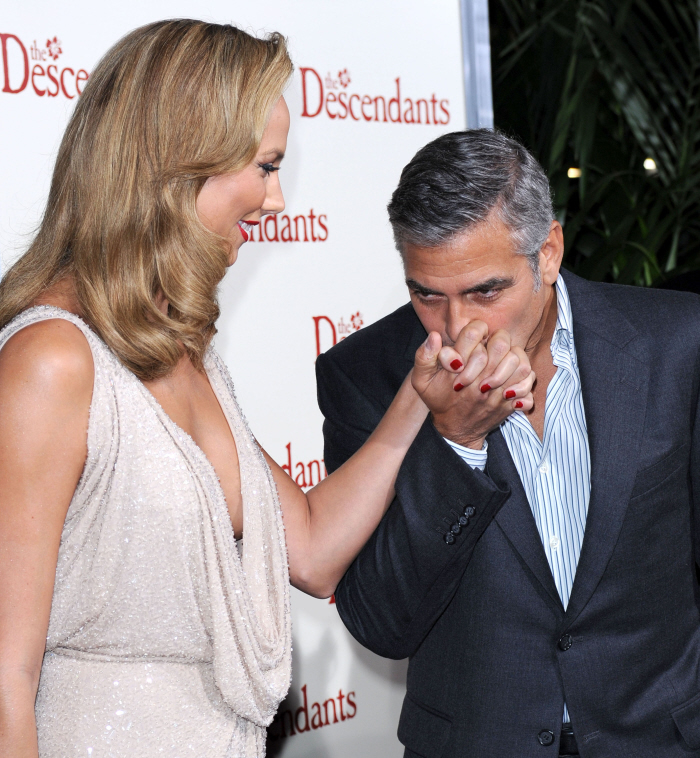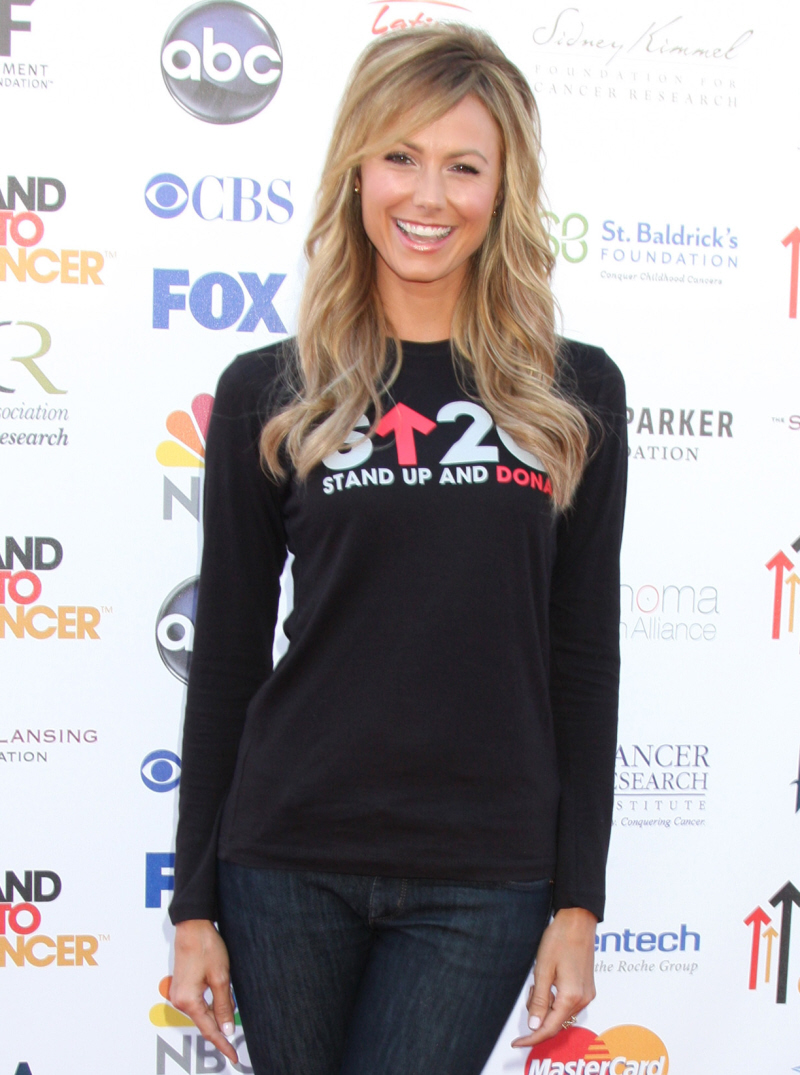 Photos courtesy of WENN.