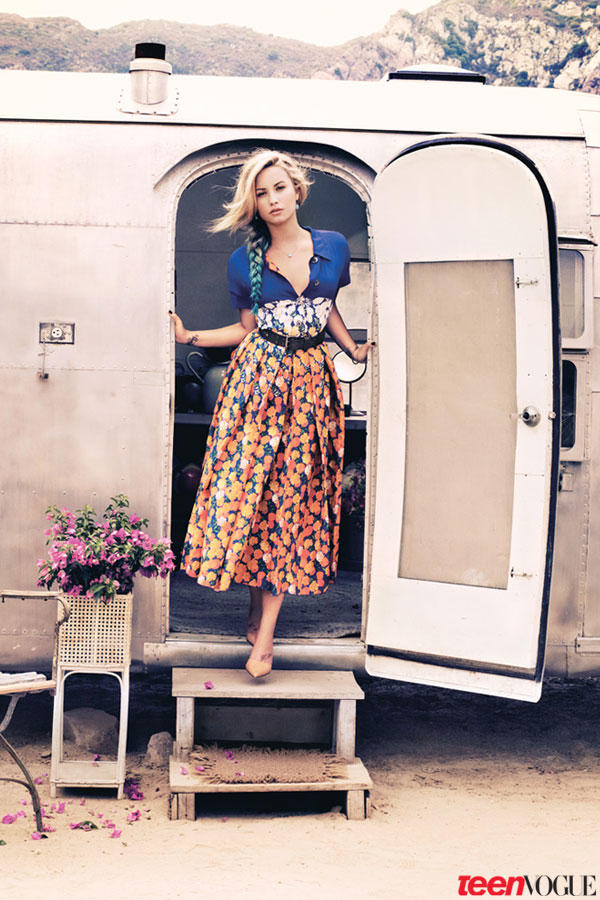 Demi Lovato is featured in the November issue of Teen Vogue, and I almost didn't recognize her at all in most of these pictures. She looks really different here, right? A lot of (unnecessary) airbrushing has taken place in this "Little Trailer on the Prairie"-styled shoot. Don't get me wrong — the girl in this photoshoot is very attractive (crazy eyebrows and all), but it just doesn't look like Demi at all in 3 our of 4 of the images, which is odd because the spread was clearly intended to promote Demi's role in "X Factor." The interview isn't terribly interesting, but I do like what she has to say about Britney. Even more welcome is the fact that we're not hearing about overwrought, diva feuds between Demi and Britney like we are with the "Idol" judges. Demi seems to genuinely like Britney, and here are some excerpts: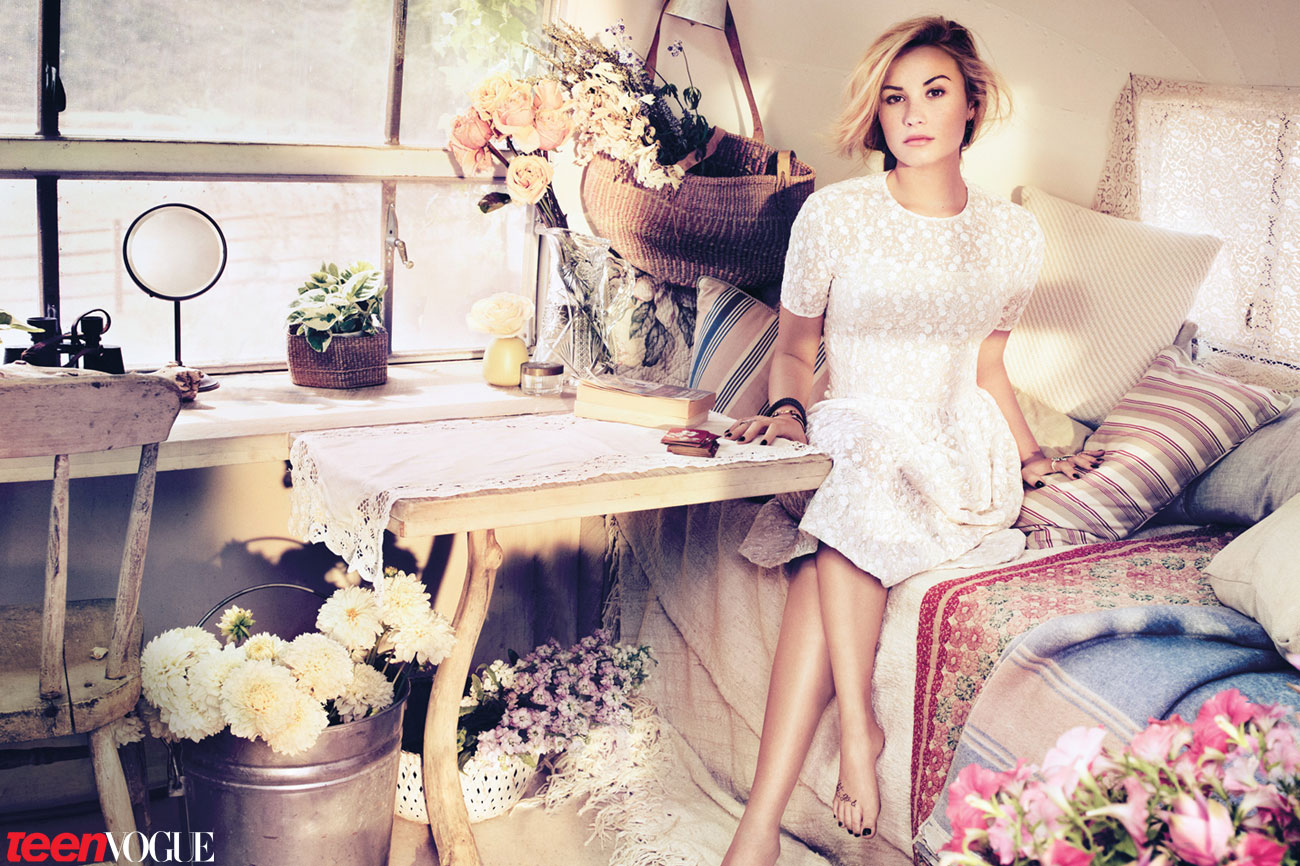 Her response to Simon's "X Factor" offer: "It was a no-brainer! Right before I got the offer, I'd been sitting in a meeting feeling really discouraged [about my career], wishing I was further along. And I decided that I needed to stop thinking about what I wished I had and start thinking about what I was going to have. I was ready to do something new, and I wanted to put that out there, in the universe . . . and then he called, literally, a week and a half later."

On Britney Spears: "Yeah, she was one of the first concerts I ever went to. She's incredible. She's such an icon that I didn't know what to expect, but I was excited to find out that she's really sweet and funny and quirky. We have so much fun. We're the two girls on the show, so we're always laughing together, and we kind of have each other's backs."

Her 4th album will be personal: "I love the way that Adele has carved out a path for a singer that's very emotional, but I also love how Taylor Swift can do the same thing–she puts a lot into her songs yet they're still very catchy. I will say that I'm tired of all the dubstep that's on the radio right now–I think it's going to be out in two months. I want to make something that people will listen to for a while, rather than something that's just trendy. I feel like I've grown as a person, and I want my music to grow with me."

On staying healthy after rehab: "Obviously, I sleep, eat right, exercise, and meditate. And even when I'm filming or touring, I keep up my daily routine. I know that I can't miss my therapy appointments or things will get a little rocky, so I always put my recovery first. I'm consistently busy, but I make sure I spend a lot of time with my friends and family. I did kind of a friend cleanse right after rehab, where I weeded out people who didn't have my best interests at heart. Now I have friends who love me for who I am and don't care about what I'm doing. Most of them aren't in the industry. Some of them don't even know my songs!"

She's single? "I need to not be in a relationship for a while because I need to be okay with being alone, first. I'm really happy right now. I never thought it was possible to be happy because of how depressed I was my entire life. But I feel so incredible. It's like I'm living in a dream."
[From Teen Vogue]
On that last note, I don't buy Demi's alleged singleton status at all. She's totally still with her on-off-douchebag, Wilmer Valderrama. As for the rest of the interview, I've gone back and forth in my head over Demi's issues — she's not only bipolar but has a history of cutting, drug and alcohol abuse, and eating disorders — and I want to believe that she is very much committed to recovery. I know some of you don't really believe that she's been truly following the straight and narrow path and merely talks the talk, but we haven't heard any incidents of bad behavior from Demi on the "X Factor" set, right? I doubt she could keep a lid on it for several consecutive months if she wasn't committed to working on her problems on an ongoing basis, but I could be wrong.
This is the only picture in the entire spread that really looks like Demi. The rest are just … off somehow. I am digging the blue ombre braid on her — it's nothing I could get away with, but it suits her pop music sensibilities.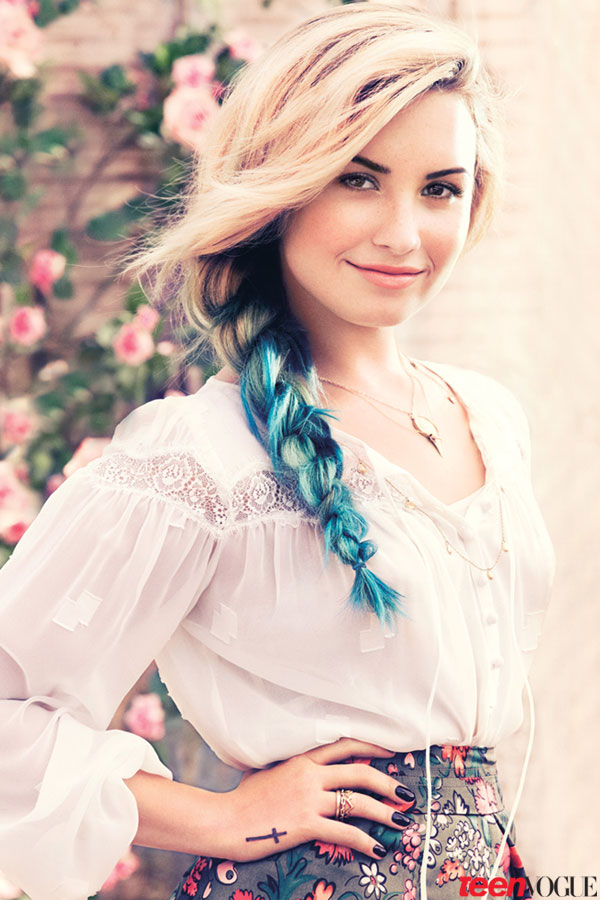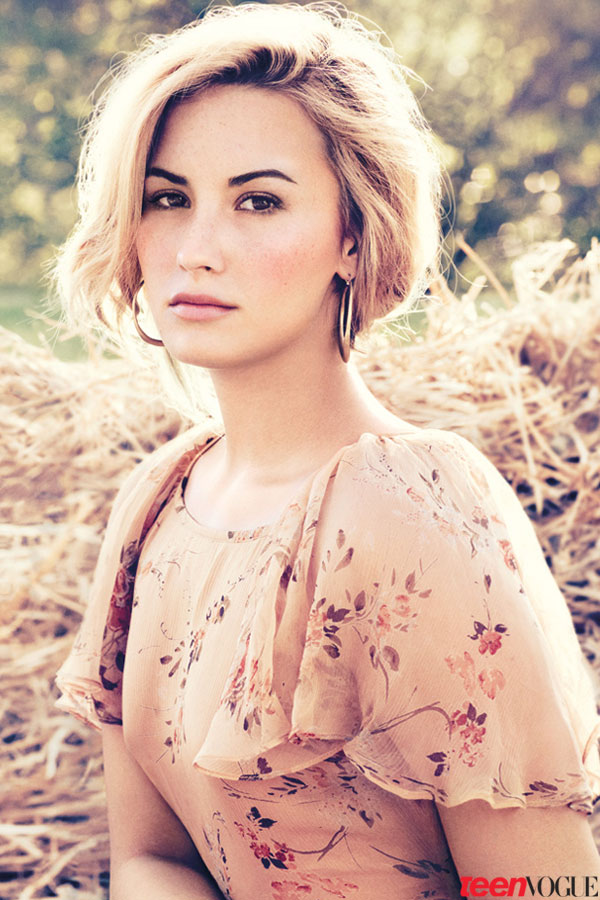 Photos courtesy of Teen Vogue