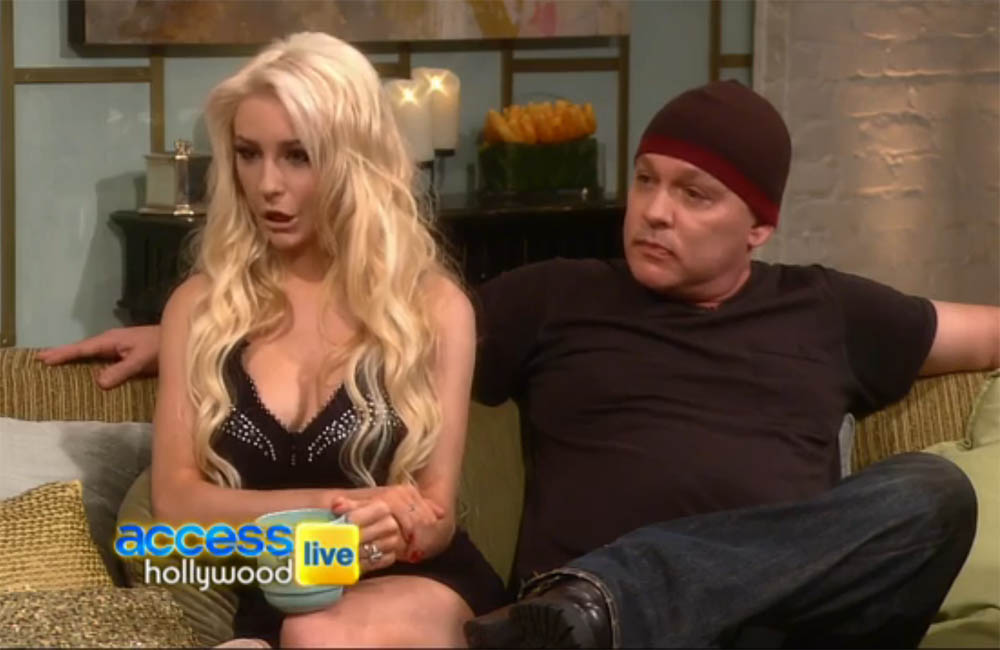 The third season of Couples Therapy on VH1 premiered last week, with the star couple being Courtney Stodden, 18, and Doug Hutchison, 52. It also features Nik Richie of The Dirty and his wife Shayne Lamas, Alex McCord and Simon van Kempen of RHONY, and singer Joel 'JoJo' and Tashaunda Hailey. I just watched a few clips over on VH1 that made me uncomfortable. I hate seeing people argue so I doubt I'll catch much more of it. The title refers to a scene in this linked clip in which JoJo calls out Doug for marrying such a young girl (at about 1:30), asking him "do you have any kids?." Doug answers, all calm and serial-killer like, that "this is my child. I'm raising my wife." Then Doug and Nik Richie get into it when Nik calls Courtney "the trash all over the Internet." He would know. Later Nik calls Doug a child molester and Doug asks for an apology, but Nik won't give it to him. I really detest Doug, he's such a snake.
Maybe Doug was trying to use some kind of lame reverse psychology by admitting he's raising his wife, but it came across as gross and disgusting. That's my main reaction when I see this couple. Another person who had an issue with Doug and Courtney was Billy Bush of Access Hollywood, who interviewed them as part of Couples Therapy promotion. He really called them out, probably because he has a 14 year-old daughter, and basically called Doug a pedophile. Then Courtney admitted that her mom gave them the green light to get married, which we've heard before but it still shocks me. Courtney's mom monitored her Internet conversations with a 51 year old man for six freaking months, and never once tried to shut it down. So her mom enabled the whole courtship. Here's some of what they said and you can watch the video on this link.
Counselor Dr. Jenn Berman: This is not a fake relationship. After spending three weeks with them, I think the biggest myth is that this is a publicity stunt, and it is not.

A lot of times as a therapist I have to do work with people who have different morals, different values, different religions, all that sort of stuff. This is a couple who is legally married, it is a legitimate marriage and they came to me with conflicts in their marriage that needed to be worked on.

Billy Bush: Doug, Why get permission from her parents to marry, why not just wait two years until she's 18?
Doug: A couple of reasons, life is unpredictable and we need to live every day to the fullest. Courtney and I fell in love and we're soulmates and we needed to dive. She's 18 now. What would be the point to have waited until she's 18?

Billy Bush: The psychological development, the emotional development in people ages 51 and 16 is giantly different.
Doug: Our inspiration is people like Jon and Bo Derek. She was 15 and he was in his 40s. They had a 22 year marriage. She held his hand while he was on his death bed. Celine Dion and Rene Angelil, he met her when she was 12, was her manager.
Billy Bush: It wasn't a relationship at that point.
Doug: Well, it was the beginning of a relationship.

Courtney: The connection was so organic. When you fall in love with somebody, Billy, you're love and you feel that.

Billy: But you're 16 and you're swaying all over the place. Like I have a 14 year-old daughter who is hormonal and emotional and changes her feelings about friends every 10 seconds.

Courtney: I wasn't… if you asked Bo Derek she would say the same thing. When you're an old soul, you're not going to fall in love with a 14 year-old boy. You meet somebody, you know what you want, and you're going to get that… I was a Christian girl and I wanted to save myself until I got married. Some people say that I waited a whole 16 years… that meant so much to me… we're still together. We've been married for a year and a half almost.

Hostess: what did you say to your parents?
My mother was monitoring all the conversations. [For six months] We were talking online.

Billy Bush: People are going to call you a pedophile and a pervert for meeting a young girl online. And they're not far off, you're meeting a young girl start chatting… you're an actor. You threw your career away.
[From Access Hollywood]
That was despicable what Doug said about Celine Dion and Renee Angelil, as if Renee was creeping on Celine when she was 12 years old. Courtney is just parroting him, and the whole thing bothers me. She's all "we've been married a whole year and a half!" I liked it much better when we thought it was a publicity stunt, because the reality is just jaw-dropping. It also bothers me how much people are acting like this is normal in order to continue to capitalize on it. Good for Billy Bush and everyone else who is calling it like it is.
These photos are from December of last year. You can see Courtney's new face here. Credit: WENN.com