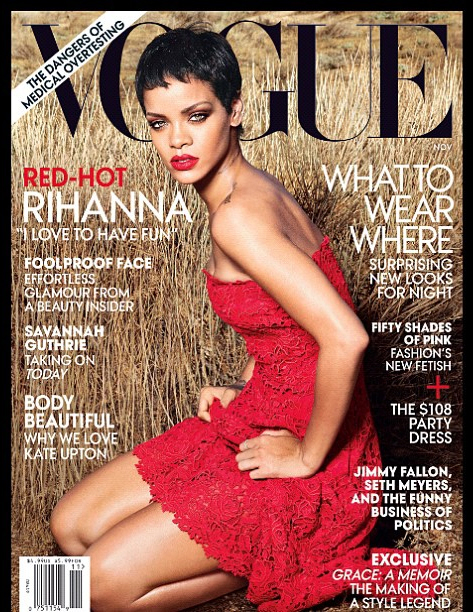 This is a preview of Rihanna's November cover of Vogue. This is her second time on the cover of American Vogue, although she has appeared on multiple issues of the international editions. She's on Vogue (again) to promote her new album, which comes out on November 19th (worldwide), called Unapologetic. Which is an album title ripe for analysis, right? I'm assuming Rihanna is "unapologetic" about getting back together with Chris Brown. She's "unapologetic" about screwing around with Brown after he nearly killed her. She's "unapologetic" about screwing around with Brown while he had a girlfriend. She's "unapologetic" about being dumb. Which… I don't even know at this point. Do I want an apology from Rihanna? Not really. She doesn't need to give me (or her fans) an apology. I'd just like her to show the sense God gave a goat, you know? Speaking of, Rihanna is planning on "going public" with Chris soon:
Chris Brown and Rihanna were caught on some steamy dates in NYC in early October — so steamy that Chris confirmed the end of his relationship with girlfriend Karrueche Tran on Oct. 4.

But Chris and Rihanna have yet to go public with their newly re-ignited relationship. That's something fans will have to wait for until Rihanna releases her new album, Unapologetic, in November, a source tells us!

A source close to Rihanna tells HollywoodLife.com exclusively that Rihanna is focusing all her energy into her new album, but once it's completed, we'll see her and Chris publicly!

"…She hitting the studio real hard these days, but [talks] to Chris every step of the way," our source tells us. "As soon as she finishes up with this album, they will be out. She gotta focus and get that album together and stay paid."
Here's a real question, and yes, I can't believe I'm actually asking this: do you think Rihanna's fans will leave her in droves now that she's officially back with Chris? No, right? Even though I would hope that there would be some kind of backlash against her and against Chris, I doubt there will be. She's going to "stay paid". And hey, look at this way: maybe Chris will piss her off before then and they won't even be together by November 19th.
Incidentally, I loathe this cover. I think Rihanna is so pretty, but this cover shot is AWFUL. Why does she look so angry? And why the stupid "I love to have fun" cover line?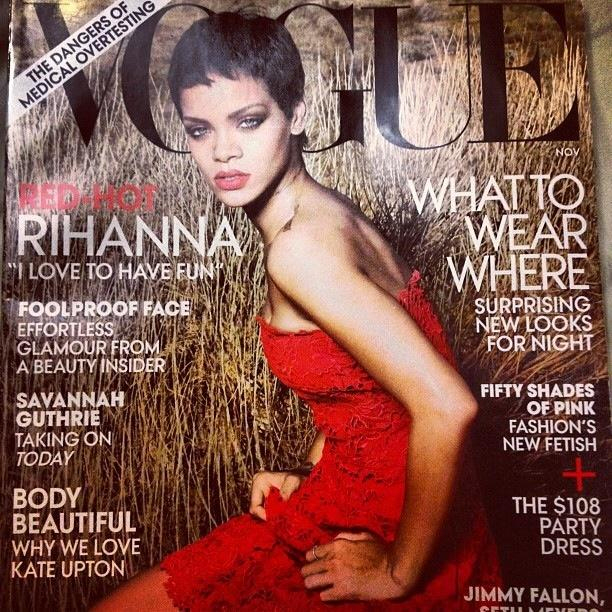 Photos courtesy of The Fashion Spot, Annie Leibovitz/Vogue.