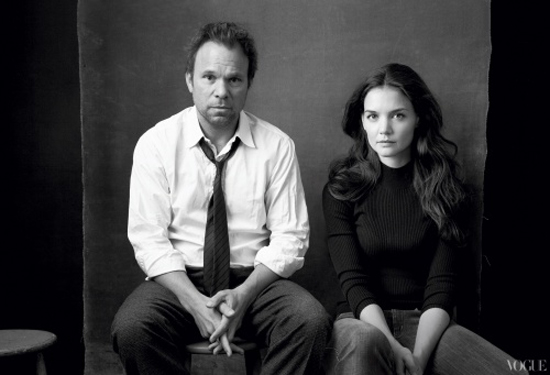 Katie Holmes is still pimping Dead Accounts on Broadway, and she's done a new Vogue interview with the actual star of the show, Norbert Leo Butz (who has two Tony awards under his belt). It really was a great move for producers to team up Norbert and Katie for much of the publicity for the play — although they are in fact the two leads of the show, he's the true talent, and she brings the press in droves. Of course, she wasn't allowed to do much press when she was married to Tom and performing in that All My Sons revival years ago, but now, Katie is in the driver's seat, and it must feel really, really good.
While this career revamp might not put Katie back on the road she was on before she encountered Tom Cruise and his CO$ love ship of doom, it's a start. I think we can all recognize that Katie was never the most versatile actress, and the side smirk can really kill suspension of disbelief in most roles, but proving herself in a live theater capacity is a very smart move. As a dark comedy, Theresa Rebeck's Dead Accounts seems like a good vehicle too with the show taking aim at the topics of familial relations, Wall Street, and love. It's also a critique of the struggle between choosing big city life (depicted as the East Coast) and small-town gentility (represented by the Midwest). So it makes a lot of sense that Katie was talking about her appreciation of boxed wine in that NYT interview where she and Norbert were both stressing their Midwestern and Catholic roots. The two play siblings in the movie with Katie portraying the sister (Laura) who stays in the small town to take care of her parents while Norbert is the returning prodigal son (Jack) who is tiring of city life. Here are some excerpts from their Vogue interview:
On being Catholic & Midwestern: "You grow up in that environment, and when you leave it, all those things are being challenged. Jack tried something, and it didn't work. Now he's coming home, and all of these people who have played it safe are the first ones to say, 'How could you do that?' It's like that saying 'Morality is a lack of opportunity.'"

The whole play takes place in a kitchen: "Like, just me in the kitchen is a comedy," Holmes says. "But it's heartbreaking for me going through it—­" (Butz erupts into surprised laughter. "Because you're such a bad cook?") "Yes. But for others, they probably think it's really funny, because all the pans are out, and I get frustrated, and suddenly it's burning–" ("And all these emotions will come out of it–," Butz offers, nodding.) "And I went to Eataly," Holmes explains. "I got the stuff. And it still turned out, like–not good!"

Will she do more Broadway? "God, I hope so. It's exciting because there's no close-up, so a person has to use every inch of themselves. The way their hand is says something. So you're never done–­and who wants to be done? It's just another opportunity to keep growing."
[From Vogue]
I really identify with not being the greatest cook in the world when it comes to making several things at a time. I can do one or two things at once — like a casserole or pasta and salad. Or a pan of enchiladas, which are excellent, by the way. But trying to coordinate more than that in the kitchen is something that I'll never be able to do. Katie's admission tells us something even more important though, which is that there's no way in hell that she will be making a huge Thanksgiving dinner "from scratch" (including pumpkin bars) for Tom and Suri this year. Oh, and we're officially on count for 17 WEEKS since Tom has seen Suri. Tool.
Not incidentally, here are some photos of Katie arriving at the Music Box Theater over the weekend. Her street style is improving, right?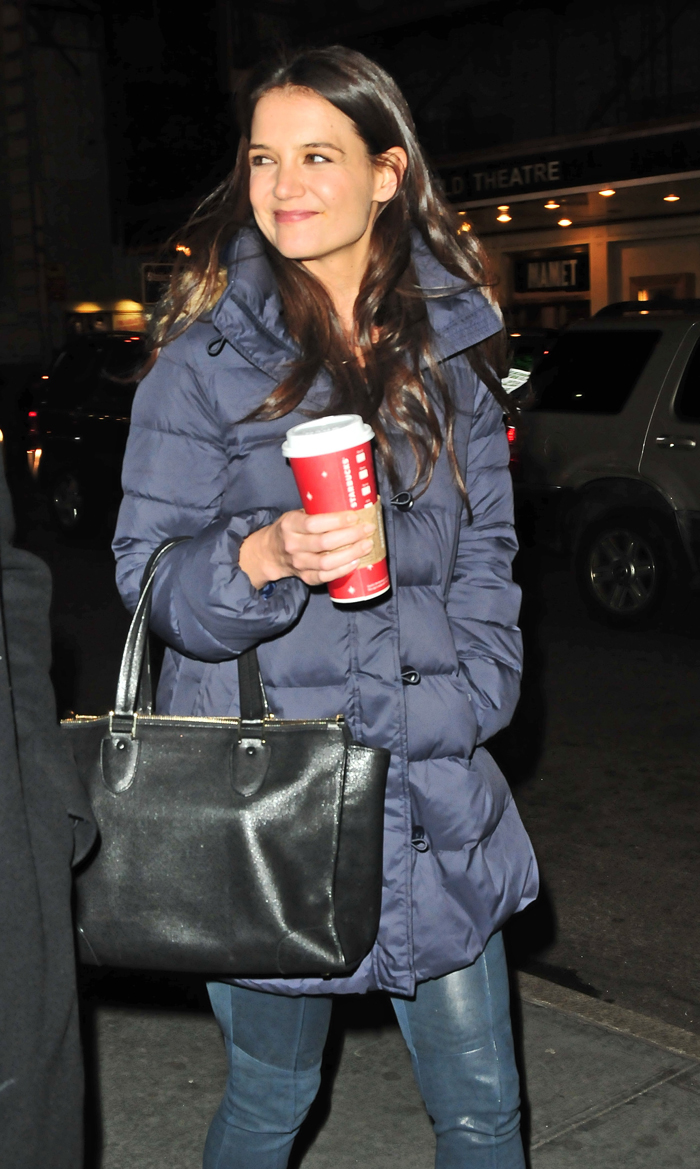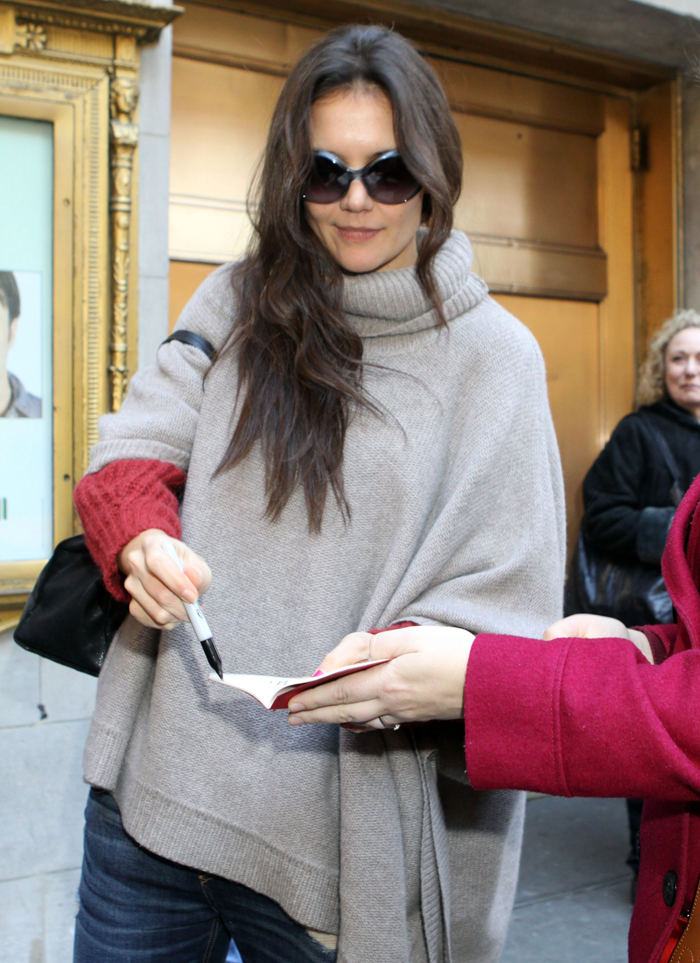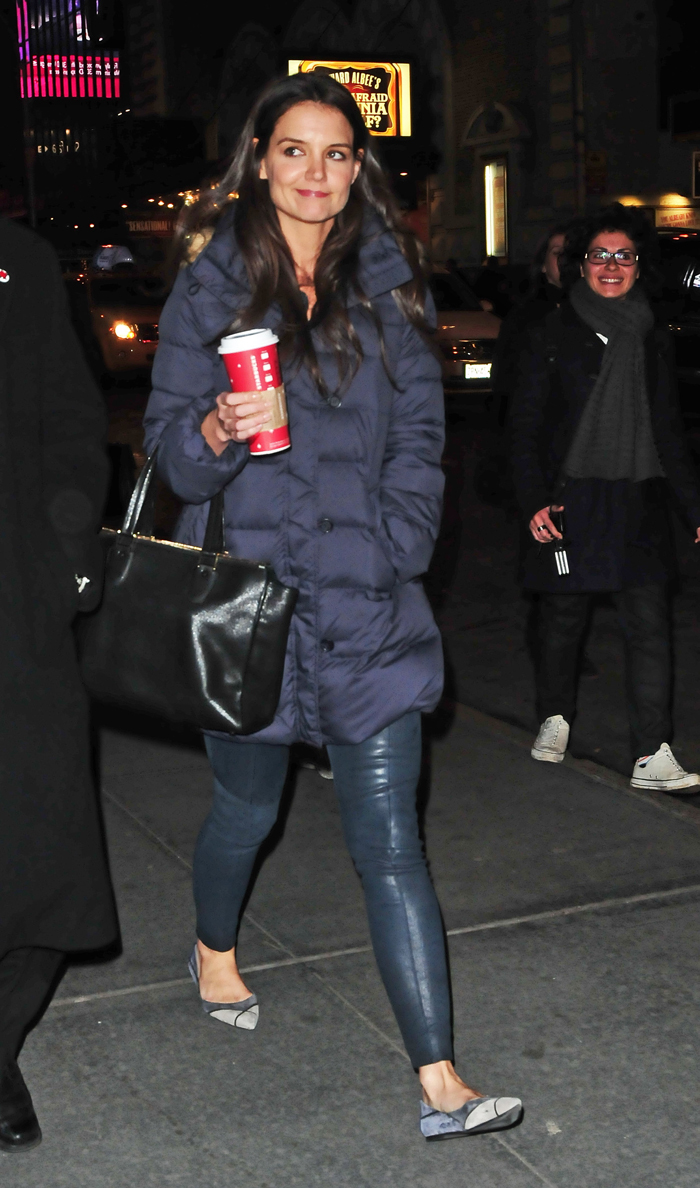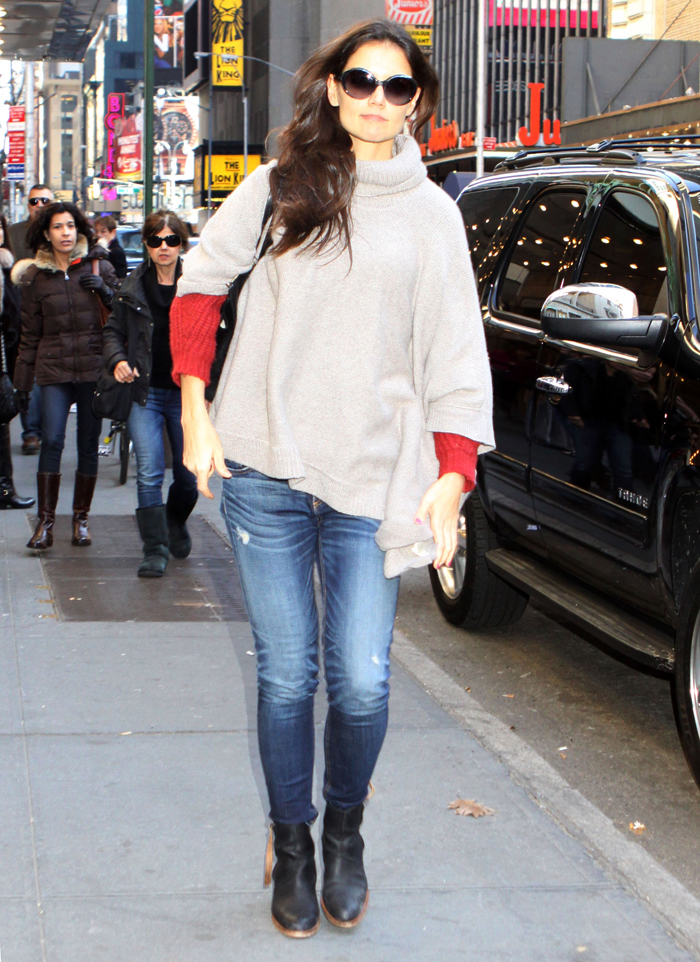 Photos courtesy of Fame/Flynet and WENN