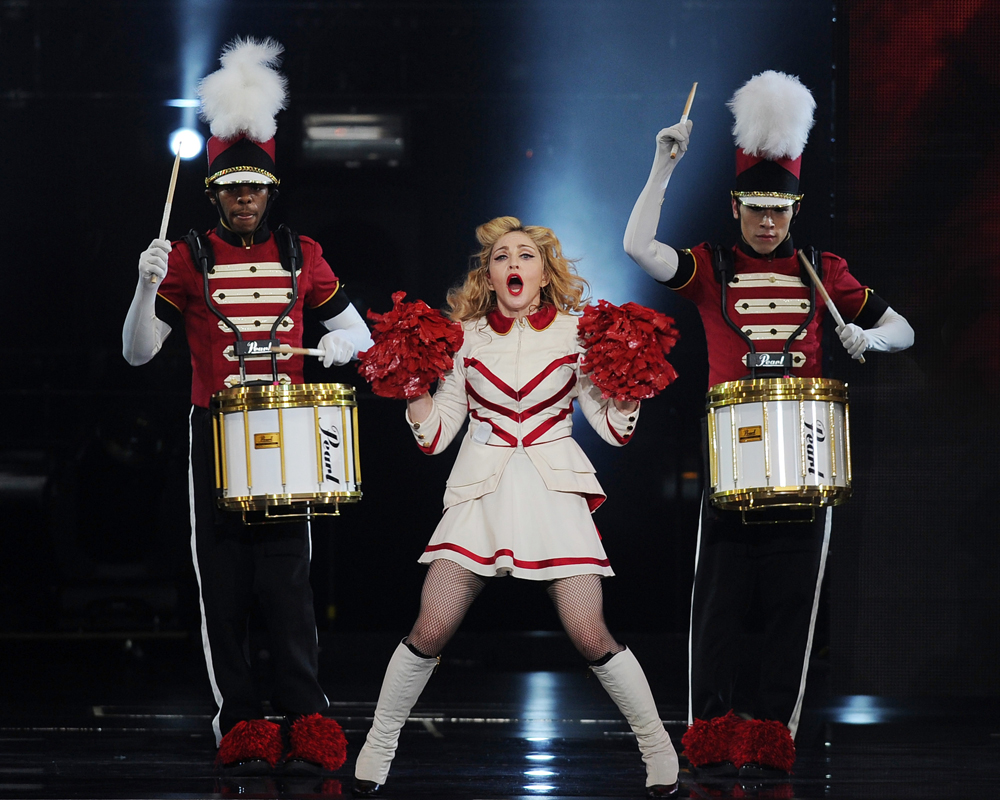 These photos of Madonna dressed up as a cheerleader during her latest concert tour just never get old, do they? I mean, she must have had a million costume changes for her shows, but these are the pictures that our photo agencies just kept on publishing as the tour wore on throughout last year. Bless Madge and her little cotton cheerleading socks. Lady Gaga might have been correct in that things are different than there were 25 years ago, but Madge has stayed the same: raunchy, shameless, and successful as hell.
Of course, I shouldn't make such light of this gripping issue because Madonna continues to make a killing off her arena tours even though no one buys her new albums anymore. In early 2012, Madonna famously attempted to justify her $300 concert tickets (and that's baseline pricing, not the fancy, up-close seats) by saying, "Scrape the money together, I'm worth it." Apparently, people have been doing just that to the tune of $296.1 million in ticket sales. Insane, right?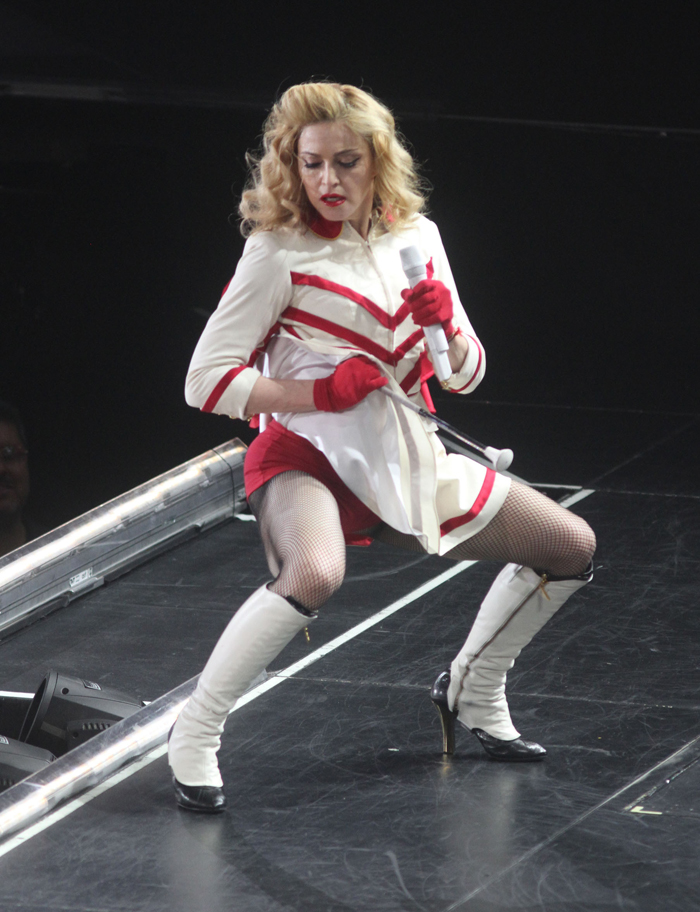 The music industry has minted some new arena and stadium stars lately, but one look at the top-grossing tours of 2012 and you might think we're in a time warp.

Though her album sales are not on par with her 1980s heyday, Madonna can clearly still put glittery butts in seats. According to Pollstar, she easily topped the list of the year's highest-grossing tours with $296.1 million, besting another Reagan-era rival, Bruce Springsteen and the E Street Band, whose tour raked in $210.2 million. Former Pink Floyd leader Roger Waters had a very good year as well, pulling in $186.4 million on a list of the top 50 worldwide tours whose combined gross was $3 billion.

Both Madonna and Springsteen sole more than 2.1 million tickets each, averaging more than 31,000 fans per night. But, of course, Madonna also managed to make headlines on an almost nightly basis thanks to the usual flesh-baring and cage-rattling antics, which ranged from her musical tweaking of Lady Gaga, to the waving of fake firearms, flashing of naughty bits and a feud with French right-wing national Front party leader Marine Le Pen.

There were some newer names on the list as well, including Coldplay at #4 ($171.3 million), Lady Gaga (#5, $161.4 million) and the Cirque du Soleil "Michael Jackson: The Immortal" tour (#6, $140.2 million).

Among the other notable names: Metallica (#8, $86.1 million), Red Hot Chili Peppers (#10, $57.8 million), Jennifer Lopez (#13, $52.6 million), Drake (#19, $43.4 million), Radiohead (#21, $42.5 million), Justin Bieber (#23, $40.2 million) and the Black Keys (#27, $38.1 million).
[From MTV]
Oh, Madonna. She might not have put out a decent album in over a decade, but she's still an institution. People will continue to flock to her shows not for the music but because it's an actual event. And if they see her butt cheeks all over the place in the process, so be it. If Madge builds it, they will continue to come.
In other news, Madonna was seen over the New Year's holiday performing an unintentional belly flop on a Switzerland ski slope while Brahim Zaibat stared down at her, seemingly at odds on how to help his girlfriend to her feet. Strange stuff.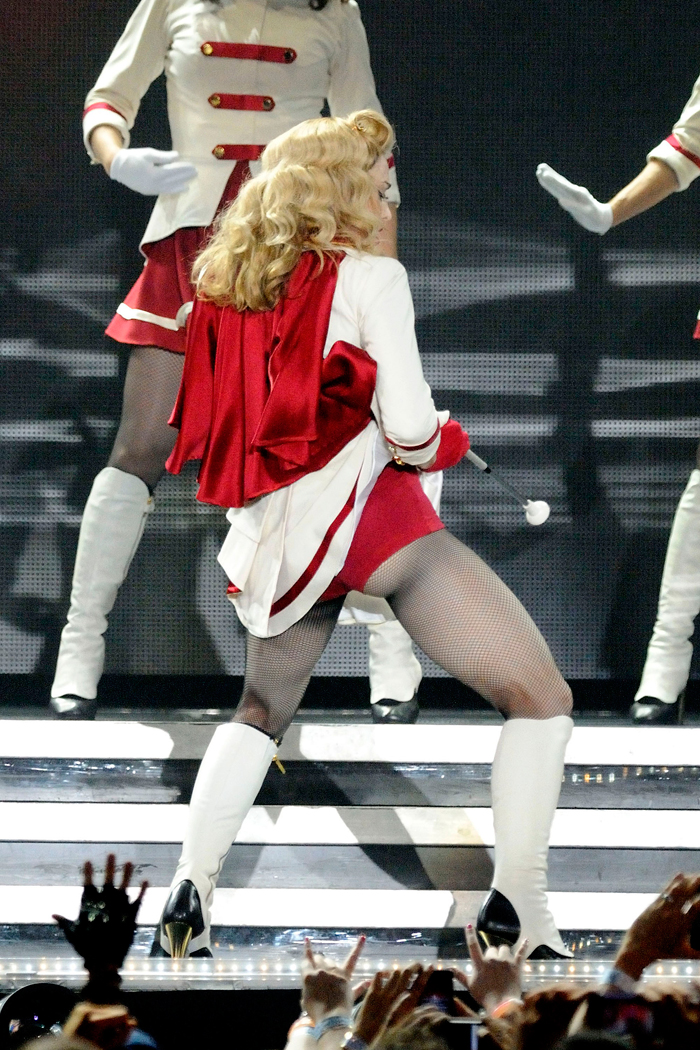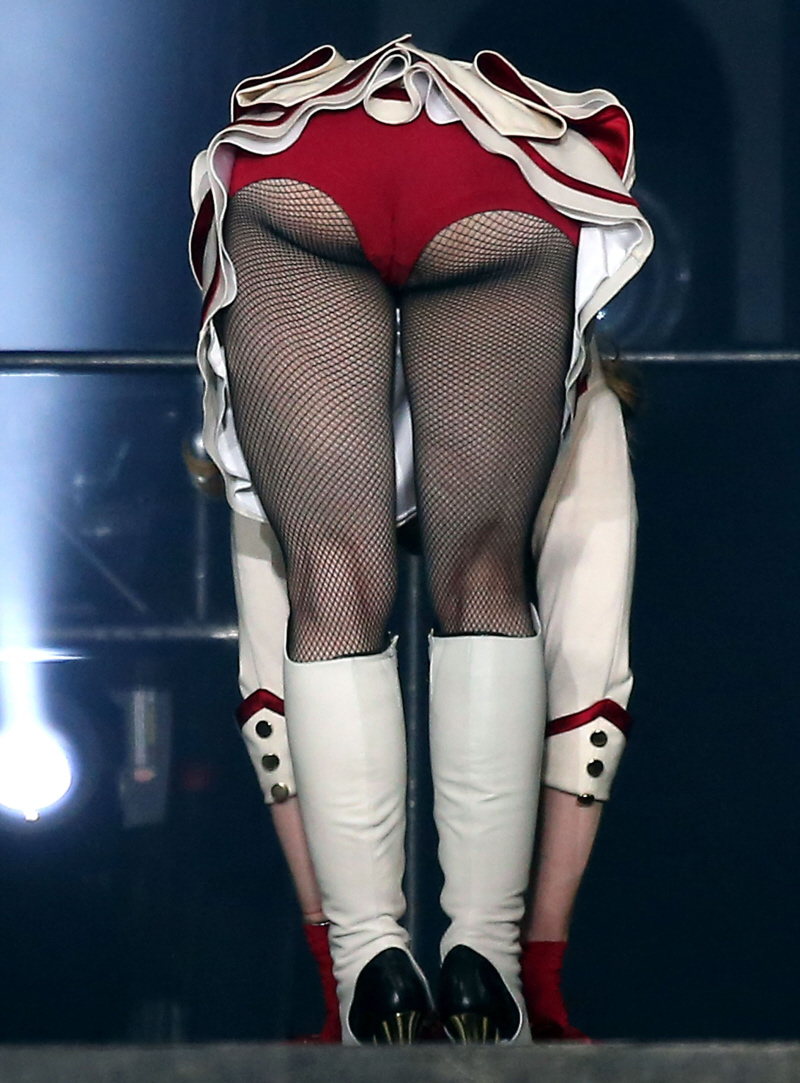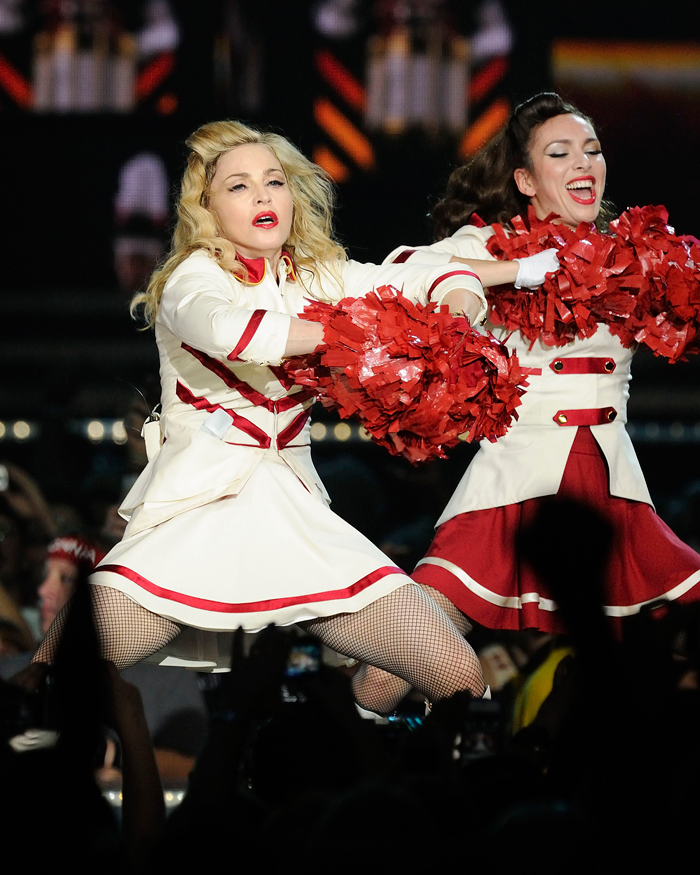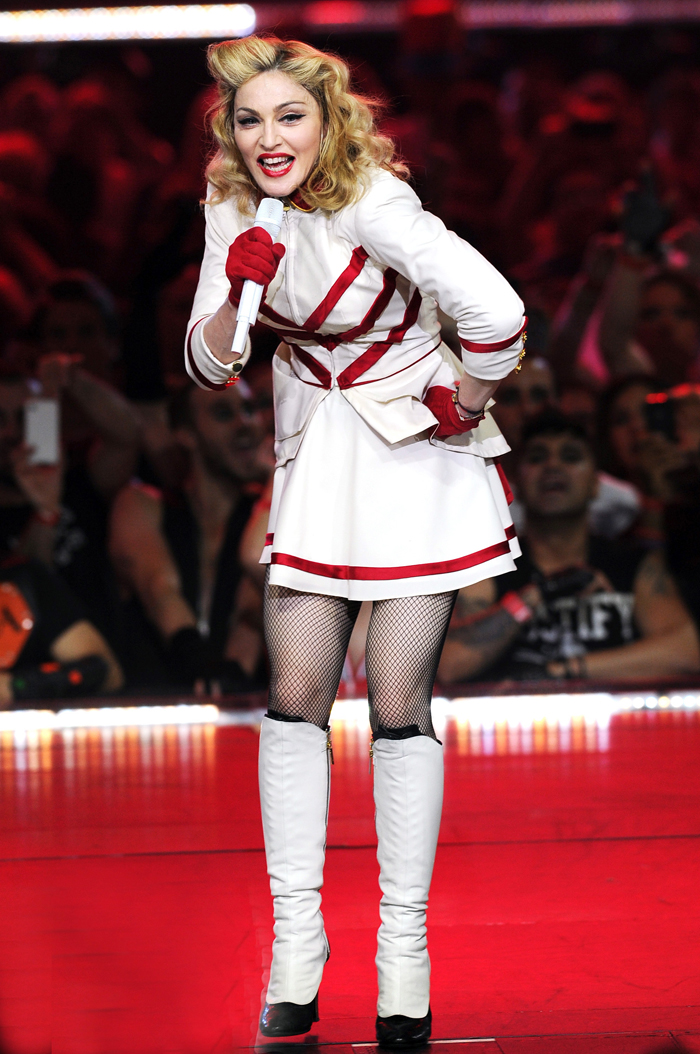 Photos courtesy of WENN