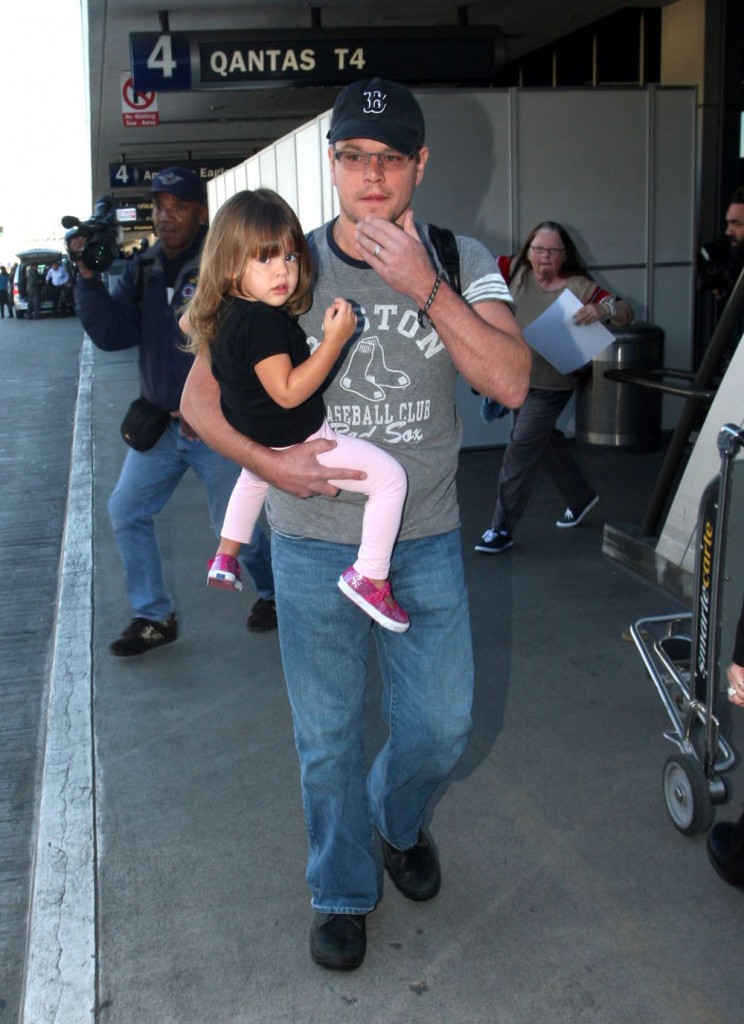 These are some rare photos of hot dad Matt Damon with his family. He's shown at LAX airport yesterday holding daughter Stella, 2. She's adorable! Matt's wife of seven years, Luciana, is trailing behind him and I think I spot his two oldest daughters, Alexia and Isabella. I don't see their daughter, Gia, 4. It's possible she's off-camera. In his recent Playboy interview, Damon mentioned that the paparazzi don't hound his family daily the way they follow the Garner-Afflecks, but he also said they're careful not to go to paparazzi hot spots. It sounded like he was mildly calling out the Afflecks for staging photo ops, which have been all too obvious during Ben's Oscar campaign. So that's why it's nice to see photos of Damon with his family, because we only get the occasional chance. He's not pimping his kids and he'll tell you about it. (Update: an earlier version of this story incorrectly claimed that Matt was with his daughter Gia, 4. The photo agency mislabeled the captions and we're sorry for the confusion.)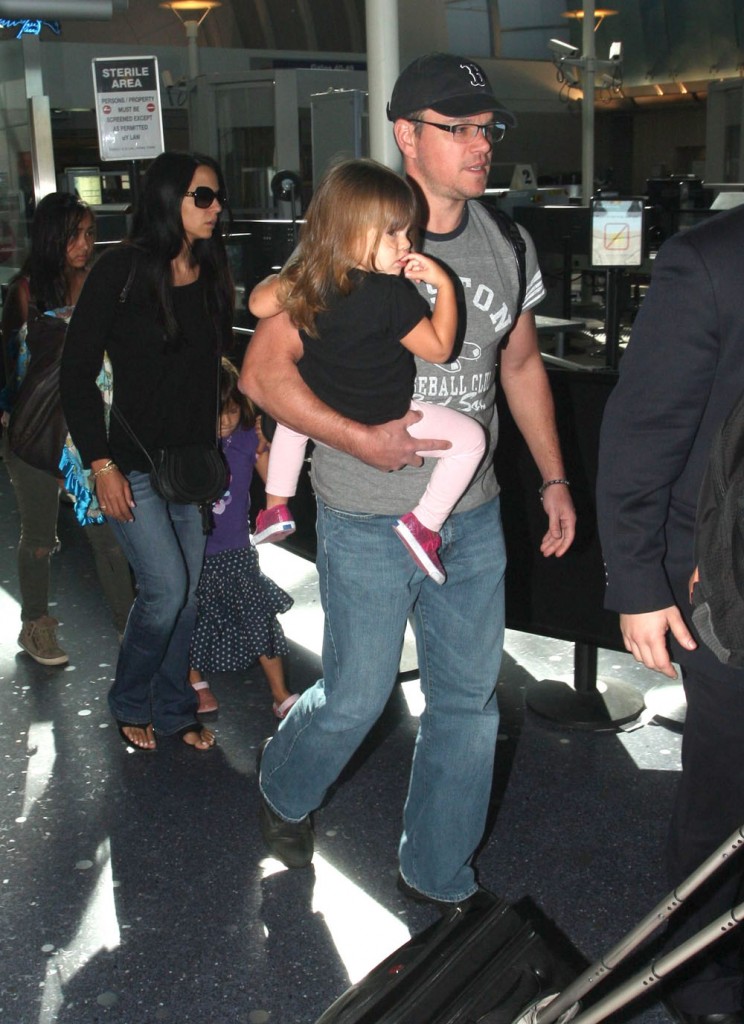 There's plenty of news about Damon, but my favorite is a new extensive interview in Boston Magazine in which Damon and Affleck discuss the making of their Oscar winning film Good Will Hunting. It's a long, good read on the history of the film 15 years later. The piece includes quotes from director Gus Van Sant, and co-stars Cole Hauser and Stellan Skarsgård among others. I was surprised at how long it took for the film to get made and what these two went through to finally get to production. In no way can I do justice to the article here, and I would recommend that you read it in full if you're a GWH fanatic like me. Here are some of my favorite excerpts:
Their frustrations at constant rewrites
Affleck: We were so frustrated that Castle Rock wasn't reading the script, so we felt like we had to develop this test. We started writing in screen direction like, "Sean talks to Will and unloads his conscience." And then: "Will takes a moment and then gives Sean a soulful look and leans in and starts blowing him."

Damon: They weren't reading the script closely anymore. It was literally probably a full paragraph about what these two characters were doing to each other.

Affleck: We would turn that in, and they wouldn't ever mention all those scenes where Sean and Will were jerking each other off.

Damon: Ben gave it to [Chasing Amy director] Kevin Smith and said, "Will you please save us? Will you direct this movie?" And Kevin read the script and was unbelievably kind. I still remember the message. He said, "I wouldn't dare direct this movie, this is so beautiful." Kevin went in personally to Harvey Weinstein's office at Miramax and handed him the script, and basically said, "Drop everything you're doing right now and read this."

Damon: I still remember the phone call with Harvey. He had two notes on the script that were excellent, both very minor things. In one of his notes, he said, "I don't like the chess thing"—there was a thing where Will played chess—"take that out." And he goes, "And the bl*w jobs gotta come out, guys." And we were like, "Okay, we found a home."

On how they reacted the first day of filming
Damon: The very first day, I remember we started crying, because it was a scene between Robin and Stellan. And when Gus called action and we watched these guys—I mean accomplished actors—do our scene verbatim, we had waited so long for this to happen. I remember just sitting next to Ben and I had tears rolling down my cheeks because I was just so happy and relieved that it was really happening.

Affleck: We did tear up a little bit. But why is Matt saying this shit? Like, he holds his f'ing tongue for 15 years and now because it's Boston magazine, he says he started crying? His career is not over, you know what I mean? He needs people to believe that he's like Jason Bourne or whatever!

On winning the Oscar
Damon: Ben and I talked about it recently. We were younger than we felt. I was 22 and Ben was 20 when we first started writing it. And then it came out when I was 27 and Ben was 25. I mean, Ben's still the youngest writer to ever win an Oscar for screenwriting. I'd be the youngest if it weren't for Ben. F'ing asshole.

On what GWH means to them
Damon: I don't think there could ever be another movie that I felt that way about. Because of what it meant for our lives, because of that time in our life. Another movie couldn't occupy that much of my heart and soul at this point in my life. A movie could never change my life like that again.

On their future working together
Affleck: For a while, we thought maybe we should chill and just do other stuff, and not be Matt and Ben, Matt and Ben. But now, I'm gonna direct Matt in the Whitey movie. We have our company together, we're developing together. And Matt lives down the street from me like he used to. His kids are living with him, the way we used to live with our folks. The only difference is that we have pools.
[From Boston Magazine via PopSugar]
I loved this article, and just wish that the people at Boston Mag would have taped the whole interview and put it on YouTube. It's kind of frustrating to only imagine it and not be able to see these two giving each other shit.
There's more news about Matt! The Daily Mail has some quotes about how he really wanted to direct his new film with John Krasinski, Promised Land, but stepped down when he realized that he would have to spend so much time away from his family. He described how he contacted Gus Van Sant in a panic and was able to get the former Good Will Hunting director on board instead. "The next morning, I was leaving to go to Florida with my family and I was sitting on the plane, feeling horrible. I emailed Gus and told him everything that had happened, and he emailed me back, right before we had to switch our phones off. He said, 'I love your writing. I'd love to read it.' At that point, it was what they officially call the Alec Baldwin moment. The flight attendant was like, 'Turn that f***ing thing off, or I'm going to come and take it from you!' So, I forwarded it to Gus from my Blackberry, as fast as I could, and then switched it off." That's so funny, "Alec Baldwin moment." Except Alec was defending his right to play Words with Friends, not to save a movie.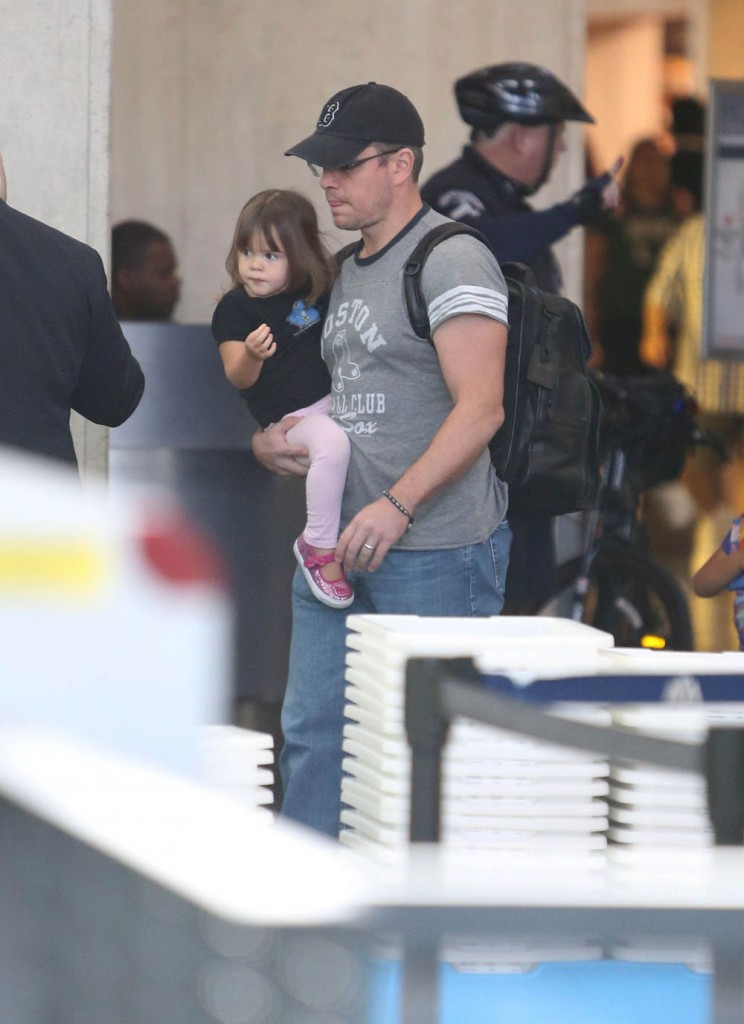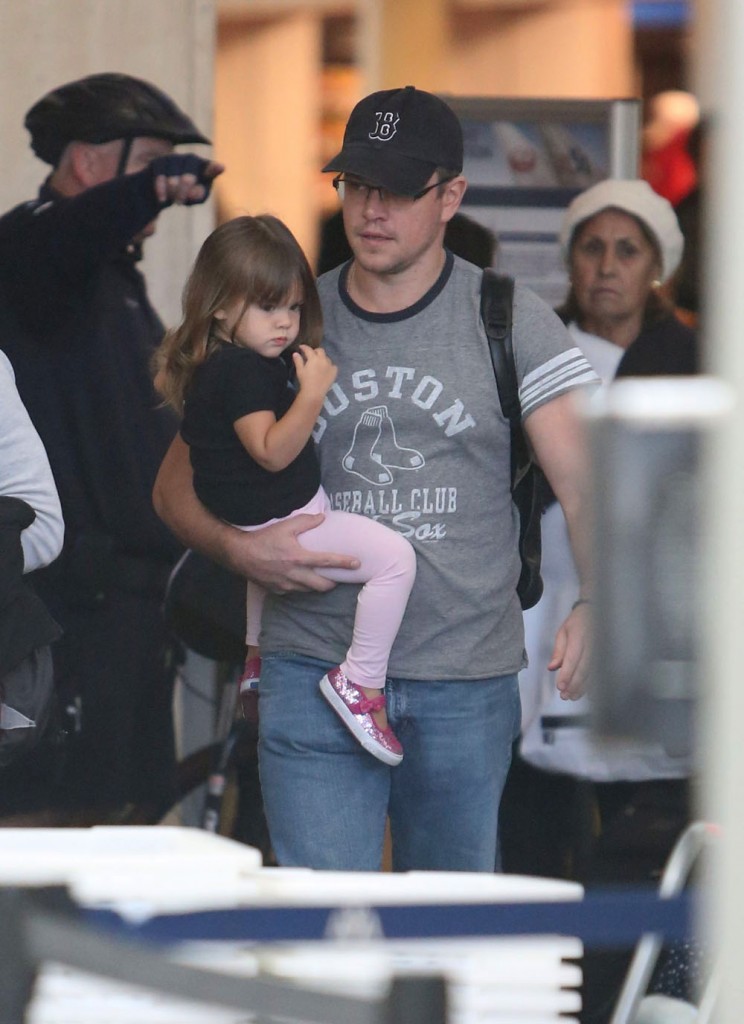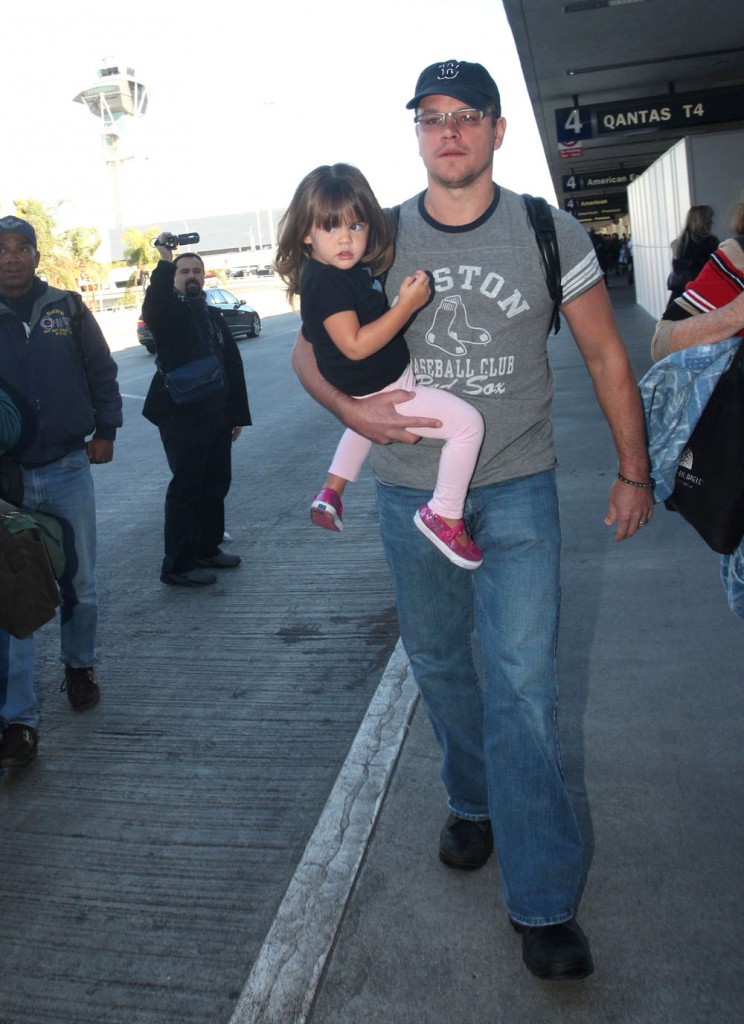 Photo credit: Crown/BJJ/FameFlynet