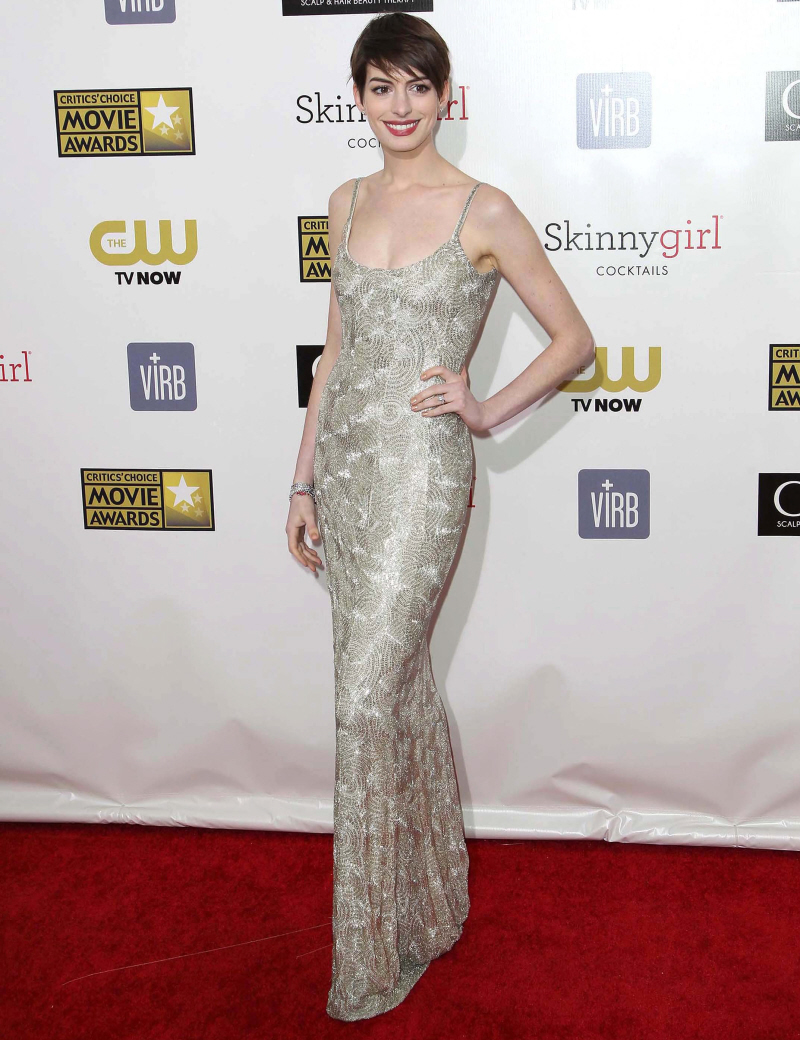 I know Anne Hathaway is, like, super-EXTRA, but I still love this neurotic bitch. I can't help it, y'all. It's like the Five Phases of Hathaway: General Interest, Fan-Girling, Annoyance, Hatred, and finally Acceptance and Love. Annie's a mess. She can't help it. She wants that Oscar so badly she can taste it. I kind of like that she's so in-our-faces about it, honestly. Annie won the Critics' Choice Award for Best Supporting Actress for Les Miserables, because honestly she was going to have a meltdown if she didn't win. I liked the first part of her speech a lot, where she called out the BFCAA for misspelling her name, and she seemed confident and sassy and funny. Then she reverted back to "Supplicant Annie, grateful for any award you want to throw at her." Then she got annoying, but whatever. I'm through my Five Stages of Hathaway. I love her. I accept her for what she is: a neurotic, beave-flashing hot mess of a girl.
Annie wore this sparkly, silvery Oscar de la Renta gown for the event – it's okay. It's very obvious this is one of her starter gowns and she's building up to much bigger and better looks. Personally, one of my favorite parts of her Oscar co-hosting duties a few years ago was all of the costume changes – Anne can bring the glamour, you know? But this is okay – and she had especially good hair and makeup. Pretty, understated, occasion-appropriate.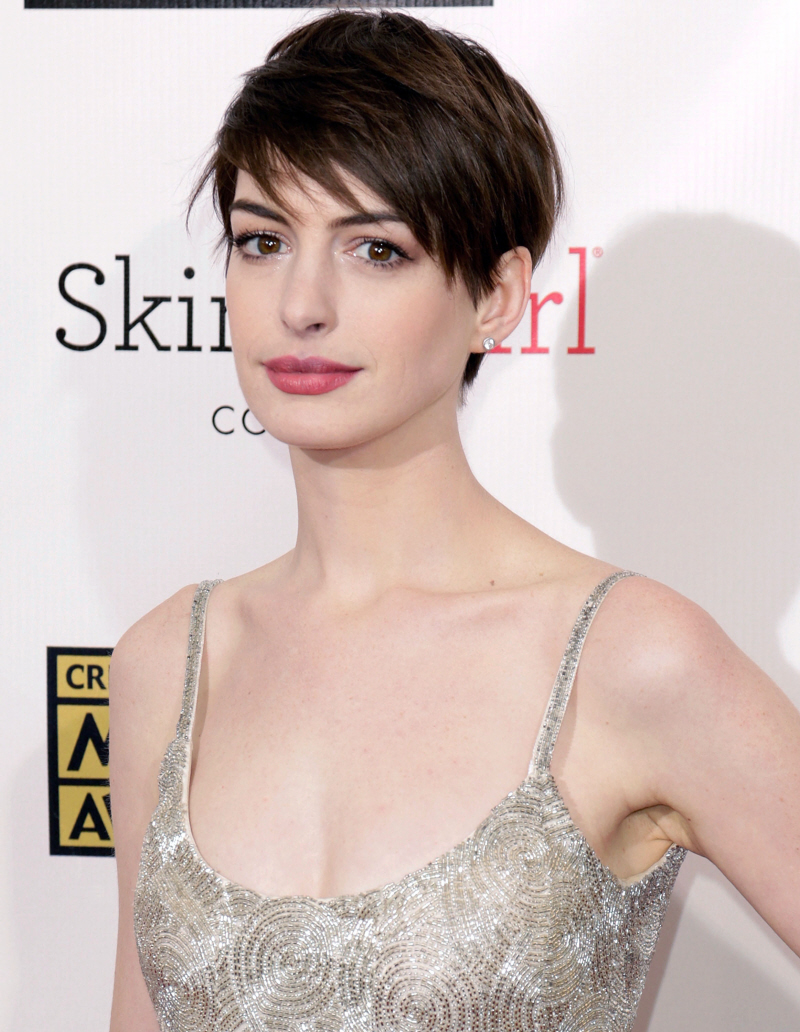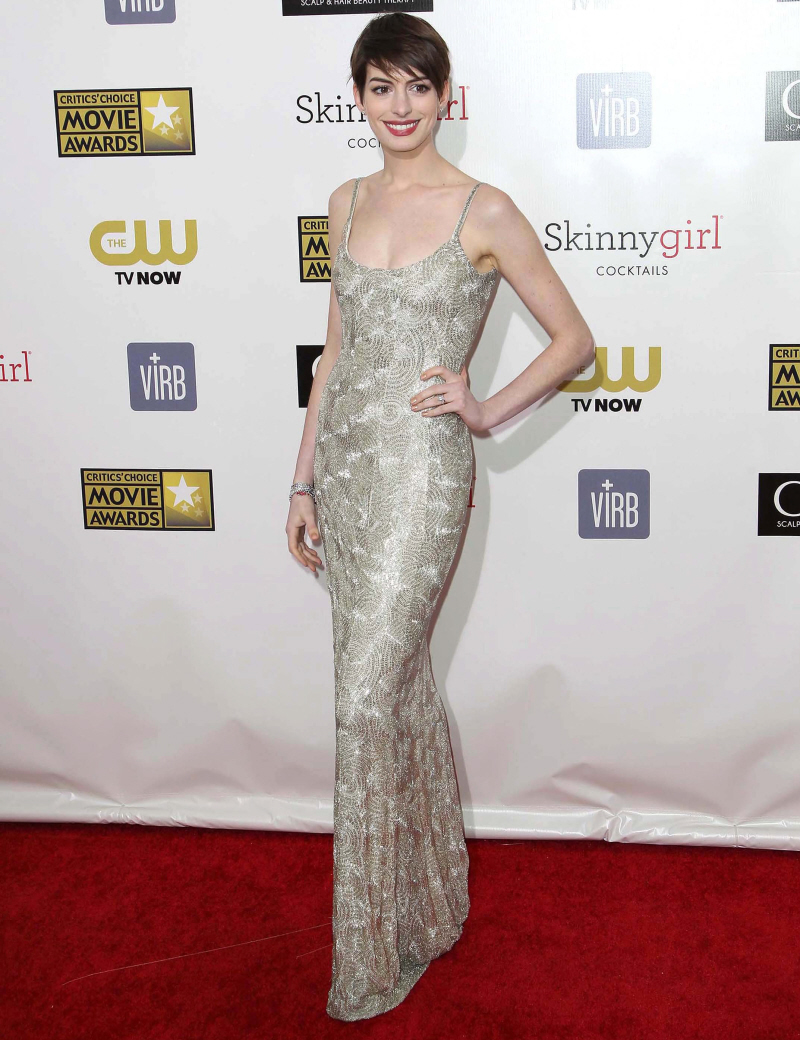 Bonus Sally Field! I don't know who did Sally's dress. It looks like the kind of dress that was probably already in Sally's closet, something she's had for years. Many think Sally is Anne's biggest competition for the Oscar – and while I get that the Oscar campaigns have just begun, it feels like Sally doesn't give a crap, right? She's proud of Lincoln, she's proud of her work, but she's not falling all over herself to campaign.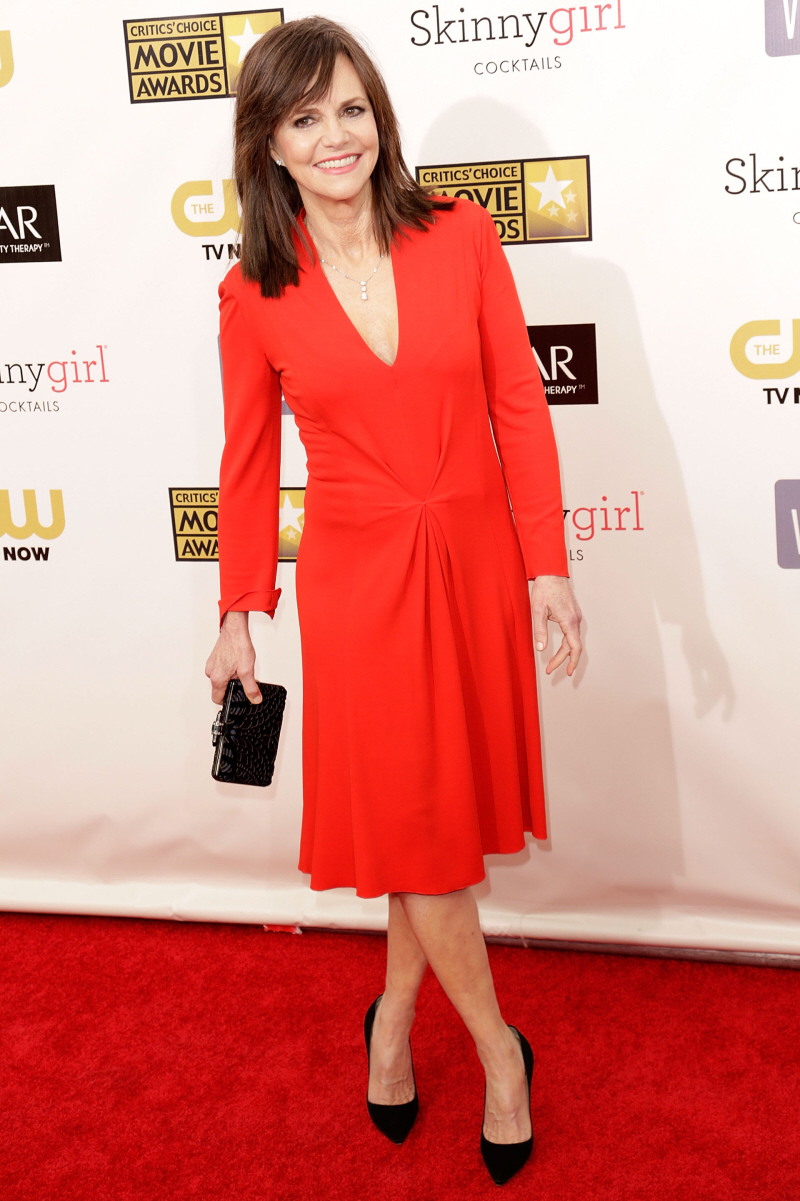 Helen Hunt in a Philip Armstrong gown – it's okay. I don't have a blinding hatred for it, and it's a nice color on Helen. I think those lace insets look kind of cheap, but this isn't the Oscar red carpet, so I'll let it go. I would love it if Helen really tried out some sophisticated glamour for this awards season, wouldn't you? This feels like the kind of dress Jessica Chastain would choose, and I would need to yell at her for it.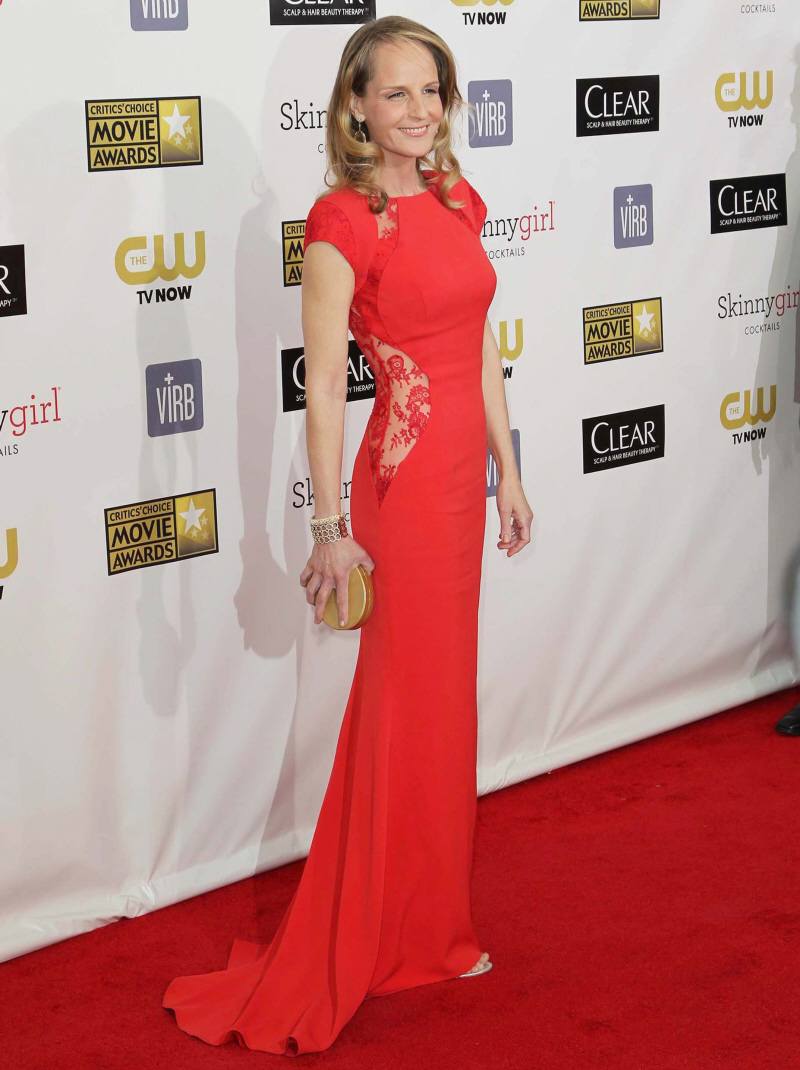 Here's Emily Blunt and John Krasinski. Emily wore this Miu Miu dress which is… eh. It's okay. Emily tends to wear a lot of clothes that only someone with her body could really pull off. If she didn't have a relatively small bust, if she had wider hips, etc, this dress would have been a total failure. But she had that great figure, so the dress sort-of works. But I don't get why she makes clothes try so hard, you know? Why does everything she wears have to be so overwrought? Throughout the show, the camera kept coming to her, and every time I was like "Ugh, that hair." I don't know if she lightened it for a role or whatever, but she needs to figure out a better way to style it. Maybe bring in a team of hair professionals to figure this crap out.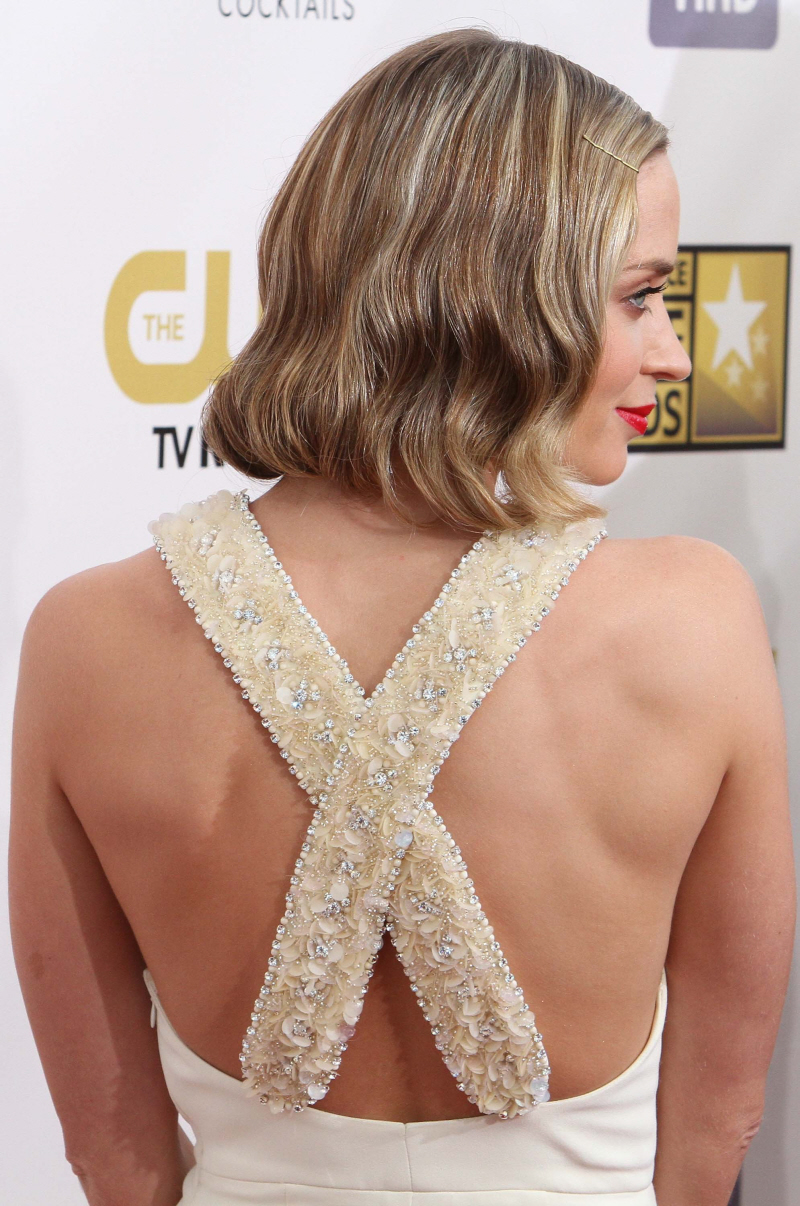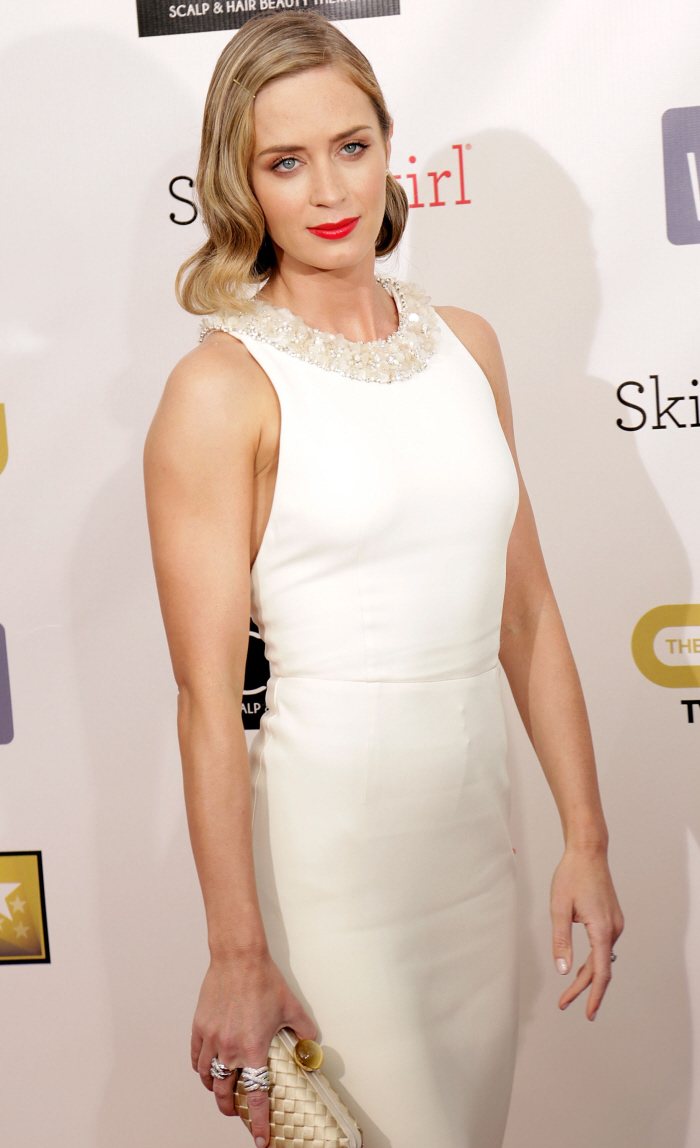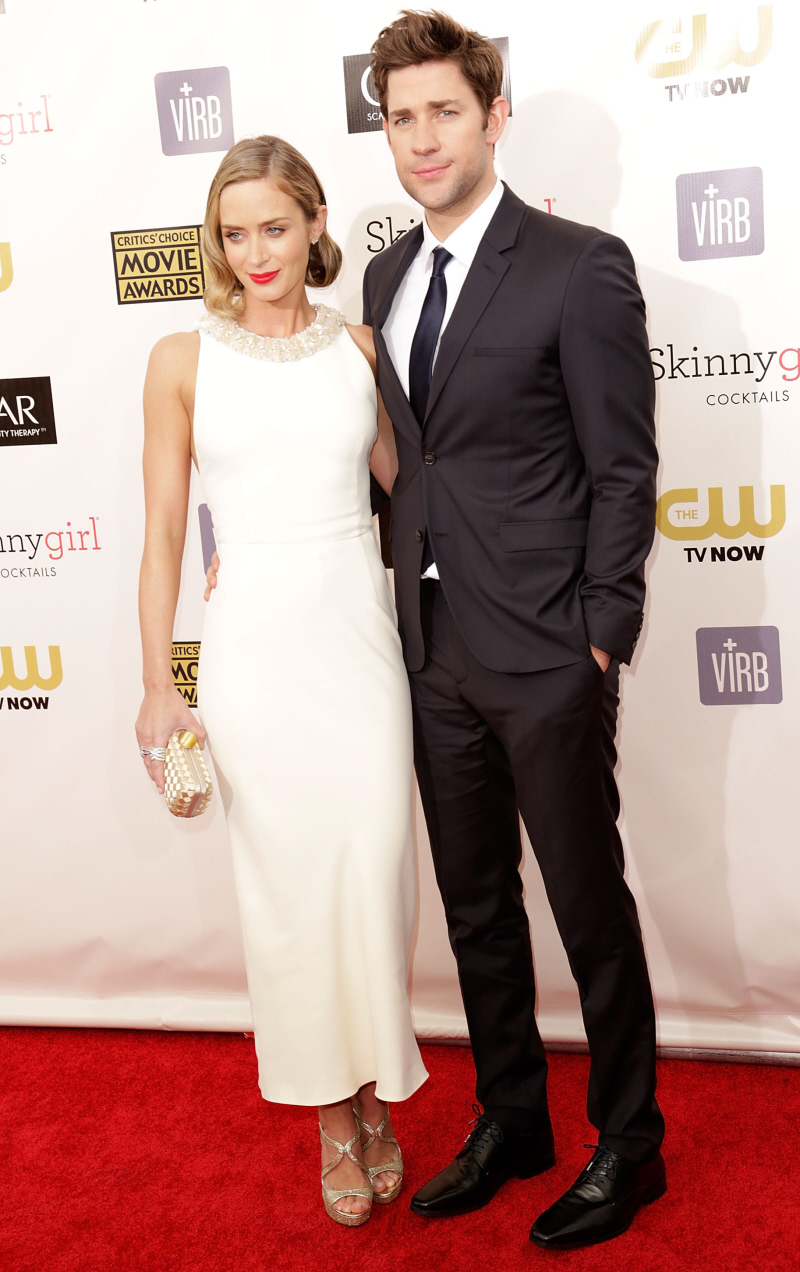 Photos courtesy of WENN.