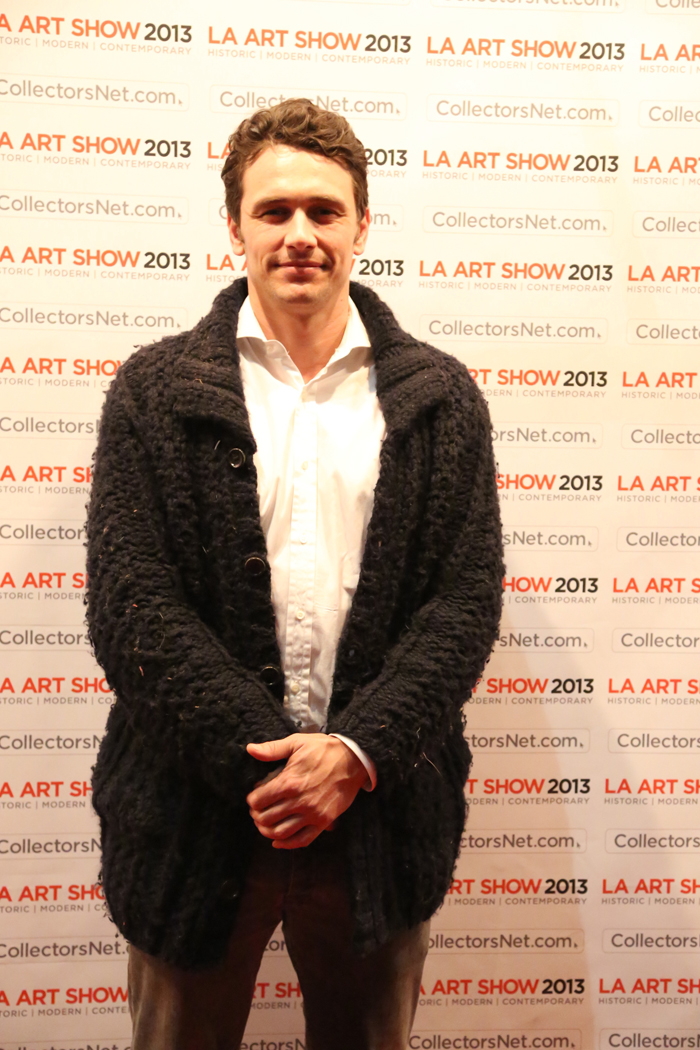 Here are some photos of James "AAART" Franco at the LA Art Show on Jan 22 because, you know, he's all about art, even his butt. At the moment, James is sort of promoting his Sundance-premiered film, Interior. Dark Leather, which is documentary that "recreates" what supposedly happened during the off-reel, gay pr0n moments of the Al Pacino-starrer, Cruising. For what it's worth (and I think it's a lot), Pajiba's Amanda Mae Meyncke didn't enjoy the flick at all, but I'm sure that Franco would counter that she just didn't comprehend his genius. Because, you know, his work only attracts criticisim from "superficial critics" who don't like Franco "because [he] was in Spiderman." Speaking of the famed web-slinging franchise, Franco has made it quite clear that he is in no way a fan of the reboot, The Amazing Spider-Man. The worst thing about Franco's delusions? Other than Oz the Great and Powerful, James has nine other films in various stages of development and another six in development. So Hollywood has bought into his nonsense, and here are the details of Franco's "smackdown" of the latest Spidey flick: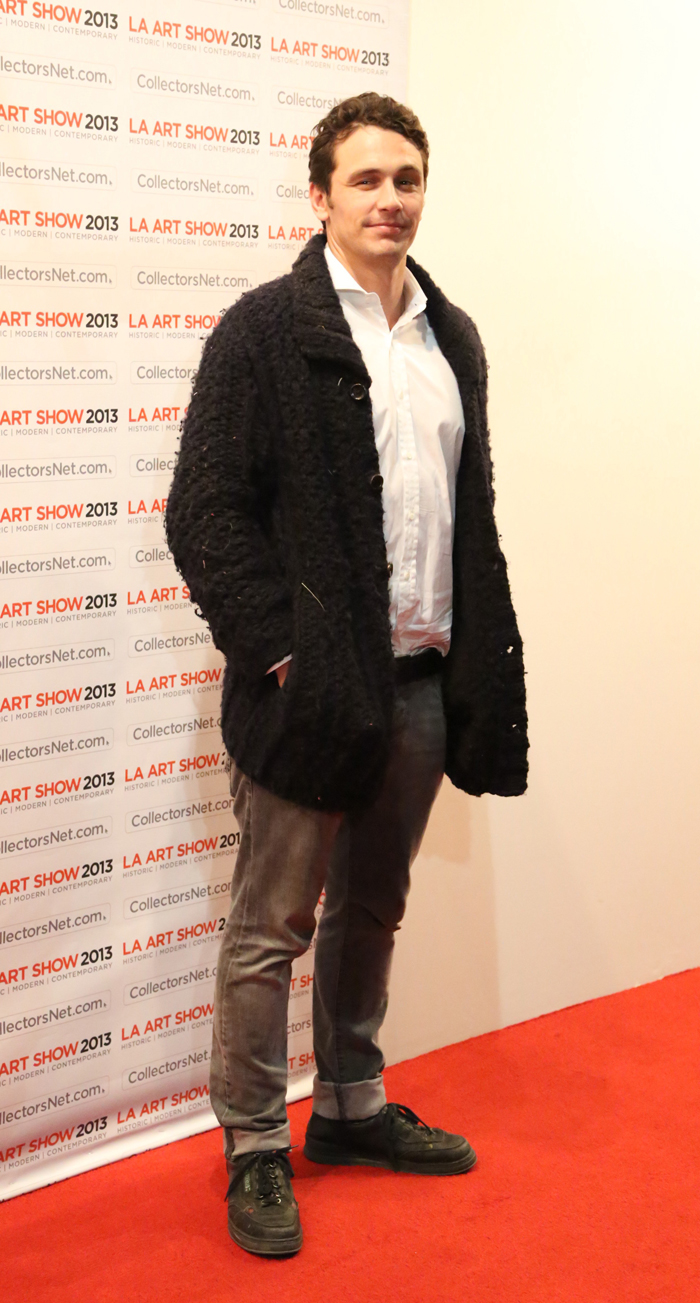 It seems Spider-Man alum James Franco isn't too keen about the recent relaunch of the web-slinging franchise starring Andrew Garfield and Emma Stone.

In an interview with MTV News, Franco (who played Peter Parker's frenemy Harry Osborn in the series) is asked to share his thoughts on director Marc Webb's follow up to Sam Raimi's Spider-Man trilogy. His response was not exactly positive.

"Ehhhhh," answered Franco with hesitation. "They could have strayed a little bit more from the original… It was like, 'Why?'"

Both Spider-Man and The Amazing Spider-Man series spin the tale of Peter Parker's journey to becoming NYC's crime-fighting vigilante, but Franco appears to imply that the team behind the reboot failed to get to the heart of the beloved tale, opting instead for profit over perfection.

"I guess they made a lot of money. Congrats. Good for them. Sam and I moved on. We made Oz."
[From ET Online]
Well, of course. If James Franco isn't in the new Spider-Man reboot, then it cannot possibly be worth of the "AART" label, can it? Poor Franco just can't handle the thought of the franchise going on without him in tow as the "New Goblin." I bet he secretly fantasized about how the two versions of the franchise could go all "meta" by seamlessly integrating him into both halves. Now that would be "AART," but since the franchise (in Franco's eyes) is merely financially successful, then the fact that Franco has "moved on" supposedly speaks for itself. Never mind that he's moved onto an entirely CGI-created mess in Oz the Great and Powerful. Obviously, I just don't understand the Franco artistry.
In other gross Franco-related news, the guy promises that he'll someday be willing to have literal sex on film but only "under the right circumstances." Thankfully, Shia LaBeouf has already cornered that disgusting market for all of us.
Here are some photos of Franco (on Sunday) leaving Los Angeles County Museum of Art, of course. I have no idea if the pretty blonde was with him, but it wouldn't surprise me if she was.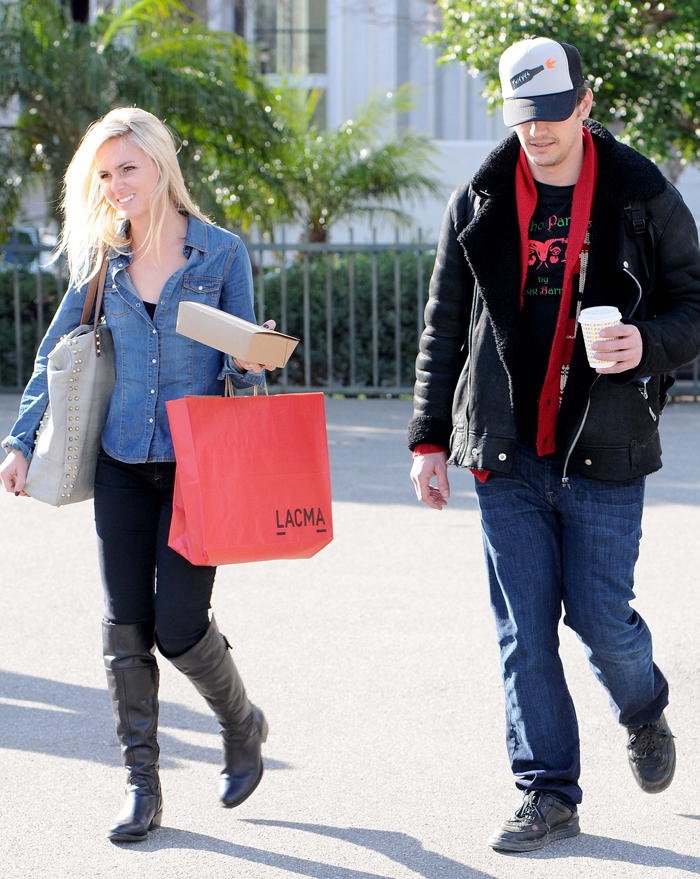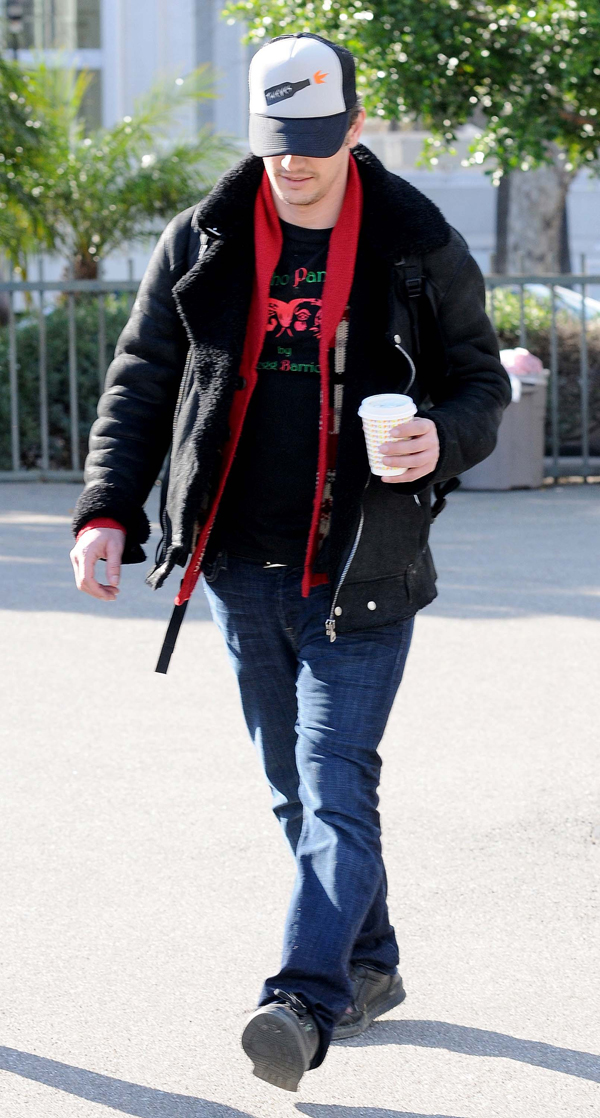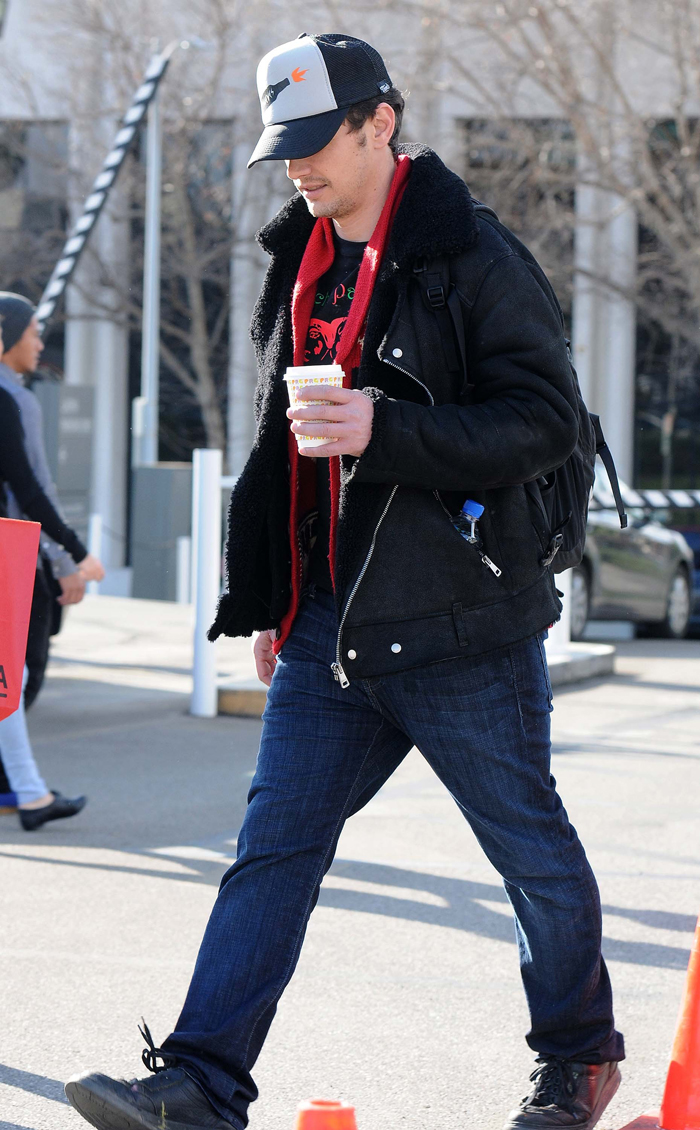 Photos courtesy of WENN