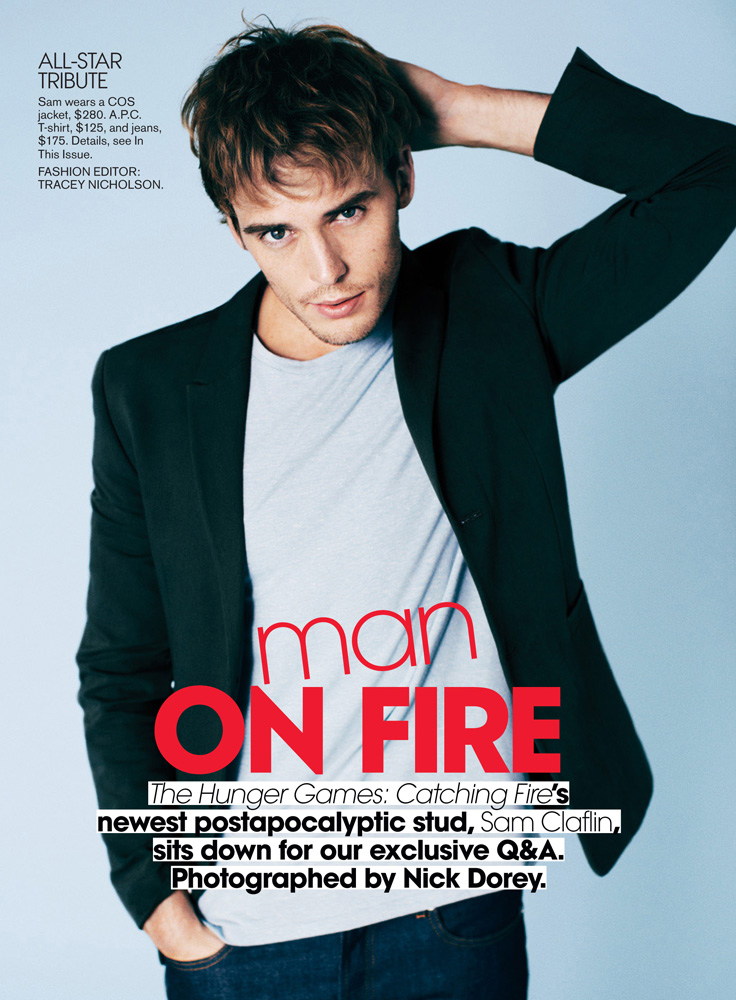 Sam Claflin appears in the March issue of Teen Vogue (the one with Chloe Moretz on the cover) to warm us up for his role as the damaged yet seductive Finnick Odair in Catching Fire. The magazine describes Claflin as a "postapocalyptic stud," and I guess we'll just have to wait and see on that note. I have to admit feeling slightly disappointed when EW.com released its first look at Finnick, and Sam looked like a startled deer in the headlights instead of a victorious tribute who could work some serious mojo with a trident. Even though Sam is 26 years old, he also looked pretty young to play Finnick. I had to go back and verify that the Finnick character is 24, but I still think that Sam's face looks younger than I'd imagined for the role. Oh well. Here are some excerpts from Sam's Teen Vogue interview: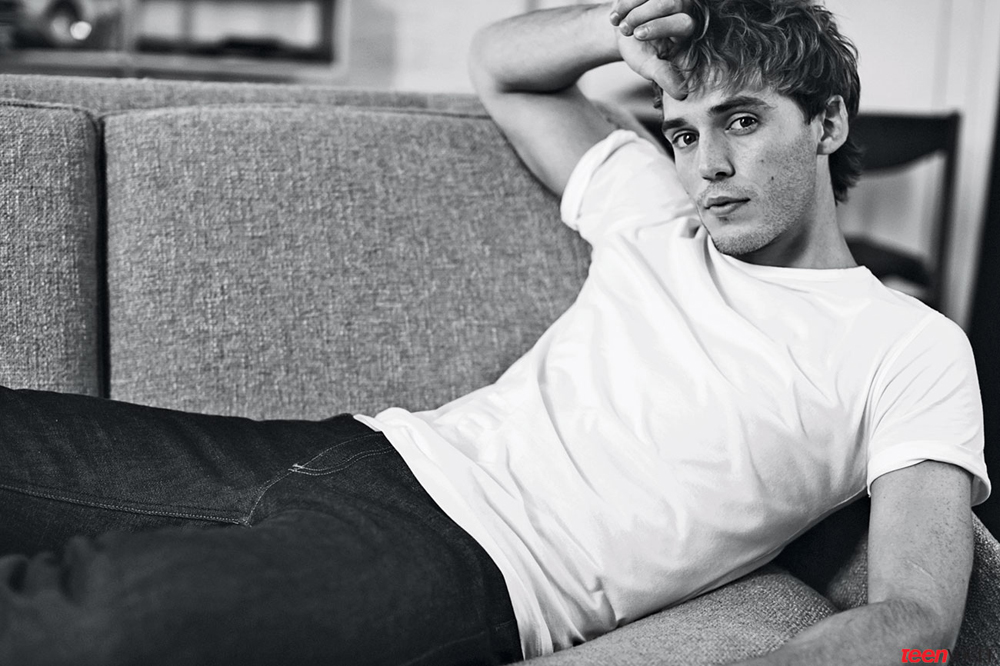 He hadn't read the books before his audition (uh-oh): "Yeah, so they decided to go with me as opposed to any of the other young, hot, good-looking actors out there. [Laughs] I auditioned like everyone else. I didn't know what it was for before I went in, and I hadn't read the books. Looking at the page with a character named Finnick, I was like, Who the heck is Finnick? And then I saw Katniss on the page, and I was like, Ahh, OK, maybe this is The Hunger Games. Then they decided they would dye my hair blonde, and presto, there's your Finnick Odair!"

He knows the character now: "There are so many complexities to this character. Finnick has a tempestuous relationship with Katniss–she trusts him one minute, and the next she doesn't. I love their relationship. Together they eventually realize they need each other to survive, and that is beautiful."

On Jennifer Lawrence: "Jen is the most talented actress I have had the pleasure of working with. She is truly amazing. She has everything already and doesn't have to try. But the fact that she is so professional and hardworking and willing to get her hands dirty makes her even more amazing."

He plays pranks on JLaw: "There are lots of tricks that we play on each other. Josh [Hutcherson] and I are currently planning on hijacking a chicken and hiding it in Jen's trailer. Whether or not that comes true, I don't know."

His life might change drastically soon: "Finnick isn't Peeta or Katniss. I wanted to play Katniss, but they refused. [Laughs] I live in London, which is miles away from where those guys live. Therefore, it could be very different."

On the pressure of playing such a beloved character: "All I can say is I try very hard and hopefully I won't disappoint people. He's a very charming physical being, and hopefully he will be exactly what people read in the book and I won't be doing an injustice. I purposefully did not want to watch anything I've done so far; I actually don't like looking at my face, so I don't like watching myself on the screen. It's an insecurity thing I have. I'm somewhat of a perfectionist, I think, and I strive for perfection. The reason I'm an actor is because I'll never be able to be perfect. I hope people enjoy my interpretation. Hopefully we'll make a bigger and better one this time around."
[From Teen Vogue]
I can easily see a lot of Hunger Games fans getting really worked up about Sam not even knowing the first thing about the book trilogy before he went in to audition for the movie. He was apparently aware of the first movie, but that's not good enough for the literary diehards out there. I don't know why his publicist would even let him admit such a catastrophic thing. I do hope he at least read the book after he got the role and didn't just rely on the movie script to get him through his job.
Teen Vogue has also put together a little video featurette of its time with Sam. Yes, he's holding a bulldog. Nice touch.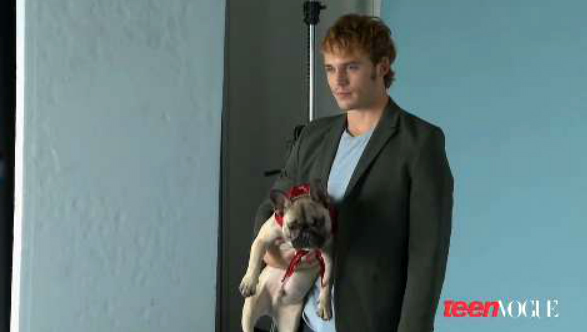 Photos courtesy of Teen Vogue