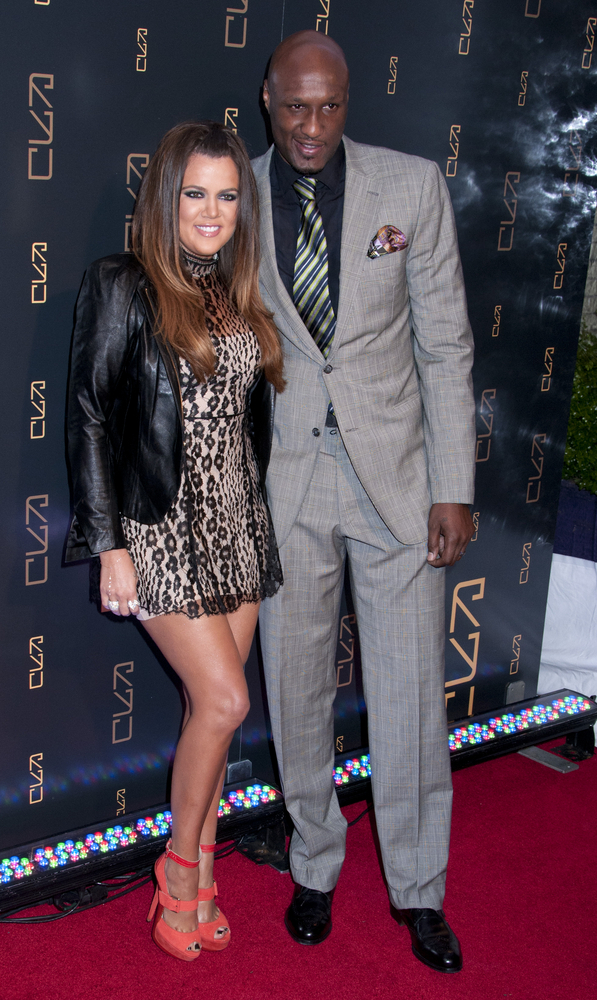 It seems like there's a constant stream of rumors of the demise of Khloe Kardashian and Lamar Odom's marriage. I like Khloe enough and all, but I honestly didn't expect her marriage to Lamar to last so long, especially after having witnessed how quickly they hooked up and made it official. I mean he's in professional sports, there's temptation around him constantly and I believe the stories that he regularly frequents strip clubs and goes to private rooms with the strippers, etc. You can't just explain that away by claiming that he's hanging out with his co-workers, he could easily beg off because he's married (And famous, and because it's sure to end up in the tabloids.) But these two are still together after over three years, and they want us to know about it. (Or Mama Kris does.) Khloe and Lamar have a new interview in US Weekly in which they gush about each other:
All right, let's just get to it: Is there trouble on the home front?
KK: Everyone gets on your nerves sometimes. Yes, we bicker we're both stubborn! But we make sure to never go to bed angry.
LO: And we say our prayers together. That helps. Plus, this girl is going to make you talk it out! Trust me.
KK: I believe in communication! I don't believe in just saying, 'I'm sorry.' What are you sorry for? Let's analyze this – and let's not do this…

What else have you learned after three-plus years of marriage?
KK: The secret is that we always try to enjoy each other's company. We're inspired by my parents, who have been married for 22 years. They still act like newlyweds and they are genuinely good friends.
LO: Yeah. When you are good friends, that feeling doesn't go away. We love each other so much.
KK: And sex is fun!
LO: Sex is great! It's on a high level. It's intense!
KK: OK, relax.
LO: [Laughs] OK.

Where do you see yourselves in 15 years?
LO: Just happy together.
KK: Definitely. When it's the end of Lamar's career, maybe he'll play overseas a little. I think we'll be living abroad.
LO: We'll be tucked away in a little Italian village. Drinking wine. Naked. In a field full of daisies.
KK: Oh, my God. Stop. You're dreaming!
[From US Weekly, print edition, February 18, 2013]
There's more in the new US Magazine with Brandi and LeAnn on the cover if you're interested. If you consider this on only a surface level it's really sweet and they sound like a couple in love. If you think about all the rumors they're trying to dispel, it sounds over the top, though, like they're role playing for the press. (We're so happy! We have great sex!) Lamar especially sounds like he's overcompensating, like he's trying to do his job and give good quotes but is overplaying it. Maybe he's just like that though.
I'm reminded of what Mama Kris said on The View this week when asked about her own marital issues. She said she wanted to stage a photo op to prove that she wasn't divorcing her husband, Bruce Jenner. Kris didn't say anything else about Bruce, it was all about the photo op. That's what comes to mind when I read this "we have great sex" interview from Khloe and Lamar. Appearances and public opinion are what drive this family, and they're experts and steering the conversation in the way they want it to go. After Kim's 72 day divorce they can't afford to have another one. I mean Khloe and Lamar's perfume is called "unbreakable"!
I do hope that Khloe and Lamar are ok though and that he's curbed his stripper habit. I want them to be sweet together like this.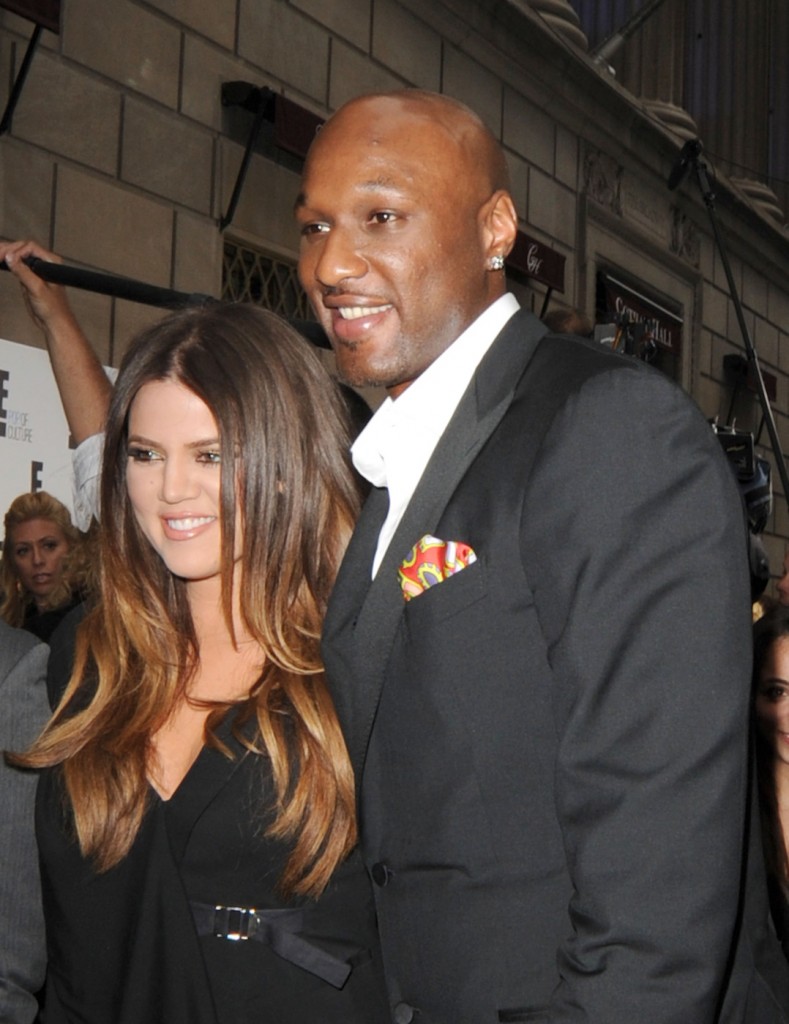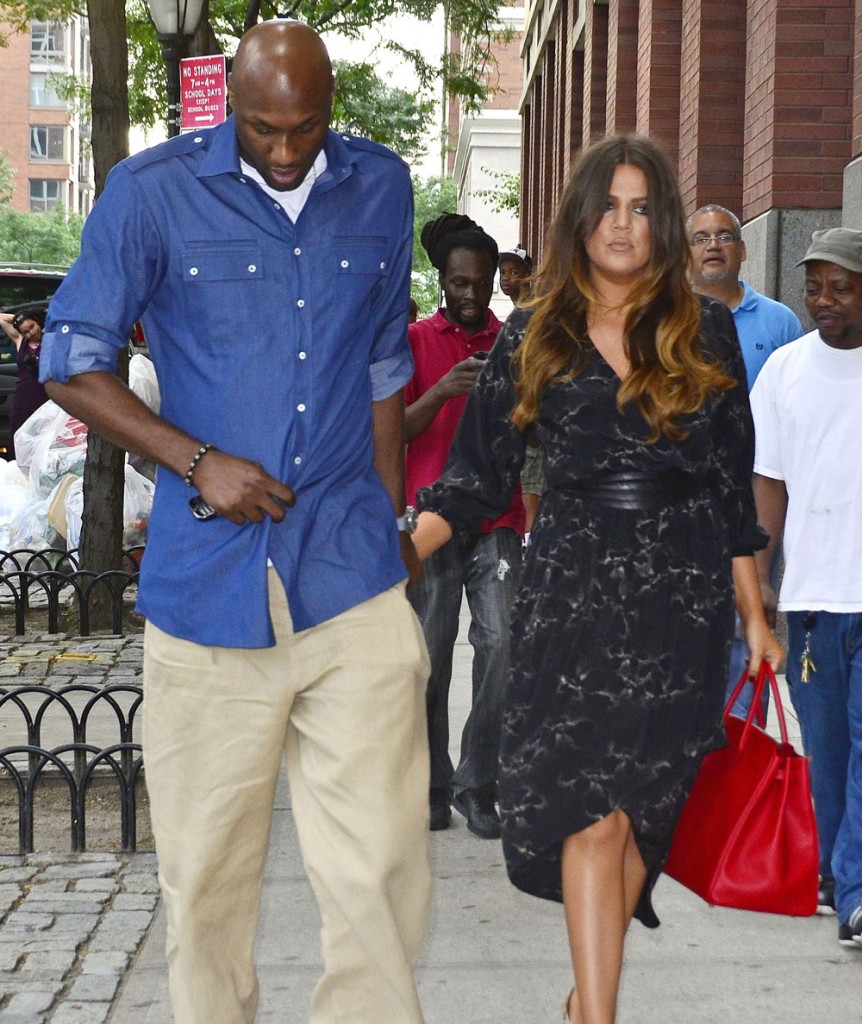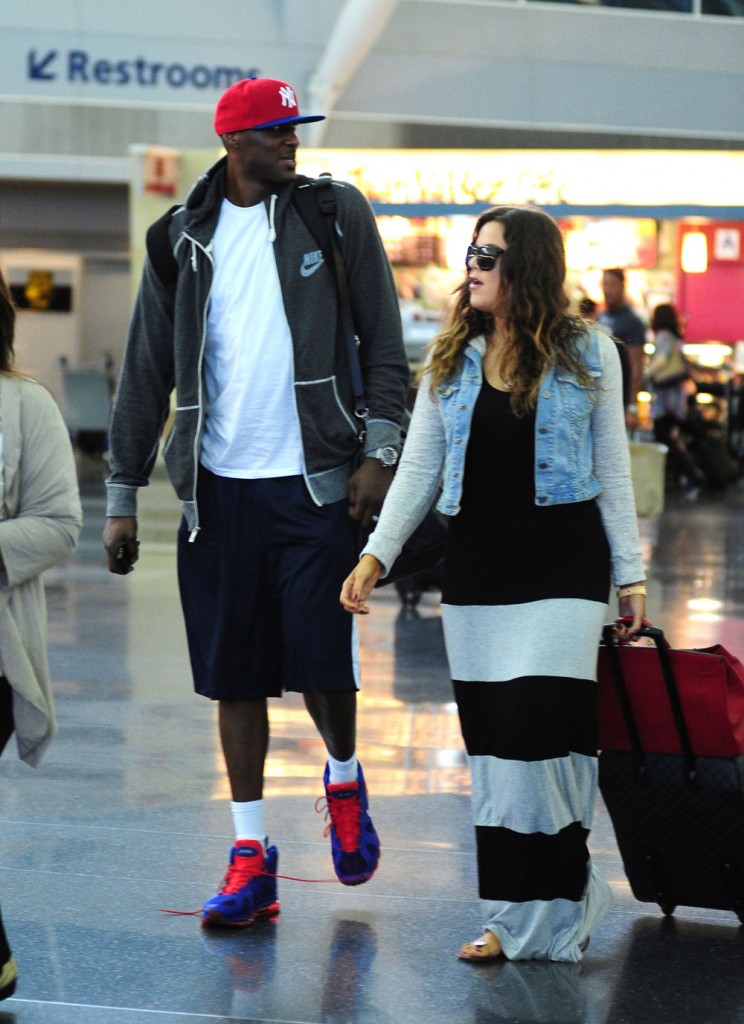 Photos are from 4-19-12 at the E! upfronts, credit: Hall/Pena, PacificCoastNews.com. They're also shown on 4-23-12 at the opening of RYU Restaurant in NY. Credit: PRPhotos. Airport photos are from 6-19 and 6-20-12. Credit: FameFlynet