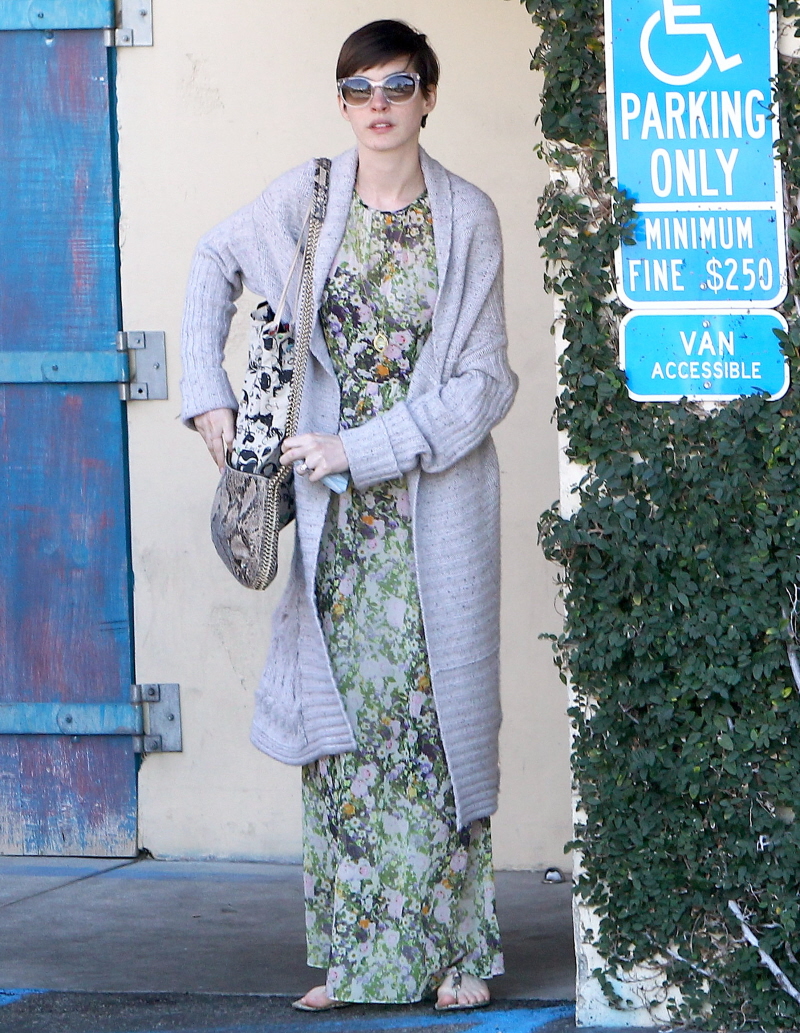 GAH! I want this sweater coat. I'm not into the (admittedly) pretty maxi dress or the snakeskin purse (?), but I really want the coat. These are photos of Anne at a breakfast business meeting in Brentwood yesterday – perhaps she's lining up her next project…? So far, Oscar-winner Anne Hathaway's next films are going to be a hodge-podge of non-Oscar-bait fare, like the sequel to Rio (the animated film) and a part in her friend Joseph Gordon Levitt's Don Jon's Addiction (which looks rough). She's also rumored to be attached to some Steven Spielberg Robo-something movie with Chris Hemsworth. So… no prestige pictures yet.
Meanwhile, everyone is still dealing with the Hathaway Backlash. As in, there was a backlash against her little girl voice and her cloying and her LOOK AT ME-ness. What's horrible is that some of you accused me of being part of the backlash! Have you not been following my coverage of poor Annie? I actually like her, and I'm a full-on Hathaway apologist. Yes, she's annoyed me at times but I was still rooting for her (mostly because she makes news and she's fun to cover). So please don't confuse me with all of the people with a Hathaway Hate-On. That's not me! Although I will throw a side-eye at her for playing the victim in the wake of her Oscar win:
Practice makes perfect! After facing some backlash over her emotional Golden Globe, SAG and BAFTA acceptance speeches, Anne Hathaway worked very hard on preparing her thank-you for the Oscars.

After winning the Best Supporting Actress Academy Award on Sunday, Feb. 24, the Les Miserables actress admitted that her feelings were hurt by criticism. "It does get to me," Hathaway, 30, said. "But you have to remember in life that there's a positive to every negative and a negative to every positive."

Though the actress tries to brush off the negative comments, a source tells Us Weekly that Hathaway did practice her Oscar speech a lot to try and be more likable. "She was very aware that she had been the butt of everyone's jokes," the source says.

Hathaway also worried about picking the perfect gown for her big night. "My dress is Prada and I didn't know what I was wearing until about 3 hours ago," she told Ryan Seacrest on the red carpet.

"Procrastination?" the E! host asked.

"No, I think I was just working too hard," she explained.

Indeed, the source tells Us that Hathaway had four dresses in the running including a dress by Valentino, who designed the gown she wore to her September 2012 wedding to Adam Shulman. But the actress ultimately settled on the revealing Prada dress, telling Seacrest, "It was the one that spoke to me."

The pale pink design featured pointy darts on the bustline that inspired a HathawayNipple Twitter account. Spoofing Hathaway's acceptance speech, one tweet said, "Here's hoping that someday — in the not too distant future — my wardrobe misfortunes will only be found in stories and never more in real life."
Sure, there's a "damned if she does, damned if she doesn't" vibe about this. Some people are going to be critical of Anne no matter what. I don't care that she worked on her acceptance speech – she came into the Oscars as a "sure thing" and she'd won every award up until that point. What bugs me is that she practiced her Oscar speech… and her speech was super-annoying. The baby voice has to go – people aren't expecting Anne to be a breathy little girl with a "sexy baby" voice. That's totally Kardashian/Paris Hilton. Just talk like a normal adult woman and everyone will like it so much better.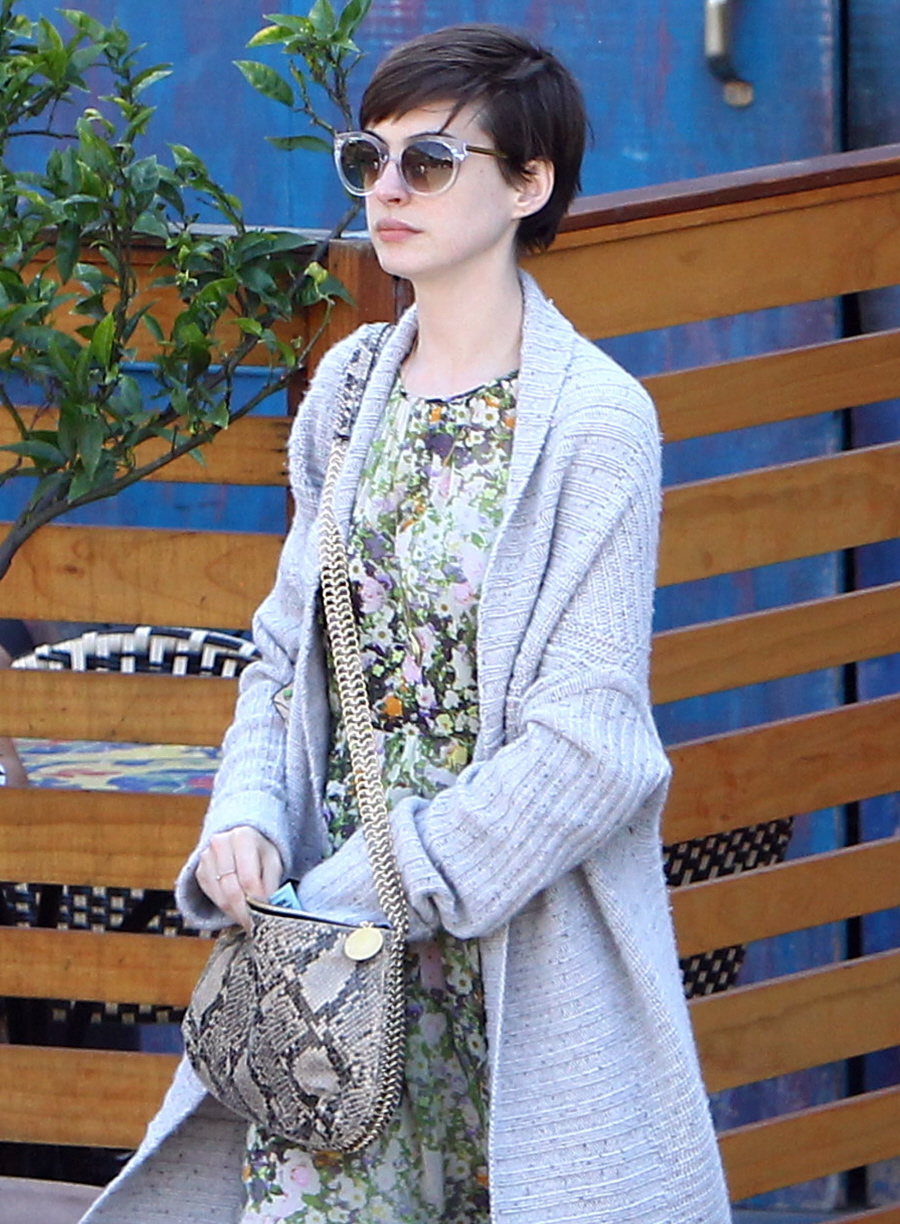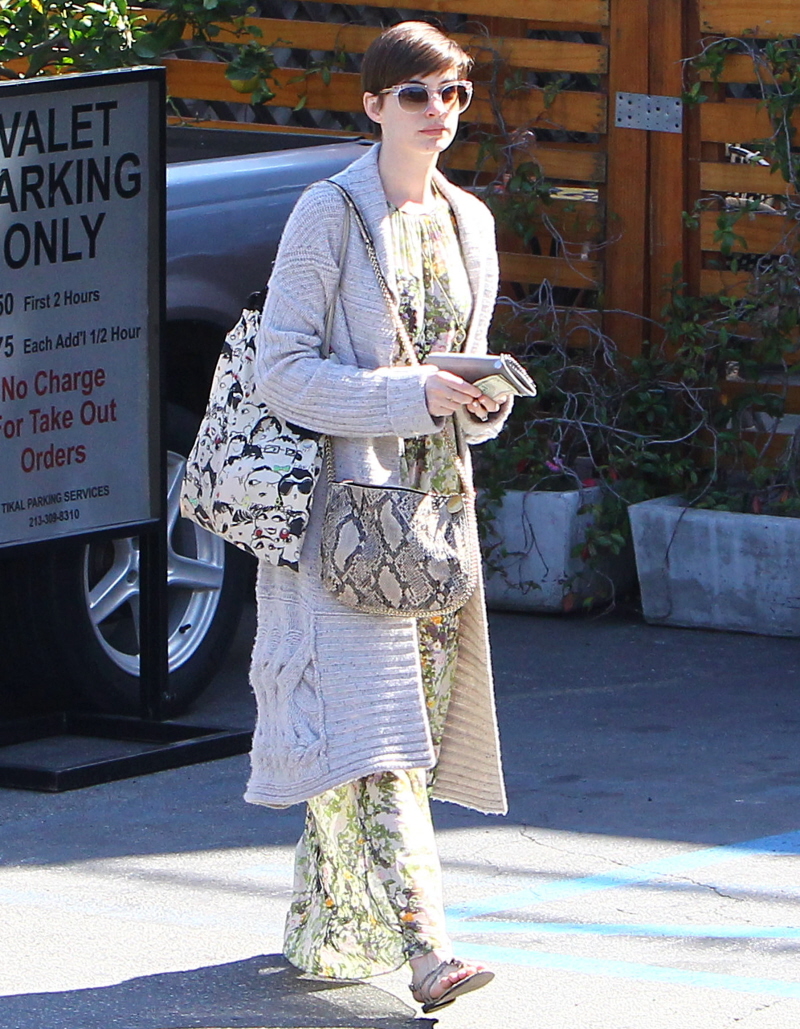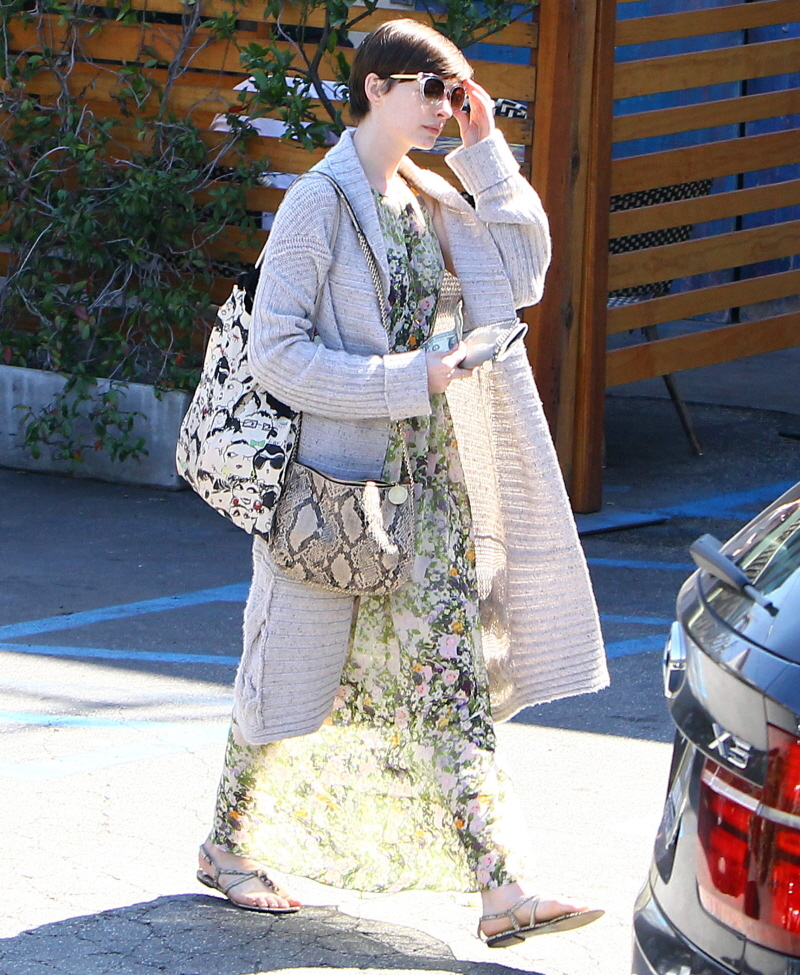 Photos courtesy of Fame/Flynet.