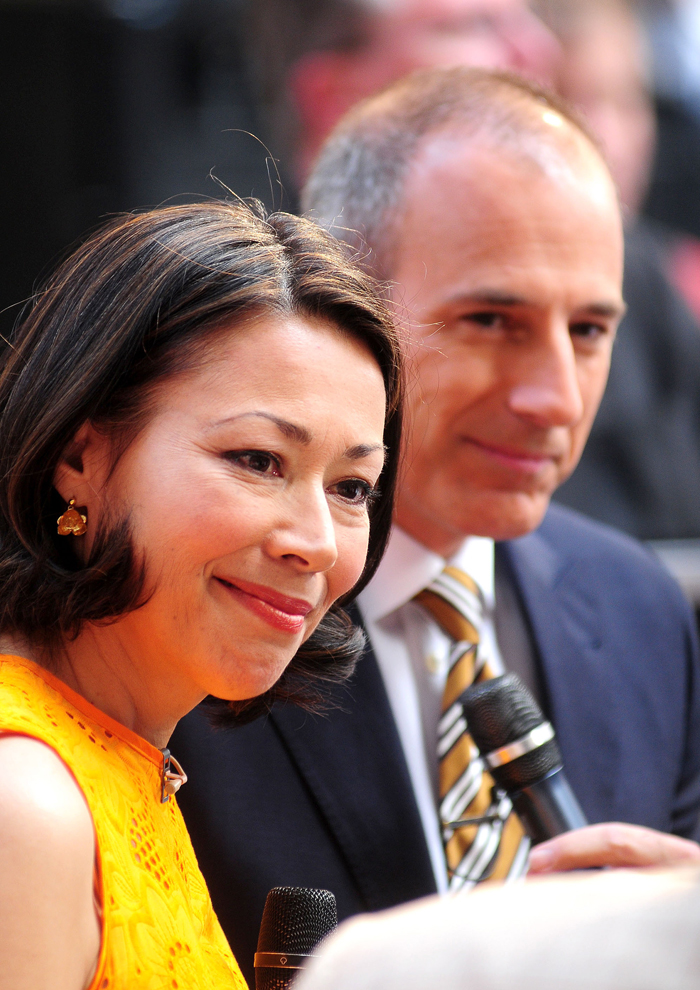 The fallout continues from last year's unceremonious ousting of Ann Curry from her co-host spot on NBC's "Today" show, and this is truly a blood bath if there ever was one in a morning show context. Due to Matt Lauer's inability to hide his own fakeness and insincere attitude towards Ann, Matt is largely seen as the reason Ann was removed from her position and demoted to a global correspondent where she is rarely seen on-air. As a result, Lauer's brand has taken a huge hit, and ratings are down. We've already heard some attempts at damage control, but it's too late because even the "Today" staff hates Matt now.
So Matt sat down with the Daily Beast to try and patch up some of the ongoing bleeding that has resulted in "GMA" taking over the #1 ratings spot over the past several months with Robin Roberts and George Stephanopoulos drawing 5.8 million viewers in comparison to 4.8 million for Today. Matt really doesn't appear to understand why he's catching a lot of the blame for Curry's departure. While Matt freely acknowledges that he was against Ann's promotion from the news desk in the first place, sources within the article make the half-hearted claim that he tried to convince NBC bosses to slow down the and give Ann more time before reducing her role, but they didn't listen to him.
The article is rather comprehensive and includes details of how Matt had met with Katie Couric to basically beg her to come back to "Today." What I don't get is this — if Matt was so instrumental in reaching out to Katie on behalf of NBC execs, why does he think we'll believe that he essentially had nothing to do with Ann's ousting? Like, he's saying that he had no authority to tell bosses to get rid of Ann, but we know better than that. Viewers even apparently yelled at him on the street about his role in the process, but Lauer still maintains that none of this mess was his doing and that, further, it was the NBC bosses' idea to buffer Ann's departure with the notion that it was her idea. That she wanted to "return to her first love, which is reporting." What a mess, right? Here are some excerpts from the Beast's talk with Matt: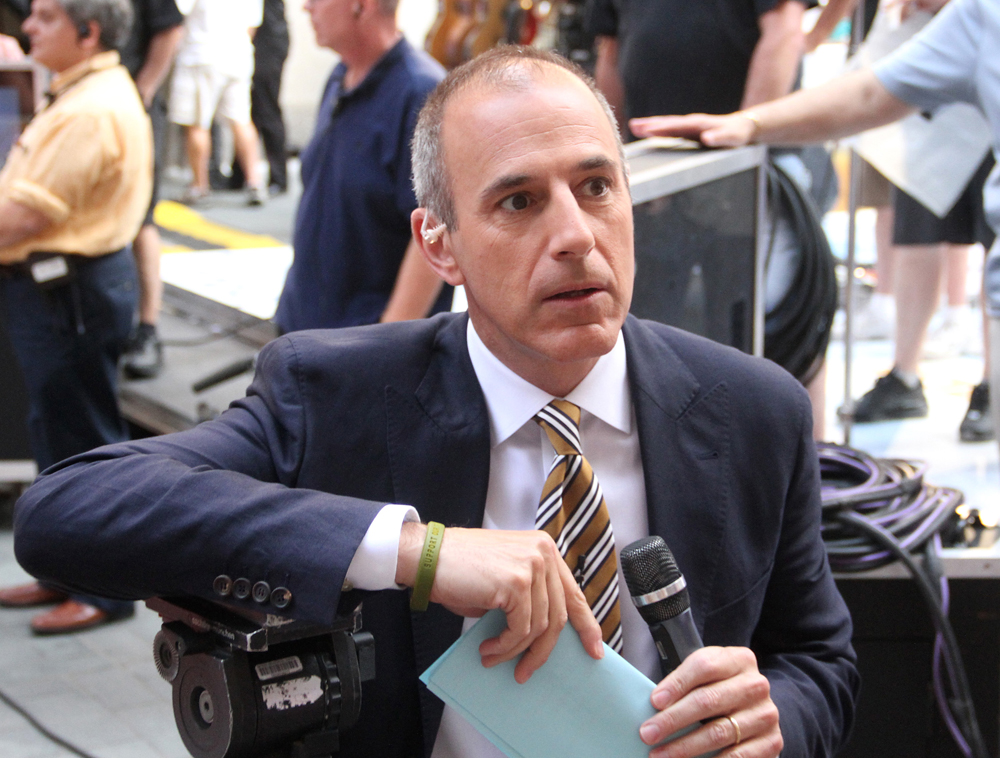 On the onset of post-Curry backlash: "It was a hard time for everybody. We were getting kicked around a lot. Some of it was self-inflicted and perhaps deserved. I don't think the show and the network handled the transition well. You do''t have to be Einstein to know that. It clearly did not help us. We were seen as a family, and we didn't handle a family matter well."

He's sad but wants to make a new "Today" show: "I'm not going to whine or get depressed. Who's going to feel sorry for me? Nobody." Besides, he says, "I am the luckiest guy I know. In some ways being No. 2 in the ratings is a real shot in the arm, a kick in the pants. It makes you hungrier … I don't think it's a bad thing to have a fire lit under your ass."

Lauer says he tried to warn Ann: "Lauer and Curry had a candid talk over lunch at the Four Seasons. He acknowledged she hadn't been his first choice for co-host, but said that was in the past. Curry said that both Lauer and the show would take a hit if she was thrown overboard, and he agreed. Lauer suggested that she try to get a meeting with Burke and resolve the situation. He also advised Curry, who didn't employ an agent, to hire one quickly."

Viewers expressed their displeasure directly to Matt: People would stop Lauer on the street and complain about Curry's banishment. While Lauer was riding in a London elevator at the Olympics, an American woman got on, saw him and said: "I hate what you've done. I will never watch you again." Such incidents left him shaken.
[From The Daily Beast]
Of course, everyone who watched Ann cry on her last day as co-host knows very well that her demotion was not her choice. The NBC execs just didn't consider that morning show viewers grow very attached to the same faces — Ann was with "Today" for 15 years as a correspondent, then as news anchor, and finally as co-host. While Ann was good on the news desk, she didn't have the right tone to be a co-host; yet to replace her with milquetoast Samantha Guthrie was a ridiculous move, and I honestly can't believe they couldn't find anyone better. Some of the local news anchors in my city have more personality than this chick. Anyway, the viewers were very partial to Ann even if her interviewing skills weren't so great, and NBC (with key involvement from Lauer) really messed up in a possibly irrepairable way with her sudden departure. Suck it, Matt.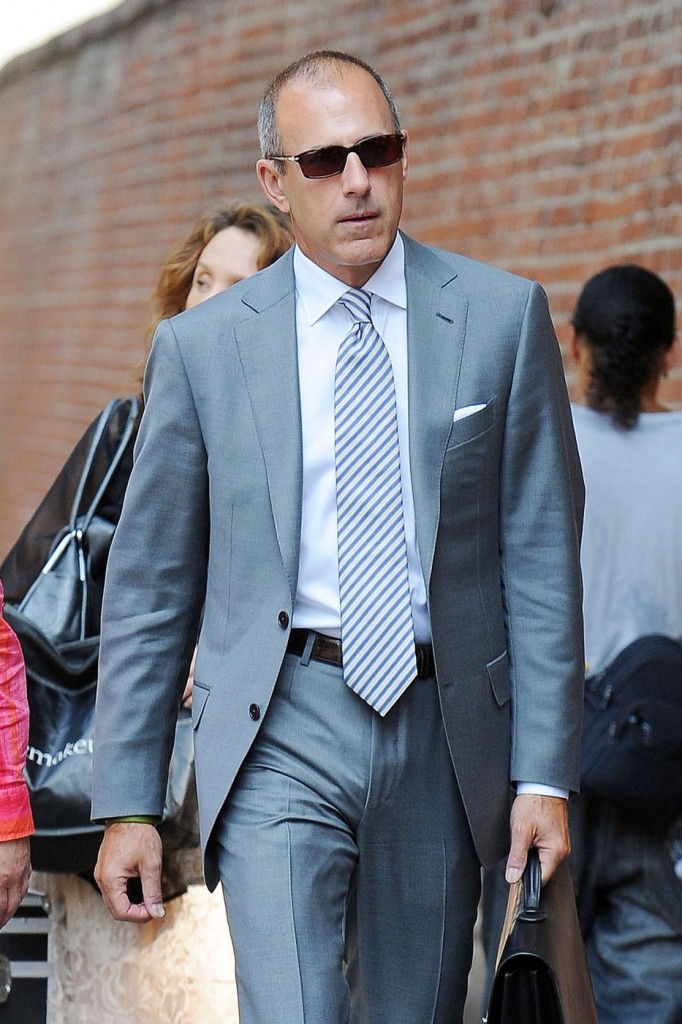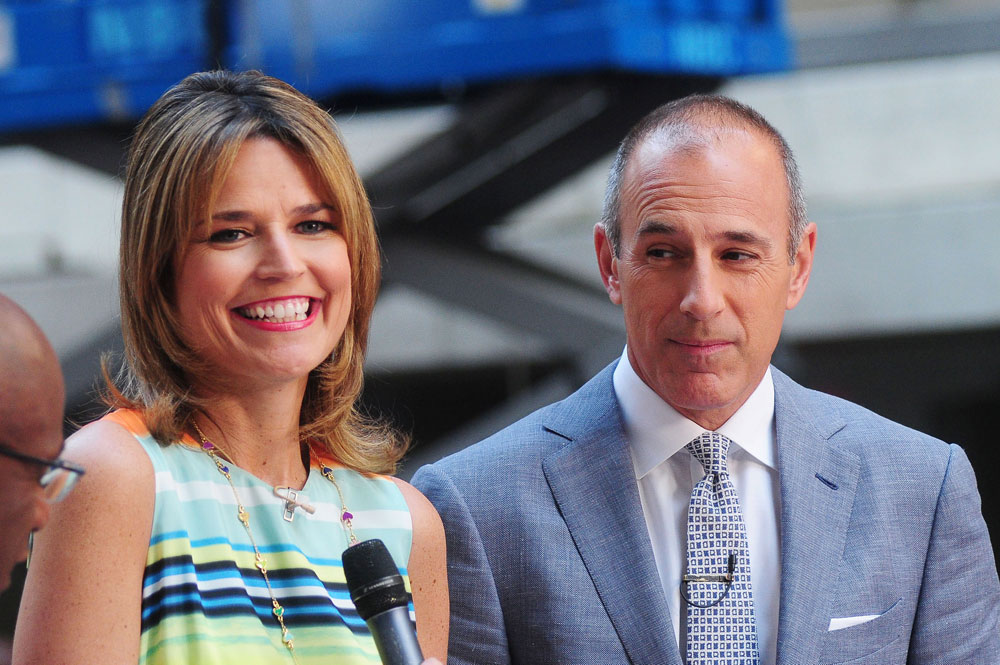 Photos courtesy of Pacific Coast News and WENN