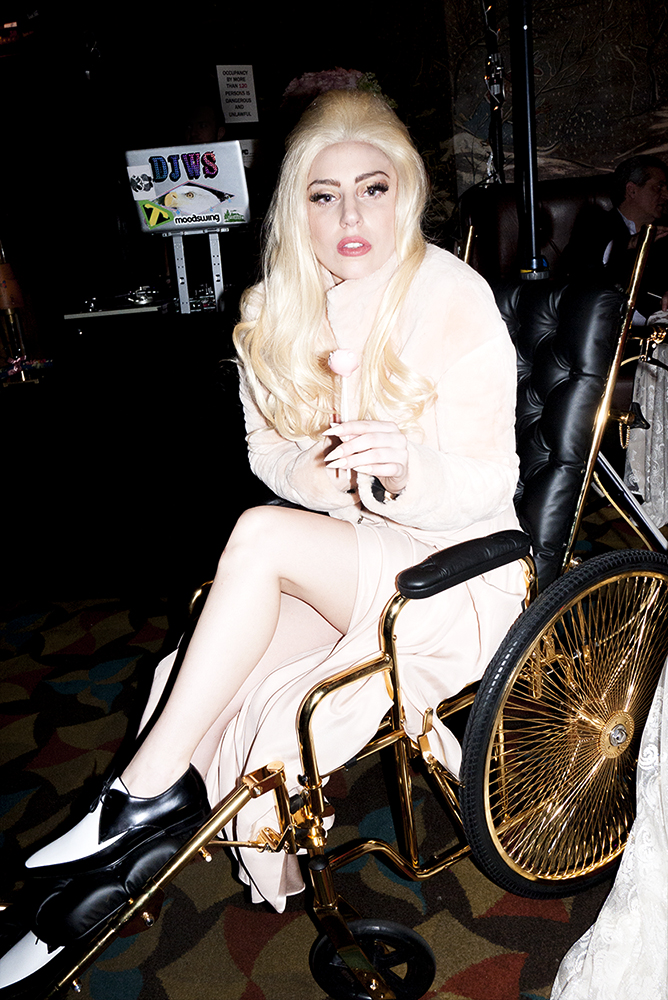 If it were just two weeks later I would think this was an April Fool's joke, but it's not and this happened. Lady Gaga underwent hip surgery last month after tearing part of her hip joint. Prior to that she canceled her scheduled tour, citing chronic pain and synovitis, which is severe joint inflammation. Now that Gaga is convalescing she's not riding around in one of those awesome Dean Kamen robotic wheelchairs that can go up stairs (which were discontinued, but you know she could get one if she tried), she isn't even riding around in a motorized wheelchair. No, Gaga has commissioned a 24 carat gold manual wheelchair with a tufted leather seat that would look tacky at a mafia grandmother's house. Because why not? It's even got a little leather sun umbrella, like the stroller that it is. Gaga isn't going to ride in transportation that she has to drive herself, how gauche!
Here's more from the designer, thanks to E! Online:
After undergoing hip surgery last month, the singer turned to designer Ken Borochov of luxury label Mordekai to create a custom wheelchair. And Borochov certainly didn't disappoint, creating a head-turning 24-karat gold plated chair that will have Gaga riding out her recovery in style!

"I certainly wasn't expecting that phone call and have never done a wheelchair, but am always up for a challenge and was thrilled to create what I affectionately dubbed the Chariot, a chair fit only for a queen," the designer explained in a statement.

So what exactly went into creating this pop queen's new ride? For an edgy yet durable look, Burachov styled the tufted leather seats to look like a motorcycle jacket and added some seriously stylish spoke rims that are sure to mesmerize onlookers as Gaga wheels her way through town. But his masterpiece is just as functional as it is fabulous; it features a removable canopy should Mother Monster require a little shade, and even reclines should she start to feel fatigued. She is recovering after all!

This isn't the first head-turning piece Borochov's created for Lady Gaga. He's designed a couple of crowns for the star's performances, as well as the infamous gold claw she wore to launch her Fame fragrance at Harrods in London. But we'd say the Chariot ranks as one of his fiercest accessories yet!
I guess it's Gaga's money, it's her prerogative. All I can think of when I see Gaga now is that ridiculous rant she went on in court against her ex-assistant. She is so beyond entitled it's astounding. She also seems to think that perv creeper Terry Richardson is some kind of amazing celebrity artiste, probably just as she thinks about herself. Uncle Terry took that portrait of Gaga in her chair, Kaiser found it for me on his website.
I just had a really gross thought looking at this photo. Do you think Gaga and Uncle Terry are banging? There are not enough "ewwwwws" to accompany that. There are also rumors that Gaga is about to marry her boyfriend, actor Taylor Kinney. I don't think of her as the faithful type, so it's not like those two possibilities rule each other out.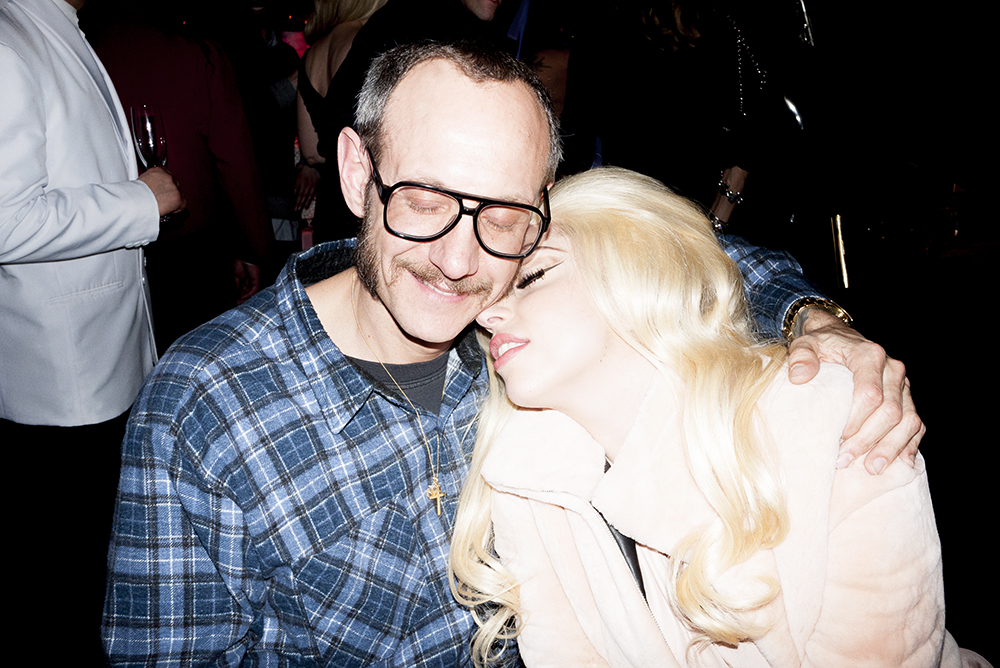 Photo credit: NYPost and Terry's Diary