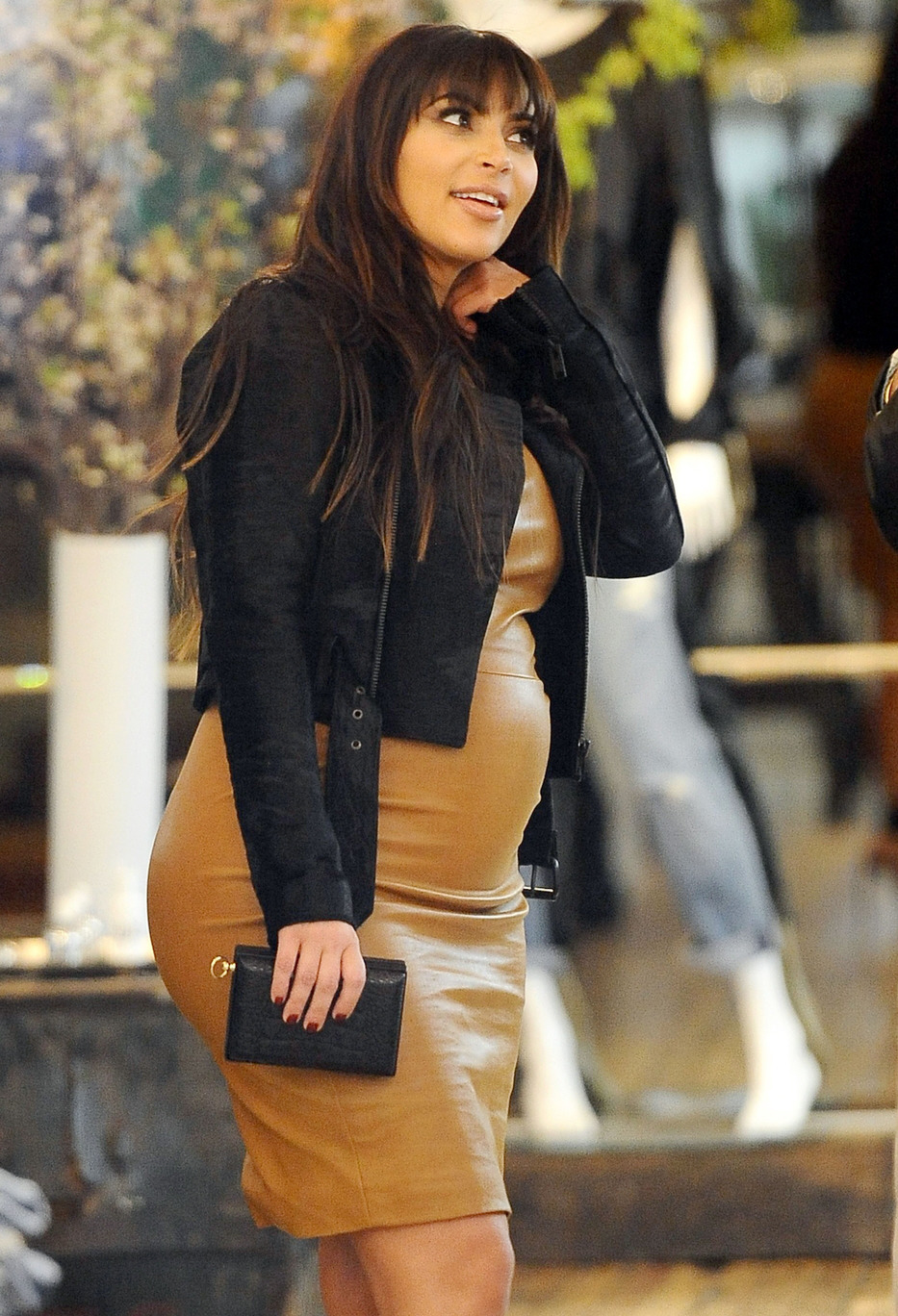 Dear Kim Kardashian: I would really appreciate it if you could STOP talking about your weight. Many, many women were on your side until you started lying about your pregnancy weight gain, and for what reason? We have no need to know your actual weight. We wouldn't care about your weight except you keep talking about it and providing us with an assortment of delusions. So just know this, Kim: while we are making fun of you, it's because of what you're saying, not your weight. It's because you stuff yourself into leatherwear and try to convince us you've only gained a few pounds. We're not buying it.
Anyway, these are some assorted photos of Kim out and about all day yesterday in New York. She did Good Morning America, Live with Kelly and Michael, and she went shopping and some other stuff. Obviously, Kim has given an assortment of quotes to various outlets and now we must parse. Some highlights:
*Kim claims Kanye loves her changing body: "It's just such an exciting thing, I think, for the guys to see our bodies go through all these different changes. He loves it and just embraces it. And he's helped me to really feel sexy and embrace it." A source also told Us Weekly, "Kanye thinks Kim is gorgeous. He just wants her to be happy in her own skin."
*Sources tell Us Weekly that Kim "doesn't like being called fat" but she's "finally accepting her body and getting more comfortable. She doesn't feel sexy, but she feels feminine."
*Kim put an actual number on her weight gain, telling Kelly Ripa: "I've gained 20 lbs… At this stage Kourtney had gained 30… I will probably will gain those 60 pounds, just give me a couple more months." So she's gained 20 pounds…? And she started out as a size 4, correct??? So, what is she now, a size 8? HA. Seriously, why does no one account for boob weight? She's gained 20 pounds alright – just in her boobs!
*Kim is still insisting that she's eating healthy: "I want to have those cravings, like cheeseburgers, but I haven't. Now I eat healthy I don't know what's going on."
*Kim and Kanye are totally like Angelina and Brad! In that they're considering having the baby in France. Kim told Entertainment Tonight: "We're thinking of having the baby in Paris, maybe. We're still deciding." Ugh. What's a good French name that starts with "K"?
I'm including some more of Kim's fashions below, including a butt shot of Kim in that baby-poop-colored leather dress. Meanwhile, have you heard the rumor that Kanye West's new album already has a title? Kanye, ever humble, is reportedly naming his new album "I Am God". A source claimed, "Kanye's ego is something else, so he's quite serious about the title. He also has a sense of humor, though, and knows how his self-indulgence is seen by the general public. It's half tongue-in-cheek, half what Kanye probably feels is true." Cough. No comment. Update: HuffPo says Kanye will have a track on his new album called "I Am A God". Better?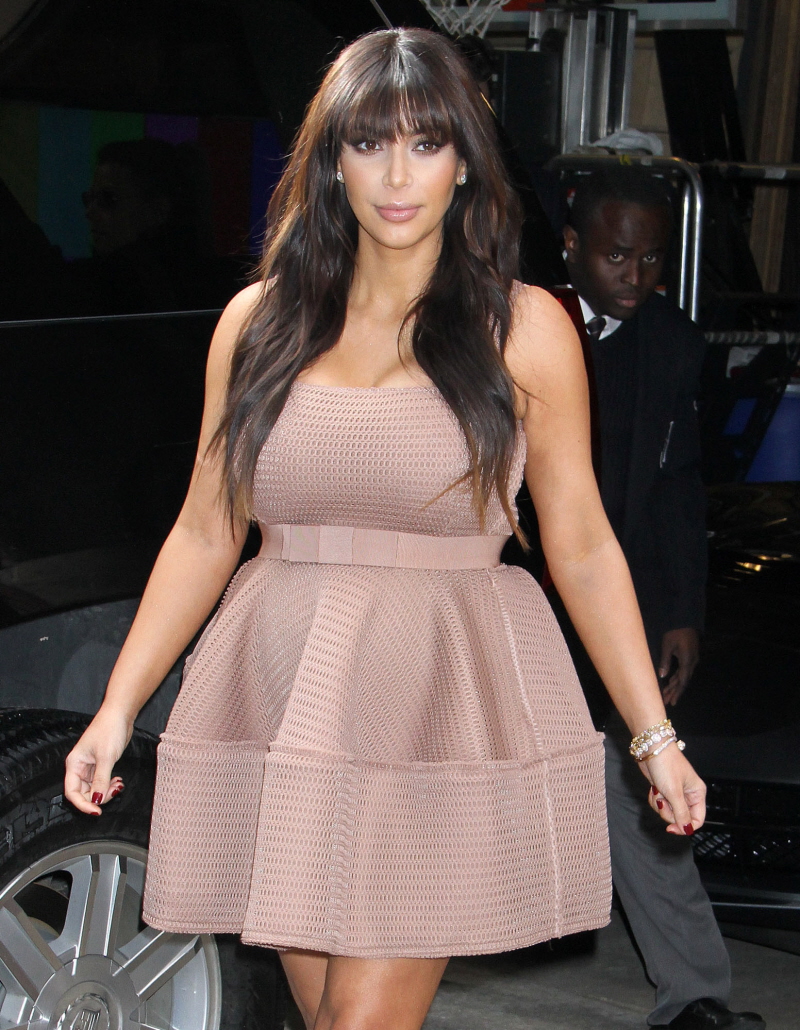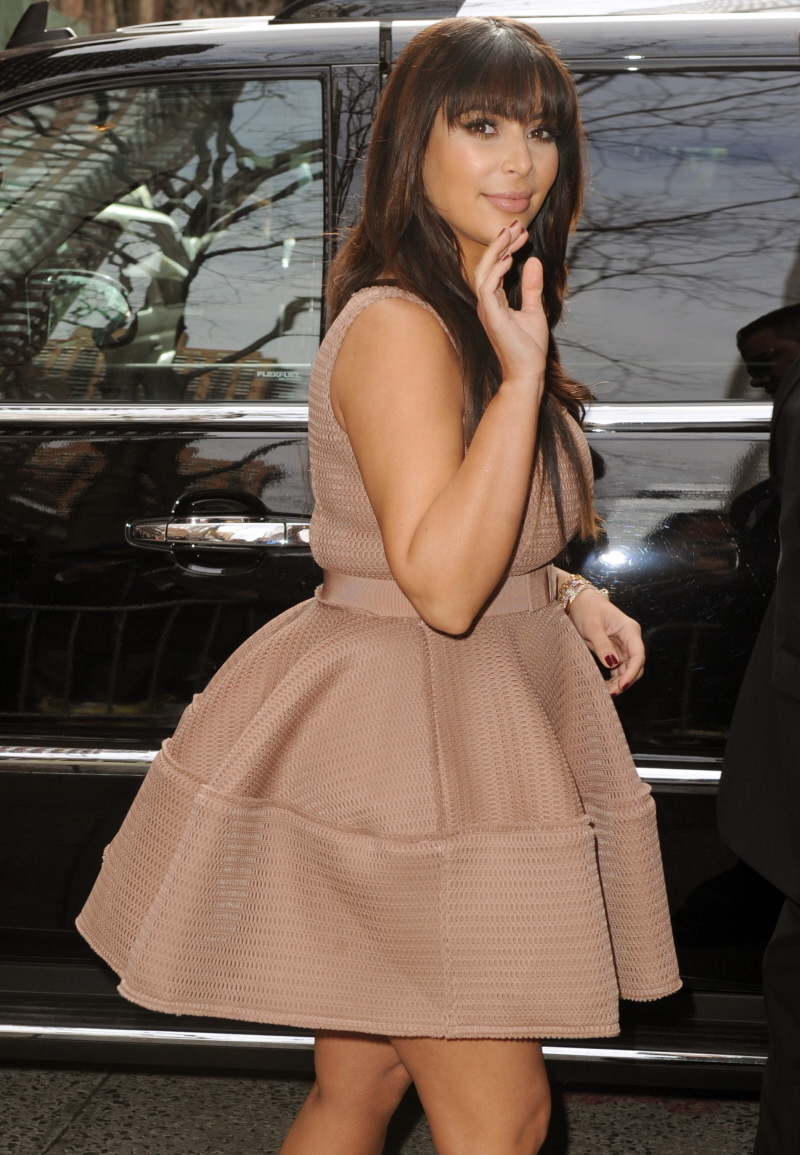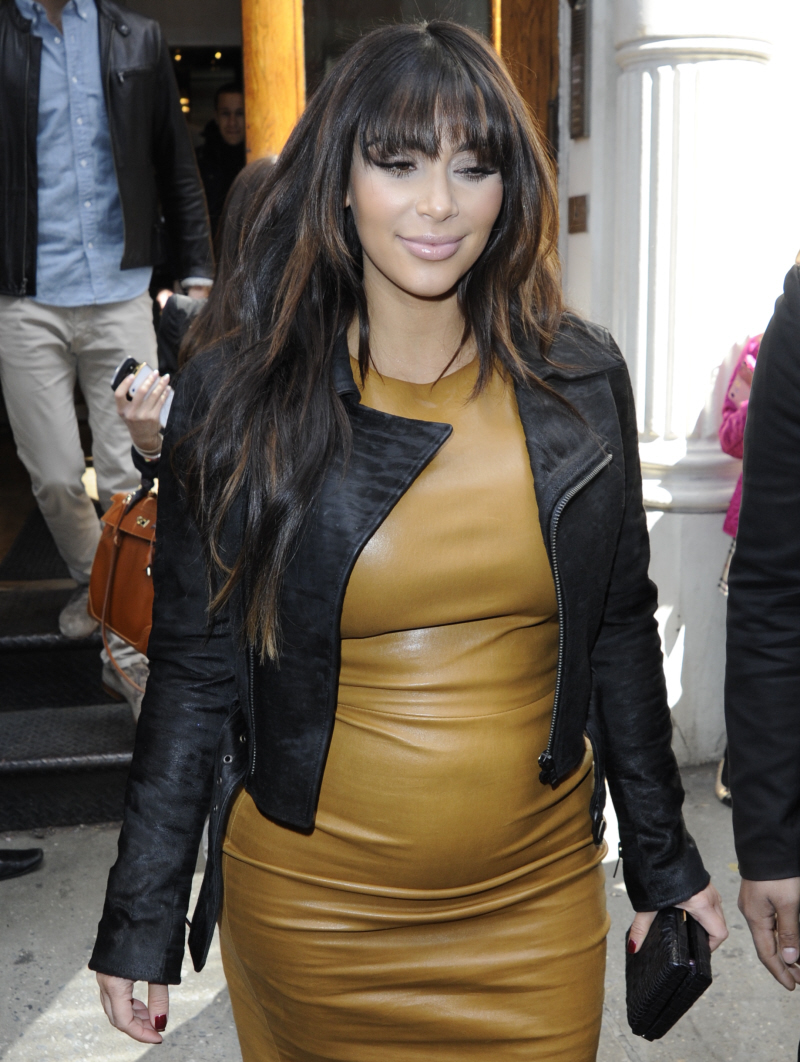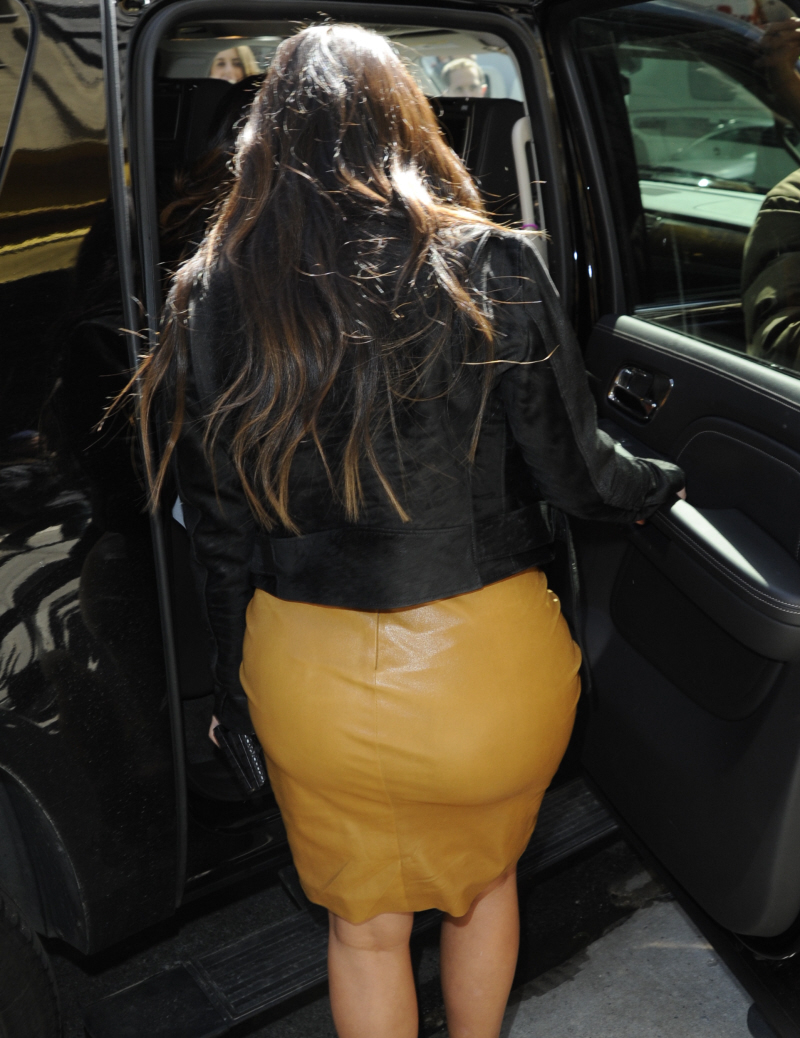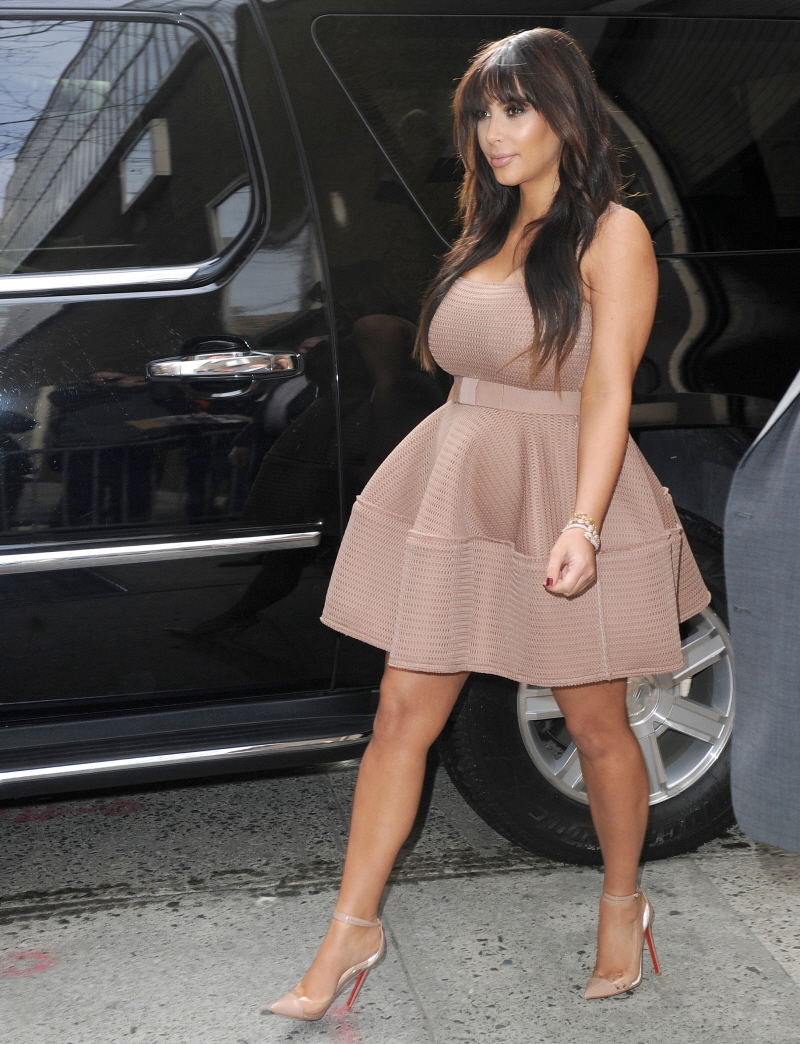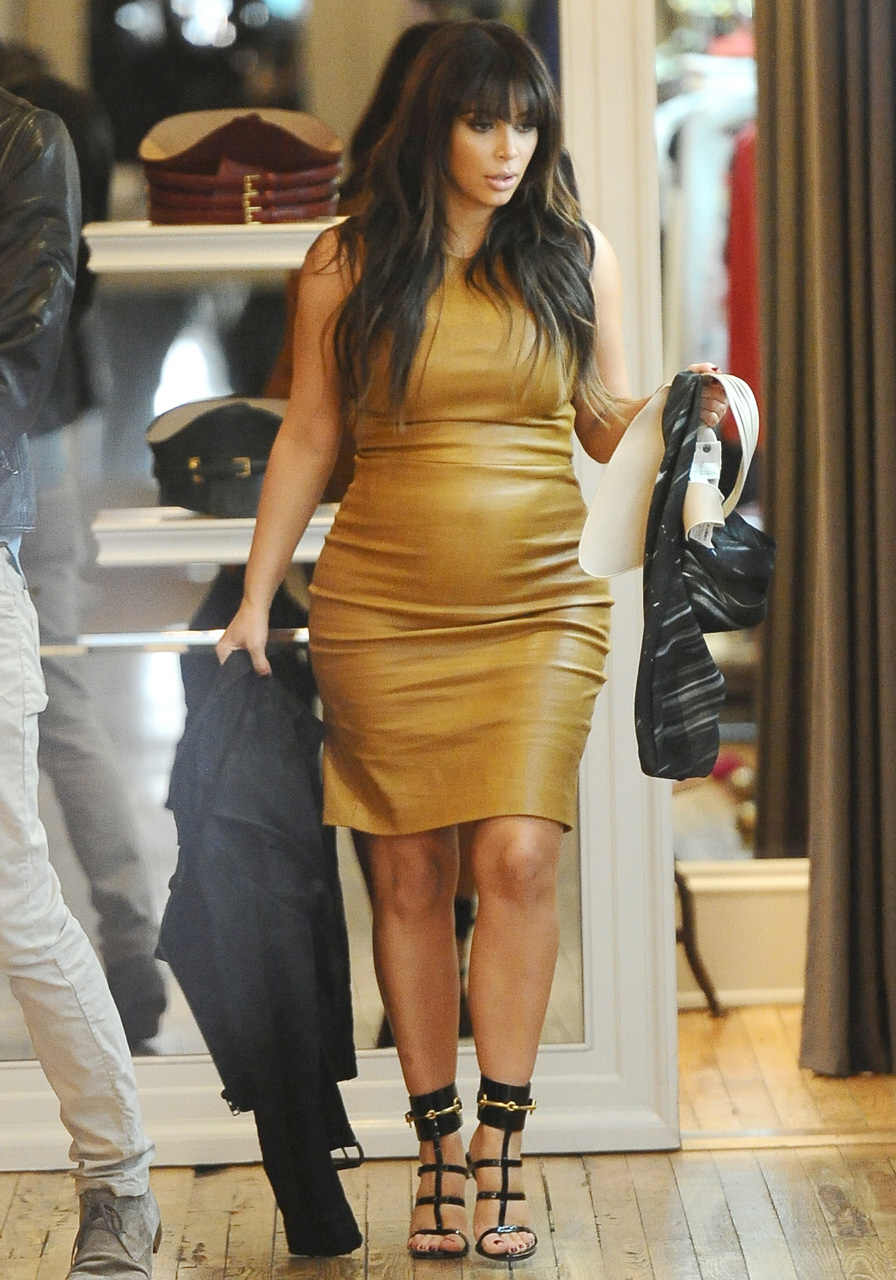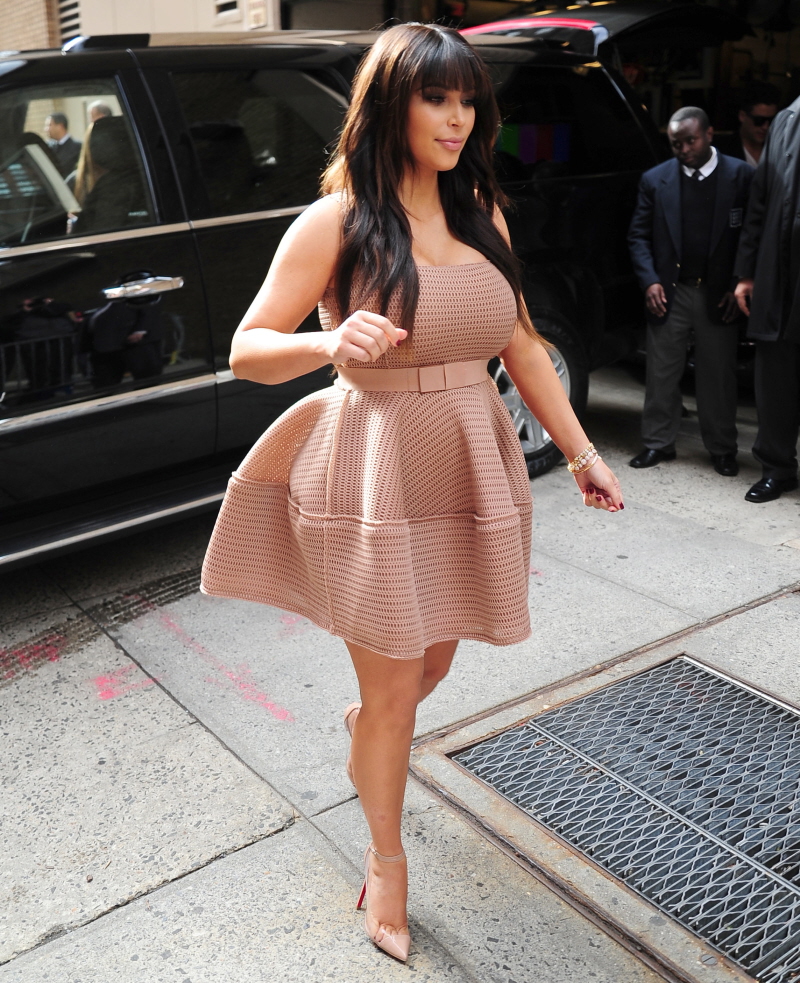 Photos courtesy of TNYF/WENN.com, Pacific Coast News, Fame/Flynet and WENN.