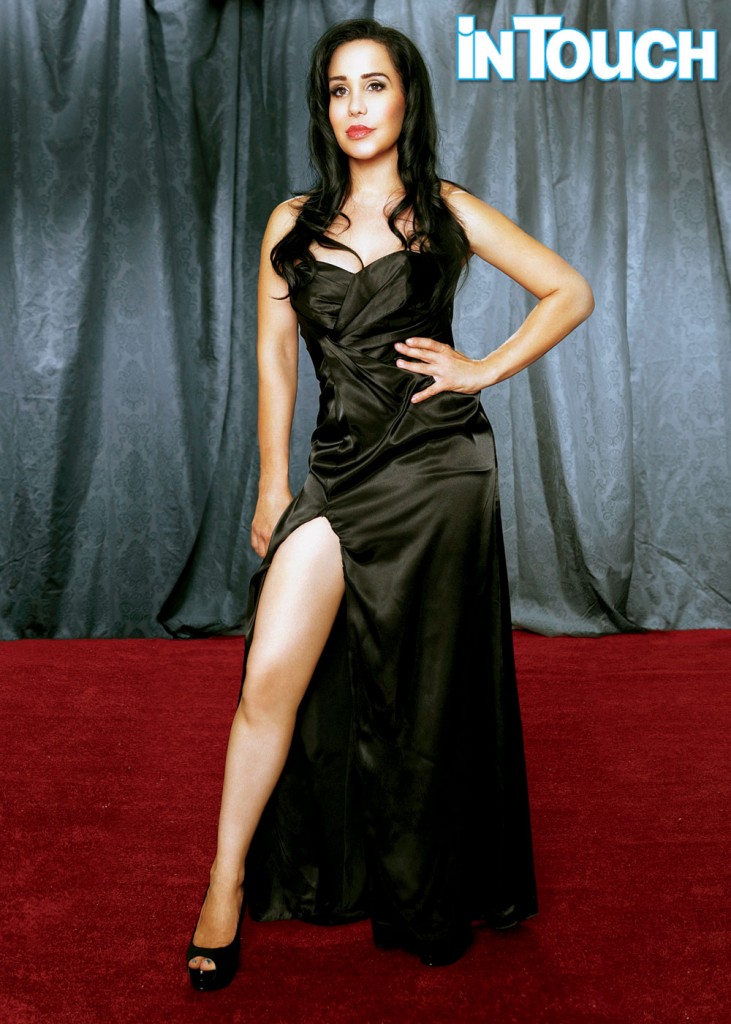 In Touch sends us nice email heads-up with information on their upcoming stories, and when I saw the photos of Octomom Nadya Suleman as Angelina Jolie I actually cringed. I'm not even an Angie-loonie (like Kaiser) and I found these photos terribly offensive. That's probably because I actively dislike Octomom at this point, whereas at some point I just found her crazy. (Although that was an awfully long time ago.)
Anyway this was pretty much a genius PR move on either In Touch or Octo's part, since it's led us to talk about her again. They had her pose as Angelina Jolie at the 2012 Oscars doing her iconic Leg and as Lara Croft in Tomb Raider. It's hard to find the right words to capture how disturbing and ridiculous she looks. Their Photoshop artists were working overtime on this one. In terms of Suleman herself, her life is such a mess of debt, scamming, mental illness and now addiction that it's futile to try and keep up. The last thing that we reported on her was that she's being investigated for welfare fraud. This is a little filler interview with Suleman and her supermommy delusions, but the photos are much worse than what she says, which is pretty typical for her.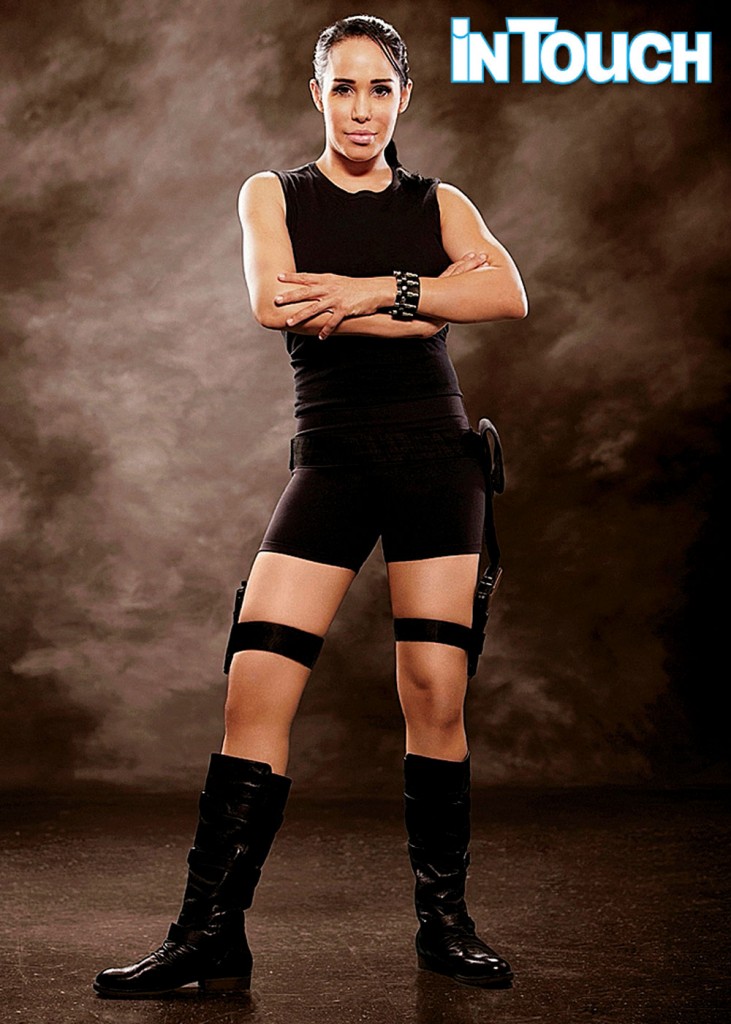 Nadya Suleman instantly became known as "Octomom" when she gave birth to octuplets as a single mother of six in 2009 — and she's become infamous in the ensuing years for her questionable judgment and controversial life choices.

Now, the mother of 14 channels her inner Angelina Jolie — another mother to a big brood — for an exclusive shoot in the new issue of In Touch, dishing about parenting, her future, and why she doesn't have it as easy as famous celebrity moms.

"I do a lot!" Nadya tells In Touch of her hands-on mommy-ing. "I'm a cook, a chauffeur and a nanny," she says, adding that she doesn't have the perks of fame like other famous mothers of big broods — including her idol, mother of six Angelina Jolie.

"I admire her," says Nadya, dressed as Lara Croft in Tomb Raider. "She saves children's lives." And despite comparisons to the actress and idol, she doesn't think they have that much in common. "I get that we both have a lot of kids, but I don't think I look anything like her."

Nadya — who lives in Palmdale, Calif., with 4-year-old octuplets Noah, Maliyah, Isaiah, Nariyah, Makai, Josiah, Jeremiah and Jonah (plus her other kids, Elijah, Amerah, Joshua, Aidan, and twins Calyssa and Caleb, all of whom were fathered by the same donor) — says she's going full-throttle, 24/7.

Between making lunches and bath times, Nadya clips coupons and spends "a couple hundred dollars a week on groceries" — and laundry: "I do several loads every day — there's always clothes in my washer."

Though she says she's staying in the entertainment industry to pay her bills, Nadya — who claims she'll get her master's degree in psychology "when my kids are in college" — believes things are starting to look up.

She recently bought a new house and says the kids (the older ones are in public school; the octuplets start preschool soon) are enjoying their big new backyard. "We've hit rock bottom," she says, "but our struggles are what shape us."
Every home that Octo has lived in since she became famous has gone into foreclosure, even her parents' home. So this detail at the end that she got a new home is news to me, and it was probably made possible by the state of California. She filed for bankruptcy last year, she trashed the last place where she was living and never paid rent and yet she now bought a new home somehow. I don't want to try and figure it out.
Getting back to the ridiculous comparisons to Angelina Jolie, who has less than half the number of children than this woman, a partner, a career and more than enough means to care for her family, Octo may say she doesn't "look like her," but you know she's tried to. In 2009, Life & Style reported that she was "obsessed" with Angelina and the Chicago Sun Times claimed that Suleman sent Jolie "multiple letters" which "creeped her out." There was another story that Suleman used to work as a stripper using the stage name "Angelina." Oh and this is what she used to look like before she had a ton of plastic surgery. She got a thinned out nose and big puffy lips.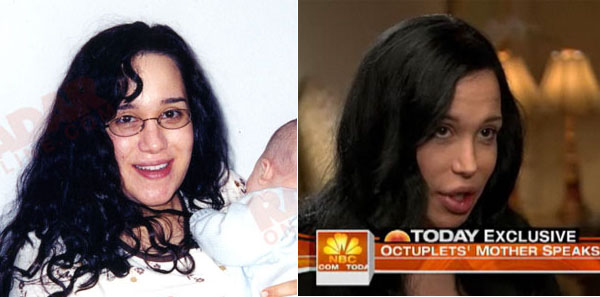 Life and Style cover from February, 2009: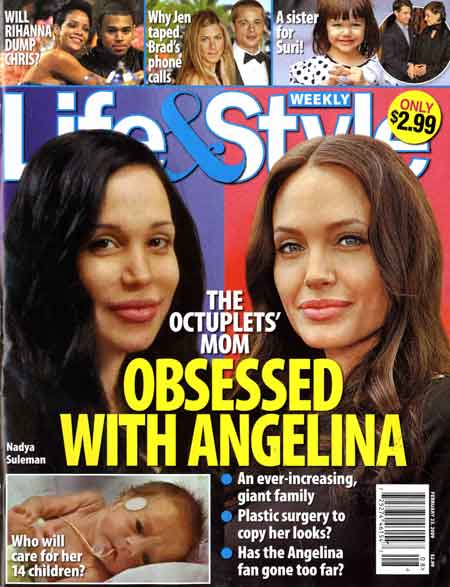 In Touch's upcoming issue: