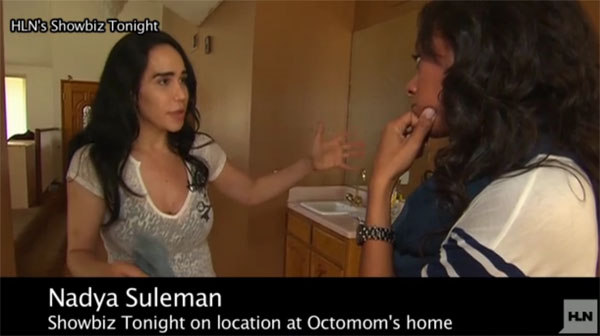 Update: A lot of you have mentioned that it seems unlikely that Suleman could file for bankruptcy twice in such a short time period. I was mistaken. It was Suleman's mother Angela who filed for bankruptcy in March, 2008.
---
Among all the stories about Octomom Nadya Suleman filing for bankruptcy this week, I haven't seen one that mentions that this is not her first bankruptcy (update: this is not accurate, her parents previously filed for bankruptcy). She Nadya's mother Angela filed for bankruptcy in March, 2008 just before her daughter underwent the IVF cycle that resulted in her octuplets. Nadya's mother Angela had two homes in succession which went into foreclosure. Nadya was also on food stamps and received disability payments for three out of six of her older children, but claimed she wasn't on "welfare" and called her use of government assistance "temporary." Are we seeing a pattern here?
In a statement issued by her manager, Suleman explained her decision to file for bankruptcy. "I have had to make some very difficult decisions this year, and filing Chapter 7 was one of them. But I have to do what is best for my children, and I need a fresh start."
So Suleman declared bankruptcy, and I can only assume that she's trying to make sure she can continue to live in the home she's never paid rent on. It was due to be auctioned off this week, but the bank has postponed the auction until May 7.
TMZ reports that Suleman has reneged on her pledge never to do p0rn. She is going to make an adult video, uh, alone. You know that money isn't going to go toward rent, food for her children or any of the people and organizations she owes money to, since she's bankrupt, which means she doesn't have to attempt to pay anyone back. The timing is very suspect here. Suleman defended her decision on HLN, saying "If it's a job, and it's a well-paying job, and it's gonna allow me to get out of here and move [my kids] into a very safe, huge home that they deserve … I'm gonna do it."
Remember when Suze Ormon called Octo a liar and a baby addict? Suze started counseling Octo on her money in late 2010, so she's had over a year and a half to get her finances in order. Of course she didn't stop squandering her money on trips to the plastic surgeon and nail salon. Nor has she canceled her gym membership. She admitted in a recent interview that she receives 4-5k a month in government assistance.