Update: Due to the sheer amount of Octomom news, I'm just going to update our earlier story with this latest news. Octomom Nadya Suleman did an interview with GMA this morning. (Video above.) She explained away those photos of her trashed home, at least she explained some of them. She said that she was potty training the kids outside, and that no children were ever locked in a room – the chair against the door was to keep them out of that room. (Since she doesn't have enough door gates, apparently.) She never explained why there's graffiti all over her home or why her children sleep on the floor.
Also, GMA reported that Suleman told them she receives 4-5 thousand a month in public assistance. This is much more than the 2k a month in food stamps she previously claimed. If it's being used toward caring for her children then that's good, but I doubt it's all going to that.
When Suleman was asked about the $540 check for haircuts, she claimed that it was for her hair and for her 14 other kids as well. So even if the kids were charged a steep $20 each and she was charged $50, that's still about $200 short. At that point she got a real look of defiance on her face and said "I am making money though. I have jobs and I can afford it." When she was questioned about the fact that she's on public assistance, she claimed "It's almost over. This is our last month on food stamps.." Remember when she said she got about $2k/month food stamps? Now she's getting $4-5k a month, so which is it?
Here's a photo of her face at that point.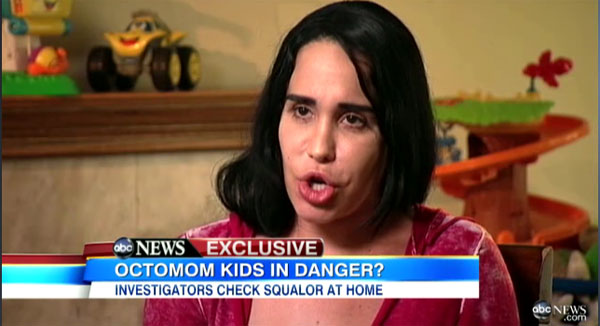 And here's her face later when she gets pissed that she is called out for the fact that she said she would never go on assistance again. She snipes "We're human beings and we're all entitled to change our mind."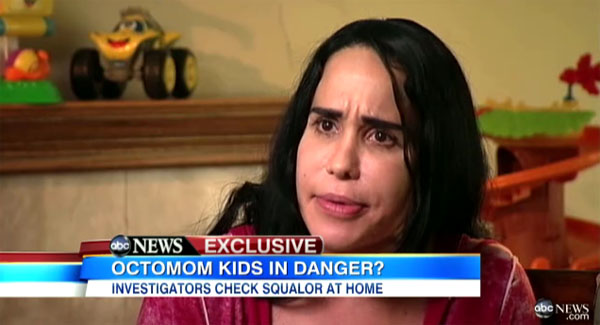 Oh and she claims she's been "set up" with those photos of her home, but GMA has footage that shows that the house is totally trashed with broken windows, graffiti and water damage.
That house is going on the market soon. The owner recently revealed that the bank is auctioning off the home on Monday. Where are this lady and her kids going to go at that point? Is she going to move back in with her parents, where she was living with her then 6 kids before the octuplets came?
Here's our earlier story.
---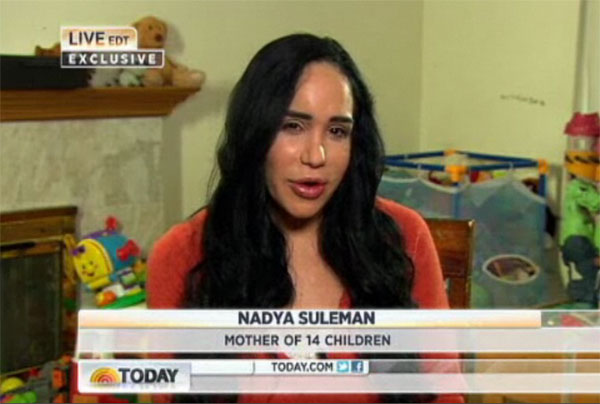 Yesterday we heard that news that Octomom Nadya Suleman's hairdresser had turned her in to the police, and subsequently Child Protective Services, for potential child neglect. The stylist had photos of the home and described the conditions that Suleman's 14 children were living in. It sounded and looked very shocking to some of us. The walls were tagged with graffiti from actual spray paint, as if her older children had a can and went wild. We heard that her eight three year-olds were walking around without clothes and going to the bathroom in potties in the back yard, that some of the children were sleeping on the floor, and that a chair was propped against a door to keep children from leaving a room. Some of you defended Suleman, saying that she was doing the best she could and we shouldn't judge her. I may have had that opinion if I read this story before knowing much about this woman. I've covered her for years and have read and watched countless interviews with her. She's a scamming con artist who has been using the system for years. I write that in all certainty given the many details I've learned about her, most recently that she spent over $500 on hair treatments while on food stamps to afford to feed her children. She hasn't paid rent on her home in over a year.
Of course everything is fine in Suleman's world, and she has excuses for all of it. CPS investigated her after the complaint we heard about, and the public relations person from social services told E! that this is far from the worst case they've seen. The police department also announced that a preliminary investigation found no neglect and that there will be no follow up, basically.
But on Tuesday, according to the La Habra Police Department, Octomom was the subject of an investigation by both the city's finest and the Orange County Social Services after a woman told police she had concerns about the well-being of Suleman's children.

However, La Habra PD today announced that no signs of neglect or maltreatment were noted during the investigation and no further actions were being taken. And despite unsanitary reports to the contrary, La Habra police tell E! News the Suleman's home plumbing was indeed functional at the time of the visit.

As for the investigation itself, while Orange County Social Services does not comment specifically on individual investigations, Terry Lynn Fisher, the public information officer of the department, explained how the Suleman run-through likely played out.

"You have to look at the whole picture, not just one thing," she told E! News. "There are days when the plumbing goes out and you have to call a plumber. It's not against the law for people to leave unfolded laundry on the floor. It's not against the law to allow kids to draw on the walls and create masterpieces."

Which isn't to say that's the condition investigators were met with. Though as for another reported aspect of the Suleman home—namely that there were outdoor training toilets on the property—Fisher noted that had that been the case, it wouldn't necessarily merit a violation.

"Look, she's toilet-training eight 3-year-olds," Fisher said. "While the situation may not meet your or my idea, it's not against the law."

Besides, Fisher said that she saw photos of the octo-house and said it was far from the worst of what she's experienced.

"While her home isn't in pristine condition, it's not against the law. It's nothing like the homes we have seen. I've seen a home where the walls looked like they were moving, cockroaches crawling up and down the wall, even falling out of the ceiling.

"Our goal is not to remove kids from the families. It's to strengthen the families. We make every attempt to let families stay together. We don't yank kids from the home unnecessarily. If we get a call that a child is being neglected, they would look at the conditions, see if any immediate risk that would place the children in danger."
[From E! Online]
In yesterday's thread, there were some horror stories of abuse and neglect you'd witnessed where children were never removed from the homes. It was sad, but it put this in perspective to me. As a mom, I find it abhorrent that anyone would have this many kids on purpose, not take care of them properly and refuse help and supplies (but not money!) so that they're all comfortable and well cared for. I guess there's no law against being a sh*tty parent or making your kids live in squalor as long as you do the bare minimum.
After those photos leaked yesterday, Suleman hired a team of maids at Dr. Drew's expense, since Drew had offered her free maid service for a year. She'll probably never hire a painter, since she needs the money for mani-pedis, and Botox. We know where her priorities are. Octo no longer has to pay to get her hair straightened, though. The Brazilian Blowout company, which manufactures the chemicals used for the hair straightening process she paid over $500 for, has just offered her free treatments along with free childcare while she gets her hair done at their LA salon.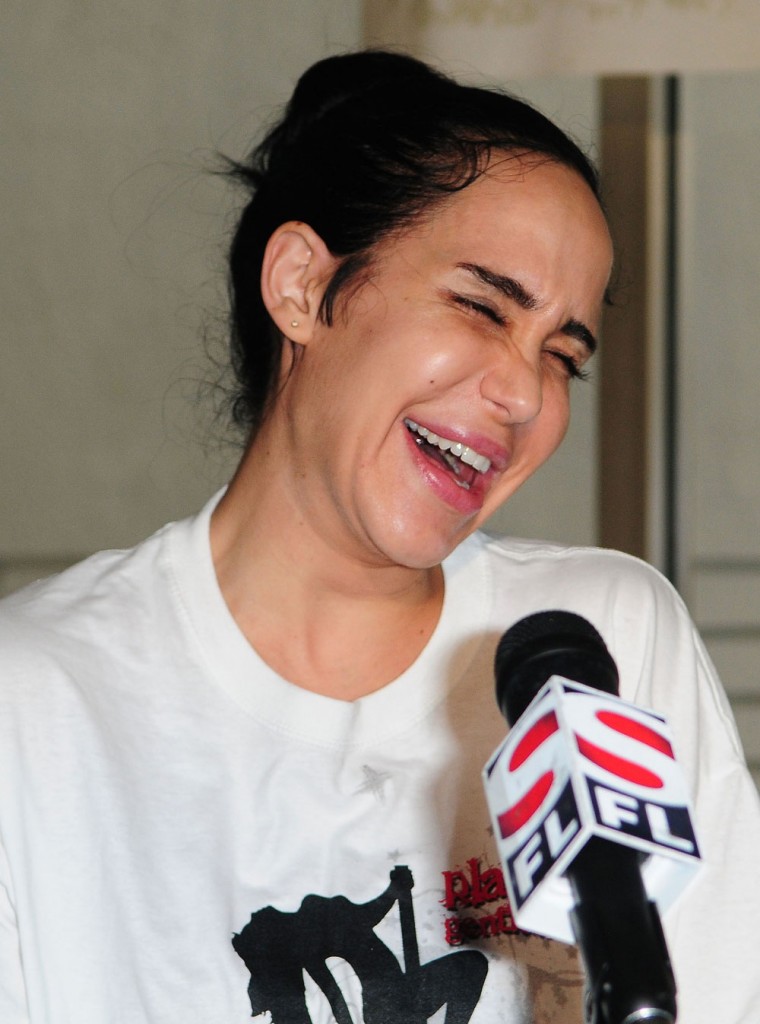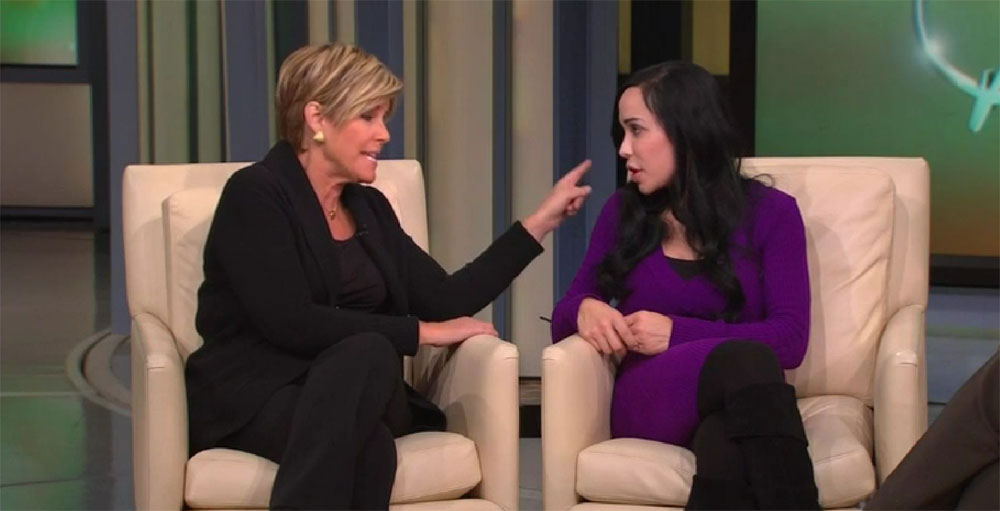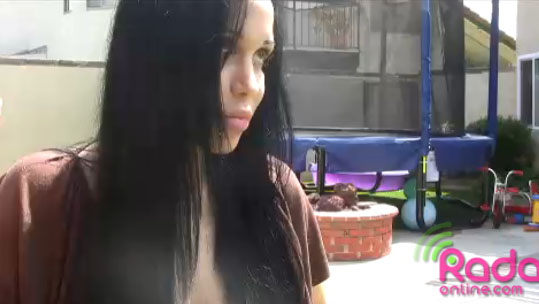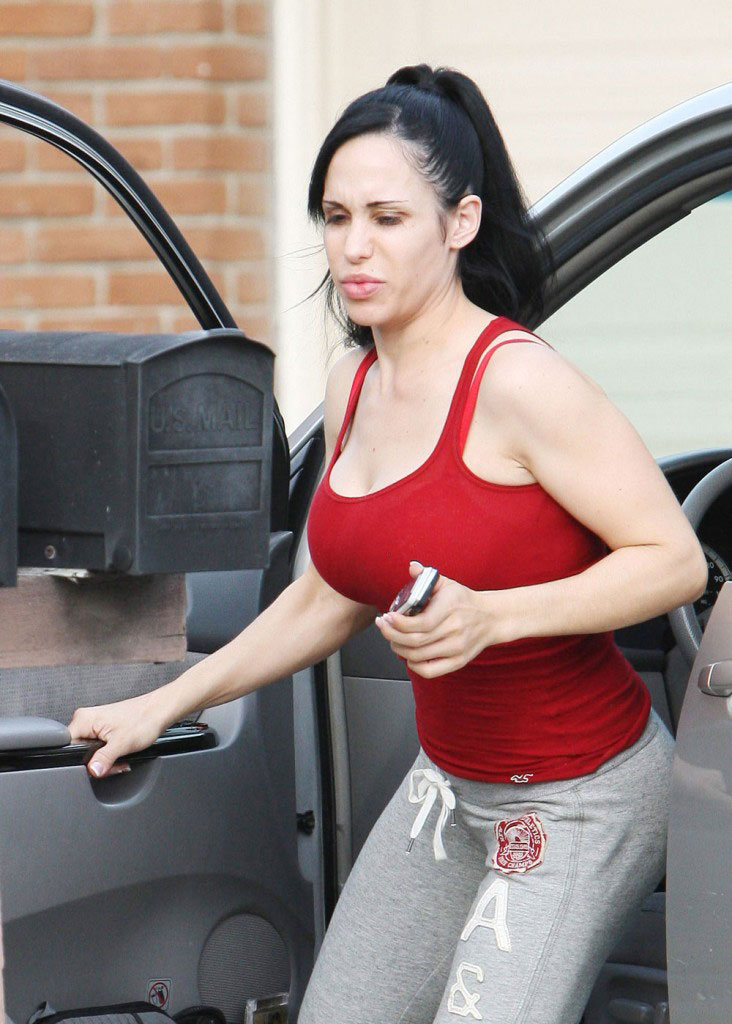 Photo credit: WENN and FameFlynet