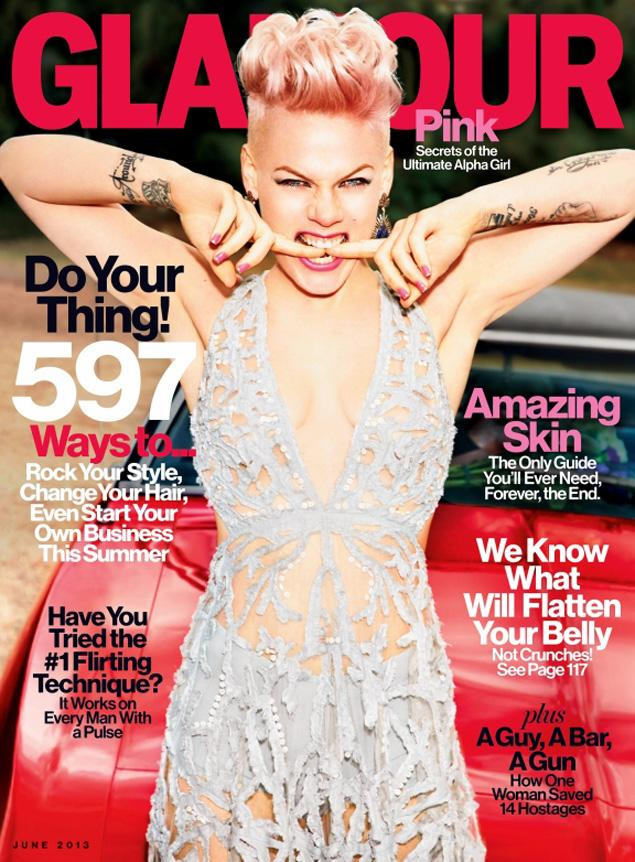 Pink covers the new issue of Glamour Magazine, probably just to promote her current album, The Truth About Love. I've liked the songs I've heard from this album – I downloaded "Try" and "Blow Me (One Last Kiss)" but I'm not crazy about "Just Give Me A Reason," the duet she did with Nate Russ (from fun.). I find that song rather cloying, although I do like both artists' voices. Pink is usually good for an upbeat workout song or the occasional ballad, and I'm glad her album is doing well. Apparently, Glamour asked her why half of the songs on the album were about sex – some highlights:
Why her songs are about sex: "I'm a reformed slut… It's my very unsophisticated way of taking the power back. I've always had an issue with [the idea that] 'OK, we've both decided to do this. Why am I a slut and you're the player? You didn't get anything from me that I didn't get from you.'"

Getting her start by touring with NSync and 98 Degrees: "It was Beatlemania for those boys… I got in trouble for toilet-papering 98 Degrees' bus. Joey Fatone was in love with me," Moore recalled. "He took me to Friendly's on a date, and he bought me an ice cream. Such a sweetheart. He asked my dad's permission."

Why she named her daughter Willow Sage: "I love the idea that a willow tree cannot be snapped or broken. And we burn sage all the time. It clears bad energy."

Her worst day: "Willow and I were at the pool, and I was taking her to nap time. She was walking just a foot in front of me. And she trips and falls and gets a concussion. She passed out. Cut to an ambulance and fire truck. And a CAT scan. She was about a year old. That was the worst day of my life. And what do they say? 'Kids fall.' Welcome to parenthood, I thought. I can't handle this. I'm fitting her for a bubble. Every time she bounced on the bed, I see stitches. Being a parent is a Jedi mind f—. It's also the raddest thing ever."

Her relationship with Carey Hart: "Are things ever good? I don't believe that exists," Moore said. "Long-term relationships are an everyday choice. It's harder to be in a marriage than it is to bounce from one relationship to the next. We're good because we communicate and we've grown up together, not because we don't fight."
I like "You didn't get anything from me that I didn't get from you." That being said, the movement to "reclaim the slut" seems… I don't know, dated? It just feels like women have got so much to fight for and about these days, and fighting about the word "slut" doesn't even make the top ten. Although maybe Pink sees it as part of a larger struggle for women's rights? Like, the struggle to redefine "slut" is related to how we think of reproductive rights and Rape Culture? Am I overthinking this?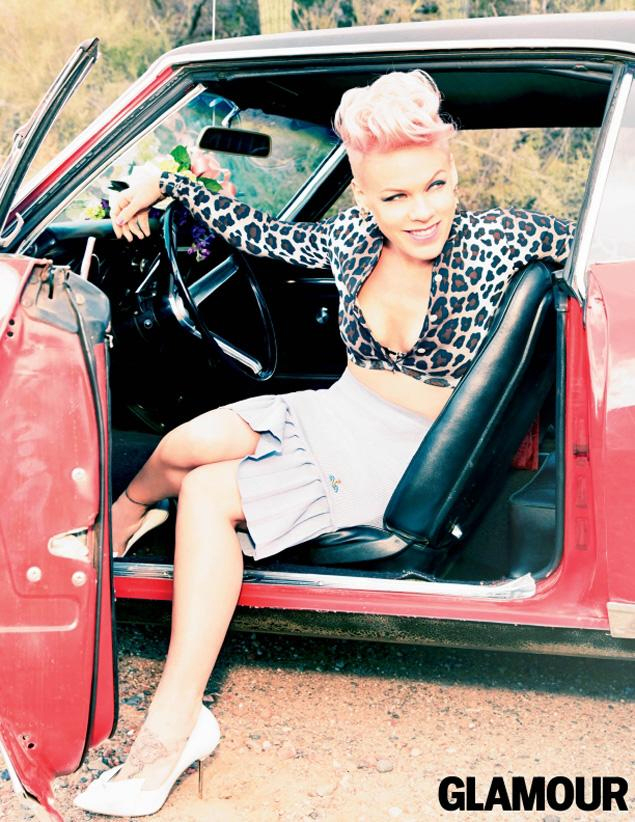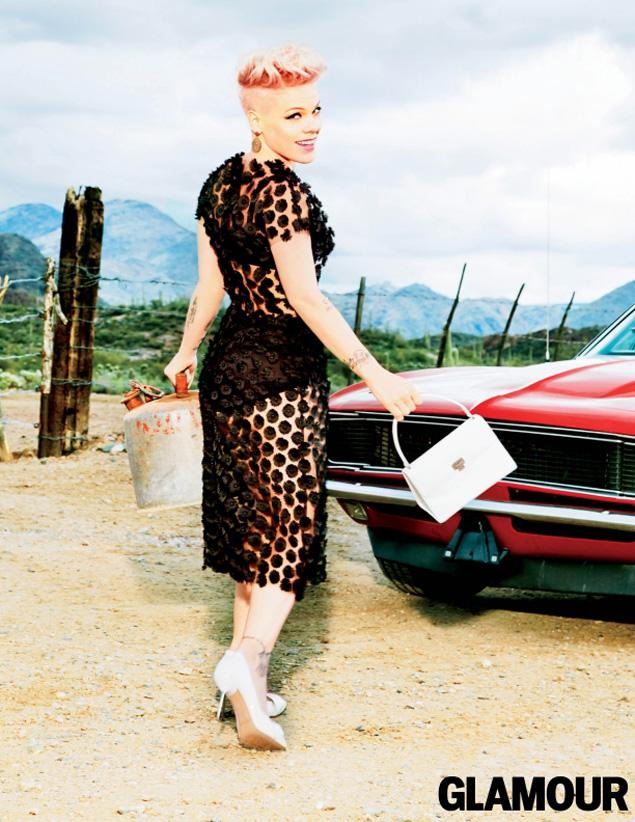 Photos courtesy of Glamour.