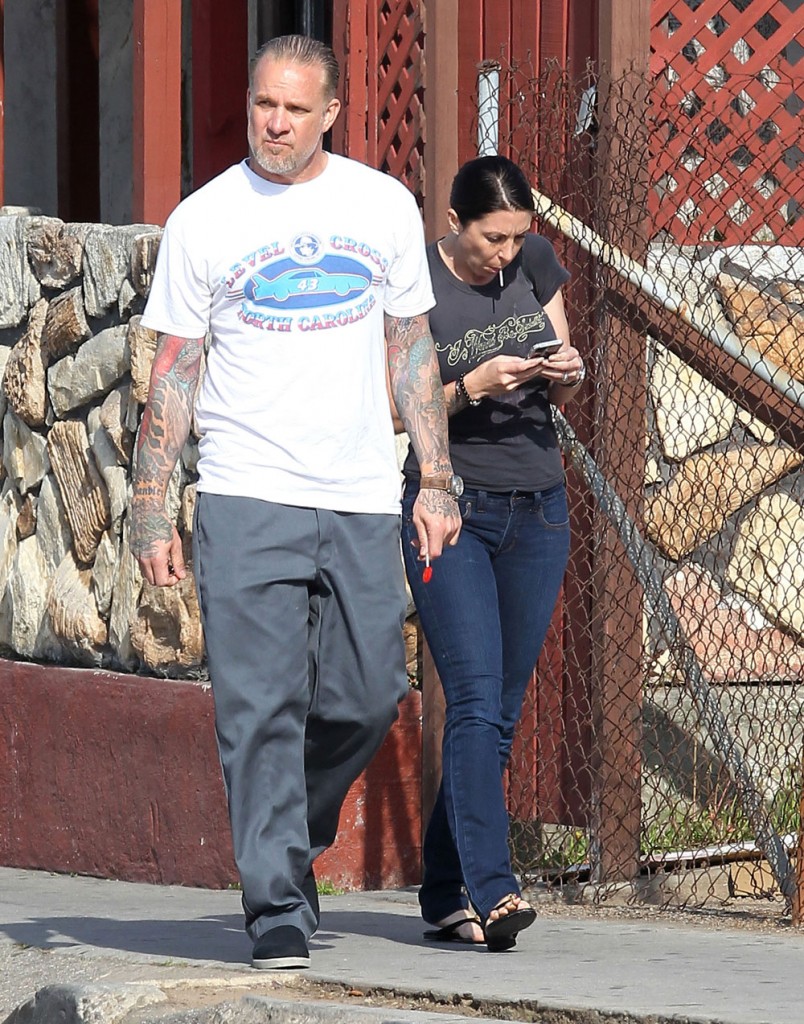 Jesse James has made a nice living on reality television. He first shot to fame about ten years ago, thanks to the Discovery channel finding him at his West Coast Choppers customization shop and giving him a gig as host of "Monster Garage," which ran from 2002-2006. James shut down West Coast Choppers in 2010 because it wasn't profitable. Prior to that he admitted that he doesn't make money tricking out bikes, and that "We probably lose money on every motorcycle we build still, and luckily we have other businesses to support the bike shop." Without the fame and brand recognition that came from reality television he wouldn't have made his millions selling branded merchandise.
The Discovery Channel made West Coast Choppers a household name, and last year they gave Jesse a spin off show called "Jesse James: Outlaw Garage." Well it got canceled due to low ratings and James really went off on the Discovery channel. He posted a blog entry trashing them. He's since deleted it, but Radar has the details:
Jesse James television show has been axed — and the outspoken love rat is putting his former employer, Discovery Channel, on blast.

Calling the television network "dumb motherf*ckers" who produce "fake, phoney, staged, scripted, bullish*t," the 44-year-old announced the end of Jesse James: Outlaw Garage in a blog post, RadarOnline.com has learned.

"For all those asking about Outlaw Garage, I'm sorry to say that I'm done with Discovery," James, who married his fourth wife earlier this year, wrote.

"It's time to take skills and hard work to a network that appreciates what I offer and, more important, a network that doesn't look at it's viewers like they are dumb motherf*ckers that want to watch fake, phoney, staged, scripted, bullish*t."

A spokesperson for Discovery had "no comment" when RadarOnline.com asked about the the future of James' show.

But a production insider confirmed its demise, saying: "It wasn't a personality issue — it was a simple business decision — the ratings for Jesse's show were very poor."

Not content with his expletive-laden criticism of the network, a furious James has embarked on a campaign of anger toward Discovery and published a Dec. 2005 letter from Billy Campbell, the former president of Discovery Networks.

In the letter, it's emerged, Discovery nixed James' planned trip to Iraq to film for his previous show, Monster Garage, two years after the invasion of the country — and the same year he married Sandra Bullock. The pair split in 2010, when several women claimed to have had affairs with him during the marriage.

"I have been pretty bummed about things ending with Discovery Channel then I re-read this letter the other night," James told fans, publishing the private communiqué to his Tumblr blog.

In the correspondence, Campbell wrote: "As you are aware, after much deliberation, Discovery Channel decided not to proceed with a build in Iraq because it remains an unstable and dangerous region of the world.

"In addition, I believe that the location is a bad production choice for our brands because of the light-hearted nature of the Monster Garage program and the disturbing events taking place in Iraq."

The network warned James: "If you decided to travel to Iraq, it's important that you understand that you do so at your own risk and that DCI is not responsible for your own safety."

"Figured people should see the real truth," James said. "FYI, I went (to Irag) anyway. On my own dime."

But as it turns out, the Discovery-James relationship was tested for years, as Campbell revealed in the letter.

"From time to time, we have had disagreements and I'm very pleased that we have always been able to resolve them amicably," the television boss wrote.

There's no word on whether James will attempt to resurrect his program on another network.
Let me get this straight – Jesse is mad because his show got cancelled. So to prove what a badass he is, he published a letter in which one of the producers on his last show, which made him a household name, told him it wasn't a good idea to film in a country we were at war with at the time. Jesse thinks it's something to brag about that they told him "no, it's a bad idea to go to Iraq" and he went anyway. In Jesse's mind, he still should have won that argument and been allowed to go to Iraq. His stupidity, stubbornness and refusal to listen to reason is something to brag about.
I get that he's pissed that his show got cancelled, and maybe he had creative differences with producers about staging scenes. That's not something you air in public! Have some respect for a company that made you a damn millionaire. Discovery made this guy's career and all he can do is complain and trash them. Talk about having some childish issues with authority.
Oh and FYI Jesse is still with his wife of just over a month, drag racer Alexis DeJoria. He wrote that she was the best thing to ever happen to him, which some outlets interpreted as a dig to Sandra. He said basically the same thing about Kat Von D and look how that turned out.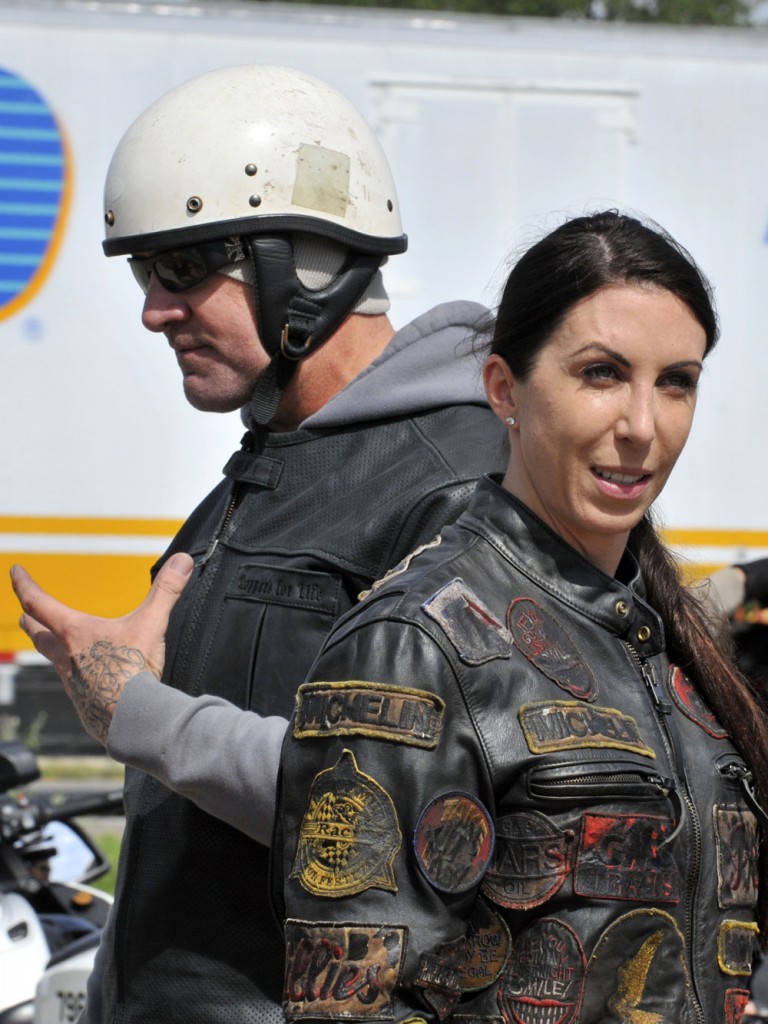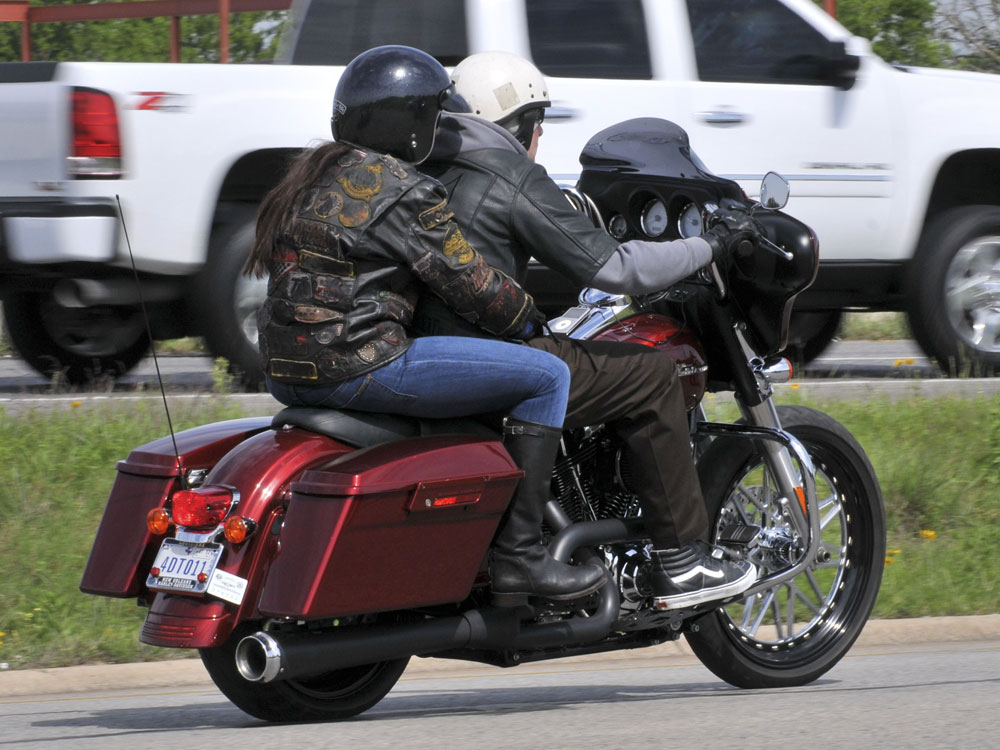 Photos of Jesse and Alexis DeJoria are from 3-23 and 4-13-13. Credit: FameFlynet