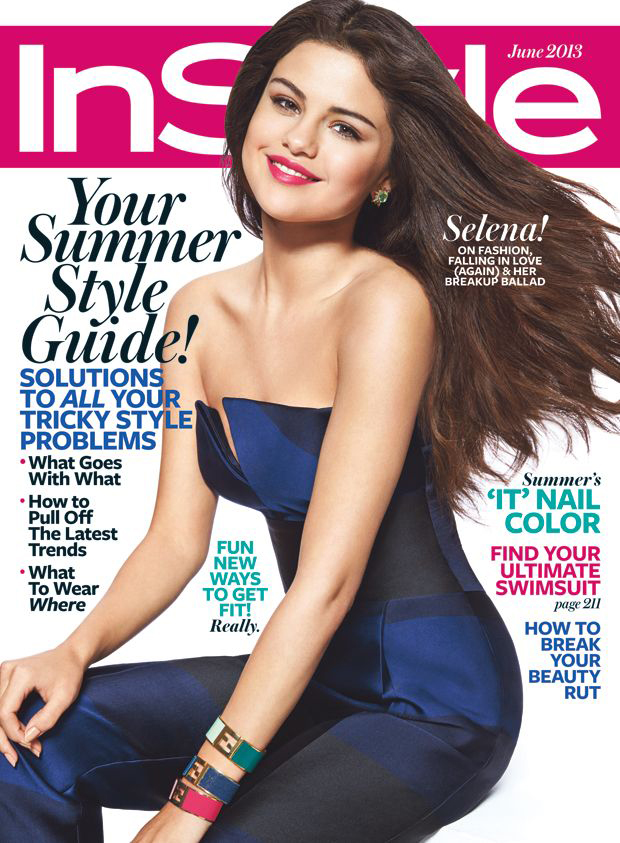 Selena Gomez covers the June issue of InStyle magazine, and she looks very fresh and pretty on the cover. Guess what she's wearing? The same black-and-blue Stella McCartney jumpsuit that Jennifer Lawrence wore to the Santa Barbara film festival in February. Shocking, right? It so surprising that this is a Stella design considering most of the stuff she creates is perfectly terrible (such as Kristen Stewart's awful Met Gala onesie), but this is probably the only Stella outfit that I have ever liked.
As far as the rest of the photoshoot goes, only a few samples have been released with the cover, but we've already covered most of the photos a few months ago when the shoot (titled "Gear Shift") took place. Everyone thought it was a shoot for a music video, but — surprise — it was really for InStyle. The interview excerpts that have filtered out aren't anything of the earth-shattering variety, but Selena expresses a similar sentiment to her interview last fall with Glamour where she said if she stayed in Texas, she'd have two kids by now. This discussion was also conducted before Selena made the fateful mistake of getting back with Justin Bieber, so she talks about heartbreak a little bit. Here are some excerpts: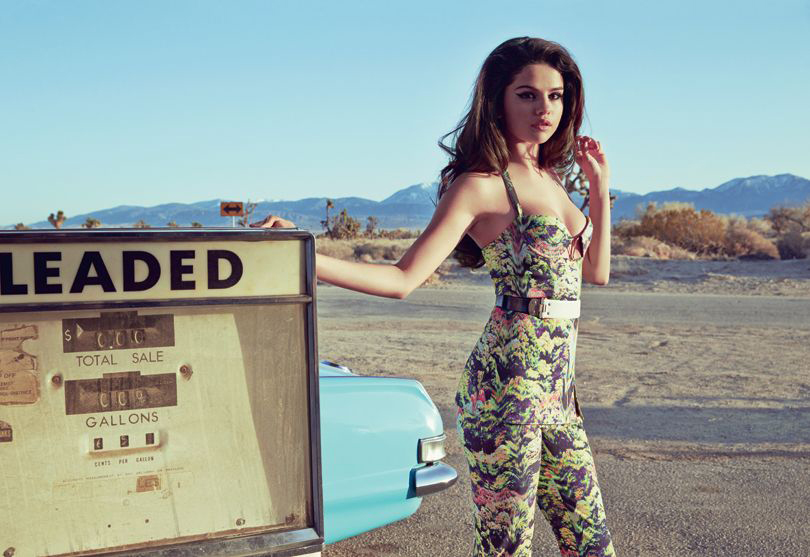 At age 20, she wants to push boundaries: "This is a weird transition for me. I want to keep pushing myself so I never feel settled. I don't really know if it's going to end up working. I'm stressed out most of the time." Gomez would like to eventually say so long to music to concentrate solely on acting. She imagines a career modeled on stars like Shia LaBeouf, Jennifer Lawrence, and Natalie Portman–actors who are continually reinventing themselves, she says.

Her new album includes a Bieber break-up song: "Love Will Remember" mournfully chronicles the end of a relationship, and Gomez makes it crystal clear that she did indeed write it about Bieber. "That's the most personal track on the record, for sure. I think it's a sweet way of releasing it. It's not an aggressive approach to what people are probably expecting. I'm sure he'll love it too."

How to date in the spotlinght: "I'm from Texas, so I should be married with children already. I'm in love with love and totally believe in marriage, but that's not even on my radar right now. I am not putting energy into dating. It's uncomfortable that everywhere I go, people know. I don't like that. But Justin and I never really focused on the attention. You can't help who you date. So I wouldn't swear off that or say that's what I want again. I don't know. I'm a kid, and a breakup is normal. I have to go through the emotions and feel it out. I'm doing my own thing, being with my friends, and he's doing very well too. You have to have honesty when you're living this lifestyle because of the distance imposed when working–you are separated so often. You have to be super-honest and open. That is key."

On her "sister," Taylor Swift: "We dated the Jonas Brothers at the same time and ended up becoming best friends. She's the one I call when I'm having any sort of sadness. She's very nurturing and protective."

On her Kmart fashion line: "I remember when I was younger and kids in school would be wearing $40 sweaters and other things I couldn't buy. I wanted to make a line that was supercute and affordable, things a 12-year-old could wear and I could wear too." She also co-designs a sports-inspired line,

On her style: "I'm on the petite side and I don't think I'm curvy, but maybe I'll grow into it. I like to wear things that are fitted because they give me more shape. I like to show a little bit of skin in a nice way. The idea of trying to get on a best-dressed list stresses me out. I'm so nervous. I love picking out clothes, and it would be a blast to just play dress-up all the time."
[From InStyle]
I can certainly get behind Selena's statements of creating cute and affordable clothing for tweens. The competitiveness of middle school girls is second to none, and it's pretty much the end of the world when one has to wear the same five outfits every week while the rich girls never seem to wear anything twice. Luckily for my daughter, her public school requires uniforms now. That makes things so much easier for kids when the sartorial playing field is leveled.
There's also a rumor going around that "American Idol" is trying to tap Selena and Justin as judges for next season. That could be true, but I don't think either of them would be interested at this point in their careers.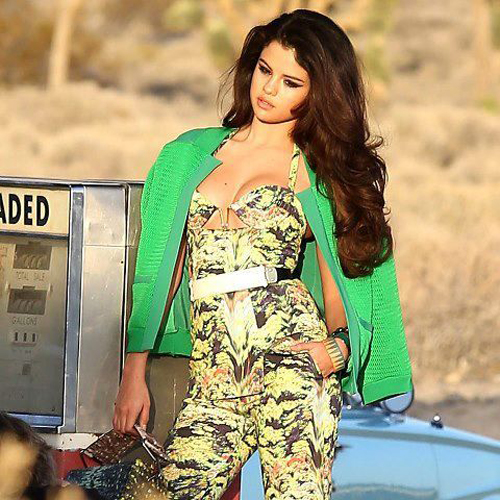 Photos courtesy of InStyle