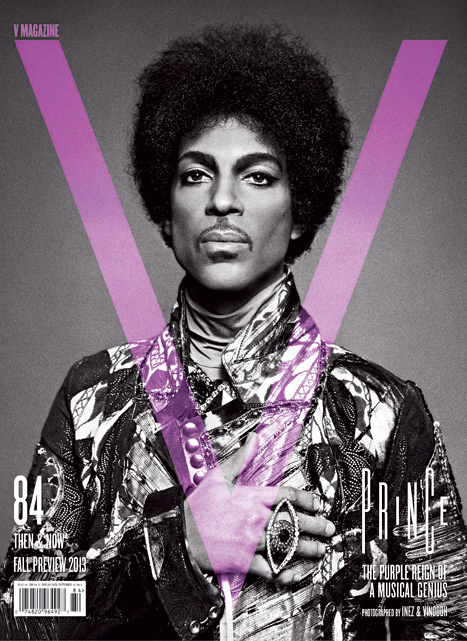 My God, Prince is 55 years old!!!! When did that happen? He still looks so young too. Prince covers the new issue of V Magazine, and he's giving me very strong Jimi Hendrix vibes, style-wise. Like, if Jimi got his eyebrows professionally waxed, this is what he would have liked like too. Anyway, Prince is still an in-demand artist, he still records albums and tours and he has a new band too, 3RDEYEGIRL. You can read the full Prince piece here at V Mag. Here are some highlights:
Prince keeps the mystery: He's eschewed the PR opportunities afforded by the latest tech almost completely, refusing to put his videos on YouTube and offering new music mostly for sale on his websites. And in part by making himself so unavailable, he's remained as mysterious as ever. Prince has always refused any label the world wants to slap on him. A devout Jehovah's Witness since 2001, he writes music that is explicit about both Jesus and sexual desire. He's a black man with light skin who usually dresses in clothes that seem inspired by female icons, from Twiggy to Marie Antoinette. A heterosexual man who deeply worships sexually confident women, he nonetheless wants to dominate them. Prince keeps his private life private: he's usually either on the road or at Paisley Park, his $10 million compound in the suburbs of his hometown of Minneapolis, with multiple recording studios, wardrobe rooms, a video-editing suite, a sound stage, production offices, rehearsal areas, and "the vault," which includes his extensive library of unreleased recordings.

The band 3RDEYEGIRL: It's made up of Danish bassist Ida Nielsen, wearing pigtails, blonde Chicago College of Performing Arts at Roosevelt University jazz performance major Hannah Ford-Welton, on drums, and Canadian Donna Grantis, with half her head shaved, playing a wild, shredding guitar. "I'm trying to get these women's careers started, because they're all so talented," he tells me later. "It's not even about me anymore."

Why he created the band: "This organization is different than most, in the sense that we don't take directions from the outside world. It's like a galaxy. The sun is in the center giving of energy, and everything revolves around it." He talks about what it would be like if instead of the sun giving of energy, energy was trying to exert its force on the sun. That wouldn't make a lot of sense. It would be, he says, like "meteors hitting a planet!" What makes much more sense is "a sun pulling everything around on its own axis, with information. The sun is information. Nobody really talks to me. Nobody talks to me a lot."

There is no clock in Prince's world: "I directed a couple films and it was taxing in that people were asking me questions about their jobs." He much prefers peace and calm. "I have to be quiet to make what I make, do what I do." He takes a breath. "Another thing that's different about this organization is that time here is slowed down, because we don't take information from the outside world. We don't know what day it is and we don't care. There is no clock."

Reconciling his religion with his sexualized music: "First of all, do you see a difference in religions?" he asks. I say no, suggesting all religions are based on the same idea and then corrupted by their human leaders. "Then what are the wars about?" he asks, unhappy with my answer. "If one religion believes Christ is the king, and another doesn't, then there's a difference in religions." He goes on for a bit, and adds, "we are sensual beings, the way God created us, when you take the shame and taboo away from it," and continues that religion should be thought of like a force, an electro-magnetic one or like gravity, that puts things in motion. Then he says, "I don't want to talk about this."

On sin: "You have to look at the origin of the word," he says. "Humans needed a language to describe a rule given from some group from…" He pauses, then says, and this is as I remember it: "Words are tricky. And plus these days I just talk to the folks in the outside world about music. If you were a student and I was teaching you something we could get into that. We can't do this before a dance party."

Does he have an iPhone? "Are you serious?" he says. "Hell, no." He mimics a high-voiced woman. "Where is my phone? Can you call my phone? Oh, I can't find it."

His fans: "People come to see us fifty times. Well, that's not just going to see a concert—that's some other mess going on. This music changes you. These people are not being satisfied elsewhere by musicians, you feel what I'm saying? It's no disrespect to anyone else, because we're not checking for them. But we don't lip synch. We ain't got time for it. Ain't no tape up there."

Working with all-girls: "I'm calmer now," he says. "I'm rougher with men. I bring my tone down with women. If they make a mistake, I don't look at them and go, 'Seriously?!'" He talks about Ford-Welton missing a cue on one of their songs and how he simply gestured to her and told her just not to do it next time. "I explained that she had to pay attention. Stay in the moment." Then he smiles. "Let's go to the party."
There's a lot in the article about how tech-adverse Prince is, and how he won't even allow his fans to take fan-photos of him. He also didn't allow the V Mag journalist to tape his interview, or even take notes, which is just bizarre. For what it's worth, I don't even think this is an "act" with Prince. I think he really is this man of mystery, he really does hate technology, he really does want his independence away from the regular music industry system, and he's found a way to do his own thing. I do think Prince's relationships with women are fascinating… and I can see how working with just girls probably has "softened" him. Whatever, man. He's PRINCE.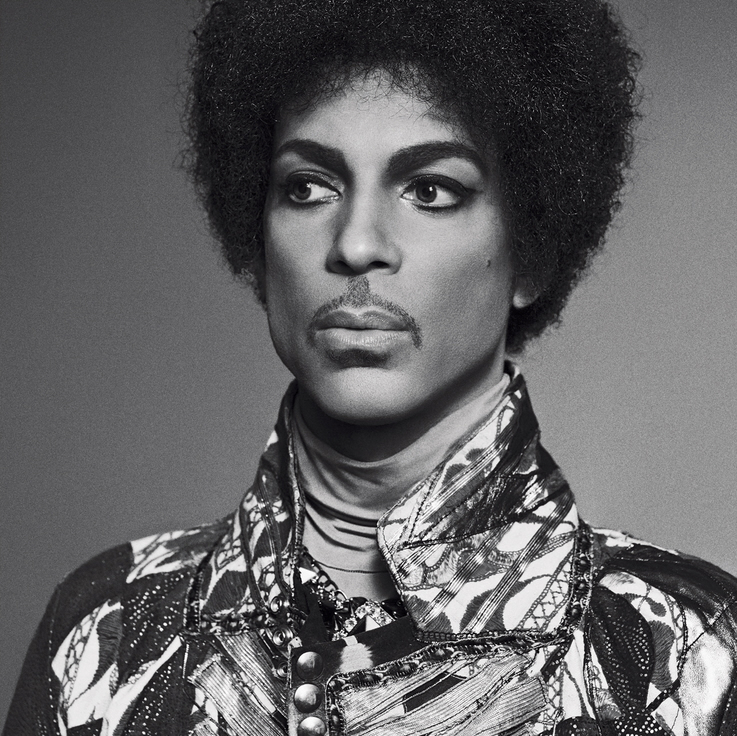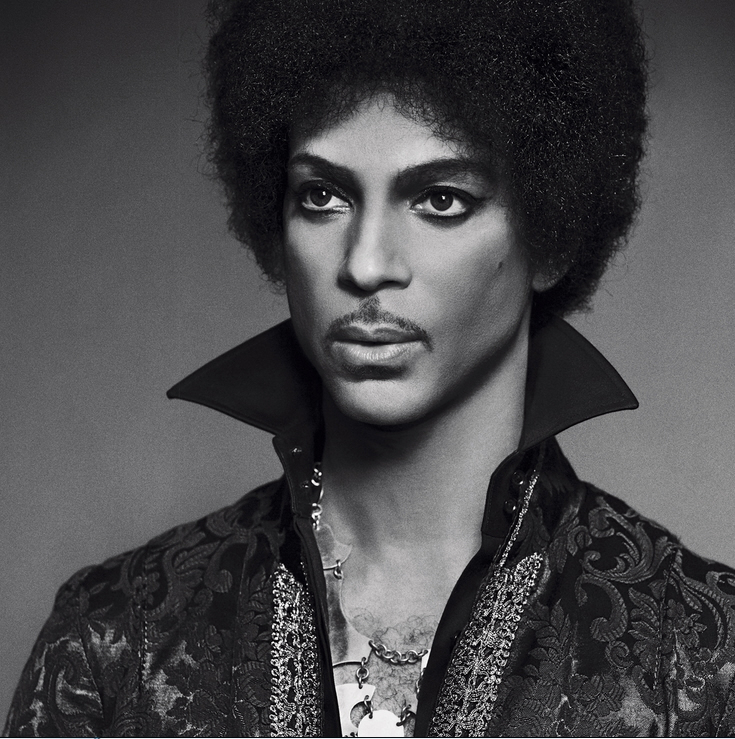 Photos courtesy of V Magazine.