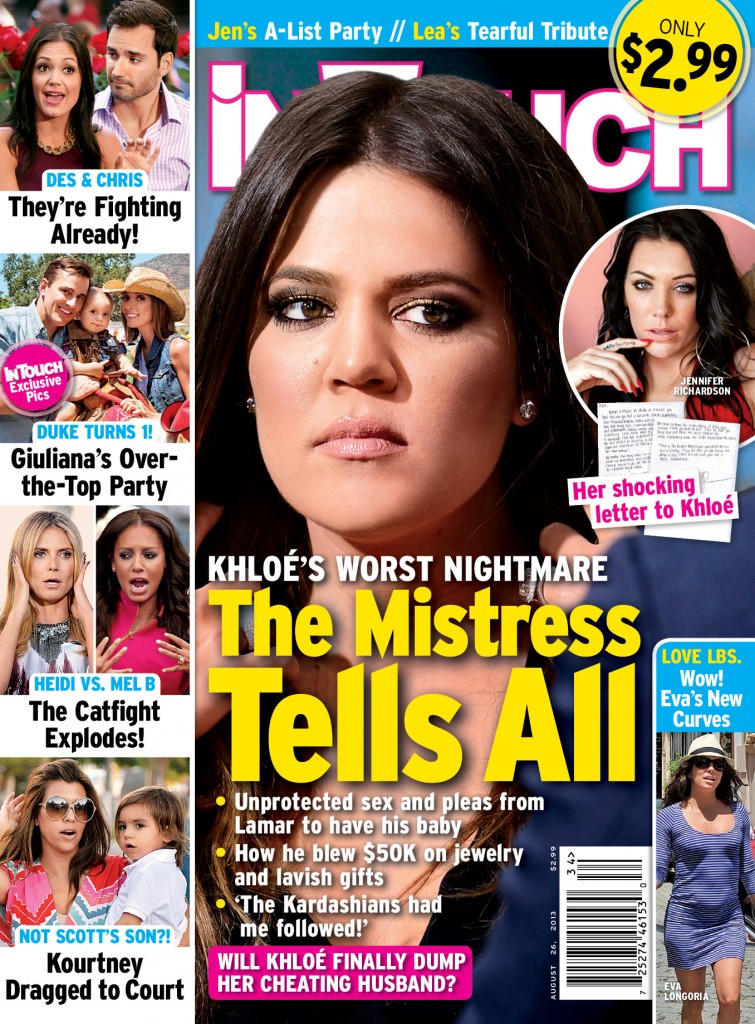 Tabloids have reported for months that Lamar Odom is cheating on his wife of four years, Khloe Kardashian. Two separate mistresses have come out publicly with stories of how Lamar had trysts with them in the past year. Each of the women claimed that Lamar was serious about them, that Khloe knew about their affair with her husband, and that Khloe hired private investigators to follow them. Last week, we heard from a woman named Polina Polonsky, who claims to have had a six week affair with Lamar that ended just last month. Polina broke it off with Lamar after Khloe confronted her at a hotel where she was staying with Lamar.
Now Jennifer Richardson, the first mistress to go public, is telling more of her side of the story. She has a similar story to Polina's in that she claims Khloe knew all about her. She also says that Khloe knew about another woman whom Lamar was shagging before her. That makes three affairs that Khloe found out about. Jennifer tells In Touch that Lamar wanted her to have his baby and that was all he ever talked about. What a scumbag. Here are two stories from In Touch, with more on their website:
Lamar Odom and Khloé Kardashian's marriage has been rocked by two major cheating scandals in less than four months.

In the new issue of In Touch, on newsstands now, LA entrepreneur Jennifer Richardson — one of the alleged "other women" — sits down for an in-depth interview about her yearlong relationship with the NBA star.

The mistress tells In Touch she believed that Khloé became aware of their affair at some point and they wanted her out of the picture so the clan had her followed.

"They had private investigators following me for weeks," claims Jennifer. "I was very, very intimidated and scared."

In April, just days after their affair ended, Jennifer saw Khloé at a Clippers game. Jennifer sat courtside, while Khloé was two rows behind her with mom Kris. "Khloé never said a word to me," Jennifer recalls, "but she kept cutting her eyes at me. That's when I knew she knew."

Jennifer believed Khloé was having Lamar trailed, too.

"She's constantly looking for Lamar and trying to find out where he is, calling him, calling his assistant," says Jennifer. "Lamar would just hit 'ignore.'"

She claims Khloé would call the Staples Center — where Lamar plays for the Los Angeles Clippers — to get details on his schedule, and even used his iPhone GPS to track his whereabouts. "Khloé and her mother caught him with another girl before me," she adds. "That's why he went back to a BlackBerry."

---

Jennifer Richardson, one of Lamar Odom's alleged mistresses, sat down with In Touch for a revealing interview about their yearlong affair.

In the interview, she shares with In Touch that the NBA star told her he loved her and even tried to get her pregnant!

"We talked about how much he wanted me to have his baby," says Jennifer. "Lamar is baby crazy — that's all he talks about. That was probably 70 percent of our conversations."

Jennifer, who was not on birth control, did not become pregnant but says there were scares.

"I'm not going to lie," she tells In Touch, on newsstands now. "I thought I could be [pregnant] a few times."

Jennifer says she met Lamar at the Washington, D.C., strip club Stadium in January 2012. They only kissed that night but soon reconnected, started having sex and both fell hard.

"Lamar falls in love quickly," says Jennifer. "He told me he loved me."

"The chemistry was deep and intense," says the North Carolina native. For more inside In Touch's exclusive sit-down interview with Jennifer Richardson, pick up this week's issue of In Touch, on newsstands now.
Lamar already has two children from a previous relationship, Destiny, 15, and Lamar Jr, 11. He may want more but it's not like he doesn't have any kids at all. This is such a low blow to Khloe. She's struggled with fertility problems for years. It must cut like a knife to hear some wench who was banging her husband claim that he was actively trying to impregnate her. My sympathy for Khloe is waning, though. I still feel for her, but she had evidence for months that her husband was cheating on her. She hired private investigators and instead of facing facts she decided to try and intimidate the other women. Lamar is the problem here, and getting rid of his latest piece is only a temporary solution.
Kris Jenner recently told TMZ that Khloe and Lamar are "fine" and that they "are absolutely not getting divorced. There's been no talk of divorce." So is Khloe keeping up appearances for her family's sake? You know that PMK would hate to have another daughter get a high profile divorce.
Oh and In Touch also has a copy of a letter that Jennifer wrote Khloe. You can read it there if you squint hard. She sort of apologizes to Khloe for the affair but says "you can't help who you fall in love with." She also urges Khloe to tell her fans that Lamar is a cheater. It's all pretty ripe coming from the mistress. It's probably Jennifer's way of getting revenge after learning that Lamar had other affairs too. She said "I started to find out there were other girls… It was all too much for me." So ripe.
Here's a photo of Jennifer Richardson, thanks to In Touch. She looks drugged out of her mind. Radar has photos of the other mistress, Polina Polonsky, and she's a little fresher looking. Both women are brunettes.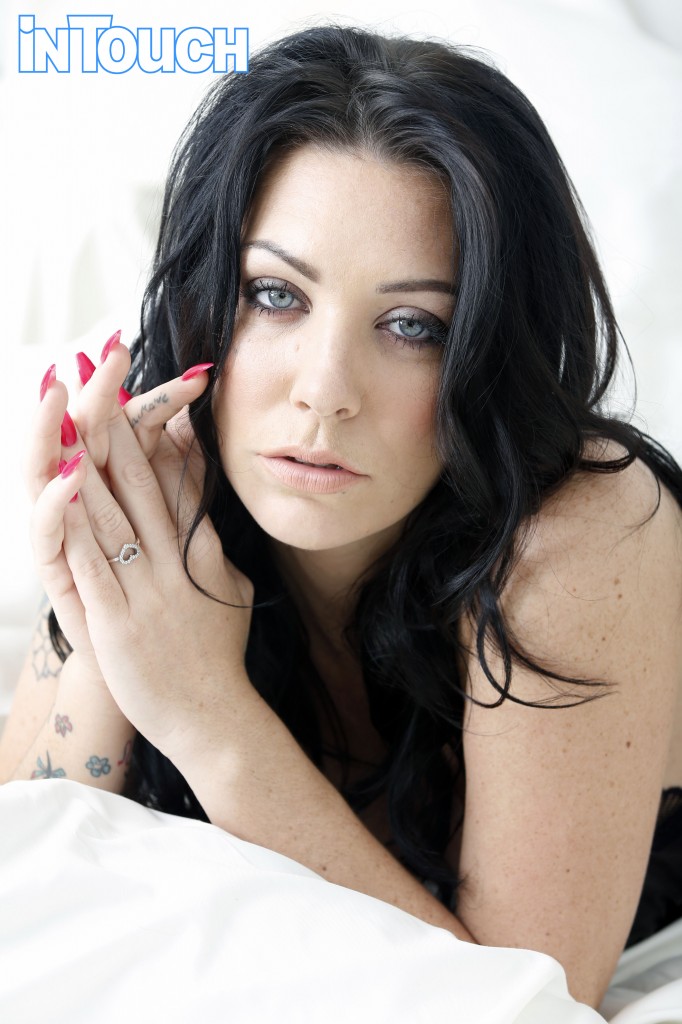 The last photo of Lamar and Khloe together, on 6-2-13. Credit: WENN.com