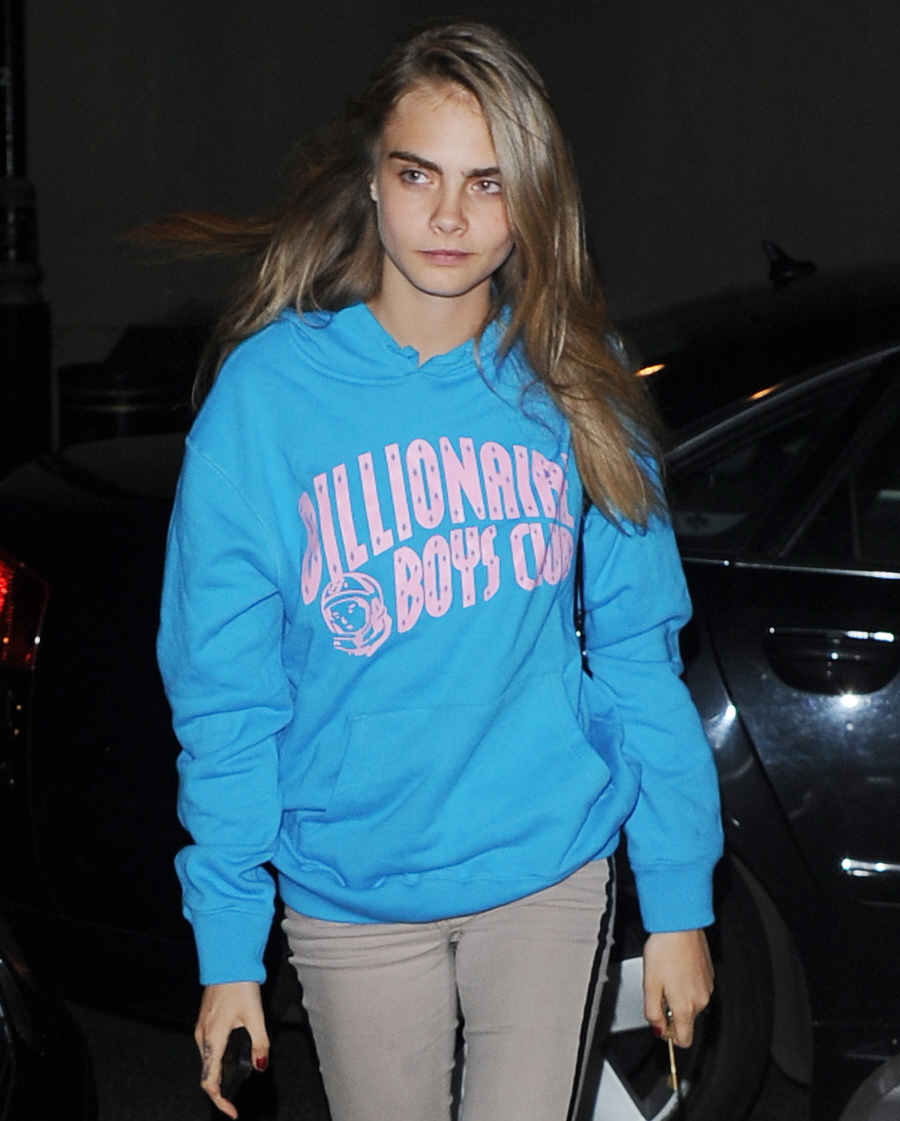 The other day, I mentioned that I really hadn't heard any gossip about the casting of Anastasia Steele in the 50 Shades of Grey film adaptation. I discussed that in the Charlie Hunnam post, where someone, somewhere claimed Charlie was being considered for Christian Grey. In that post, there was also some speculation that Shailene Woodley, Alicia Vikander and Felicity Jones were maybe being considered. I thought that Alicia and Felicity seemed like good choices for such a nothing character – at the very least, they look the part. Anastasia is supposed to be beautiful and pale with dark hair and eyes. At the very least, I expect producers to choose a young actress who is something of an aspirational beauty, and Felicity and Alicia fit that bill. But now there's a rumor that Cara Delevingne has auditioned for the role. OMG. Angry Baby as Ana Steele?!
She's made no secret of her desire to be a film star and it seems that Cara Delevingne may have struck gold – or grey- with her latest move. The 20-year-old model has reportedly auditioned for a highly coveted role in the hotly anticipated Fifty Shades Of Grey movie. Cara, who has seen her star rapidly rise this year, apparently impressed producers in her audition for the movie adaptation of E.L. James' erotic trilogy.

A source told The Sun: 'Cara is a front-runner for a part. She's desperate to get the gig and has always said that she wanted to be taken seriously as an actress.'

Insiders have revealed that Cara became close friends with actor Aaron Taylor-Johnson during her film debut in the 2012 Hollywood remake of Anna Karenina, alongside Keira Knightley and Jude Law. And it just so happens that Aaron's wife Sam Taylor Wood is directing the upcoming Fifty Shades movie.

The source added: '[Cara] is a global icon now and a good actress as well and Sam wants her in the movie – though which part exactly hasn't been established. [Cara's] agent has also been talking to Kelly Marcel, the screenplay writer. And, if needs be, a strong role will be written in for her.'

Anyone who has been following the model of the year, they will know that ambitious Cara doesn't just settle for one job at a time. The supermodel, who walked in over 30 shows in fashion week last season, will also appear in Kids In Love, a drama about hard-partying young Londoners.

Speaking about the film, a source told The Mail on Sunday: 'The film is all about rich kids who live a wild lifestyle filled with parties and drugs. So some aspects of the storyline will not be a particularly big stretch for Cara,' said a friend of the model, who is regularly out at the capital's hotspots with the likes of Rihanna.

'It will be Cara's first big screen role, so she's really excited about it and is eager to make sure that she does a good job. Her name in itself will obviously be a big draw for the film too.'

And film work is not the end of Cara's ambition. The blonde starlet, who heads to Ibiza next week to celebrate her 21st birthday, is also keen to break into the music industry.

She recently begged rapper Pharrell Williams, who performed on summertime hit Get Lucky, to team up for some recording studio sessions after starring in a shoot with him in Vogue's September Issue. Could 2014 be an even bigger year for the non-stop model?
Lord, someone is working overtime to make Cara happen. In the last post about her, one brilliant commenter summed up Cara's staying power thusly: "She's this year's Agyness Deyn." That IS exactly what is happening here. You can defend her "look" and her "originality" if you want, and I will agree, it is refreshing to see a model who isn't a bland piece of toast, but she's just a bored, hipster posh girl with dark eyebrows. Let's reel it in a bit, you know? It does feel like Cara is being shoved down our throats as The Next Big Thing, but I doubt 50 Shades producers will succumb to Cara. I really don't think women who want to relate to Anastasia Steele will want to relate to Cara Delevingne.
Also, randomly, there are rumors about Dakota Johnson for the part too. She's the daughter of Melanie Griffith and Don Johnson and she was on that horrible Ben & Kate show (which was put out of its misery, thank God). I think she's a really meh choice. And she's mostly blonde anyway.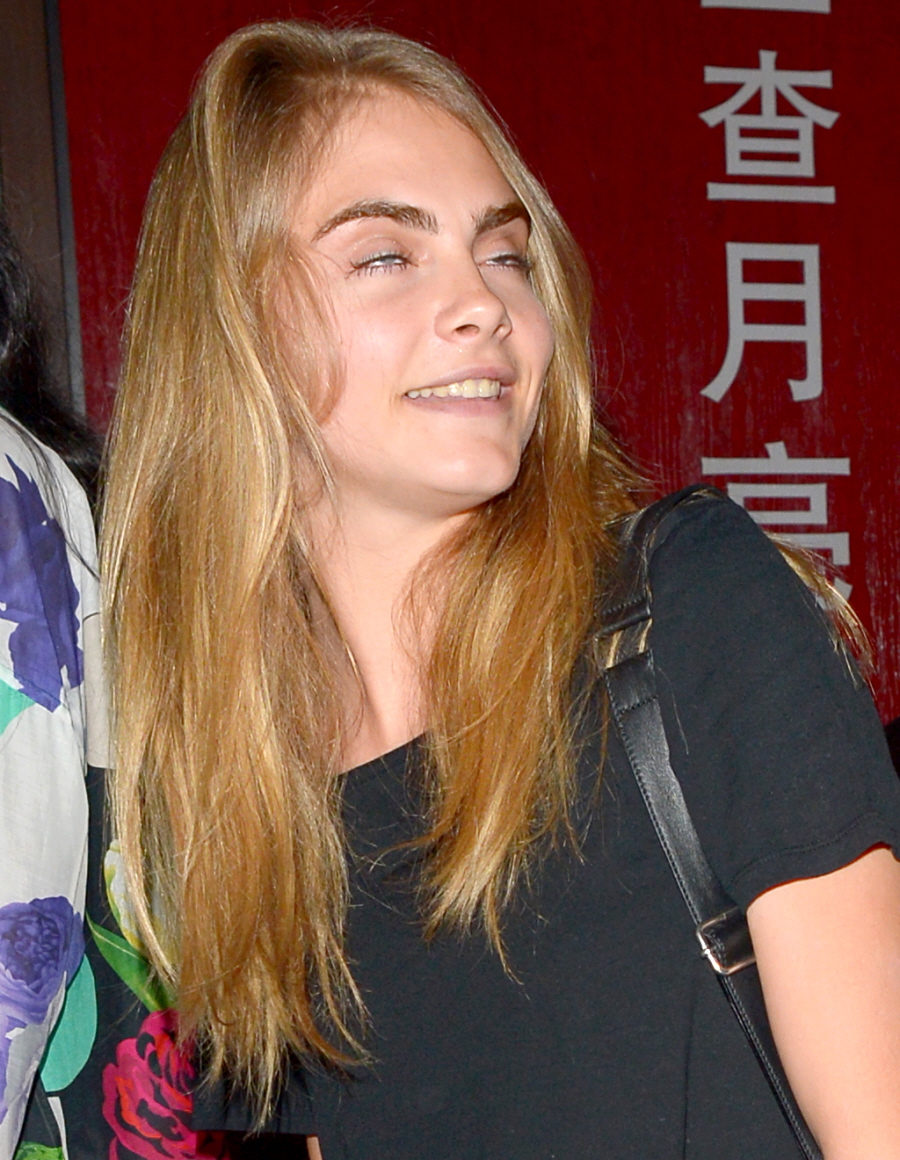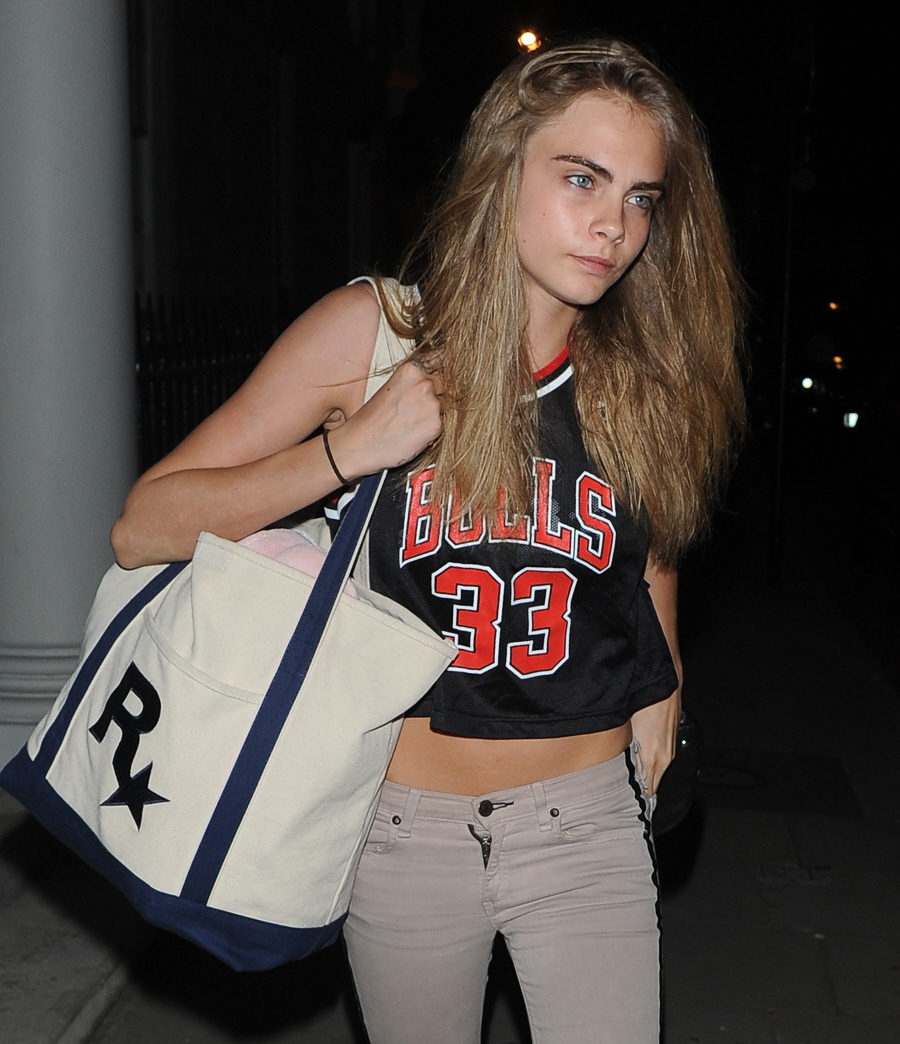 Photos courtesy of WENN.