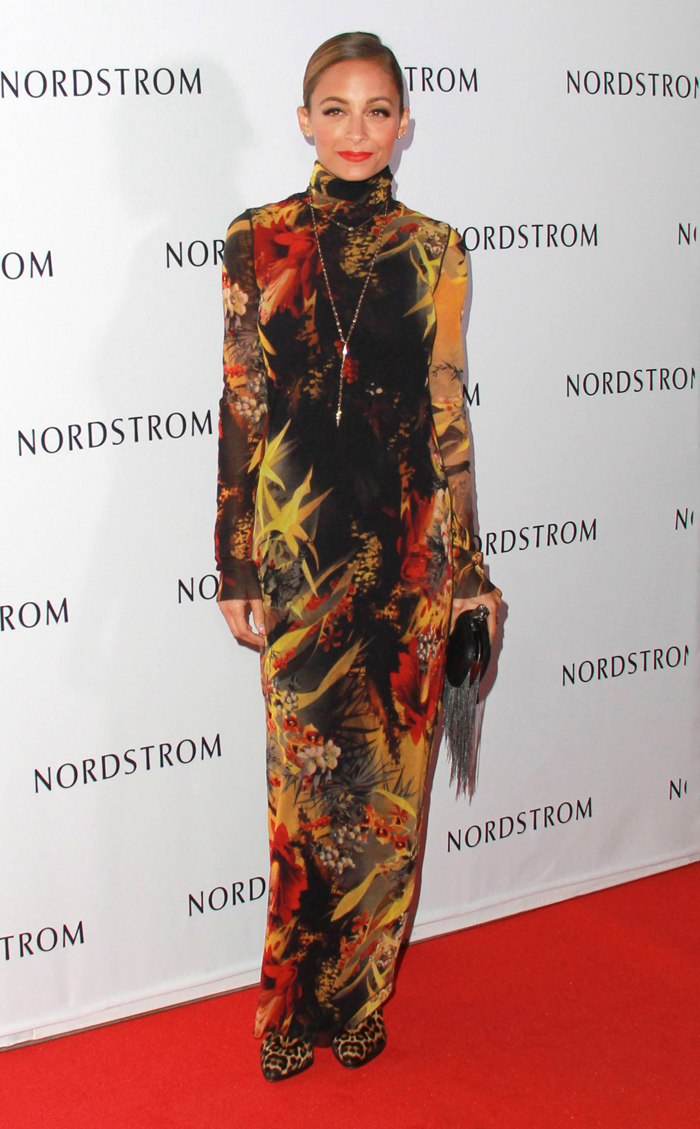 These are photos of Nicole Richie last night while hosting a Nordstrom store opening in Glendale. Nicole really went all out for this event. She combined a full-length, oriental floral print dress with odd leopard print shoes and a fussy, fringey clutch. What do you think of her dress? It's Jean Paul Gaultier, and it is hideous. Somehow she pulls it off! There's something to be said for poise and confidence. This getup would overpower most women on the red carpet, but Nicole makes it work. I'd still advise her to take it easy on the bronzer because she looks a bit orange.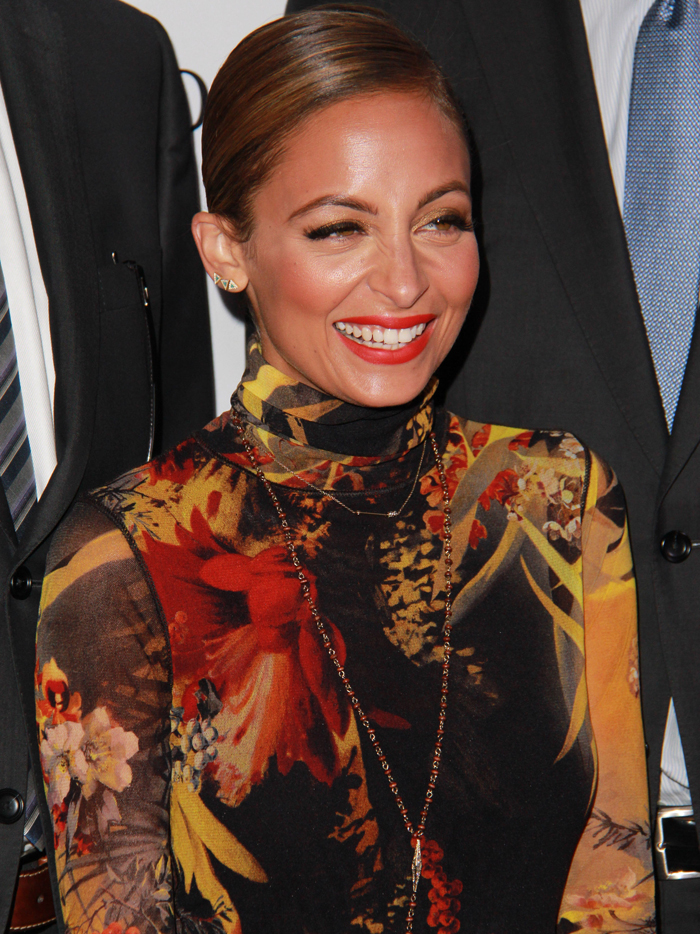 Nicole also appears in an interview with the October issue of Elle to promote her House of Harlow jewelry. Nothing earth shattering came out of this talk, but her personality is worth it:
The new House of Harlow vibe: "Because my line is called House of Harlow 1960, people assume it's literal. What I mean when I talk about "The '60s" is a vibe that definitely extended into the '70s as well. It's about freedom and labels not really being part of your wardrobe. It's about layering lots and lots of jewelry, and having everything transition from day to night. It's really about that free-spirited energy and excitement that you can see in those periods, not a definite or defined year."

She has a new dog, Iro: "At first, it was Joel's thing. He did all the research. He was very specific about the kind of German Shepherd he wanted, and he was really involved and really excited about getting a dog, but now I'm his primary caretaker! He's my dog for sure!"

Iro will co-star in her ads: "Because he's a fame [ho] and he lives for the camera. [Laughs] What can I say, some men need attention, and need to be adored! And Iro is one of them!"

Her favorite hairstyle: "I am the best braider in the world. I can braid anyone's hair, I can braid my own hair, and I can do all kinds of complicated and intricate braids. I'm a master of the braid."

She's not into makeup: "I'm not that kind of "lady" who always leaves the house with makeup. In fact, the only time I wear makeup is when I'm working. So I have no idea how my eyeliner stays on. All I know is that I have really talented makeup artists."

What word would she like to retire? "Chic!"
[From Elle]
She's so funny, right? I always say this, but every time I read one of Nicole's interviews, I'm startled at the way Nicole has grown and matured while Paris Hilton is trapped at age 21 for all of eternity.
I'm giggling just a bit at this picture of the Nordstrom brothers towering over Nicole. She's got more presence than all of them combined.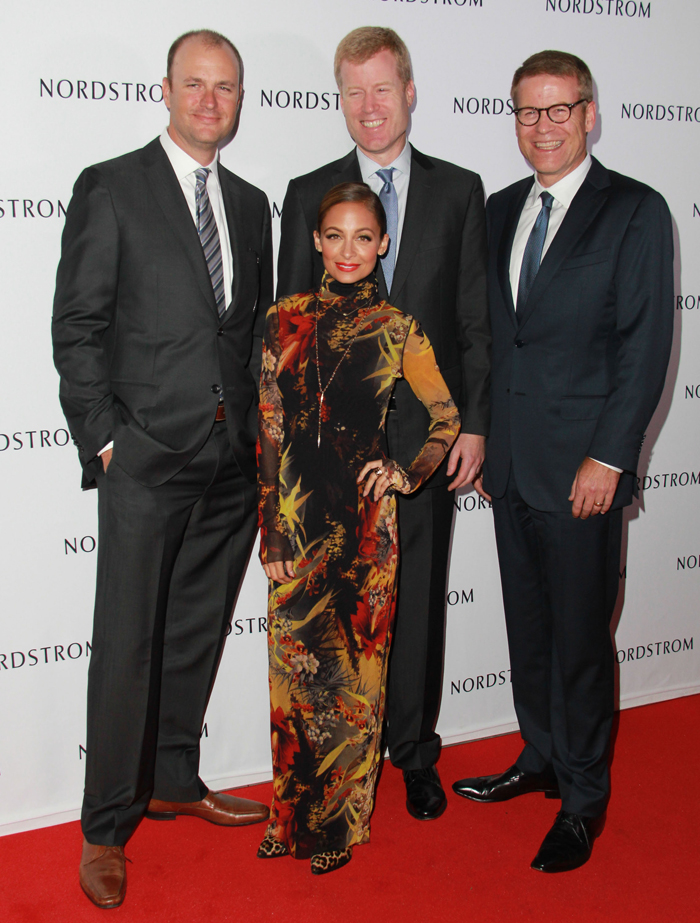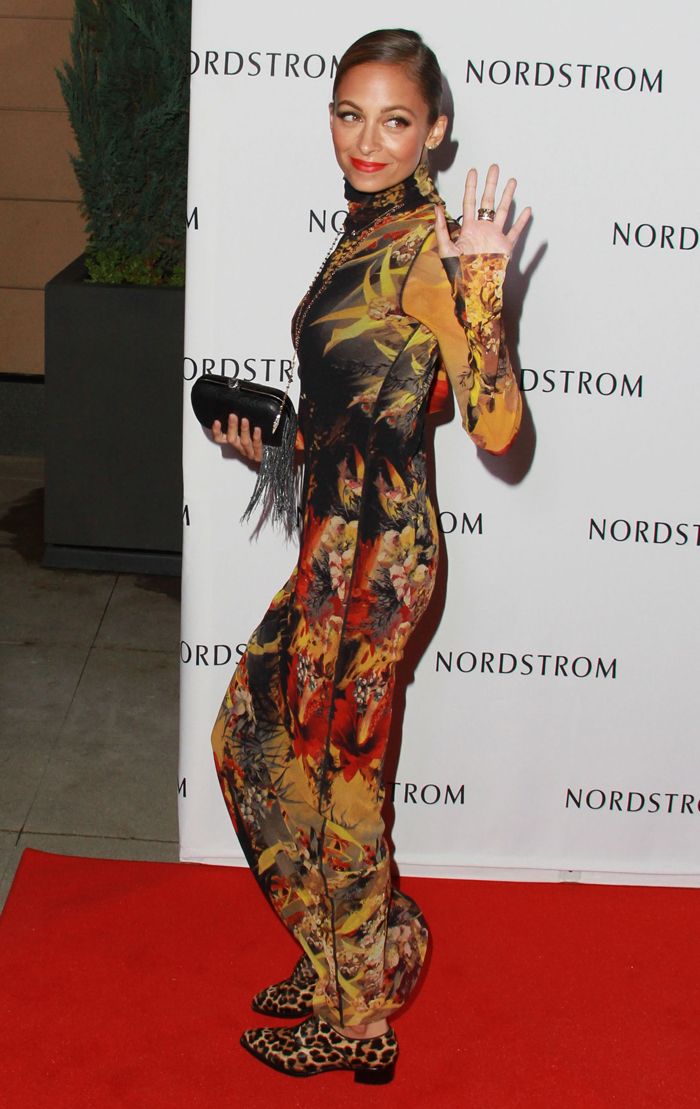 Photos courtesy of Fame/Flynet