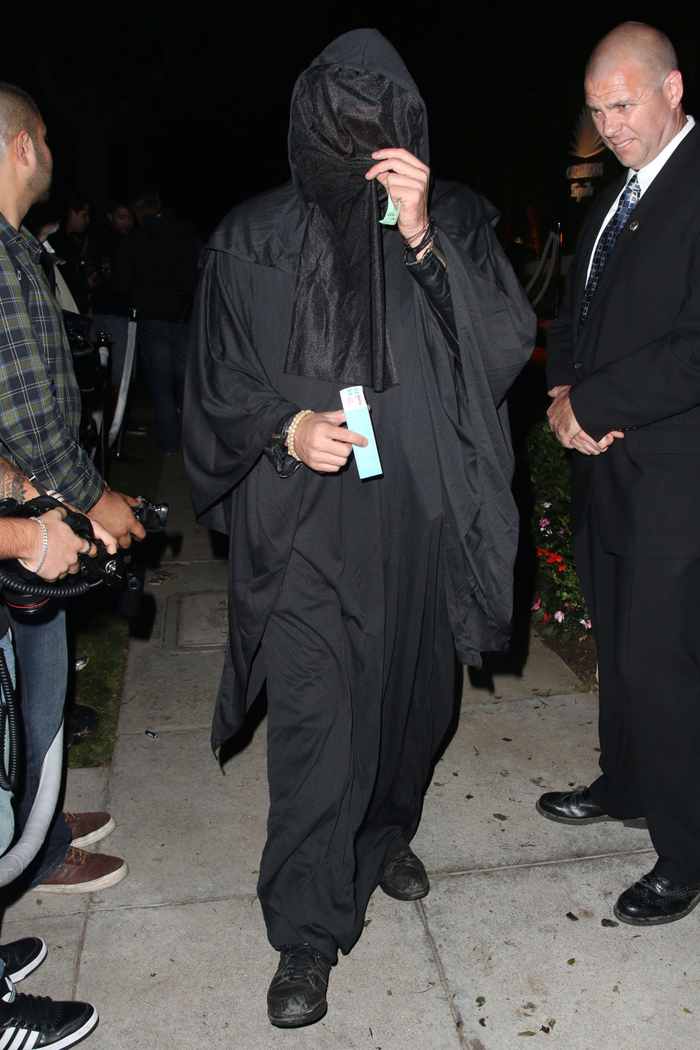 Honest to god, this is what Leonardo DiCaprio wore for a costume on Halloween. After catching a glimpse of this ridiculousness, I emailed Kaiser and CB to ask, "What's he supposed to be … an a-hole?" Maybe he was supposed to be the grim reaper or something similarly ghoul-y, but all I see is a smug a-hole who didn't want to bother with a costume. My point is you can't really tell that's Leo underneath all that drapey fabric. Even this closeup pic reveals nothing, right?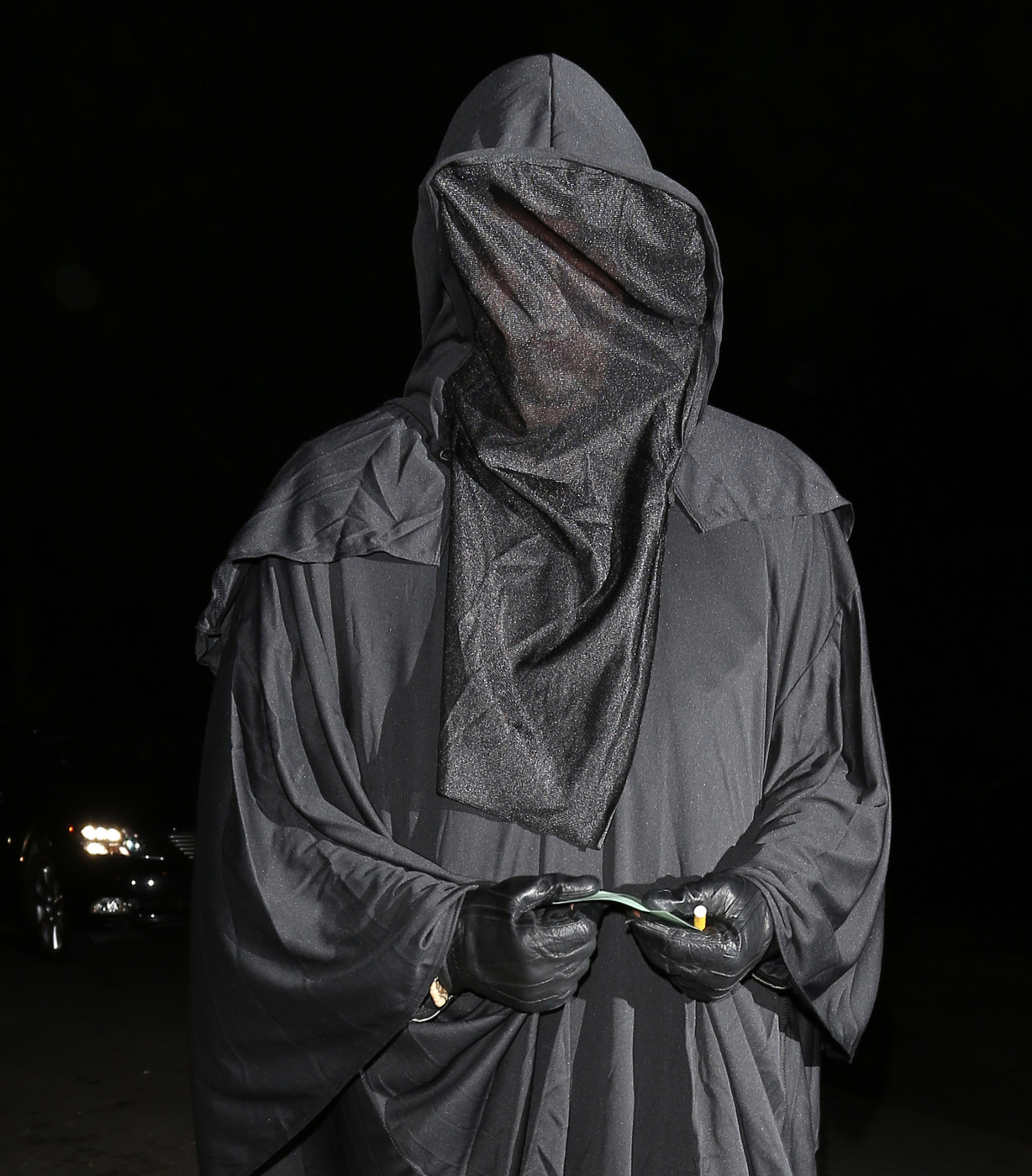 Anyway, Leo is so secretive, yet he demands the utmost attention at all times. Even when his entire being is completely shrouded in black fabric. When he showed up at his chosen Halloween fiesta, he was completely aghast when the girl working the door didn't recognize him and drop to her knees in a gesture of blind worship. Uh-oh:
"Don't you know who I am?!" It's the phrase every event organizer dreads — but one heard it loud and clear from a disguised Leonardo DiCaprio when he wasn't recognized at the Casamigos Halloween Party in L.A. on Oct. 25. "Leo told her his first name, but she still didn't know who he was. Meanwhile, the Shahs of Sunset cast members strolled right in," recalled Star's witness. "Finally, he yanked off his mask and shouted, "Are you kidding me? I'm Leonardo DiCaprio. I'm going in!' He was livid, and the poor girl almsot lost her job!" Not all tricks are treats!
[From Star, print edition, November 18, 2013]
Basically Leo pulled a Rihanna here, and Rihanna isn't even close to the first person who's pulled that card. Don't celebrities realize how awful they sound when they say stuff like this? That poor girl at the door had no bloody what she was dealing with.
Here's some photos of Leo in Paris on Wednesday. He was on hand for a swanky TAG Heuer event, and everyone knew who he was.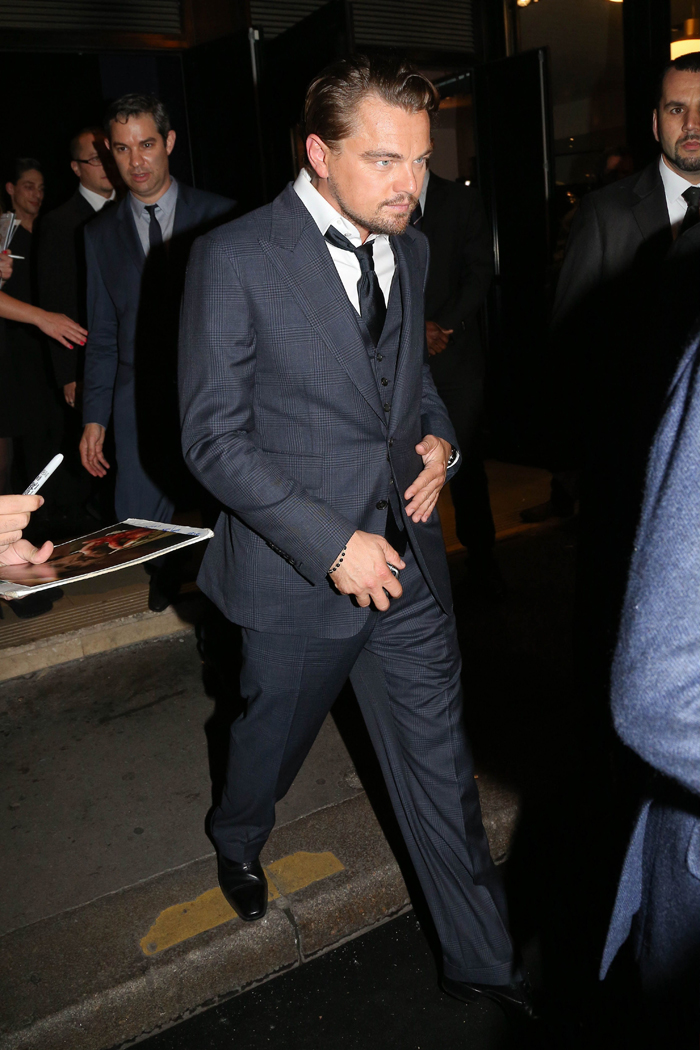 Photos courtesy of Pacific Coast News & WENN