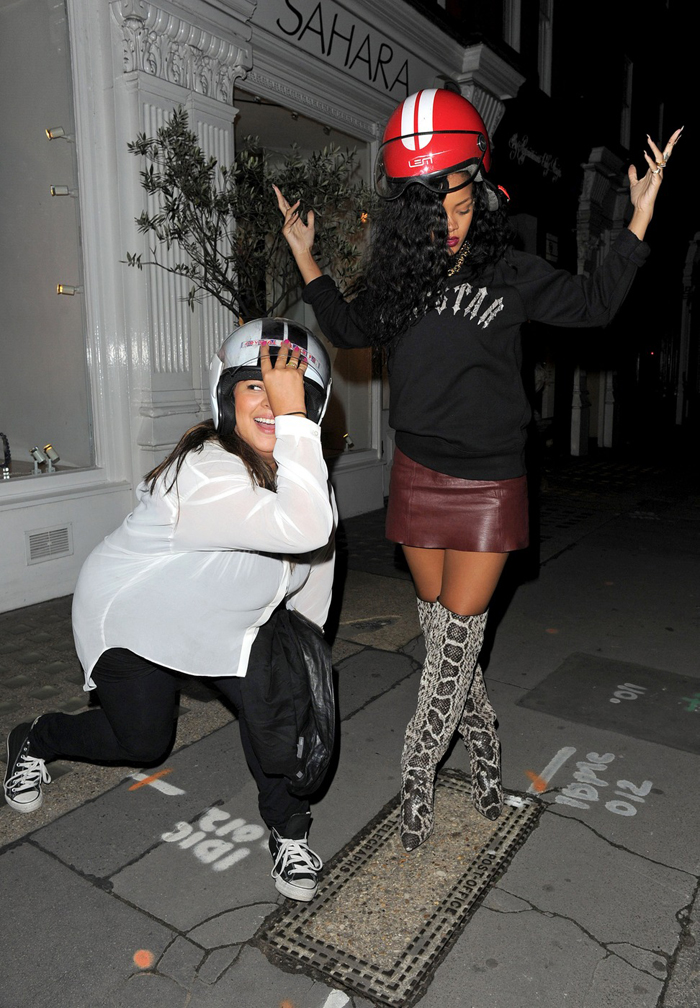 This story is a few days old, but I'll just use Labor Day weekend as an excuse. Rihanna's been in Europe lately working on her fashion line, which of course will sell like hotcakes but will be oh-so-trashy. But Rihanna is definitely not the all-work-and-no-play type of girl, so she has been enjoying some nights on the London scene. These photos show her outside outside the Rose Club and fooling around on some stranger's moped after she nearly got kicked out of the club for making a royal mess after she drunkenly hopped onto a table, which promptly broke and sent shattered glass in all directions.
Obviously, Rihanna has a bit of an issue with alcohol. She's forever posting photos of herself with a drink in hand to various social media sites, and she recently partied herself into the hospital after the Met Gala. She's also been accused of having narcissistic personality disorder, which could explain why she revels in showing off her drunkenness in public. Basically, she's a mess, and here's what happened at that London club: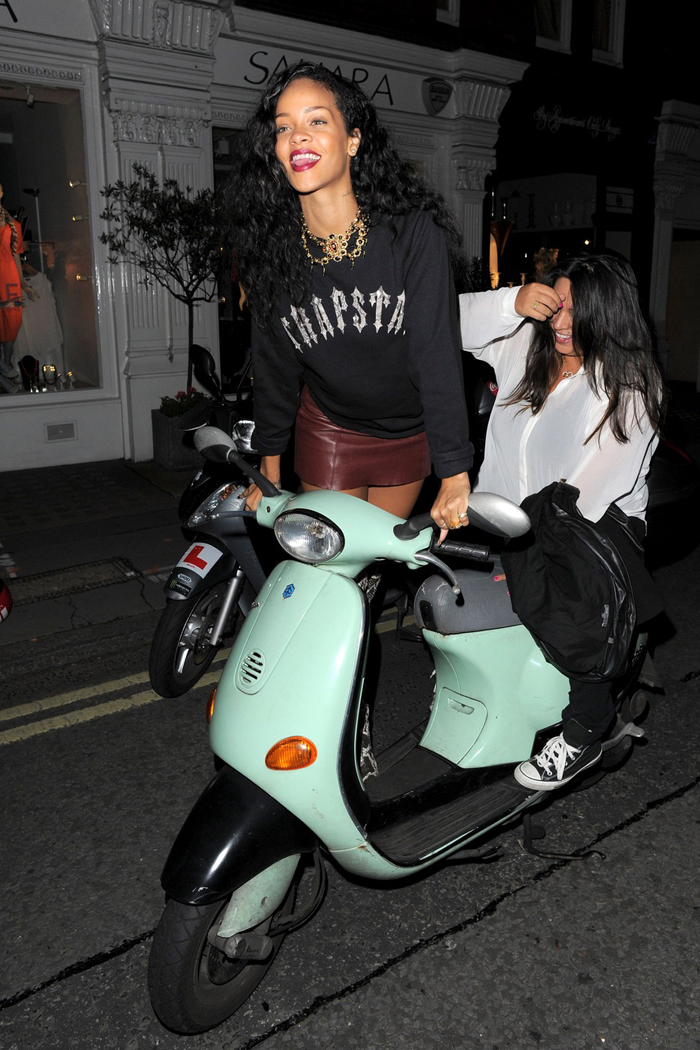 Boozy Rihanna sparked fresh fears over her party lifestyle yesterday after clashing with bouncers in a nightclub. The hard-drinking pop queen was hauled away by doormen after jumping on a table and wrecking it – sending glass flying.

Rihanna, 24, was allowed to stay at the trendy London nightspot only after pals spoke out on her behalf – but left at 4am, pictured above, for ANOTHER party. Earlier the raging Bajan had screamed: "Don't you know who I am?" as doormen grabbed her following her drunken fall.

Bouncers moved in after the beauty, wearing thigh-high snakeskin boots, jumped on the private table, which broke apart and sent her crashing to the floor. Bottles of champagne and glasses shattered as she fell, drawing gasps from onlookers.

Security hauled the singer away from the table in front of 300 revellers and a scuffle kicked off. Rihanna – seen downing champagne and cocktails – yelled at the bouncers while friends shouted at them to leave her alone. One pal said: "They were trying to eject her when her girlfriends starting screaming, 'That's Rihanna, you idiots!'

"Ri was telling the bouncers to get off and there was a scuffle. I don't think they recognised her. Finally, before they got to the exit doors, they realised their mistake and the club manager ordered free drinks for the table. And a new table, of course."

The early-hours incident at central London's Rose Club sparked fresh fears that the Umbrella star's partying is spiralling out of control. One music industry insider said: "Her boozy behaviour's raising eyebrows. Everyone likes a drink, but her more than most."
[From The Sun]
Oddly enough, I take issue with the idea of the bar's making a "mistake" in dragging Rihanna away from the broken-glass-and-table mess she'd made simply because she's a famous pop star, i.e., "kind of a big deal." Anyone who engages in such drunken shenanigans is a danger to the public and to herself, and I think that, no matter who someone is, they should be ejected from a club when they pull that kind of nonsense. But no. Rihanna was allowed to continue boozing it up regardless of what she'd done, and that's exactly how it's going to go down until someone (probably her management — which still includes Jay-Z) makes her get her ass into rehab.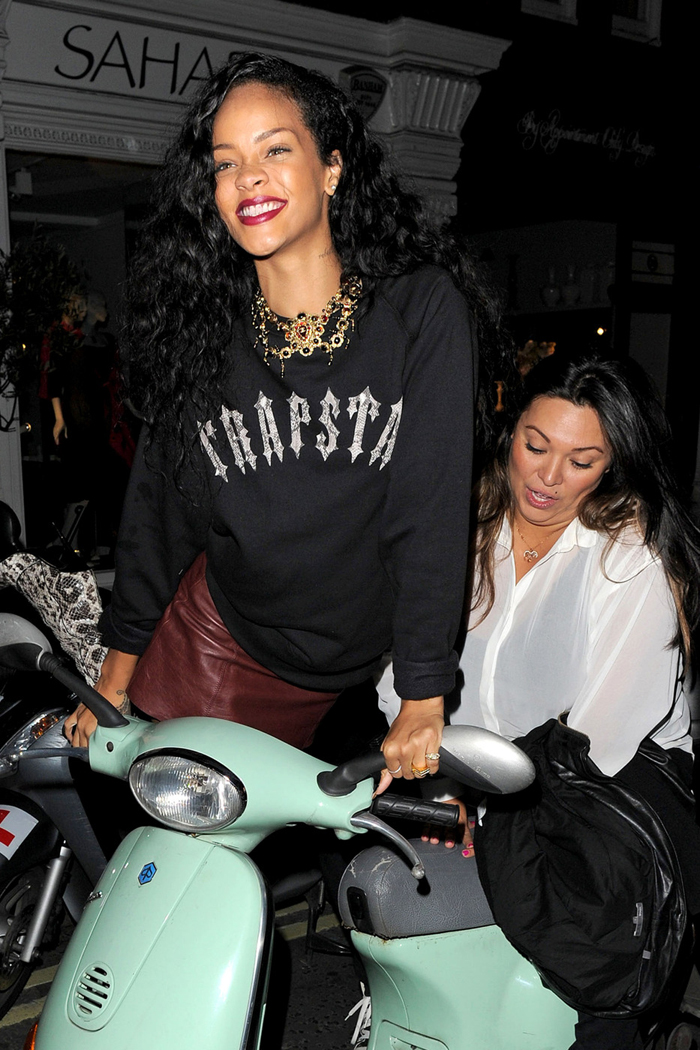 Here's RiRi hopping on a Eurostar train bound to Paris. Her fashion line is going to be one hot mess.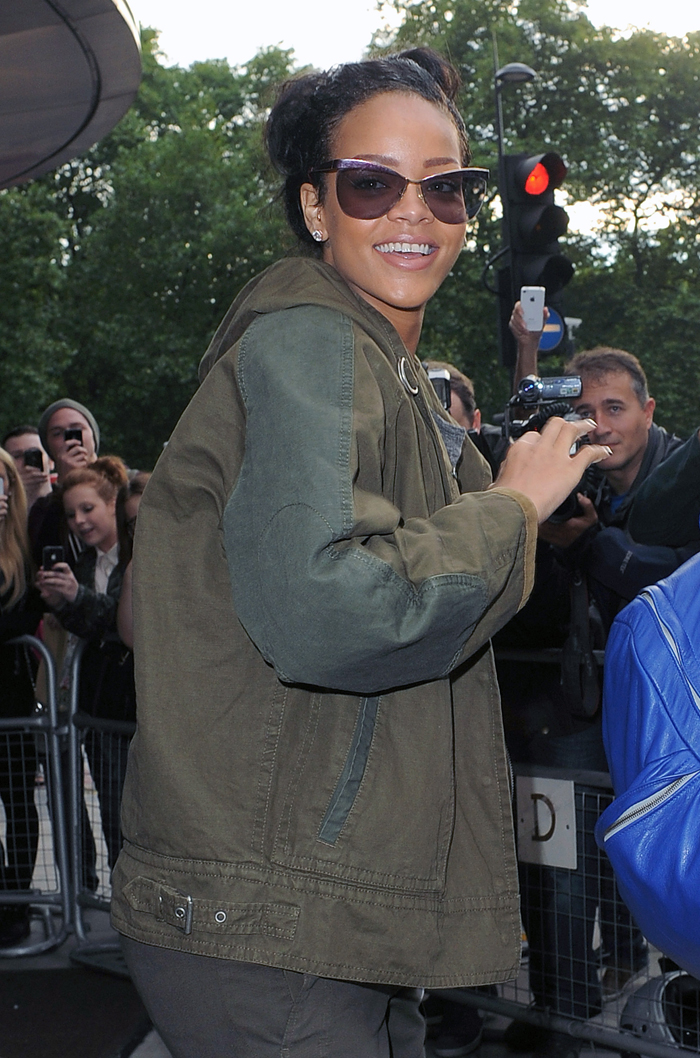 Photos courtesy of Pacific Coast News and WENN