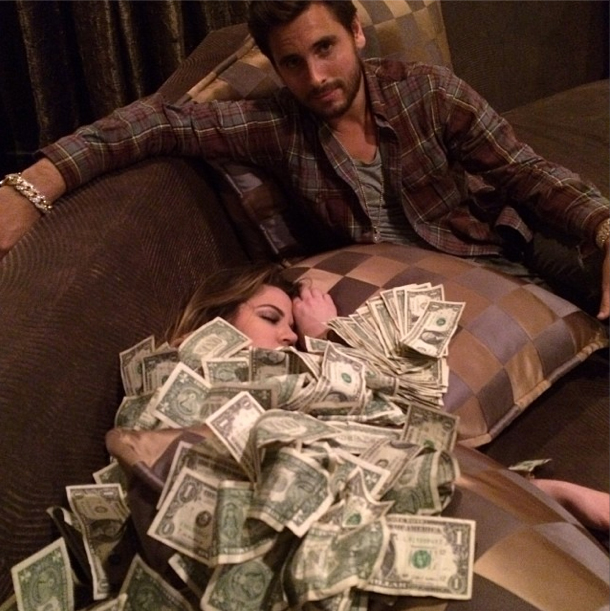 Scott Disick is behaving badly again on his Instagram account. Last time we spoke of Scott, he was playing the vaudeville villain of the Kardashian family (as opposed to the true villain, Kris Jenner) by taking underaged Kylie and Kendall to a very adult club. He's also recently flaunted his wealth by posting a picture of his "toilet-paper money," which enraged plenty of people on the internet. And for good reason. That little stunt involved actual $100 bills.
Now Scott is pulling another money-photo stunt by posting a photo of himself cozied up next to Khloe Kardashian, who is covered in a blanket of cash. At least these are only $1 bills (he's now recession minded), but the message is clear — Scott Disick is a spoiled brat with money to burn, and he wants you to know it. Is this offensive?
You may wonder why Scott's pulling this little joke with the help of Khloe instead of his partner, Kourtney, with whom he has two children. I'm sure they want you to wonder what's going on too. Khloe and Scott are actually playing a little game where they're consciously appearing way too affectionate with each other. Here's a photo of them holding hands while heading to a hot dog truck. Awww: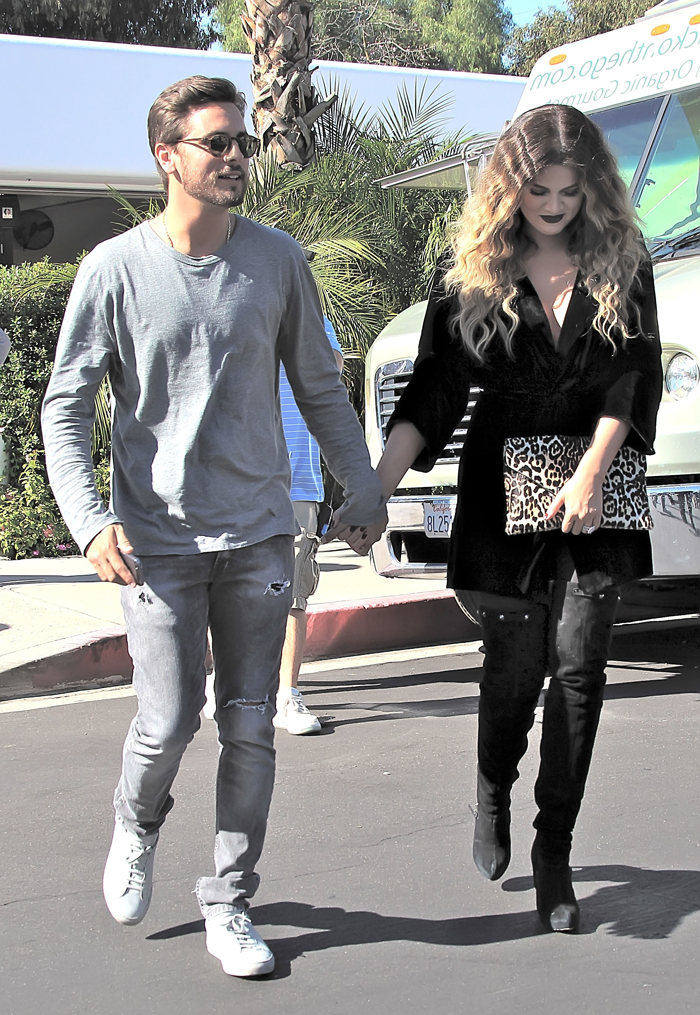 This photo is perfectly timed with a new In Touch story about how, like, jealous Kourtney is about Khloe and Scott's newfound close friendship. They're bonding over their respective crises, and a source called Kris Jenner has turned it into a storyline:
It was an unlikely sight: Khloe Kardashian and Scott Disick stopping by an LA food truck to grab hot dogs. But even more bizarre? The pair's intimate body language as they walked off holding hands. "It's weird; he's basically her brother-in-law," says an eyewitness to their cozy Nov. 8 lunch date. "Khloe and Scott just seem way too close for comfort. If I were Kourtney, I think it would bother me.

It does. After years of public bickering, Former enemies Khloe, 29, and Scott, 30, have bonded deeply as each copes with a personal crisis — her crumbling marriage to Lamar Odom; his despair over the recent death of his mom, Bonnie — and Scott's other half, Kourtney, is flipping out. "She's jealous because her man and sister are spending so much time together," says a Kardashian insider. "She's not happy about the situation. It's driving her nuts."

Khloe and Scott understand each other in ways Kourtney, 34, never will, says a second Kardashian insider. As Khloe struggles to deal with the fallout from Lamar's alleged drug use, "Scott is sympathetic because he's had his own problems with alcohol abuse," says the source. "Kourtney had told Khloe to juse move on."

And Khloe is more equipped than her sister to understand Scott's pain in the wake of his mom's death after a long illness. "Kourtney couldn't help Scott through his grief," says the source. "She tries to comfort him, but it doesn't come naturally to her. She's not an emotional person. Khloe gives Scott somethng that Kourtney doesn't."
[From In Touch, print edition, December 2, 2013]
So much drama, right? I don't think Kourtney even gives a sh-t. She knows damn well that her sister (Khloe anyway) would never touch her man. Plus Kourtney is so spookily laid back about her relationship with Scott. I think they're solid, but I also think Kourtney would be fine without Scott. He couldn't live without her and her family's fame though. Scott might have his own family money, but he feeds off the fame.
Here's another gem from Scott's Instagram, which is captioned, "That awkward moment when you realize you have the wrong sister."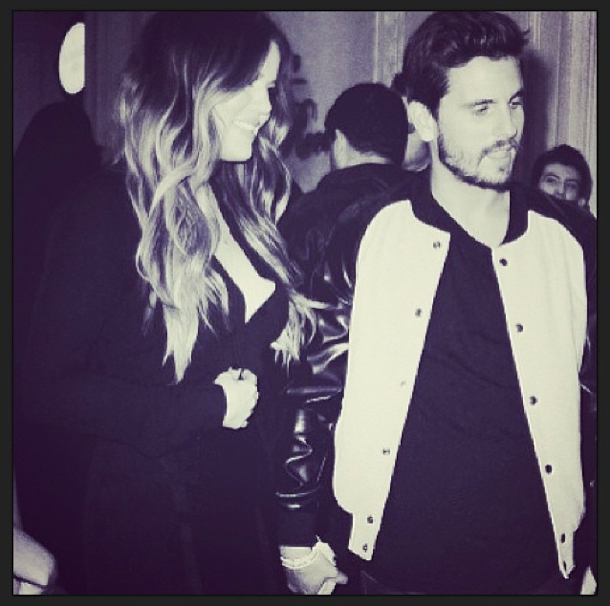 Photos courtesy of Scott Disick on Instagram, Fame/Flynet & WENN