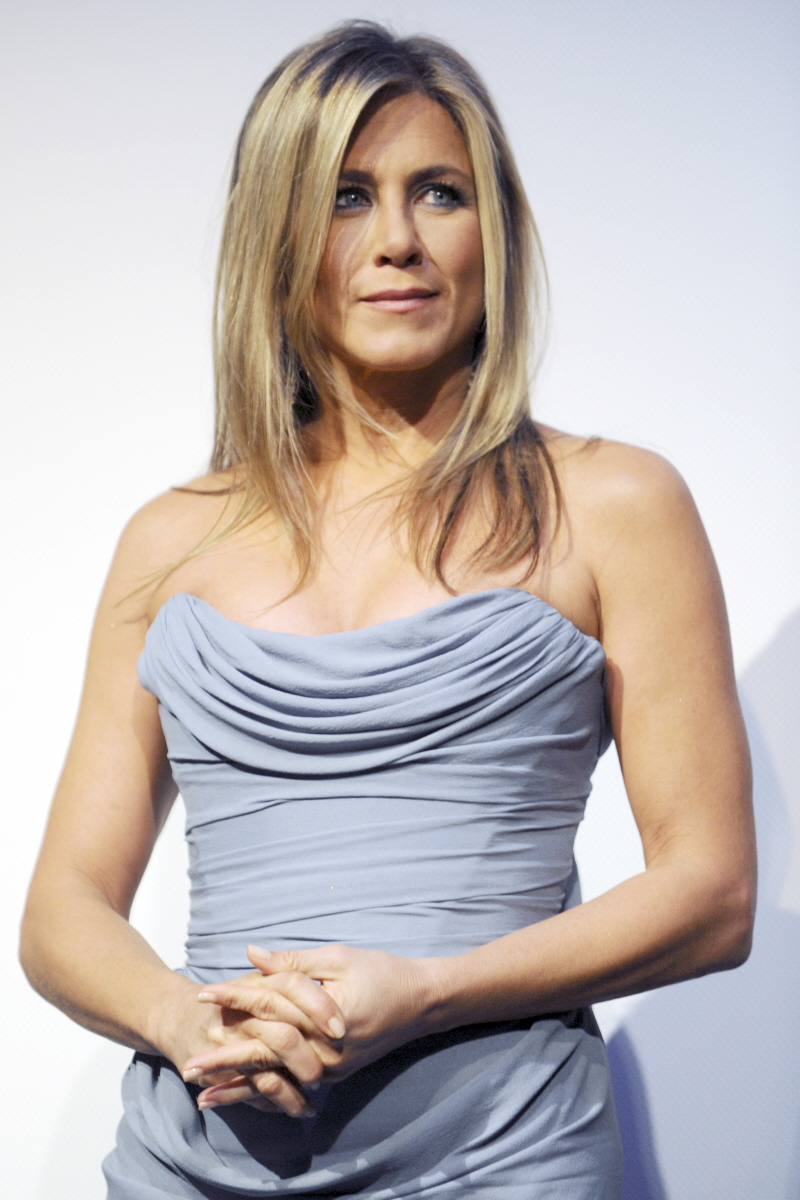 Jennifer Aniston made her way onto one of Forbes' many listicles. Forbes does so many analyses of Hollywood and who makes what and who's a good deal for the studio and while I agree with much of statistical analysis, I do think there's an X-factor, something intangible, something unquantifiable that doesn't always make it onto these lists. But that's neither here nor there. As I was saying, Jennifer made one of the bad lists. She's number 8 on Forbes' list of "Most Overpaid Hollywood Stars" – you can see the slideshow here. #1 is Adam Sandler, then Katherine Heigl (HAHAHA), and Reese Witherspoon made the list too (she has a higher ranking than Aniston). Kevin James, Nicolas Cage and Denzel Washington are on the list too, and all make less money back to the studios than Jennifer. Jennifer is right up there with Steve Carrell and Ryan Reynolds, meaning that for every dollar they're paid (and Jennifer averages a $10 million paycheck), they bring in about $10 to the studio. It's an interesting list, but do you see what I'm saying about an intangible "x-factor"? No matter what, Denzel is still going to be work whenever he wants on a wide variety of projects, regardless of how much money he brings in.
So, considering Jennifer is never really going to get this whole "movie star leading lady" thing going (she will forever be a character actress, which seriously is not the worst thing), it's no wonder she has a growing cadre of side-projects. Remember Living Proof? That's Jennifer's MIT-made haircare line which she invested in and now represents in many, many interviews. These interviews are just infomercials and I wonder why magazines are even participating in this bulls—t, especially now that we know Jennifer isn't really using Living Proof, she's doing wacky, formaldehyde-based hair treatments that burn off her hair. So much for Living Proof! Anyway, Jennifer sat down with Parade to talk about hair, aging and all that good stuff:
The Living Proof infomercial: "Other hair companies have approached me before, but I didn't just want to be a face of a brand. So I used it for a couple of months and gave a bunch to Chris [her longtime hairstylist Chris McMillan] for him to use at the salon. It happened to be at the time when I was in North Carolina filming [We're the Millers] and it was like 100 percent humidity, so I used the frizz products at first, and I was really impressed. It's a new company and they're eager and exciting and they let me be involved in the smells and new product ideas."

Her favorite hairstyle: "Well, that's a good question because I just chopped it all off! I'm loving it right now. It's right below my ear. I went short! But I do that every couple of years. It's just nice to do something different. We were at a photo shoot the other day and I just said let's chop it off! It was one of those moments. I love doing something different and changing it up, but at the end of the day, I'm a lover of long hair. I just think it's beautiful. I would have to say that's my go-to fave."

Hair envy: "I think Giselle [Bundchen] has exquisite hair. That's a pretty envious head of hair! And I love Kate Moss. She always has great hair."

Oh, it's an Aveeno infomercial too: "There's barely any style! The beauty routine is the same: I wash my face, I brush my teeth, and I jump in the shower. I have my little products I've used since I've been in my 20s, which is basically my Aveeno body moisturizer and I'll put some serums in my hair because I try not to wash it every day. I will usually just sort of wet my hair and reshape it. And I put on sunscreen and no makeup. I usually put my jeans on and a T-shirt. I'm a sweats and UGGs girl. Very casual."

When do you feel most beautiful? "I feel most beautiful when I'm just at home with [fiance] Justin Theroux in the morning. Or any time of day I'm with him."

Does she watch Friends reruns? "I actually will always stop and watch, not for the whole thing, but usually because I've forgotten a lot of the episodes. It's sort of fun for a second, I'm like, what's this one? And sometimes it comes back to me. I always know what year it was by what length my hair was or what color."

What's going on in her life? "My life is so fantastic. I'm so happy. There are a lot of exciting things that I'm excited about doing. We're about to do a sequel to Horrible Bosses, which is such a fun character for me. And I think I'm going to try at some point next year to direct a full-length feature, which I'm extremely excited about. I'm just so happy and I'm grateful for my fans. I just hope I keep doing work that they love."

Surprise, she loves science: "Well, I love the science channel. Have you ever watched NOVA? Those are always really fun. When I was a kid, my dad and I would literally watch surgeries. I could easily watch all those kinds of science shows: body trauma, life in the ER, all of that stuff. I just find really interesting. Maybe it's because my dad was going to be a doctor at one point."

She turns 45 in February: "[What I know now is…] That there's nothing to worry about — although I don't think I had a care in the world at 25, either. That all started in my 30s, my awkward phase. I'm a little bit of a late bloomer! But it doesn't matter to me because it just gets better. They do say youth is wasted on the young, but I feel just as youthful now — if not more — than I did when I was 25. I'm more in my body; I'm more in my mind. Life is full. Life is wonderful. We're very, very fortunate."
I watch NOVA. I love NOVA. But I never watch any of the surgery shows or ER Trauma shows. Those make me break out in a cold sweat. Did anyone else see the NOVA special on interspecies friendships? That was one of the best NOVAs I'd seen in a long time. Inevitably, I get stuck on the NOVAs about birds. I could watch bird shows for days.
Anyway, blah, more Aniston New Age crap, more shilling for Aveeno and Living Proof, more stuff about how happy she is with Justin. Let's hope everything works out for her. I hope this engagement last through the holidays!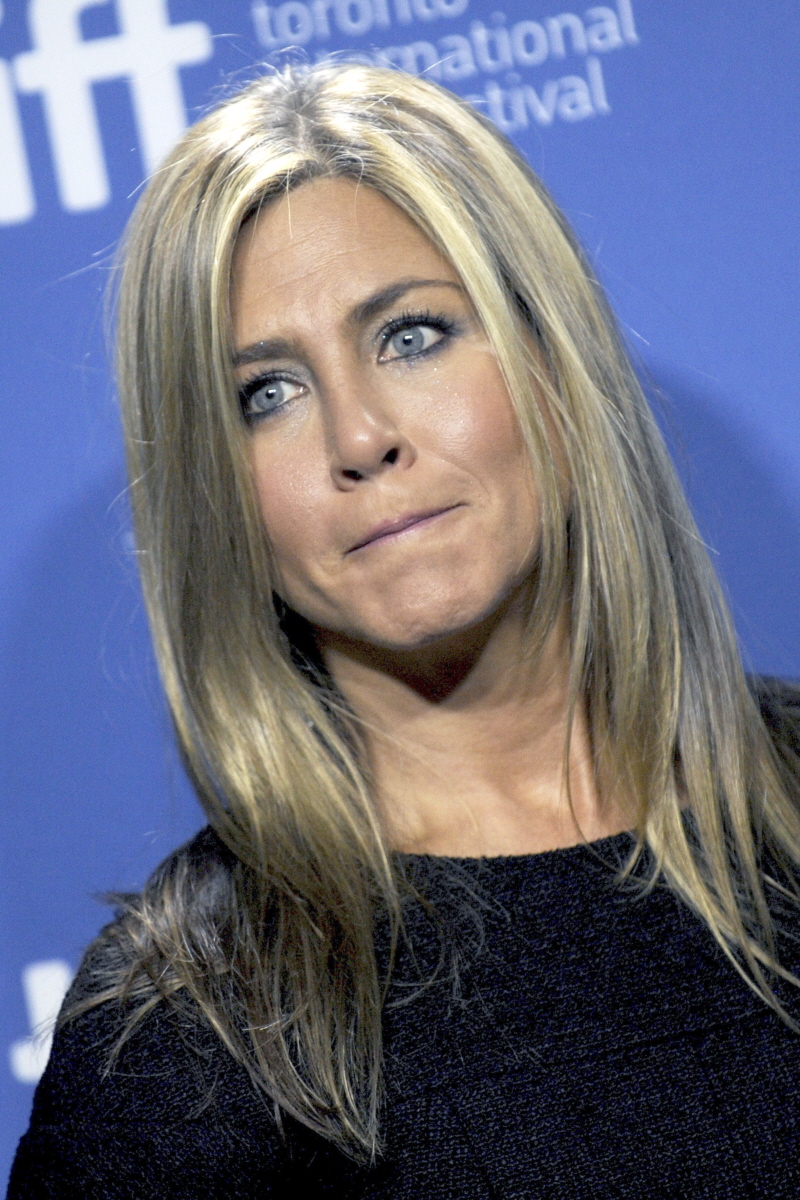 Photos courtesy of WENN.