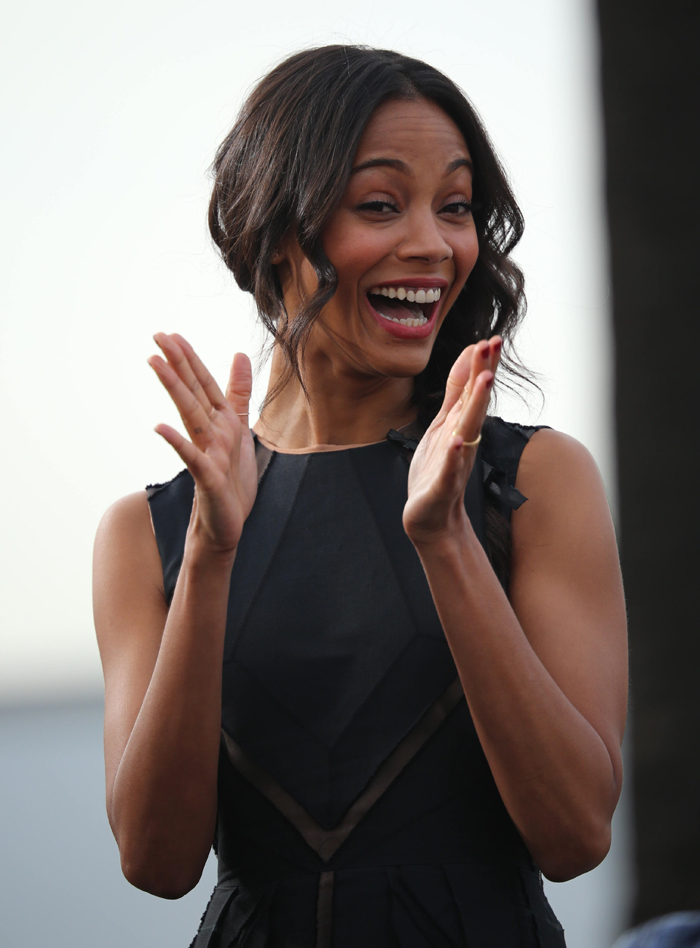 This ought to be a fun post. As you know, Hollywood can't resist putting their paws all over the classics to ruin remake them for a quick buck. Most of these remakes are not only unnecessary but fail to preserve the spirit of the original works. Plus it's plain lazy for filmmakers who would rather rework someone else's project than come up with a fresh story. The latest victim in this diabolical scheme is Rosemary's Baby, which was last directed by Roman Polanski (before we all knew he was a predatory douche). NBC will air the remake as a 4-part miniseries.
This news is unwelcome on its face. Why would any network executive think this remake is a good idea? Advertisers are probably interested because people will tune in for the first part at least. Or will they? The Mia Farrow role has been cast, and Zoe Saldana has emerged as the victor. Oh boy. If Zoe thought she received more than enough criticism for playing Nina Simone, she's not done yet. I'm guessing Zoe may go for the Mia haircut so she can claim once again to live the androgynous lifestyle. Here's the scoop from Deadline:
Avatar and Star Trek star Zoe Saldana has been tapped as the lead in NBC's four-hour miniseries Rosemary's Baby, an adaptation of the 1967 best-selling suspense novel by Ira Levin. The mini centers on Rosemary (Saldana), a young wife and would-be mother who, with her husband, moves into a Paris apartment that has a darkly storied past. After finally getting pregnant, she becomes increasingly suspicious that both her husband and their mysterious neighbors have ulterior motives about the future of her child. The role was played by Mia Farrow in Roman Polanski's 1968 feature adaptation. "Zoe has proven that she is one of our most gifted actresses, and we think she has the perfect combination of spirit and gravitas to take on the title role from Ira Levin's infamous novel," said NBC's head of longform Quinn Taylor. "With Zoe leading the cast under the direction of Agnieszka Holland, this reimagined event miniseries is off to a great start." Holland is directing the mini from a script by Scott Abbott. Production is set to begin shortly in Paris. ICM Partners-repped Saldana recently appeared in the Christian Bale drama Out Of The Furnace, and her upcoming projects include Marvel's Guardians Of The Galaxy and Blood Ties. Rosemary's Baby is the first miniseries greenlighted by NBC as part of its renewed push in the longform arena. It was followed shortly by an order for The Bible sequel A.D.
[From Deadline]
You know, I think I'm actually going to change sides and declare myself as being on board with this casting news. I don't say this because Zoe is such an amazing and "gifted" actress (because she's not). I won't even watch this remake because it sounds ridiculous. However, the press tour for this miniseries is going to be amazing. Zoe's gonna bring her new rack and overly hostile shade in spades. And I can't wait to hear what comes out of her mouth.
Here's Zoe and husband Marco Perego spreading more of their awkward body language in LA a few weeks ago.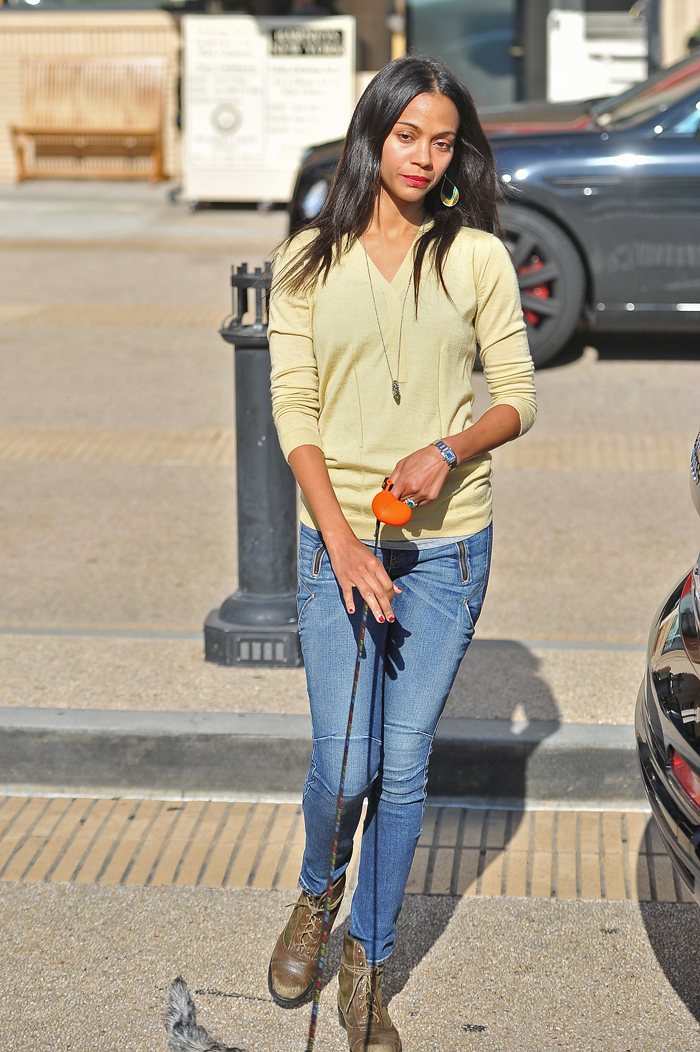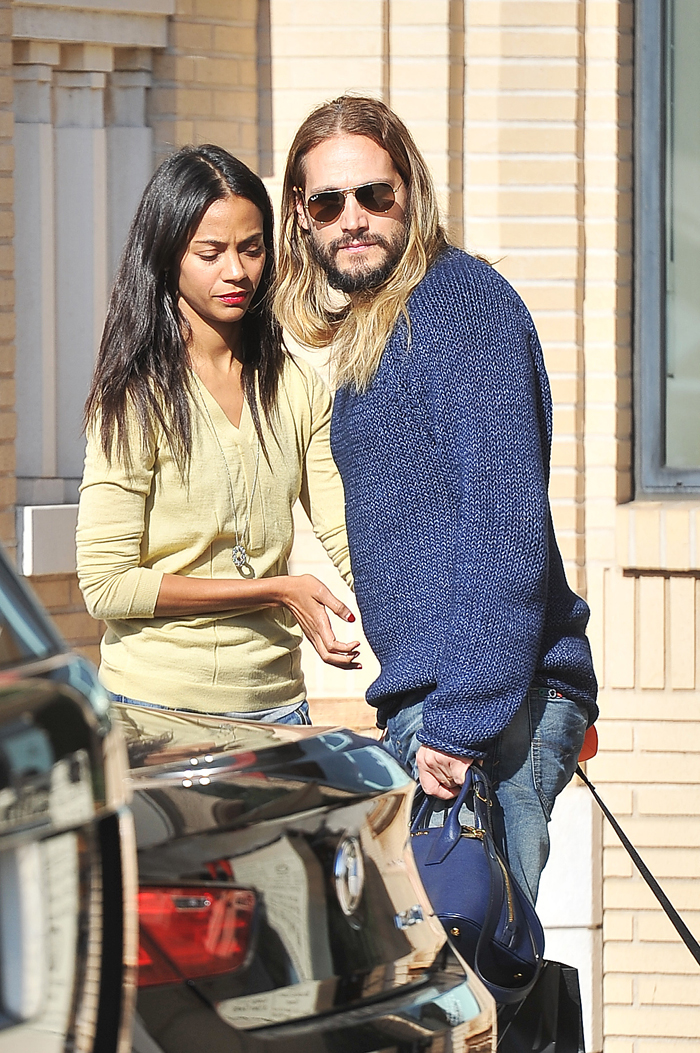 Photos courtesy of WENN