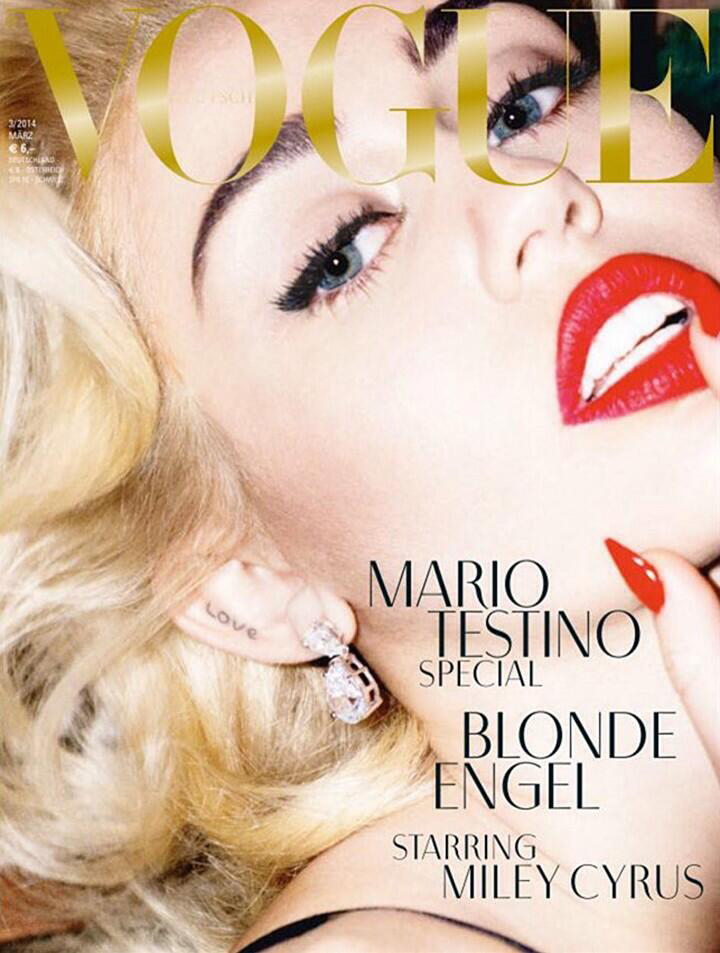 After Miley's raunchy twerking at the VMAs last August, there was some behind-the-scenes fallout concerning Miley as a fashion darling. I think Miley still considers her VMA act a win. She got all the attention for weeks on end! The trade off is that Miley lost all of the goodwill she gathered up at last year's Met gala and with a decent couture spread for Harper's Bazaar. Anna Wintour was not impressed with Miley's gauche VMA antics. Miley really wanted to promote Bangerz with a glorious bang, but word on the street was that Wintour yanked all plans for Miley's December Vogue cover. It's easy to imagine the truth of this rumor. Miley could keep her "white trash and Chanel" vibe all to herself because Wintour wasn't having it on the cover of her fashion bible.
Several months have passed, and Miley's received a consolation prize of sorts: a cover for German Vogue. The photoshoot is titled, "Blonde Angel," which (as CB tells me) is a Marlene Dietrich reference. I don't think Miley's consciously aiming for Deitrich at all. She's going for Marilyn Monroe all the way. That's what all of the starlets do! It's such a transparent tactic. The weird thing is that Miley's pulling it off. I mean, she's pulling off a Madonna-level imitation of Marilyn. It sort of works, right? Then Miley whipped out her rack and distracted us all from whatever Mario Testino was trying to accomplish.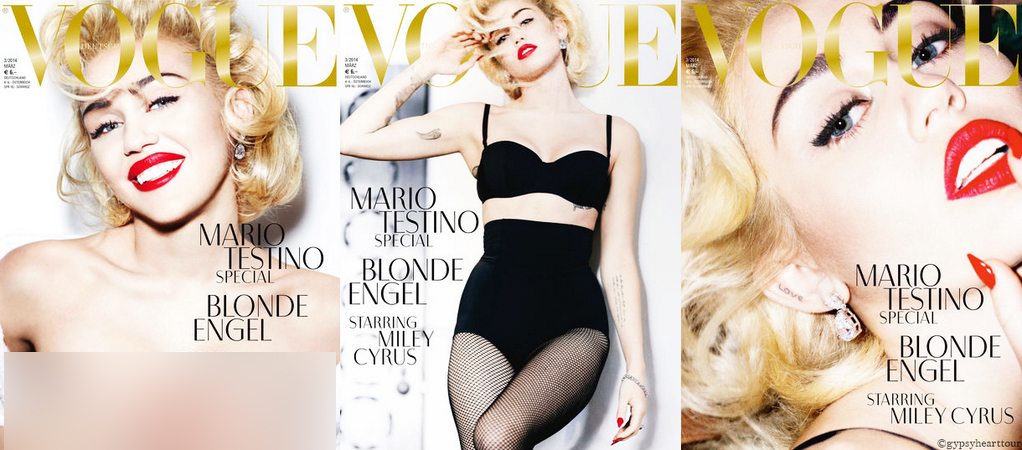 This isn't all of the risqué Miley imagery for the day. A new outtake from crazy-eyebrow W magazine shoot has surfaced. The photo shows Miley topless in bed with photographers Mert Alas and Marcus Piggott. You can see that photo here.
Photos courtesy of German Vogue