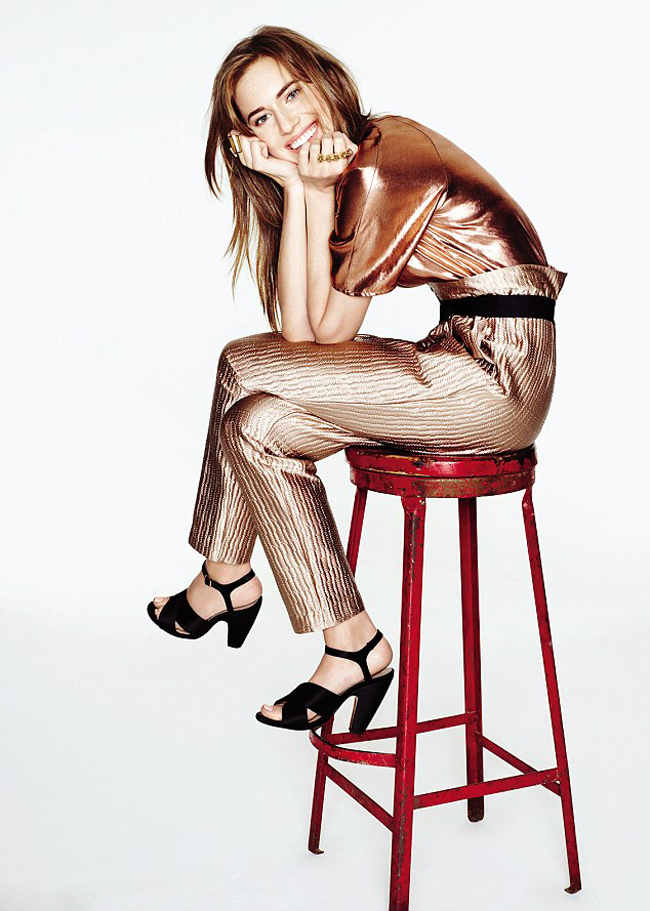 Allison Williams is featured in the March issue of Glamour (the one with Taylor Swift on the cover) to promote Girls. I think Allison looks stunning in this metallic-themed shoot. She looks relaxed and better than she's been styled in months. Allison usually tries to hard to be a fashion darling, but she usually ends up looking uncomfortable and overdressed. Glamour did a good job here. Allison's beautiful hair is swinging free, and the clothes are tailored perfectly to her bod. Plus she looks FUN.
The interview is slightly awkward. Allison is putting forth the image of herself as a very family-forward girl. The type of girl who would throw her career away in an instant for the chance at having babies. There's nothing wrong with being a stay-at-home mom at all. It's a damn difficult job, and I respect the heck out of women who give up the "prestige" of a high-powered job for a largely thankless 24/7 role. With Allison, the declaration seems off somehow. She's strategizing. Perhaps she's not setting the world on fire as expected. Her IMDb profile reveals little on the horizon besides more Girls. Allison will probably end up with a cosmetic endorsement soon, but it feels like she knows her time in film and television are limited. That's the vibe I'm feeling here:
Career vs. motherhood: "My goal is to create a career I can walk away from and become a mom. I'd love to be a mom – and not have to bring my kids into my trailer. That's my long-term thinking. You gotta call it on the fly to a certain extent."

She's not trying to be famous: "If you go into acting for love of the craft, and you dodge the fame aspect, it's more sustainable."

Her personal style: "In college I wore a lot of layers, jewelry, and makeup. As I've gotten older, I've gotten more control of the simple. A typical look is pants and a blazer, or a dress. On the red carpet, it has to be comfortable."

Comparing Lena Dunham to Tina Fey: "[Tina] is humble and efficient. That exact combination was everything to me. Tina knows everyone's name. It's funny, [Girls creator and star] Lena Dunham is the same way. It's hard to misbehave when your boss is so gracious."

On Girls dynamics: "I root for Hannah and Marnie more than I do for Hannah and Adam. Marnie needs a close female friend. Who doesn't? I'd be nowhere without my girlfriends."

What she wants in a girlfriend: "I think the qualities I look for are loyalty, honesty and I think empathy is huge, because as a girl I am entitled to say often we think we want honesty but we want is for someone to say "No, no you look great.'"
[From Glamour]
Am I wrong in reading Allison's meaning in this interview? Let me know what you think.
I think she's positively gorgeous if slightly unremarkable. Like … she's the prettiest girl in the room, but she doesn't "pop" as far as personality goes. Allison is a classic beauty who favors classic looks and clean lines. It's no coincidence that she played Duchess Kate in a "Funny or Die" series. This shoot is really different for her, and it makes me crave popcorn.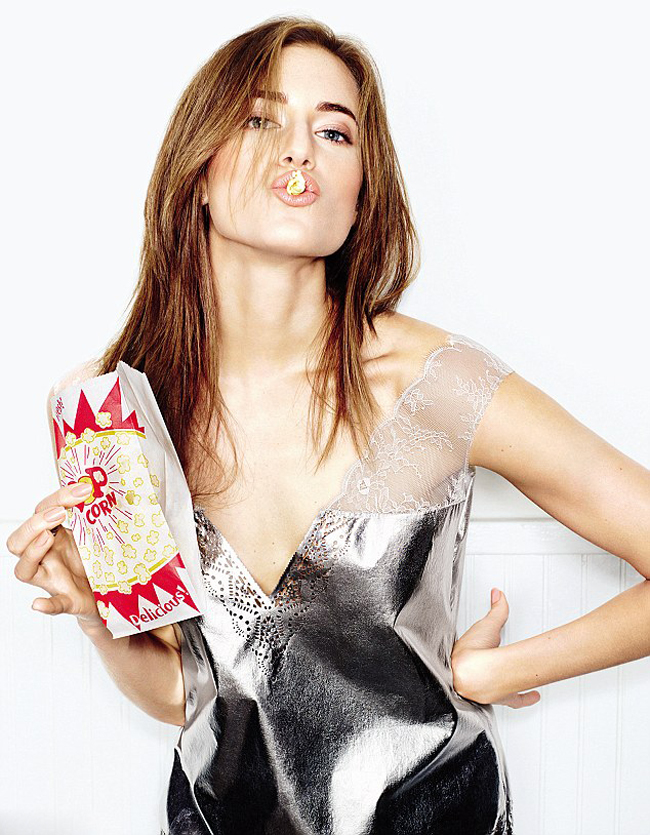 Photos courtesy of Glamour