Peaches Geldof's marriage is over after six months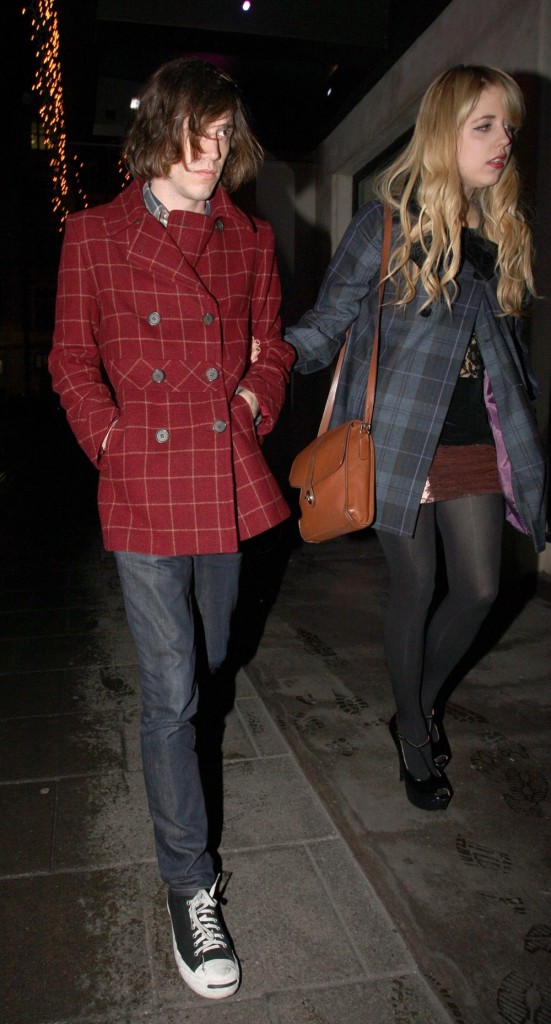 Peaches Geldof, the 19 year-old daughter of musician philanthropist Bob Geldof and the late Paula Yates, got married last August in a quickie Vegas ceremony to American musician Max Drummey, 24, of the band Chester French. Peaches later said she didn't expect her marriage to last, considering the divorce rate and all, but then tried to take that back like she was just talking statistics and not about her relationship in particular. There was a story in November that Peaches and Max were getting a divorce, which Peaches claimed was completely fabricated. Now Peaches really is getting a divorce, and has put out a statement that she and Max are separated. She is thought to be dating another musician, with whom she spent New Year's Eve.
In a joint statement issued by Peaches' spokesman, the couple said: 'After much soul searching we have made the mutual decision to end our marriage and have agreed to go our separate ways.

'Our parting is amicable and both of us still respect and care about each other immensely. There were no other people involved in this decision and we both look forward to a future as good friends.'

Peaches eloped to Vegas and married Drummey, a musician in the band Chester French, in August, weeks after meeting him. At the time she dumped her long-term boyfriend, Faris Badwin, a 21-year-old musician in the band The Horrors.

But in November it was reported that Peaches, who is trying to forge a career as a writer in America, had told Drummey after a series of rows that the relationship was over.

Peaches admitted they were having problems and had 'said things in the heat of the moment', but denied they were separating.

However, in recent months Peaches, who moved from London to New York where she writes for a magazine called Nylon, has been living in a Greenwich Village apartment with a girlfriend.

Sources said Peaches' continued close friendship with ex-boyfriend Badwin and a growing closeness with New York-based musician Donald Cumming contributed to the breakdown of her marriage.

Peaches spent New Year's Eve in Miami with Cumming, who plays in indie rock band The Virgins. They were also spotted at a nightclub before Christmas and their friendship was said to have infuriated her husband.
[From The Daily Mail]
I re-read an interview Peaches gave Hello! earlier this year and she sounded incredibly naive about love and relationships. The reasons she gave for getting married were the foolish kind of "falling in love" incidents that most new couples have, like staying up all night talking. She also justified her marriage as striking out on her own for the first time. Here's how she told Hello she explained her rash decision to her father:
"Right after we got married I called my father, who said what I'd done was a really intense thing. And I said, 'Yes, but it's as though I have always had to be someone to everyone and this is the first time I can be myself. I can just sit in the van with this guy and talk and talk to him about everything… my whole life. And he won't judge me. I don't know if I'll find that again.' My father said, 'If you really feel that way, then I am so, so happy for you.'"
[From Hello! Magazine, print edition, January 6, 2009]
I also found it incredibly amusing the way that Peaches described how they decided to get married. She justified it by talking about how intelligent they both were. She seemed to say this with no sense of irony whatsoever:
We were in a hotel room in LA talking about going back to London and he said, 'When you go back, it would be as if this has been a dream. And all it will be is some memory that you'll have that will stay with you. But for me, it will be the one that got away, and I don't want you to go. Let's get married.' I said 'That's crazy.' And he said 'I really love you," and I told him I loved him too. We did it for no ulterior reason other than we loved each other. Other people thought it was attention seeking or a publicity thing. But I am intelligent and I wouldn't do something like that. Nor would he. He is a Harvard graduate.
[From Hello! Magazine, print edition, January 6, 2009]
Isn't that last line priceless?
Peaches lives in New York and works as a columnist for Nylon Magazine, where her self-absorbed articles have received quite a bit of negative feedback.
Peaches Geldof is shown out with a "friend" who is not her husband (and not that guy Donald Cumming mentioned in the article) on 12/4/08 and with Amy Winehouse's buddy, Blake Wood, on 12/3/08. Peaches and Max are shown in the header on 11/27/08. Credit: WENN
Written by Celebitchy

Posted in Divorces, Peaches Geldof

- Mariah Carey lip synced on American Idol [CDAN]
- Colin Firth is looking good [Lainey Gossip]
- Internet celebrity charged with murder! [D-Listed]
- What is Paz Vega wearing? [Go Fug Yourself]
- New bachelors on The Bachelorette [Reality Tea]
- Goodbye to The Office [Pajiba]
- Bachelor Sean's fiance cheats on him [Evil Beet]
- Britney Spears out with her man [Popsugar]
- Nina Dobrev works it [Popoholic]
- Cindy Crawford needs to lay off the 'tox [Celebslam]
- Who said it: Carrie Bradshaw or The Dalai Lama? [Buzzfeed]
20 Responses to "Peaches Geldof's marriage is over after six months"