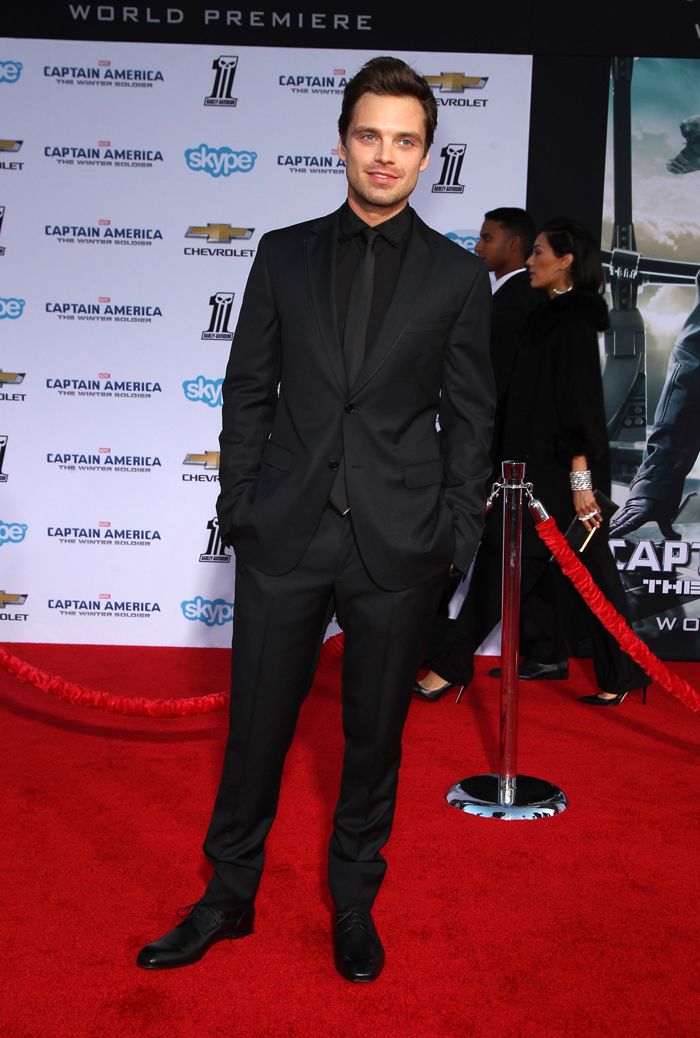 Last week, we highlighted the hot guys at the LA Captain America: The Winter Soldier premiere. My pick for the evening was Sebastian Stan (some of you said on Twitter you'd fight me for him!). It was a tough call, but Chris Evans needs to polish up his press game. Maybe I'll take him back as my boo at some point, but he is on probation. Hopefully he won't have a meltdown about it.
Let's stoke the gossip fire once more. Remember that big, internet-based rumor about Chris possibly being replaced as Captain America after the second movie? I wrote it off as comic-geek fan fiction because Marvel should know better than to replace dat Cap ass. Then Chris started whining again. His heart just wasn't in it. These superhero films are such a burden, you know? I know he's so neurotic, but I just want him to act grateful. Everybody has some aspects of their jobs that are a burden, but Chris is getting paid many millions for his burdens. Suck it up.
Enter the latest heavy-hitting promotion circuit. Chris is still playing the reluctant game to chat up his third Avengers-related movie. A dark presence is heating up the background. Cap's lifelong friend, Bucky Barnes, has returned as a super villain called the Winter Soldier. This character (played by Sebastian) actually replaces Captain America during a decent chunk of the comic book lore. Now — and this is a change — Sebastian is doing press rounds. He appears enthusiastic and thrilled to play this role. Seb didn't have much to do in the first Cap film, but his role took center stage in this sequel as a "silent, relentless, and driven" threat. Sebastian has just let it drop that he's got a nine-picture contract with Marvel. Chris Evans doesn't have that. He has six pictures. The only other actor who has nine is Samuel L. Jackson. This is a pretty big deal:
Will Bucky Barnes become Cap? "I don't know! [laughs] They don't tell me anything. That's just the truth."

How many films on his Marvel contract? "Uh…I think…I think I actually have nine. Yeah, it's great job security."

Did he know the Winter Soldier would be the big baddie? "I did, and I didn't. It was a 'maybe.' It led me to prepare myself for this just in case, but I'm not the guy who gets to shoot the movies. When we wrapped, I had no idea if we'd be back. A lot of that has to do with fan response, the public response. But I did really hope that I'd be back to play this character again."

On his non-speaking role: "I have to tell you, when I was younger and when I was in acting school, I was the guy saying, 'Oh, I want more lines!' But now, you know, I find it more interesting as a viewer to watch 'the other guy,' the guy reacting. Dialogue is important. It's communication; it's the first way we reach each other. But these days, I find it more interesting to watch the guy who's listening to the guy talk."

How much does he care about this movie? "A lot. I'm certainly not contractually obligated to say that; it's just the truth. Look, at the end of the day, you essentially take a year of your life, and make it about this movie. It takes six months to shoot it, another two months re-shooting it and going back for ADR [additional dialogue recording], and another three months talking to press about it. So you'd better love what you're doing, right? You're giving a year of your life to this. And you're lucky to do that. In my case, I get to be lucky enough to do this for multiple years. So yeah, you have to learn about the character, love the character, and for me, there was no question—I had to read up, as much as I could. And fortunately, I'm not building from scratch here. There's plenty of stories and material that tell you that Bucky acts a certain way, and there are plenty of fans who are very opinionated and will help you find out more and appreciate it all. I wanted to make sure I was doing everything right."
[From Newsarama]
Sebastian told Topless Robot that he doesn't think he's a part of Age of Ultron, but we'll see. The implications of Sebastian having a nine-picture contract to play the Winter Soldier are astounding. Even Robert Downey Jr. only started out with a four-film contract. Marvel has big plans for Sebastian, and I think there's a chance that Chris Evans might get his wish to be left behind. The Hollywood Reporter has picked up on this detail too and notes, "That Stan is signed for three more movies than Evans seems odd at first glance, but it does make you wonder." Yes, it really does.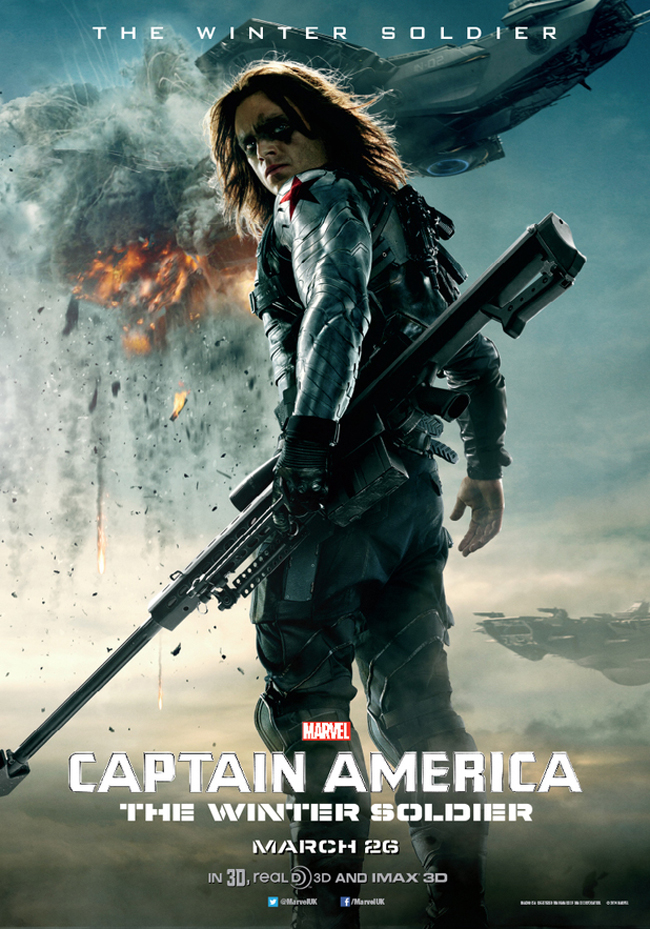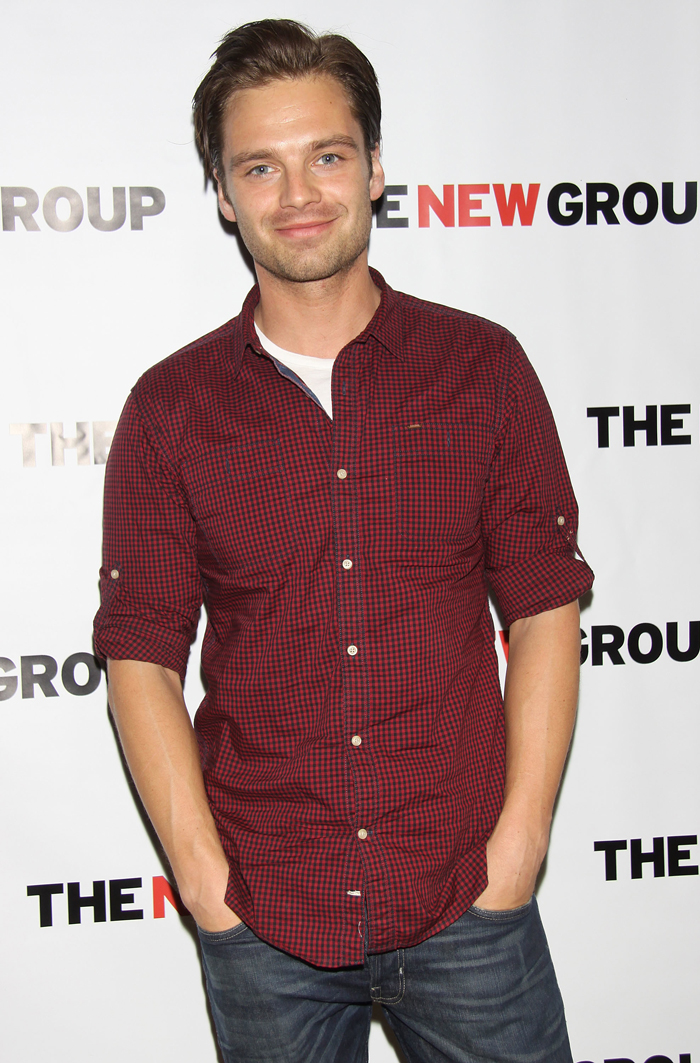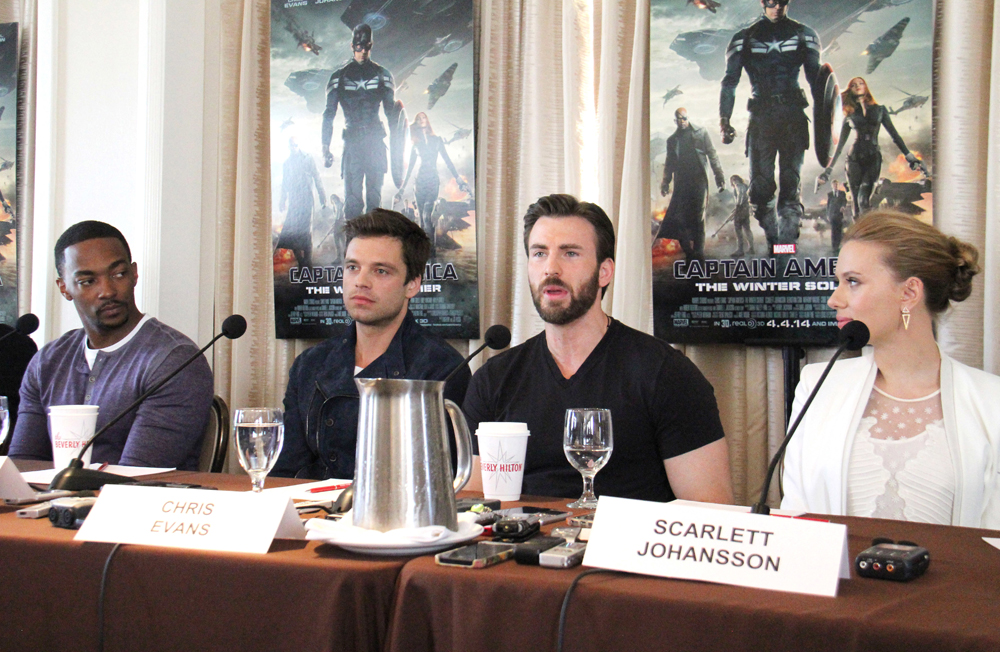 Photos courtesy of Marvel Studios & WENN