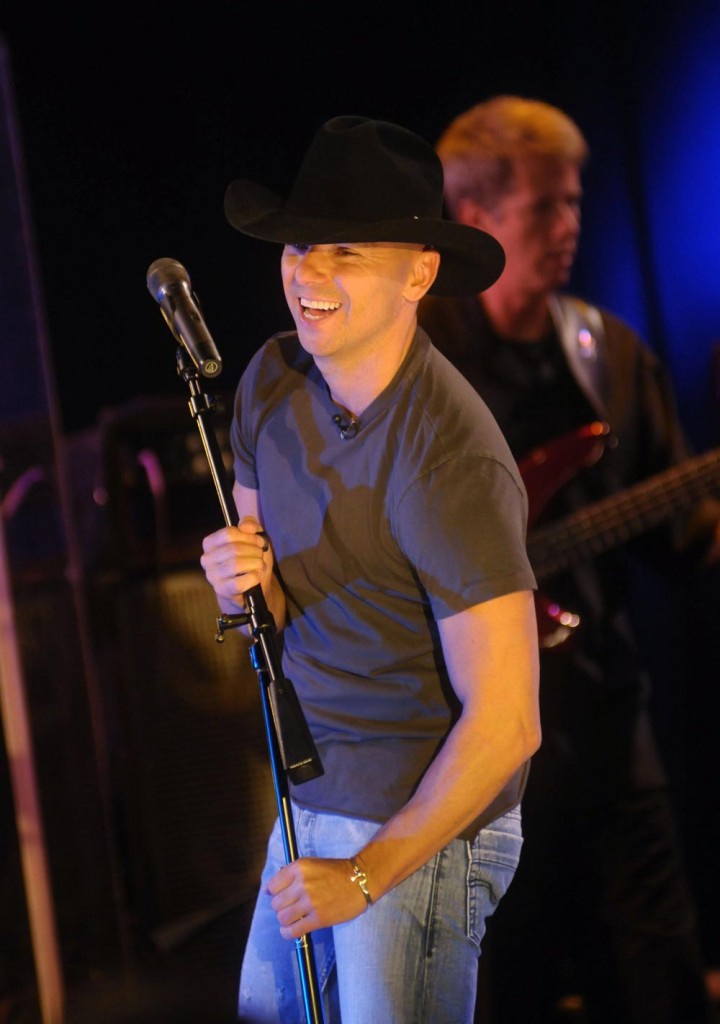 Country singer Kenny Chesney has been the subject of gay rumors for years. It didn't help when his marriage to Renee Zellweger ended after just a few months, with both parties agreeing on "fraud" as the cause. Chesney, 40, attempted to set the record straight, so to speak, in a new interview with Playboy. He said that he's slept with over a hundred women, as if his skeevy promiscuity proves that he's heterosexual. Chesney also talked about his brief marriage to Zellweger, and admitted that he still thinks about her every day and feels bad for pushing her out of his life when he realized it wasn't going to work:
Kenny Chesney tells Playboy magazine that he's definitely not gay and has well over 100 women who could attest to that.

"Man, I was over 100 several years ago," he tells the men's magazine for its March issue out Friday. "There were years when I had a better summer than A-Rod, buddy. You know? I got on the boards quite often."

In the Q&A interview, the singer also discusses his 2005 marriage to actress Renee Zellweger, which was annulled after four months.

He said he "didn't have any clue as to what true marriage meant. I was so used to committing to one thing — music — and then I had to totally commit to a second thing, marriage. I didn't know how to commit to both of them."

He also told the magazine that the paparazzi and attention became too intense. "I mean, I panicked, there's no doubt about it. I just totally panicked," he said, adding that he did "the only thing I knew to do: I ran. I pushed her away."

Chesney said he called for an end to the marriage, but she filed the annulment papers. "It was a pretty mutual thing, to be honest with you," he said.

After the breakup, he was depressed and didn't leave the house or get out of bed for a week. He said he spoke with Zellweger on the phone briefly about a year ago but admits, "I still think about her every day. Every day I wonder if she's OK."

To have the marriage annulled, Chesney said the legal papers could claim either physical abuse, mental abuse or three or four other things that weren't true.

"The best thing we could put in there was fraud. So I said 'All right, do it. Whatever,'" he recalled.
[From AP via WSBT]
Chesney explained the large number of women he'd bedded as a kind of feast after a famine. He said he reached triple digits in 2001 and that "My first five years on the road were intense because I was the guy in college who never got laid until I started playing guitar… I've got a long line of girls who could testify that I am not gay."
The hard working country star claimed he's "pretty confident in the fact that I love girls." If that's the case then why does he have to talk numbers? That's immature to say the least. As Queerty mentions he "doth protest too much." I also like Shakespeare's Sister's take on this "Chesney asserts his heterosexuality via misogyny, because the best way to prove you 'love girls' is by treating them like shit."
In November of last year Chesney brought Miss Tennessee 2005 Amy Colley to the Country Music Awards, and it came out that he'd been seeing her for several months. He was linked in the summer of last year to another pageant winner, Miss West Virginia 2008 Skylene Montgomery, after meeting her at one of his concerts.
How are his girlfriend(s) supposed to feel when they hear that he's slept with over a hundred women? Maybe he's not as much of a hound dog now, but they've got to wonder if he's still slutting around with groupies considering how they met him. That's not something you say when you're planning on settling down with one woman at some point, but it doesn't seem like that really interests Chesney. It's also something that's got to hurt Renee Zellweger considering that she was married to him in 2005, well after he passed the hundred mark.
Kenny Chesney is shown on Good Morning America on 10/14/08. Credit: WENN