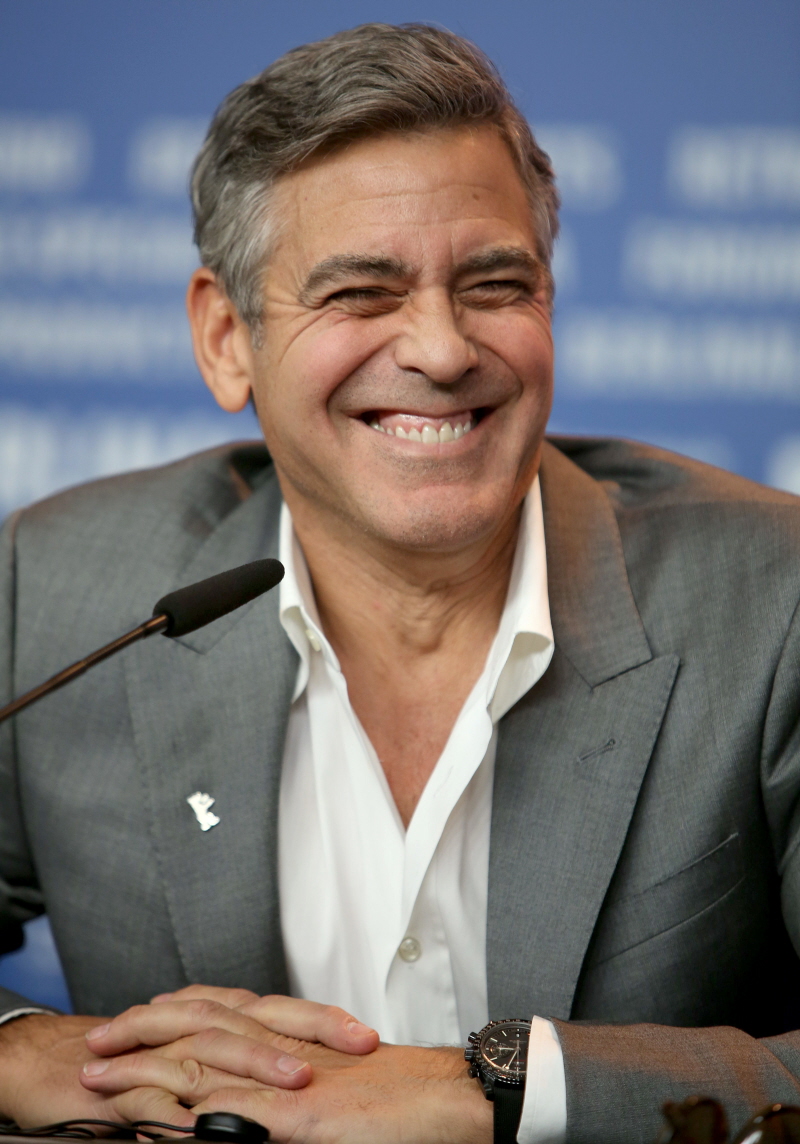 George Clooney has been dating London lawyer Amal Alamuddin for several months. I think they've probably been together for about four months (coincidentally, the same amount of time Sean Penn and Charlize Theron have been together). Even in the early days, it seemed like Amal was "different" than Clooney's usual girls: Amal has a law degree and a high-powered job (she's Julian Assange's lawyer, for goodness sake), she smarter than the usual waitress/wrestler types he usually likes, and she seems more than comfortable moving around in Clooney's sometimes rarefied circle. That being said, she still behaves like Clooney's usual girlfriend, in that she dropped everything in London to jet off with Clooney on an endless series of vacations in Africa, NYC, LA and Cabo.
Anyway, last time we checked in on Amal and Clooney, my general thought was "let's not get ahead of ourselves, this probably won't last." But it has lasted. For four months? And now there are rumors that George proposed. Because we haven't heard that rumor a million times before.
His bachelor days are over! George Clooney and Amal Alamuddin are engaged. A source with knowledge of the situation confirms Clooney popped the question and exclusively tells PEOPLE, "George and Amal are trying to keep things very low-key but they also aren't really trying to hide this, it doesn't seem. I think it's like they want the people they love to know that this is real, that they plan on being together forever."

The engagement happened "not that long ago, I think," the source adds, and the couple don't appear to have wedding plans in the works – yet.

On Thursday, the pair were spotted at Malibu hot spot Nobu with Cindy Crawford and husband Rande Gerber, who are longtime pals of Clooney's. At the dinner, Alamuddin had a conspicuous ring on her left ring finger, a different source tells PEOPLE.

In addition, two sources say that witnesses at another L.A. restaurant, Craig's, reported seeing the pair apparently celebrating their engagement with friends on Wednesday night, with Alamuddin sporting a "huge ring," according to one.

A rep for the actor has only said, "I don't comment on my client's personal life."

Clooney, 52, and Alamuddin, 36, a British attorney who specializes in international law and human rights, were first photographed stepping out together in London in October. The two have since been spotted embarking on romantic, globe-trotting jaunts. In March, the two went on a trip to Tanzania, where they were snapped getting cozy during a safari ride, and they also visited the Seychelles. A few days later, the couple stepped out together in New York City for dinner at a French restaurant.

Earlier this year, a source who has worked with Clooney told PEOPLE: "He's with someone who is a very accomplished attorney. She isn't someone who is pursuing a career in acting or entertainment. She's on his level."
I loathe that "she's on his level" crap. She's not "on his level." SHE IS ABOVE HIM. She has to go down to his level. Let's be real. Anyway, Us Weekly is saying that the engagement rumors are swirling as well which means… God knows. Even though Amal is "different" than the usual girls doesn't mean he's going to react any differently when the engagement pressure starts. Clooney hates to be pressured, even by someone "on his level."
Photos courtesy of WENN, Fame/Flynet and Getty.